Bibimbap is a delicious Korean Dish full of vegetables, meat, and sauce. This is our Bibimbap (The Hubby's Recipe)…. With his sauce and marinade I would love for you to try!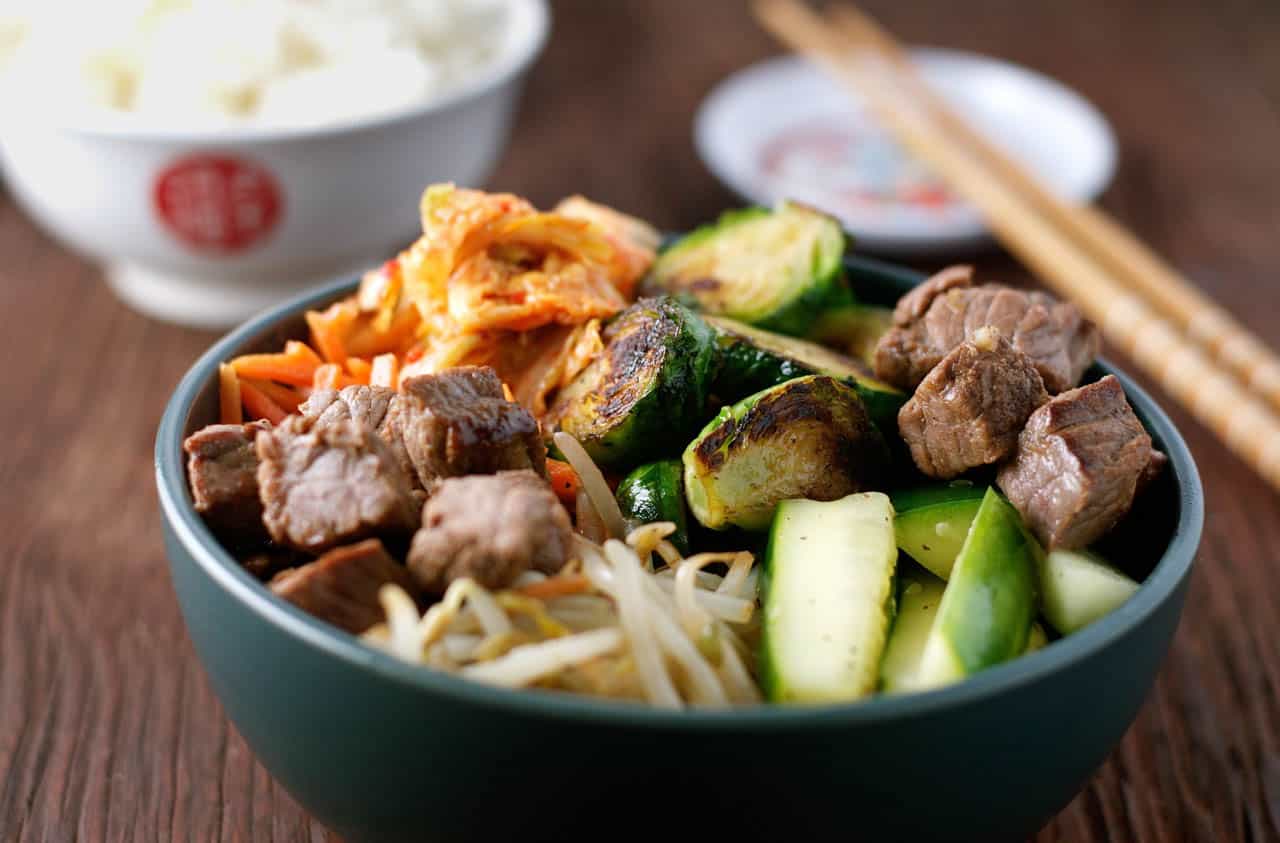 I know for sure that I can get my husband in the kitchen to make this or his famous Tuna Noodle Salad. And when he does, I proceed to sit on the couch & kick my feet up!
And he makes it often because it's one of our all time favorites! Bibimbap is a Korean word that means mixed rice. It is just that after you mix it all up and go in for the kill. This dish is like a healthy bowl that has a bed of rice that is then topped with vegetables, marinated meats, sauce, and my favorite – an over easy egg…
I like to break that over easy egg yolk before eating, then I dig in! FYI: You don't have to use over easy eggs, you can have an egg fried hard or no egg at all. But where's the fun in that?! 🙂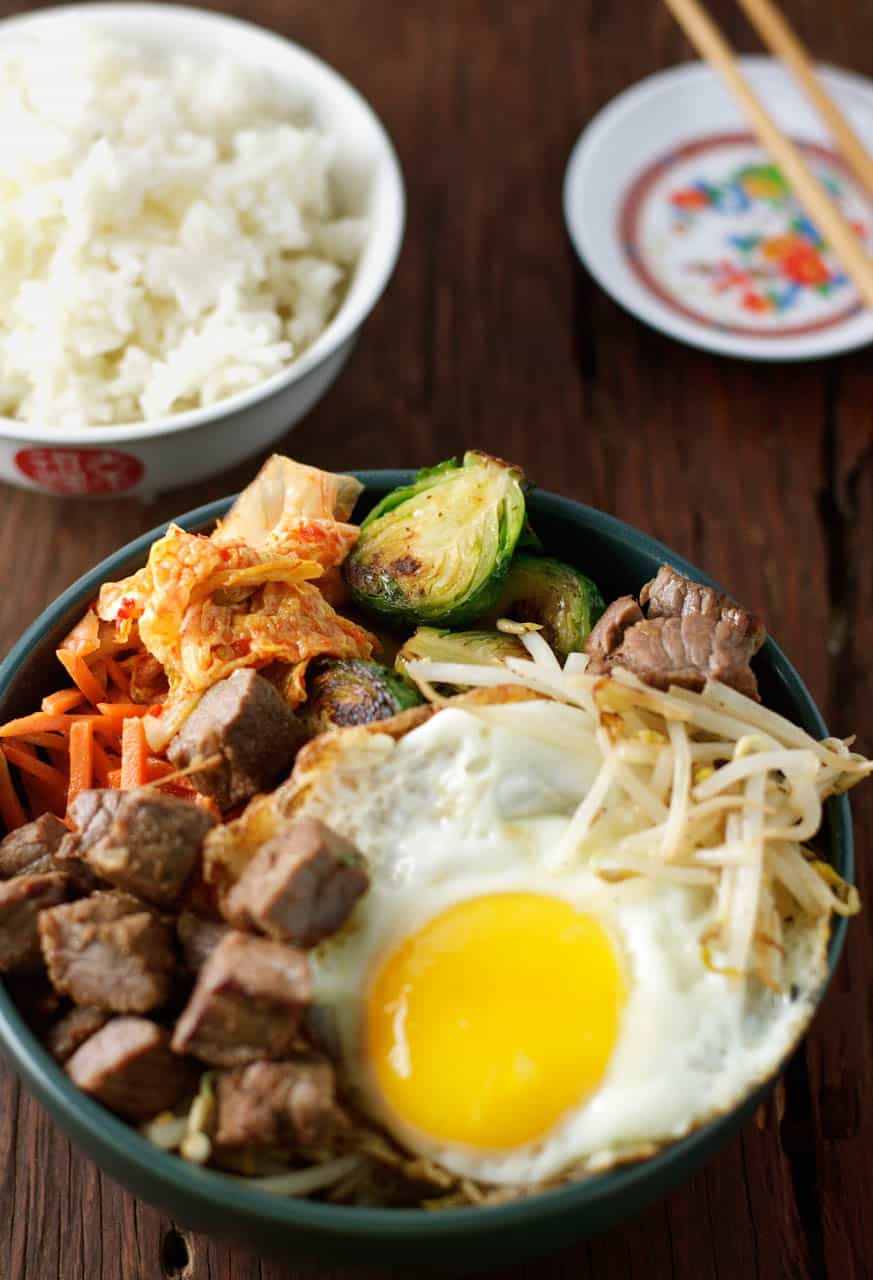 Then, you have an awesome sauce that is also part of the bibimbap. And when it comes to the sauce we do it our way… Just as we do with the whole dish as you can see – as we broke the rules & added brussel sprouts & steak bites!! (Traditionally I have seen ground beef as the meat source). We make a quick sauce made with garlic powder, soy sauce, and siracha sauce. This is my hubby's favorite dipping and garnish sauce for Asian foods, as it is salty and spicy.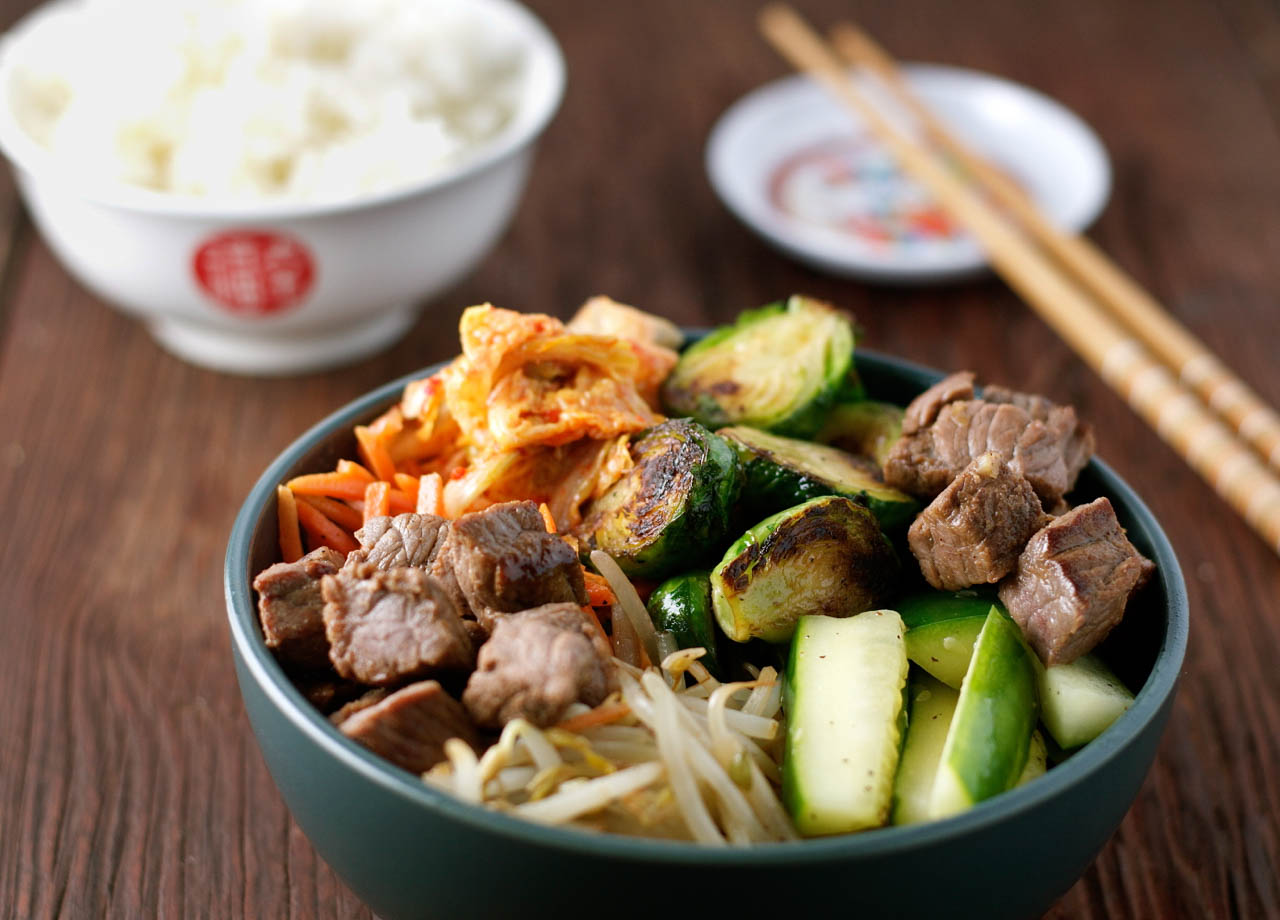 Alright Now! Grab some veggies, get to stir frying, and let us know what you think! I will be sure to pass on all comments and love to the hubby!
With Love,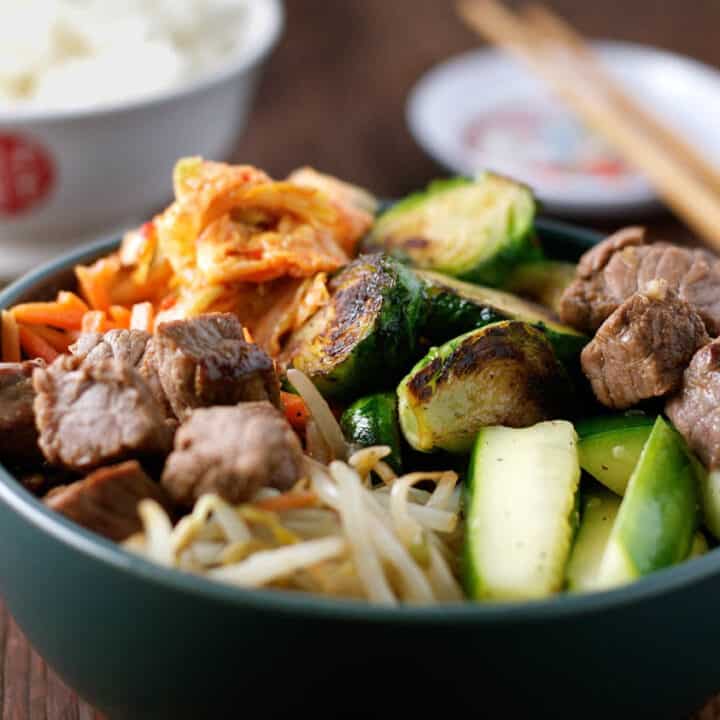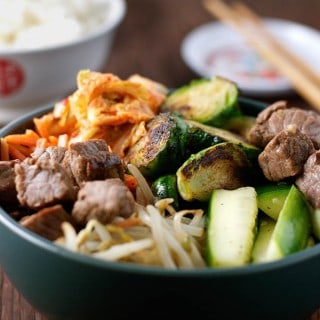 Bibimbap (The Hubby's Recipe)
A delicious bowl of stir fried veggies, meats, and sauce on a bed of rice, then topped with an egg.
Print
Pin
Rate
Ingredients
Meat Marinade:

1/8

cup

soy sauce

1/2

tablespoon

garlic powder

2

tablespoons

sesame oil

2

cups

diced sirloin beef

(cut in small cubes)

Vegetable Portion:

4

large garlic cloves minced

(chopped very finely)

2

cups

sliced fresh cucumber

(julienne style - like straws)

2

cups

sliced fresh carrots

(cut julienne style - like straws)

2

to 3 cups fresh beans sprouts

2

cups

fresh brussel sprouts

1

and 1/2 cups kimchi

salt

pepper

sesame oil for cooking

(about 4 to 5 tablespoons)

4

to 5 eggs

Garnish Sauce:

1

tablespoons

siracha sauce

1/4

cup

soy sauce

1/2

teaspoons

garlic powder

Optional

5

to 6 cups cooked White Rice
Instructions
Place the diced meat and meat marinade ingredients into a covered container and marinate the meat for at least eight hours in the refrigerator. (I place my meat and marinade in a food storage bag and marinate overnight.)

When ready to cook the dish, remove the meat from the refrigerator and let the meat sit for at least 15 minutes. (This allows the meat to slightly come to room temperature to prevent lowering of the cooking pan's temperature which leads to uneven cooking, and also when cooking meat that is cold, this will cause the outside of the meat to overcook as the you try to properly heat the inner part of the meat.)

While waiting to cook the meat, mix the garnish sauce ingredients together and set aside.

Once ready to cook the meat, add about a tablespoon of sesame oil to a pan (I like to cook this dish with a wok). Get the pan really hot using medium high heat.

When the pan is hot, remove the meat from the marinade and add the meat to the pan.

Cook the meat for about 2 minutes, stirring the meat frequently. (Cooking the meat for 2 minutes give you a medium doneness)

Remove the cooked meat from the pan. Add about another tablespoon of sesame oil to the pan and let the oil get hot.

Once the oil is hot, add the slice carrots, and let the carrots cook for about 3 to 4 minutes. (This allows the carrots to remain slightly crispy.) Remove carrots from pan and set aside.

Add a tablespoon of sesame oil to the pan, and once the oil is hot, add the bean sprouts. Cook from about two minutes. Once the bean sprouts are cooked, remove them from the pan and set aside.

Add a tablespoon of sesame oil to the pan, and once the oil is hot, add the sliced cucumbers. Cook the cucumbers for about one minute.

Add about 2 tablespoons of sesame oil to the pan, and once the pan gets hot, add the brussel sprouts to the pan. Cook the brussel sprouts for about 7 minutes.

In small frying pan, add an egg and fry to desired doneness. (In a traditional Bibimbap, they are raw, as well as the vegetables, but I like to cook my eggs over easy).

Plate a scoop of rice in each bowl. Then, add the vegetable giving each vegetable it's own section.

Garnish each bowl with a cooked egg, kimchi, and sauce.
Notes
You can use the sauce as a dipping sauce instead of pouring it over the plate of food.
Please note that I am not a nutritionist, and the nutritional information is an estimate only. It varies based on the products and brands used.