Hawaiian Garlic Shrimp just like the Shrimp Truck Plates in Hawaii – Garlicky and buttery!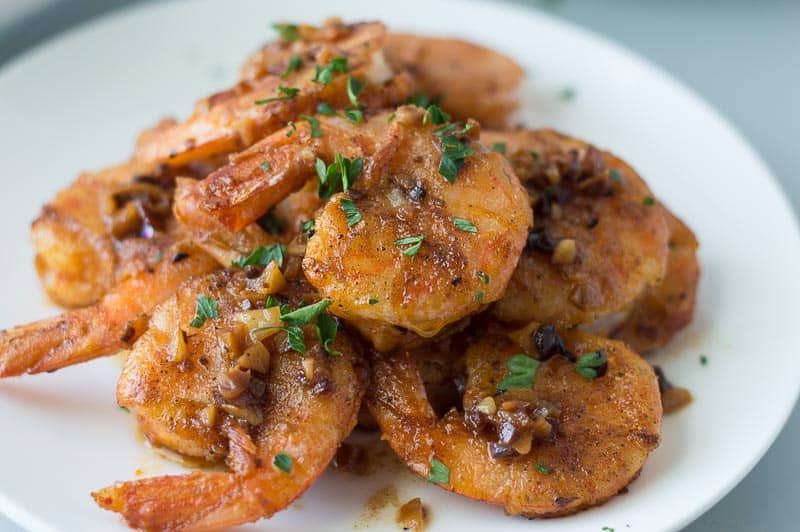 My family and I were truly blessed to have the opportunity to leave in Hawaii for almost nine years. And the one thing we couldn't get enough of was that famous Hawaiian Garlic Shrimp. Any day I was of from work, my hubby would come home for lunch and bring two garlic shrimp lunch plates for us to chow down on while he told me about how his day in 30 minutes or less….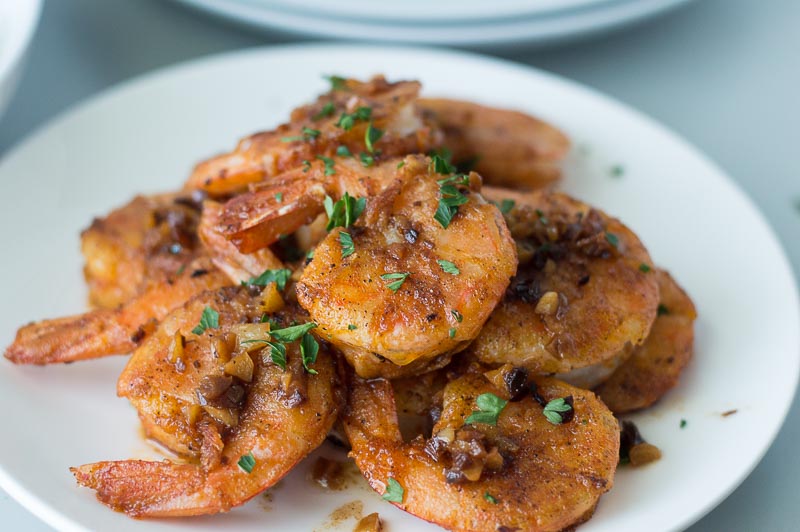 There are many different varieties of these little garlicky morsels all around the island ready to go via food trucks such as the famous Giovanni's truck that you see below. And the recipe I am sharing is similar to one of the basic popular recipes you will more than likely come across if you're ever on this beautiful island.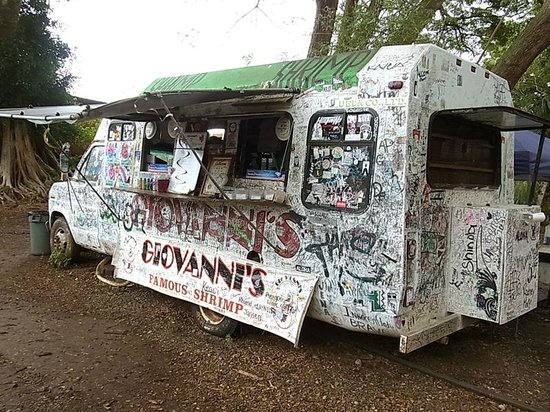 Making these garlic shrimp bring back so many memories. We miss Hawaii so much and look forward to going back….. Until then, it's just me and my shrimp, just me and my shrimp……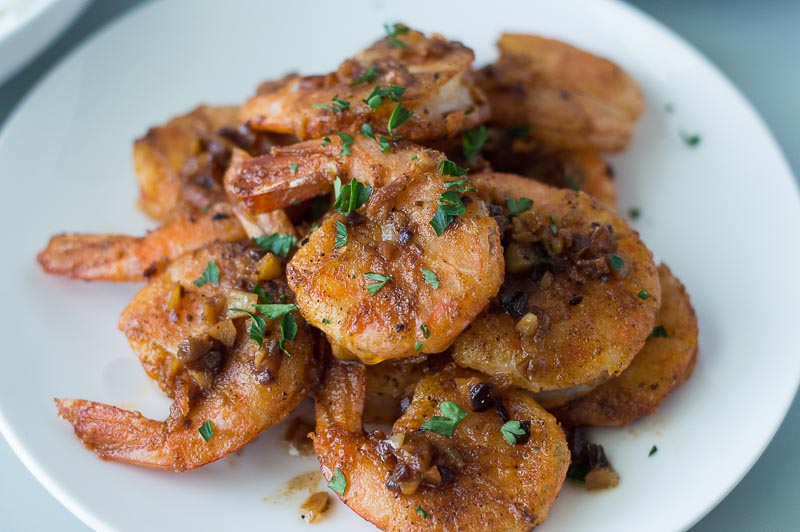 ALLLLOHA!!!!!!!!
Fun Tip: True Hawaiian Garlic Shrimp is cooked with the shell on. Making it a fun, messy, and delicious dish.
If you can't get enough of Hawaii like us – Try my Kalua Pig Quesadillas, Easy Slow Cooker Kalua Pig, and Hawaiian Island Style Fried Rice.
Mahalo!
Enjoying This Hawaiian Garlic Shrimp? Try These, Too: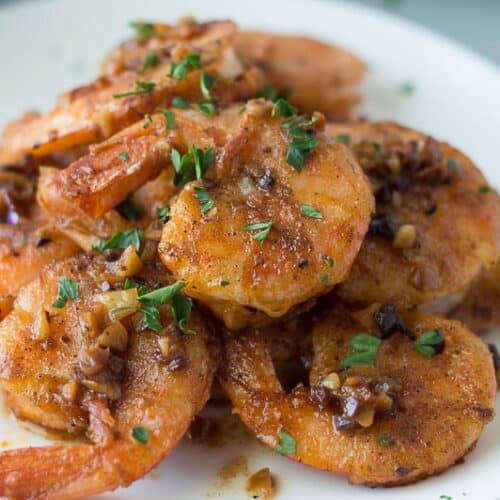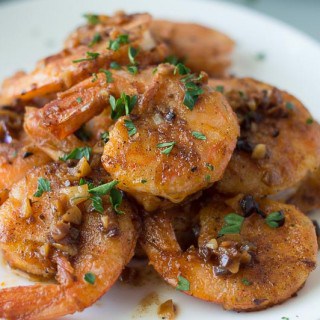 Hawaiian Garlic Shrimp
Hawaiian Garlic Shrimp just like the Shrimp Truck Plates in Hawaii - Garlicky and buttery!
Print
Pin
Rate
Ingredients
2

pounds

of jumbo shrimp with shell on

(de-veined and dried - I buy the shrimp that are de-veined with shell still on).

2

and 1/2 tablespoons flour

(I used all purpose flour)

2

teaspoons

paprika

1

and 1/2 teaspoons Hawaii Sea Salt or Kosher Salt

1/4

teaspoon

black pepper

18

large garlic cloves minced

(finely chopped)

2

tablespoons

extra virgin olive oil

(divided)

1

stick unsalted butter

(8 tablespoons total)

About 1/3 cup dry white wine

Fresh chopped parsley

(optional for garnish)
Instructions
Place the flour, paprika, salt, and black pepper in a large bowl or plastic food storage bag, and mix these ingredients together until blended.

Add the shrimp to this flour mixture and coat the shrimp with the flour mixture (all of the flour mixture should adhere to the shrimp).

Set the shrimp aside, and let them sit while you cook the garlic (this time allows for the flour mixture to adhere to the shell of the shrimp).

In a large pan heat the butter and one tablespoon of olive oil on medium high heat until the butter has melted.

Add the chopped garlic to the melted butter & oil, and cook for about 2 to 3 minutes or until you see the garlic has turned light brown.

Once the garlic has turned light brown, add the wine, and cook for about one minute.

Remove the garlic sauce from the pan and set aside. (I do this to help prevent burning the garlic while I cook the shrimp.)

Add the second tablespoon of olive oil to the pan and let it get hot. Then, add your shrimp to the pan.

Cook the shrimp for 2 to 3 minutes on each side (your cooked shrimp should be pink in color). (I like to cook my shrimp in batches, so that the pan is not overcrowded and to help with even cooking of the shrimp. I usually have to cook only about two batches in my large skillet.)

Once you have cooked the last batch of shrimp, add the garlic sauce, and other cooked shrimp back into the pan, and stir. Then, remove the pan from the heat source. Garnish with optional parsley.

Serve Hawaiian Style with sticky white rice and macaroni salad!
Notes
I like to garnish the shrimp with the wine sauce right before serving.
Also if you decide to remove the shells from the shrimp, add the salt to the sauce instead (because without the shells, the shrimp taste more salty to me).
Please note that I am not a nutritionist, and the nutritional information is an estimate only. It varies based on the products and brands used.
Spices Around the World: https://www.wayfair.com/Spice-Jars-and-Spice-Racks-C246764.html?expand=1#more