Recreate Leftovers into a totally different meal with this easy & simple yet tasty Fried Rice with Leftover Ham.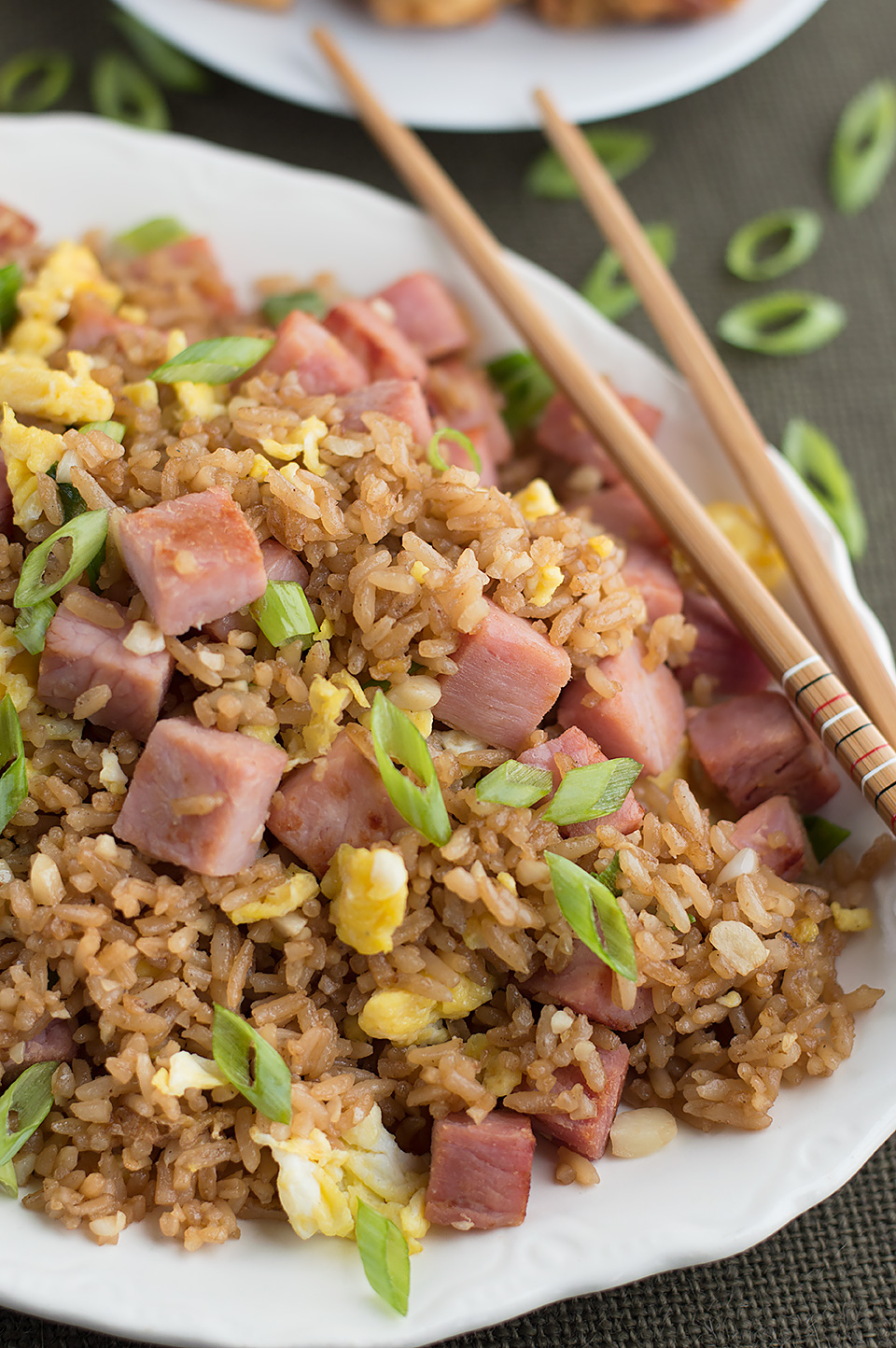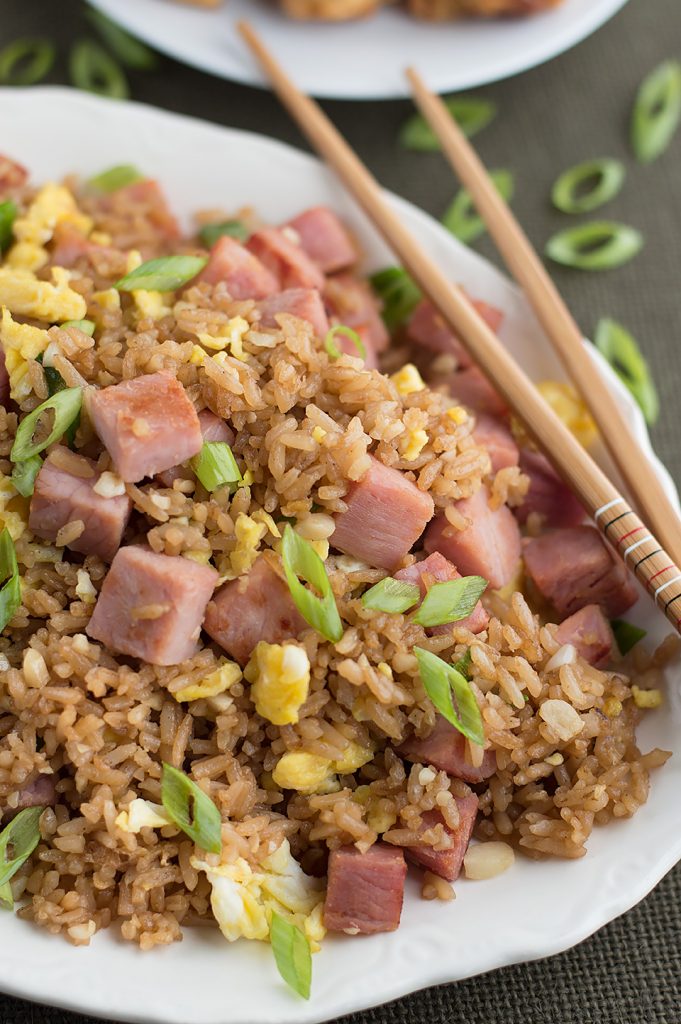 I don't want any leftovers to go to waste.  But who I am fooling.  After eating leftover holiday ham or that ham from Sunday dinner twice (and don't forget the taste testing in the kitchen while I eat), I don't want anymore ham, chicken, or whatever I cooked.  I taste test so much that I don't even eat that much when we sit down for dinner.  I'm full!
Is there any other cooks out there like that???
That's why I took this leftover down home comfort food, did a complete 360, and turned it into an Asian inspired dinner.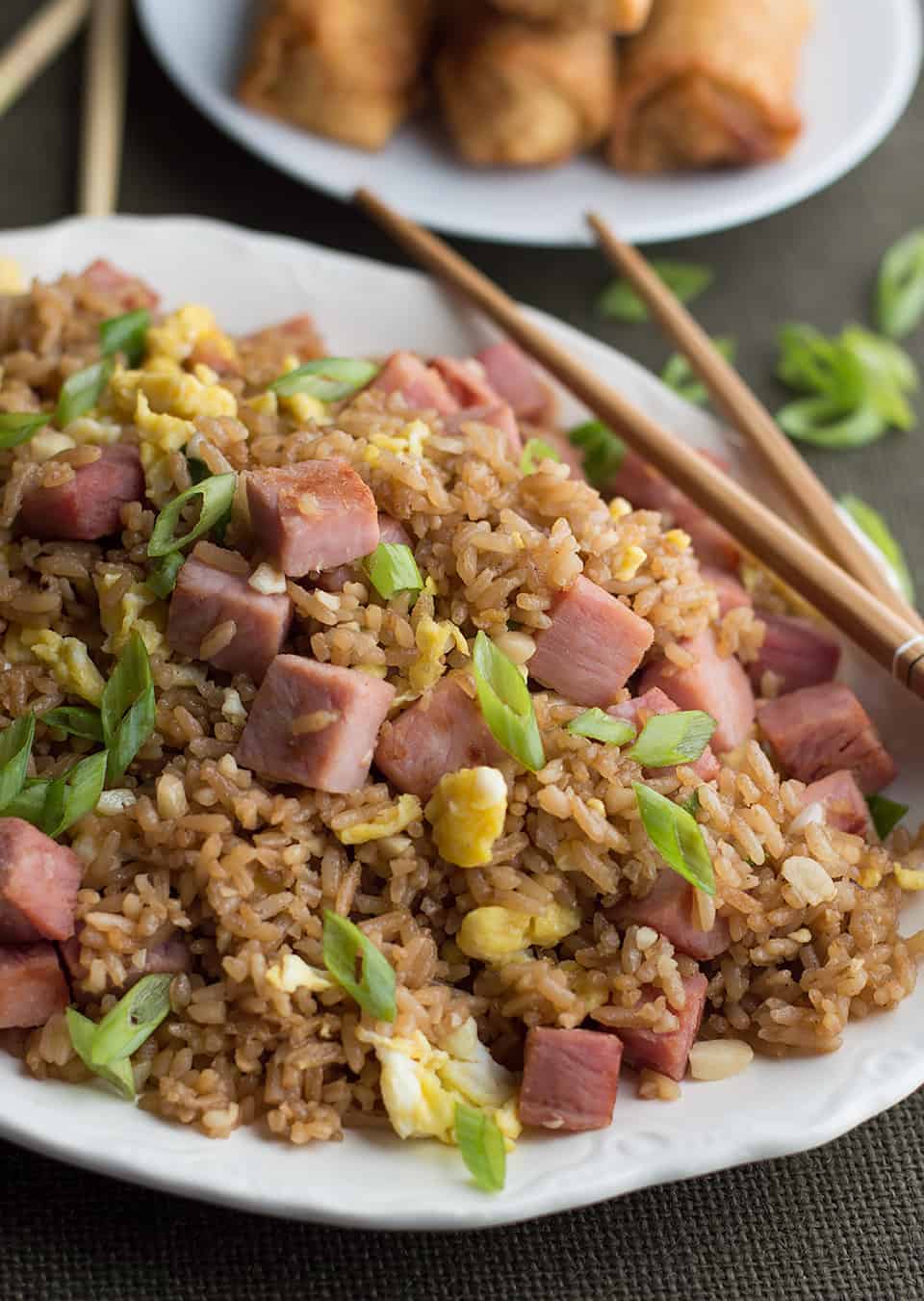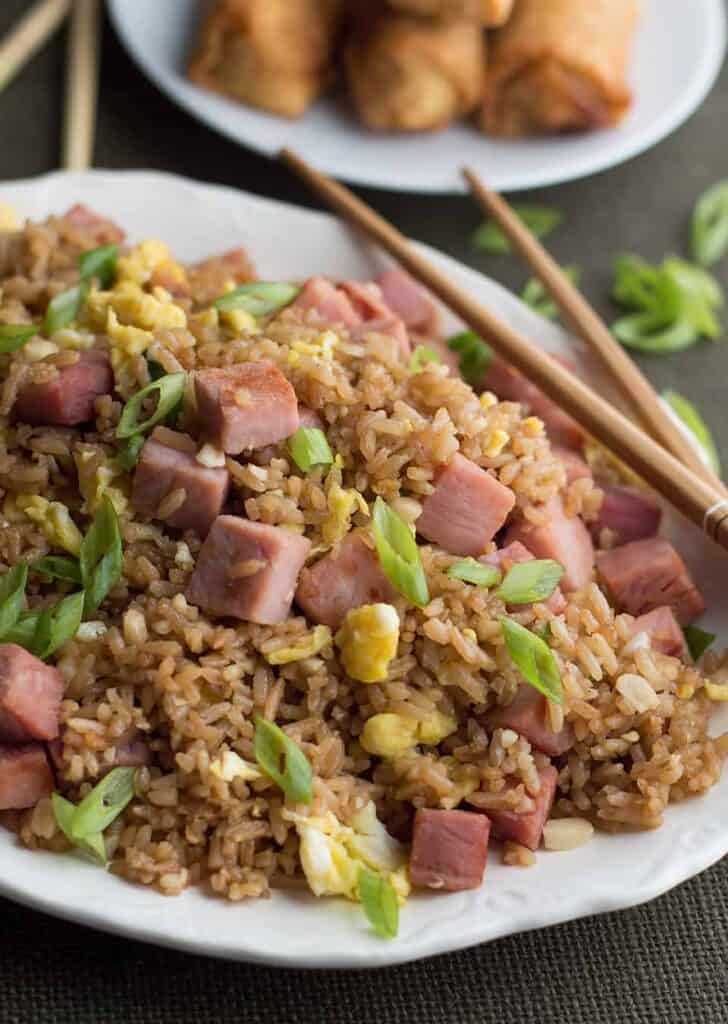 So when I comes down to it I created a meal that's seems brand new and fresh, so that we can continue to eat on a budget, and I feel like I won the frugal mom award……
Save some money and try this recipe, but also try my Hawaiian Style Fried Rice! Get the Recipe HERE.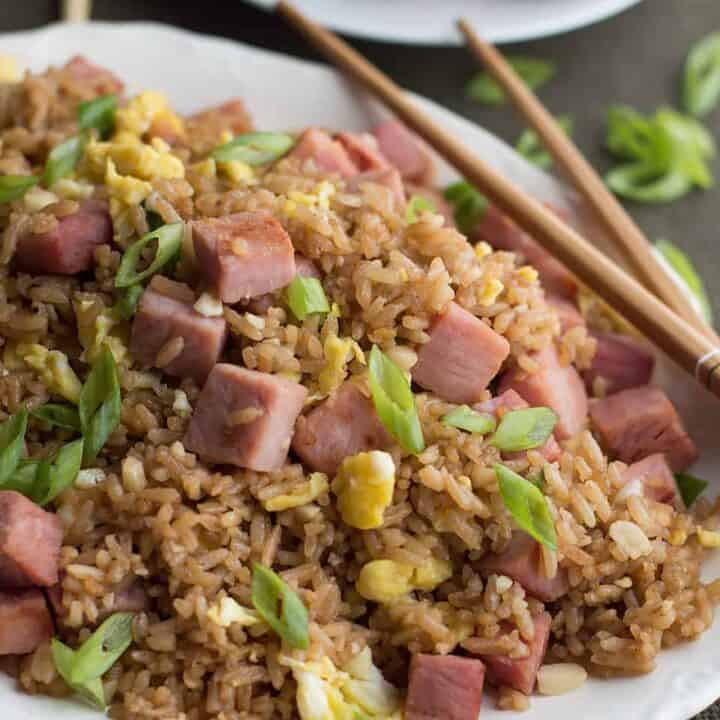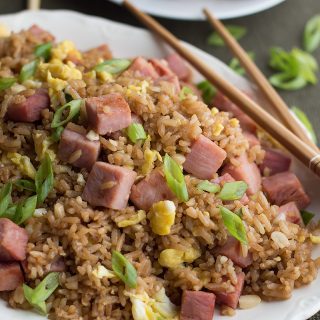 Fried Rice With Leftover Ham
Use your leftover ham to make a whole different meal.
Print
Pin
Rate
Ingredients
About ¼ cup sesame oil

2

cups

diced cooked ham

3

eggs lightly beaten

1

cup

chopped white onion

3

large garlic cloves finely chopped

5

cups

of cooked white rice

(at least a day old)

¼

cup

soy sauce

2

teaspoons

fish sauce

(optional)

1

teaspoon

ground ginger

1

tablespoon

garlic powder

2

teaspoons

onion powder

1/8

cup

diced

(chopped) green onion
Instructions
Add about two tablespoons of sesame oil to a wok and heat the oil on medium high heat.

Once the oil has become hot, add the cooked ham and cook the ham for about 2 minutes or until the ham has heated through and has slightly browned on the outside.

Remove the ham from the wok.

Add a tablespoon of sesame oil to the wok, and allow the grease to get hot. Then, add the eggs to the wok, and cook the eggs until you have well done scrambled eggs. Remove eggs from pan.

Next, add another tablespoon of sesame oil to the pan, and once the oil is hot add the onions and garlic to the wok. Cook the garlic and onions for about 3 to 4 minutes or until the onions are translucent in color (this is when the onions are fully cooked and look clear in color). Remove the vegetables from the pan.

Add about two tablespoons of sesame oil, the rice, soy sauce, fish sauce, ginger, and garlic powder to the wok. Stir the ingredients.

Cook the rice mixture on medium high heat for about 5 to 7 minutes or until the rice is a nice golden brown.

After cooking the rice, add the ham, eggs, and green onions to the rice. Stir the rice mixture.

Cook the rice for about another two minutes.

Then Serve!
Notes
Tasty Tip: Use rice that is at least a day old. This helps to decrease the moisture which prevents soggy rice.
Please note that I am not a nutritionist, and the nutritional information is an estimate only. It varies based on the products and brands used.