Learn how to make an easy, healthy, and delicious Southern dish with this basic Spicy and Smoky Souther Black Eyed Peas recipe!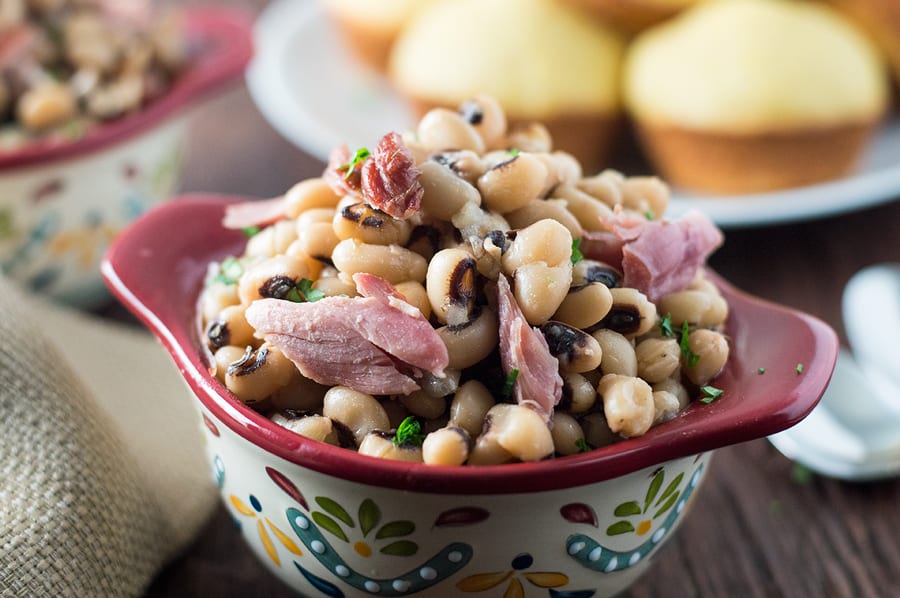 Black Eyed Peas for Good Luck
It's almost New Year's Day, and when I was growing up every New's Year Day there better be a pot of black eyed peas cooking to help bring us good luck, along with a pot of collard greens that was suppose to bring you money throughout the new year.
If that's true, why are my pockets still empty??? I'm suppose to be rich with all the black-eyed peas I ate every New Year's Day….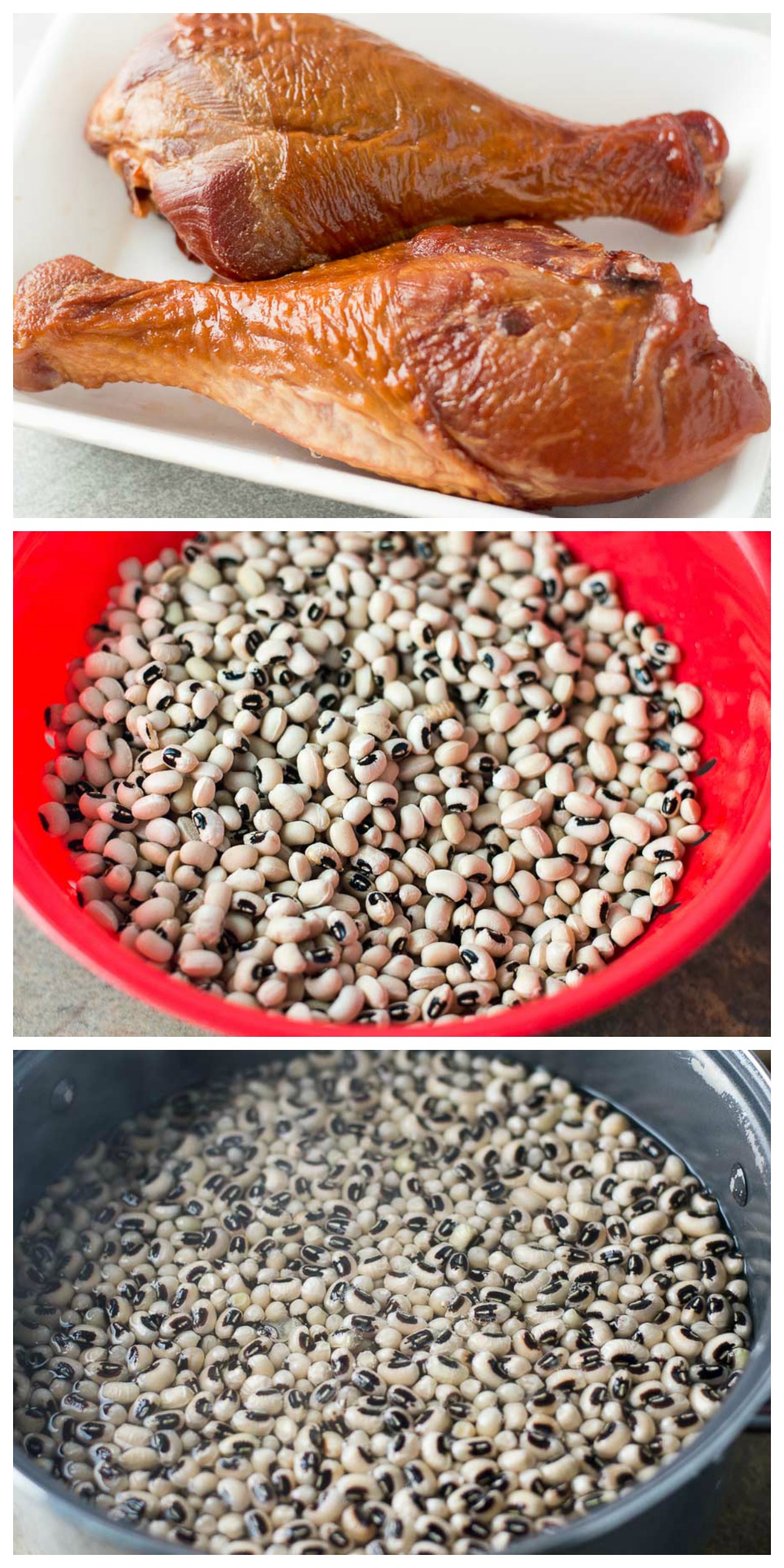 The Beans That Taste Great
Any who, whatever tradition you have it doesn't matter, because these beans taste great any time, especially during our cold winter months.
A bowl of these yummy warm beans during a cold rainy day helps bring me comfort as long as there is a piece of buttery sweet cornbread beside it. Plus it's like a full meal for me because it has smoked turkey meat pieces in the broth that I use as a seasoning piece to give the peas a smoky flavor.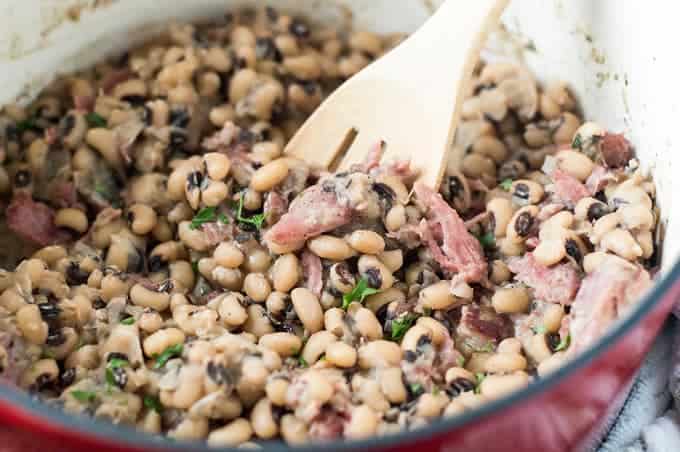 The dish is also healthy because I use a lot of fresh ingredients, and instead of smoked pork, I used smoked turkey. (But you can use smoked pork if you want, I have cooked my peas both ways.)
It's also a budget friendly dish because dried peas are very cheap, and this big pot of peas can feed an army and then some.
Here are a few tips to help you understand how to cook these peas. It's easier than you think…
Recipe Tips
Make sure to soak these peas before cooking. This helps decrease this natural chemical that causes gas. (Sorry I had to talk about this on a food site.) It also helps to give your peas some extra cleaning time removing little dirt particles.
The use of a good chicken stock or broth will give these peas extra flavor.
Let your smoked meat boil for a little bit before adding the peas to help give the broth an extra boost of flavor.
You can eliminate the red cayenne pepper if you don't like spicy foods, and these peas are still delicious.
So these are my Spicy and Smoky Southern Black Eyed Peas that have me singing just as good Will.I.Am & Fergie….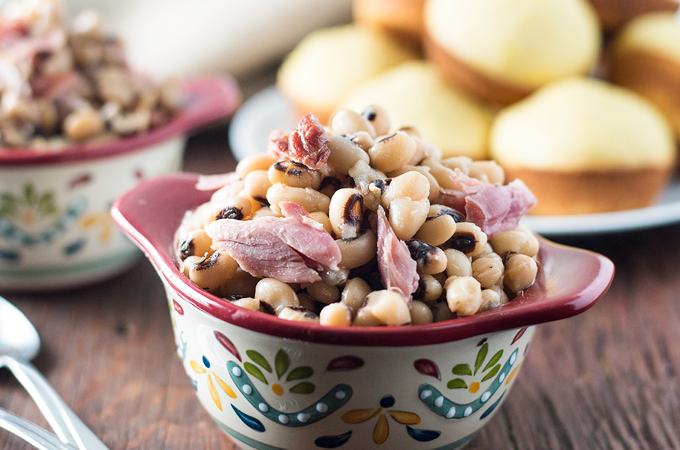 Enjoying Southern Black Eyed Peas?
You will love these recipes, too:
Grilled Cheese Social have a great Southern black eyed peas recipe, too.
Made This Recipe?
♥♥♥ Please rate this recipe and leave a comment below to let me know if you enjoyed it. And follow me on Pinterest, Facebook, Instagram and Twitter for more delicious inspiration! ♥♥♥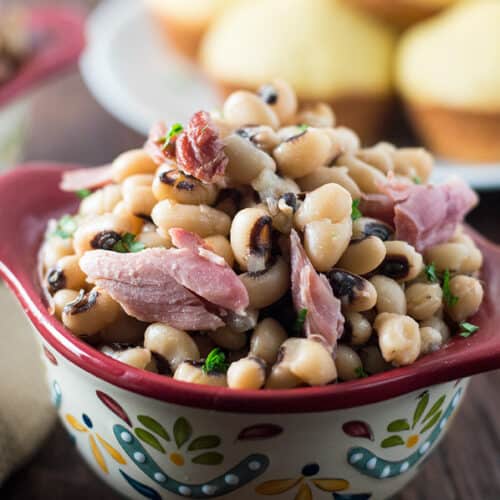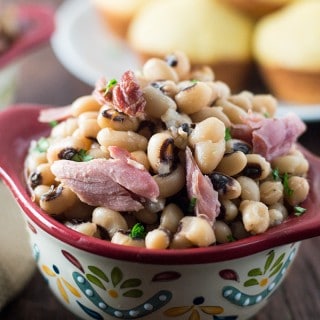 Spicy & Smoky Southern Black Eyed Peas
Learn how to make an easy, healthy, and delicious Southern dish with this basic Spicy and Smoky Souther Black Eyed Peas recipe!
Print
Pin
Rate
Ingredients
6

cups

of chicken stock or broth

2

pounds

of smoked turkey wings

(I used two drumsticks)

1

pound

of black eyed peas

1/2

cup

diced

(finely chopped) white onion

4

garlic cloves finely chopped

1/2

teaspoon

cayenne red pepper

1/2

teaspoon

black pepper

1

tablespoon

liquid smoke

Kosher Salt
Instructions
First rinse your peas and remove any dirt pieces from your beans.

Next, soak the peas before cooking.

To soak your peas overnight: Place the peas in a large bowl of water, cover, and place in refrigerator. Let the peas soak for at least 8 hours.

For a quick soak method for the peas: Place the peas in a large pot of hot water. Boil the peas in the hot water for 2 minutes, remove from heat, cover the pot with a lid, and the the pot sit covered for an hour, then rinse and drain the peas.

When ready to cook the peas, place the chicken stock and smoked turkey legs into a large pot. Boil the turkey legs or wings for 30 minutes in broth.

Then add the beans, onion, garlic, cayenne pepper, black pepper, and liquid smoke to the pot of chicken stock and stir the ingredients together. Salt to taste.

Bring the ingredients to a boil.

Once the ingredients come to a boil, lower the cooking temperature to low.

Cook the beans for 2 and half to 3 hours or until beans have become tender.

Remove the meat from the turkey wings/legs. Discard of the bones. Add the meat back into the pot of peas. (Most of the meat should pull away from the bone while cooking.)
Notes
If you don't like spicy foods, you can eliminate the red cayenne pepper, and still have a good pot peas!
Soaking beans and peas helps to remove dirt, natural chemicals that produce gas, and decrease cooking time.
Nutrition
Calories:
388
kcal
|
Carbohydrates:
25
g
|
Protein:
34
g
|
Fat:
16
g
|
Saturated Fat:
4
g
|
Polyunsaturated Fat:
4
g
|
Monounsaturated Fat:
6
g
|
Cholesterol:
83
mg
|
Sodium:
532
mg
|
Potassium:
719
mg
|
Fiber:
5
g
|
Sugar:
6
g
|
Vitamin A:
100
IU
|
Vitamin C:
2
mg
|
Calcium:
44
mg
|
Iron:
4
mg
Please note that I am not a nutritionist, and the nutritional information is an estimate only. It varies based on the products and brands used.