This Seared Salmon and Shrimp with Creamy Dijon Dill Sauce is my easiest dish yet for salmon to help me get in those Omega 3's….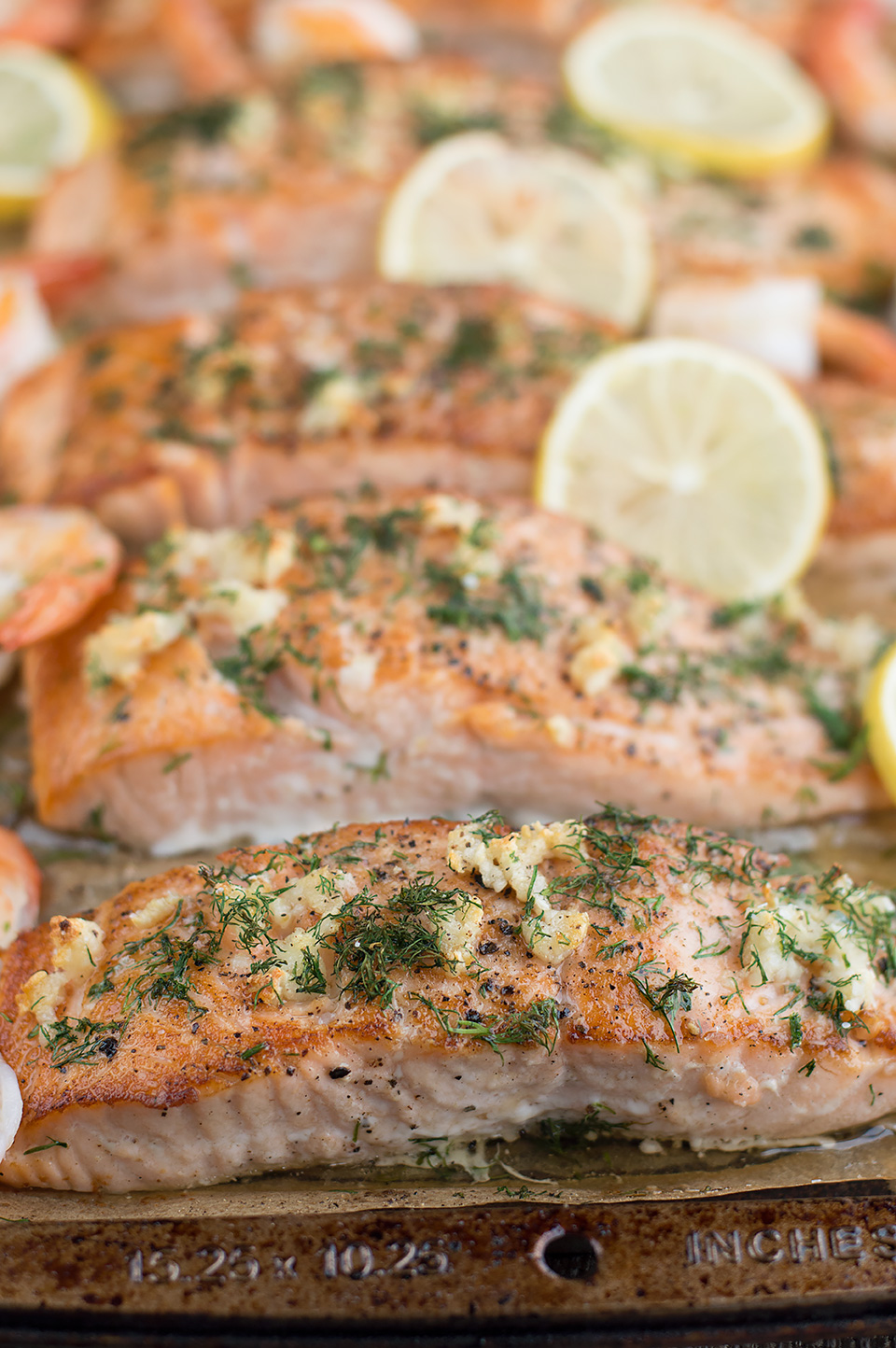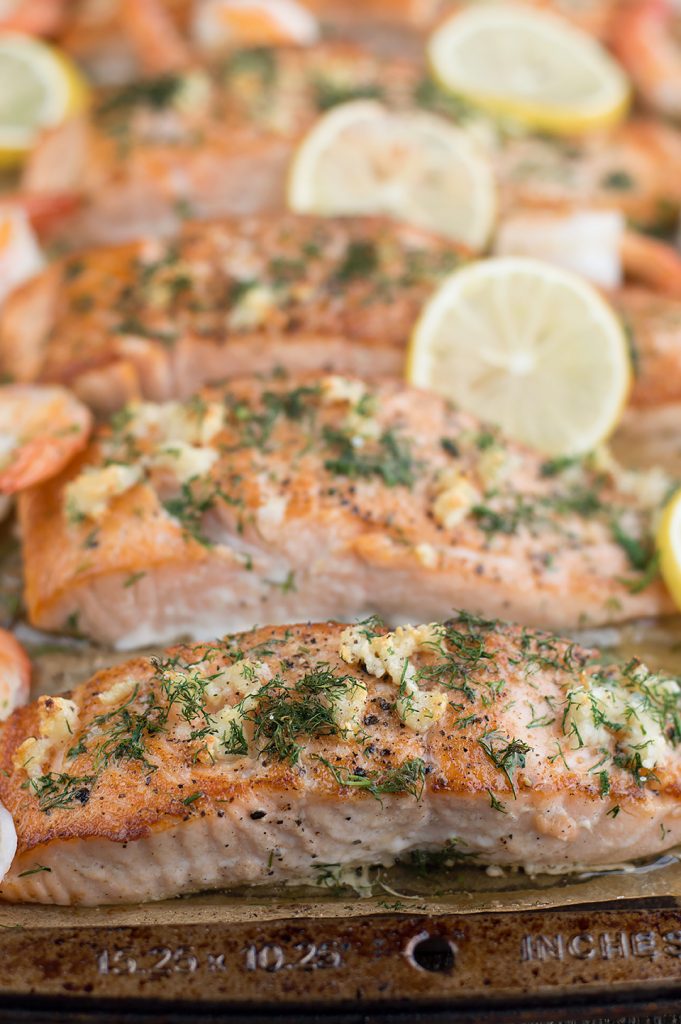 I love to see all of these wonderful salmon dishes across the net.  But everyone in my family is not too keen on Salmon.  So that means I have do magic tricks to get some to partake in salmon when we eat it around here folks.
I came to learn that a great sauce, marinade, and toppings are where it's at.  And one of the easier sauces I make when I want to do absolutely nothing or if I'm on strike, is this tangy and creamy Dill and Dijon garnish to dip the salmon in.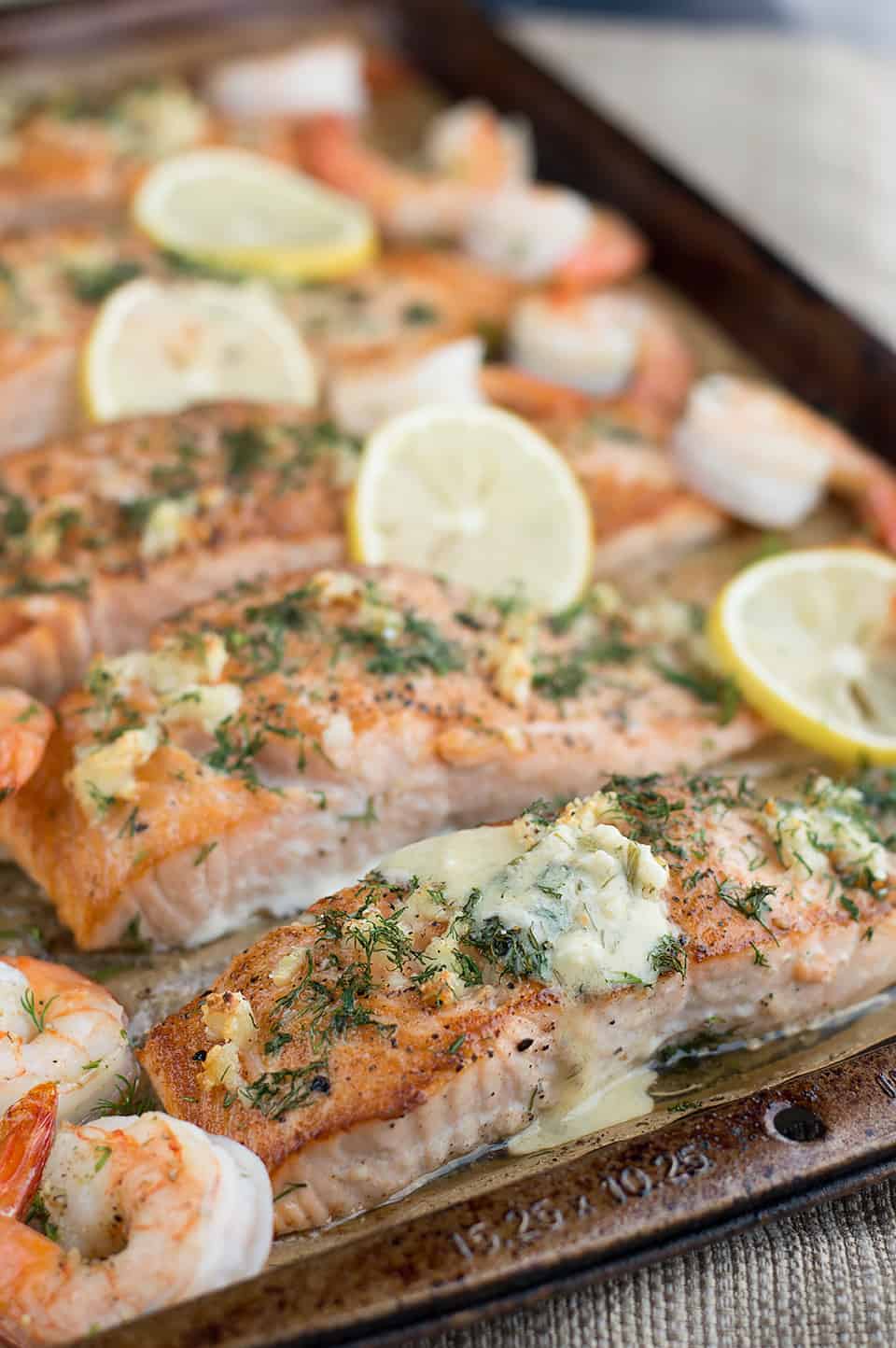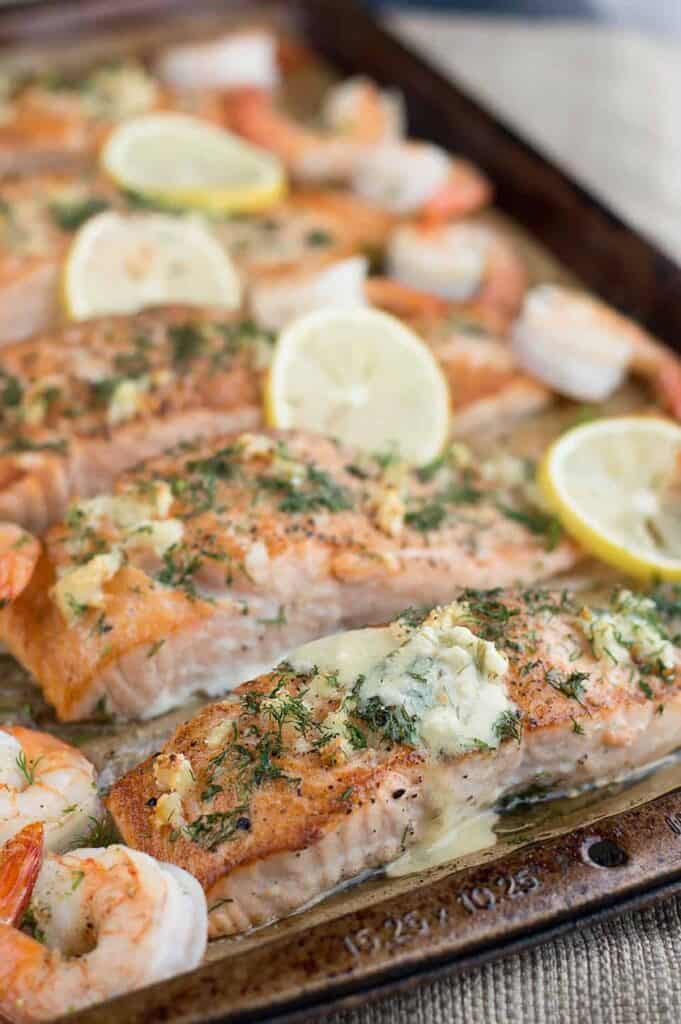 Why??  Prep time is minimal!  I don't do a marinade with this one, I just salt and pepper my salmon and shrimp very well.  And then take a few minutes to make the sauce from start to finish.  With the end result being a healthy dish that will help me to stay on the wagon (Lord It's Hard – I just want something sweet and fried!) because it's a flavor we can handle with Salmon in this lovely house of mine.
Ok Friends – Bon Apetit in my Julie Child's voice! Nope I take that back! In my Barefoot Contessa voice because I stay with my collar popped up trying to channel Barefoot while I cook (you should see my hubby shake his head when I do this)…….  Even though she had me hot one day talking about "button mushrooms aren't good", as I was chopping up some button mushrooms while watching her show… Ha!
P.S.  I have added a very simple way to cook this fish to cut your cooking time down.  (The easier method is in the notes section of the recipe.) You will definitely have great flavor with this method but you will lose your "crispiness" due to the eliminated searing step.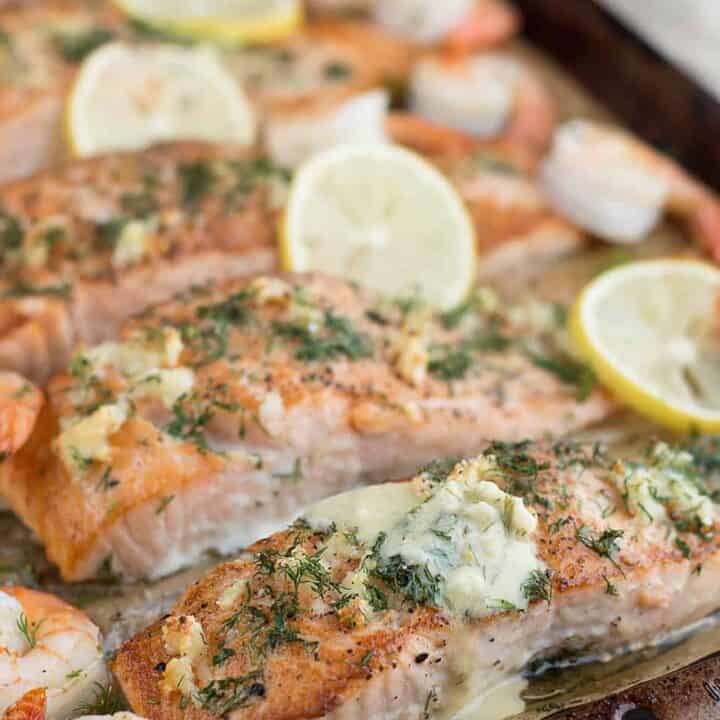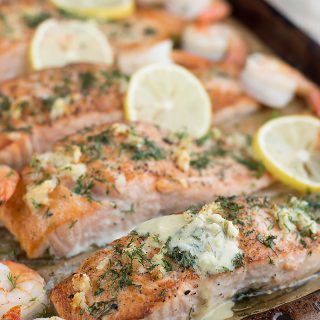 Seared Salmon and Shrimp with Creamy Dijon Dill Sauce
An easy dish that is all about the tangy and creamy Dill and Dijon sauce that goes well with the Salmon.
Print
Pin
Rate
Ingredients
Fish and Fish Seasoning:

4

six to eight ounce salmon fillets

4

large garlic cloves pressed

1

lemon sliced

2

tablespoons

chopped fresh dill

Salt/Pepper

Shrimp and Shrimp Seasoning

1

pound

of shrimp cleaned and dry

(Shrimp size 16/20)

Kosher Salt

Freshly Ground Black Pepper

2

tablespoons

of garlic powder

1

and 1/2 tablespoons Olive oil

Sauce:

6

large garlic cloves finely chopped

2

tablespoons

unsalted butter

Drizzle of Olive Oil

4

tablespoons

dry white wine

1/2

tablespoon

Dijon mustard

1/8

teaspoon

paprika

2

tablespoons

chopped fresh dill

1

cup

heavy cream
Instructions
Turn the Oven on Broil.

Make sure to dry your salmon fillets with a paper towel.

After drying off the salmon season each side of the salmon very well with salt and pepper. Set the salmon to the side.

Coat shrimp with olive oil. Place shrimp on pan lined with foil. Then season the shrimp with the garlic powder, black pepper, and about 2 teaspoons of kosher salt.

In a medium size sauce pan add the butter and drizzle of olive oil. Cook the butter and oil on medium heat until it melts.

Add the garlic and dill to the melted butter and olive oil. Cook this garlic mixture for about a minute or until the garlic is soft.

Add the dry white wine, mustard, paprika, and heavy cream to the pan and stir mixing well. Salt and pepper to taste. Turn the heat down to medium low, and cook for about 5 to 7 minutes. The sauce will thicken.

While the sauce is cooking, heat a pan on medium to medium high heat until it's hot.

Add about 2 tablespoons of olive oil to the hot pan, then add the salmon (bone side down first) to the pan. Cook the salmon for 2 minutes. Remove pan from the heat source.

Before flipping the fish over, sprinkle some of the garlic and dill on the fish. Then, flip the fish over.

After flipping the fish over, sprinkle the rest of the fresh dill and garlic on top of the fish. Place the lemon slices throughout the pan on top of the fish.

Broil fish for about 7 to 8 minutes.

Broil shrimp for about 5 minutes or until shrimp are pink in color and fully cooked.

Plate the salmon on each plate then top it with the sauce and shrimp. Then serve.
Notes
Easier Way to Cook This Dish
You can reduce some of your cooking time by eliminating the step of searing the fish. I used this method a lot when I am crunched for time. You will definitely have great flavor but you will lose the slightly crunchy seared texture. Here's the easier method:
Turn the oven on broil. Ensure all salmon pieces are dried. Rub each side of the fish pieces with olive oil. Salt and pepper both sides of the fish. Place fish pieces on a pan lined with foil for easy clean up. Under each piece of fish place some of the garlic and fresh dill. Then garnish the top of the fish pieces with the lemon slices, and the rest of the garlic and fresh dill used for the fish topping. Ensure your oven is hot, and place fish in oven. Cook fish for 7 to 10 minutes.
Please note that I am not a nutritionist, and the nutritional information is an estimate only. It varies based on the products and brands used.