I made these delicious Apricot and Ginger Glazed Chicken Skewers for dinner the other night and now my hubby is asking for them again! Husband approved!
My plan was to post another recipe because I post a ton of different chicken recipes! I love the recipe I wanted to share, but I just didn't like the photos… Not drool worthy enough for me…. So I decided to share this recipe because I loved these photos and I just knew you would love them too!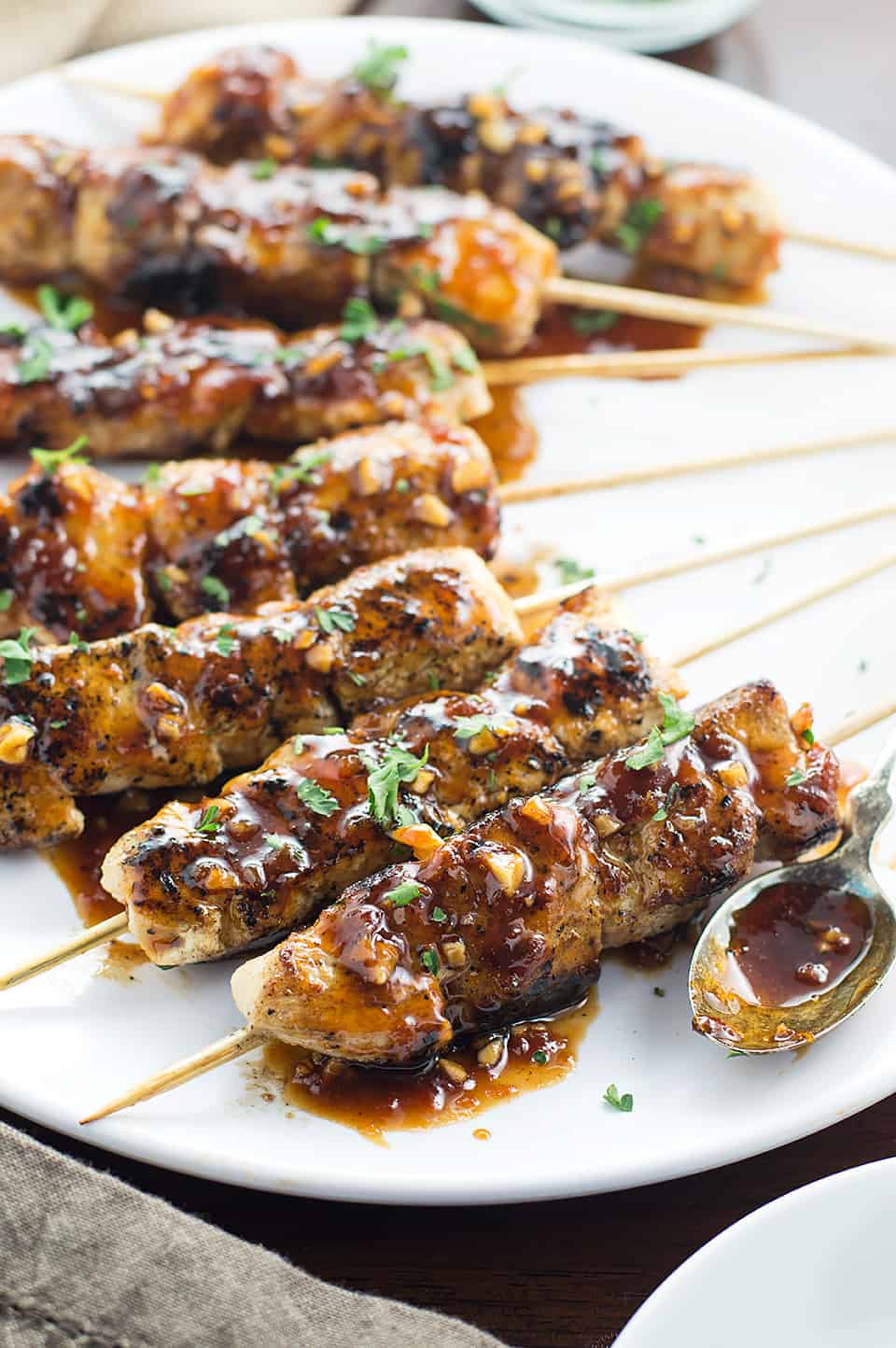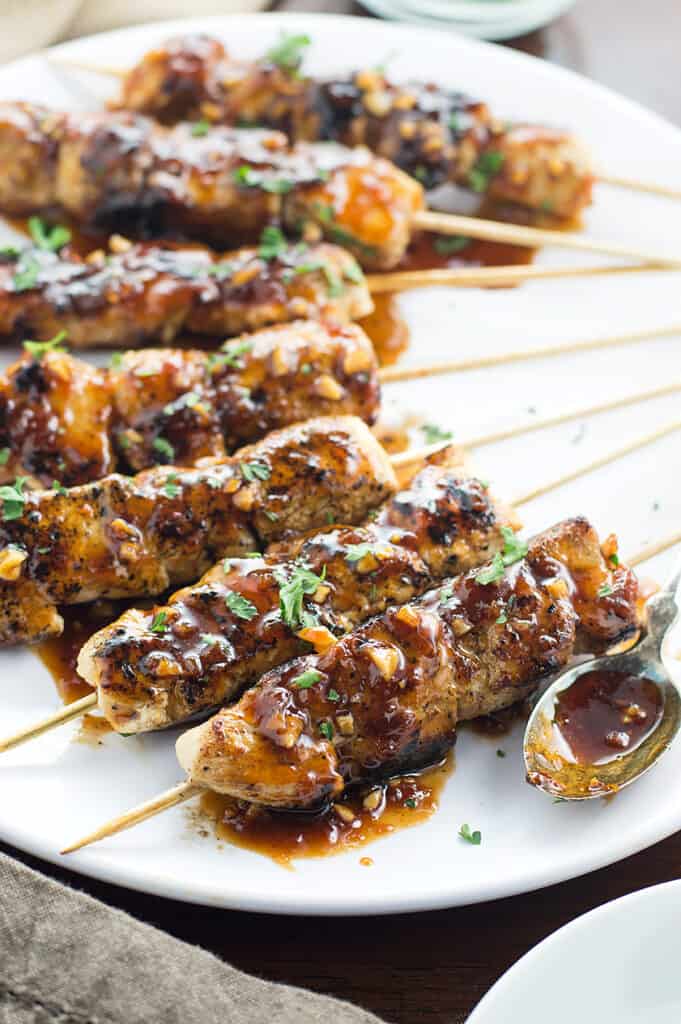 It's been busy! Outside of school festivities we had house visitors twice, and I had homework that I couldn't get into.
And am I the only one that thinks the last part of the school year can get a little hectic?? This past week I felt like I was at New York Fashion week as we took our kid to every award ceremony known to man. Don't get me wrong, I am extremely proud of Ms. Betty Boop, but I after this past week – I was tired, I was broke, and I wasn't important… Haha..
But guess what – I wouldn't change it for anything in the world. I caught up on rest with my honey this week. I made sure to move slow and enjoy our first week of summer together.
And it feels good to sleep in on my days off from work. No early wake ups for school!!!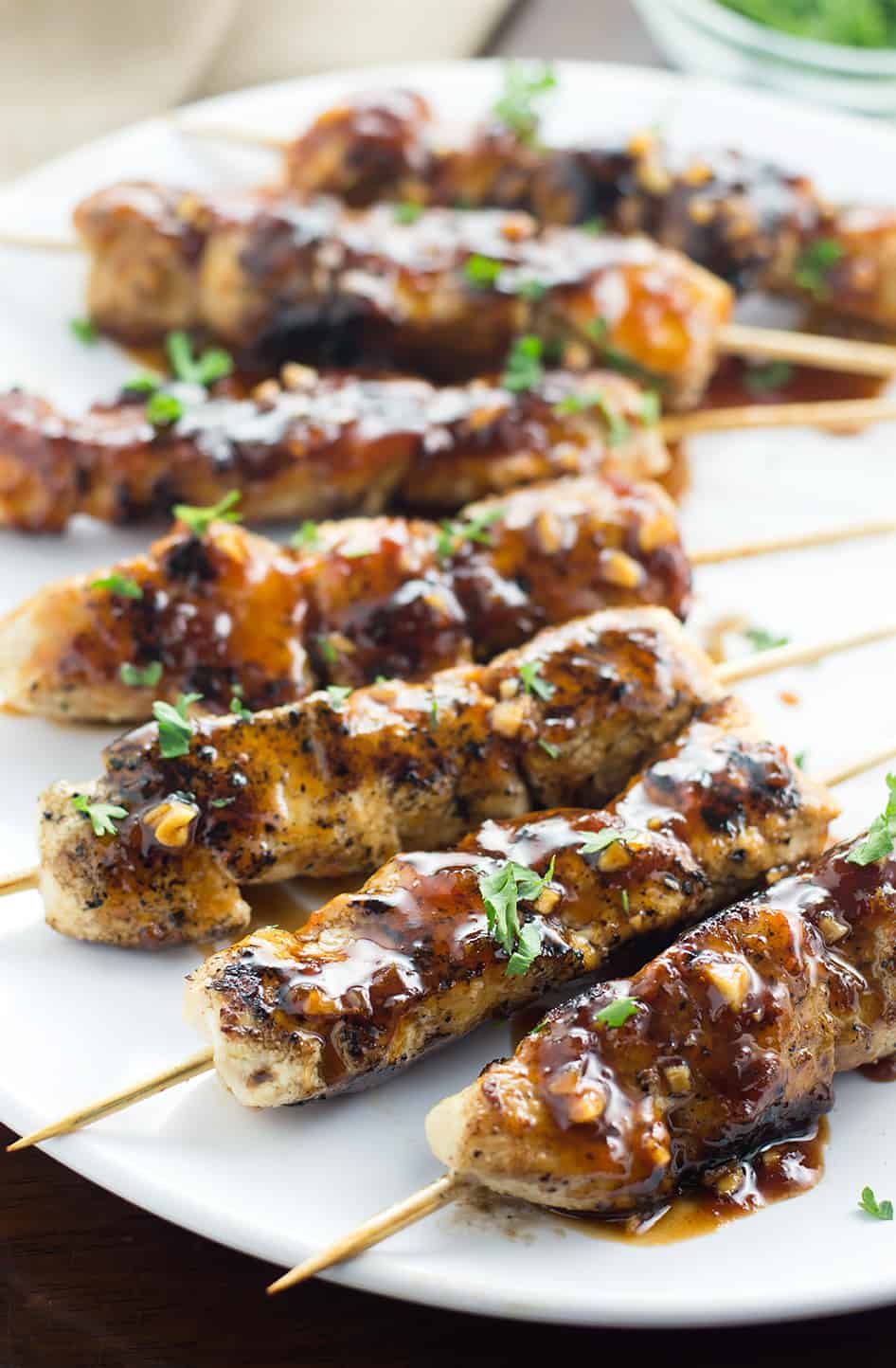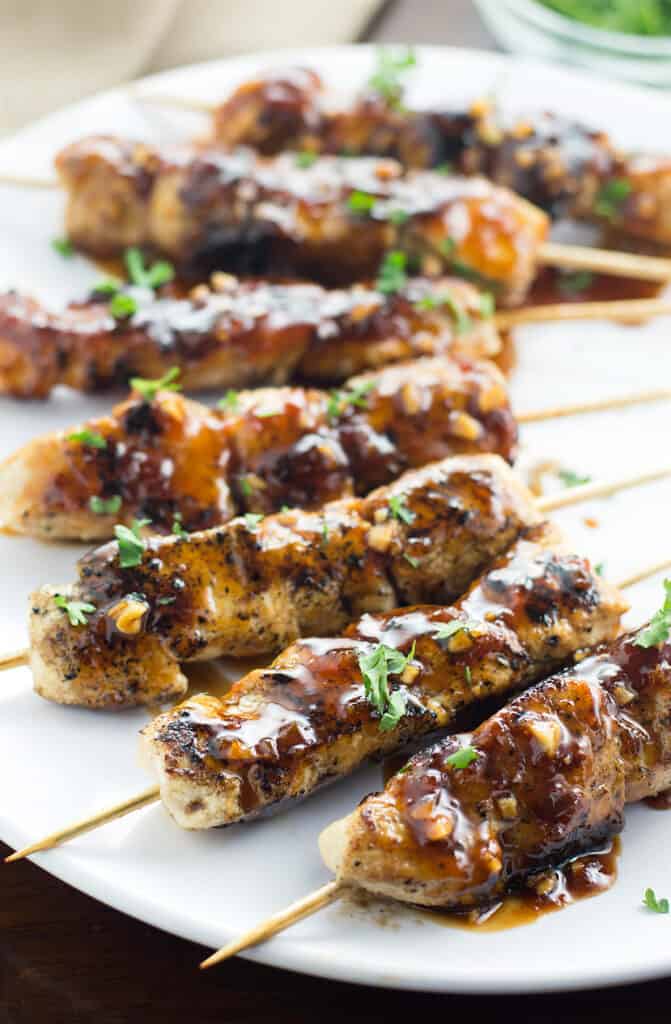 So about these chicken skewers…. I came across a recipe from a Better Homes and Garden magazine for Apricot Chicken Thighs. But I didn't want to do chicken thighs because I already have a few recipes with chicken thighs. I wanted something that says grilling! So I used their recipe as inspiration for these babies.
They are definitely easy to make and packed with flavor! These "great for the summer time skewers" have an Asian feel to them because of the added ginger and soy sauce. They're sweet and tangy with such a delicious ginger finish.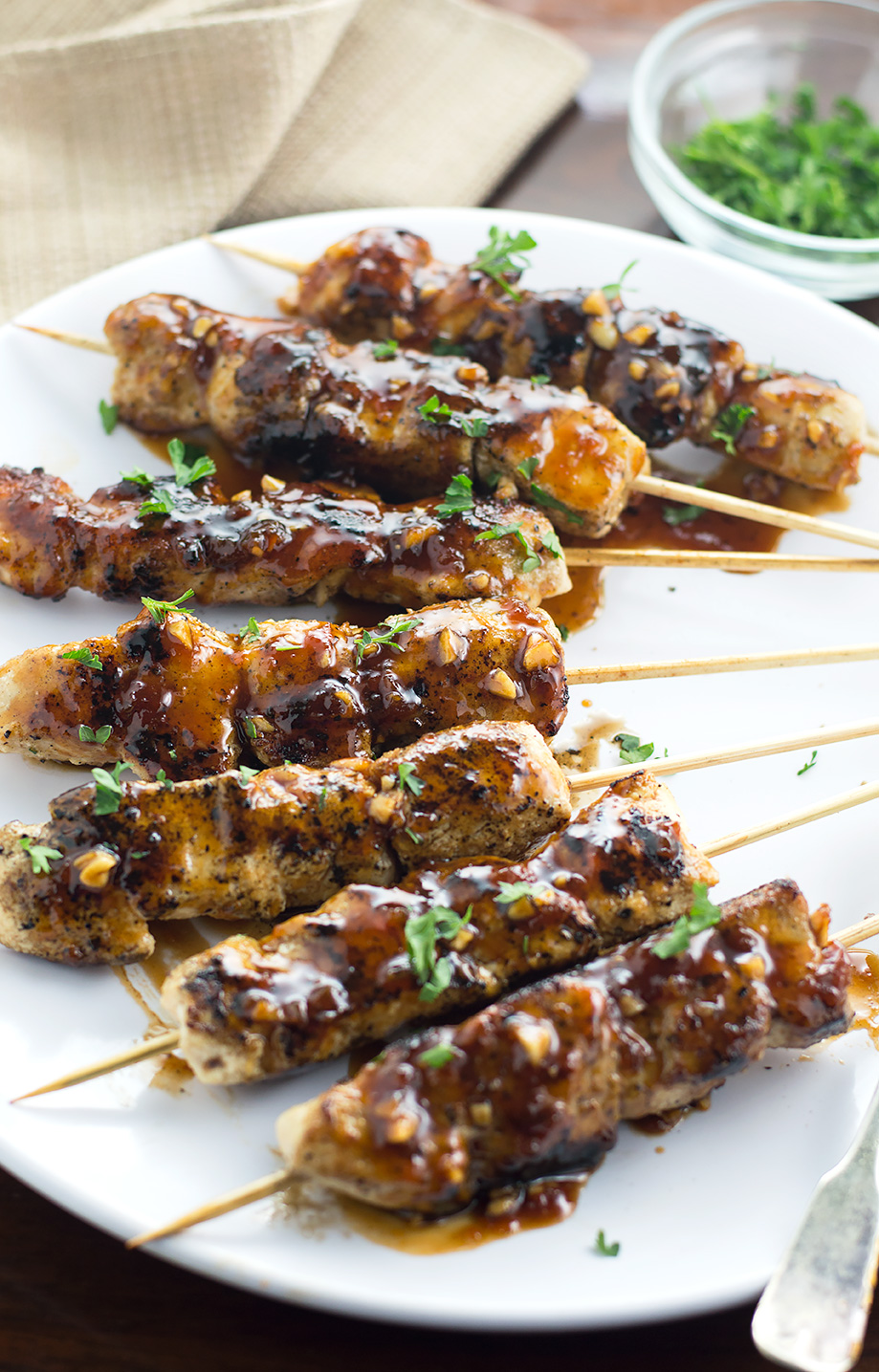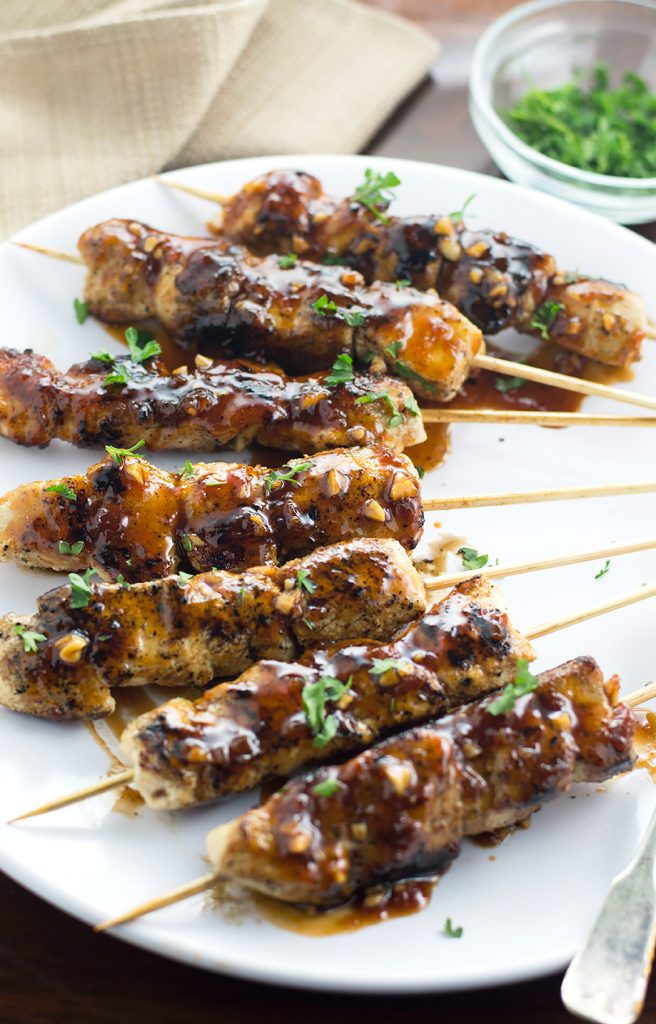 As I was prepping pork chops for dinner earlier, my hubby called and said "make some more of that teriyaki chicken". After identifying exactly what he was talking about, I was like "do I look like a short order cook or something". His answer – yep!
Haha I love it!!!!! Never a dull moment in this house of three.
Enjoying These Apricot and Ginger Glazed Chicken Skewers? Try These, Too: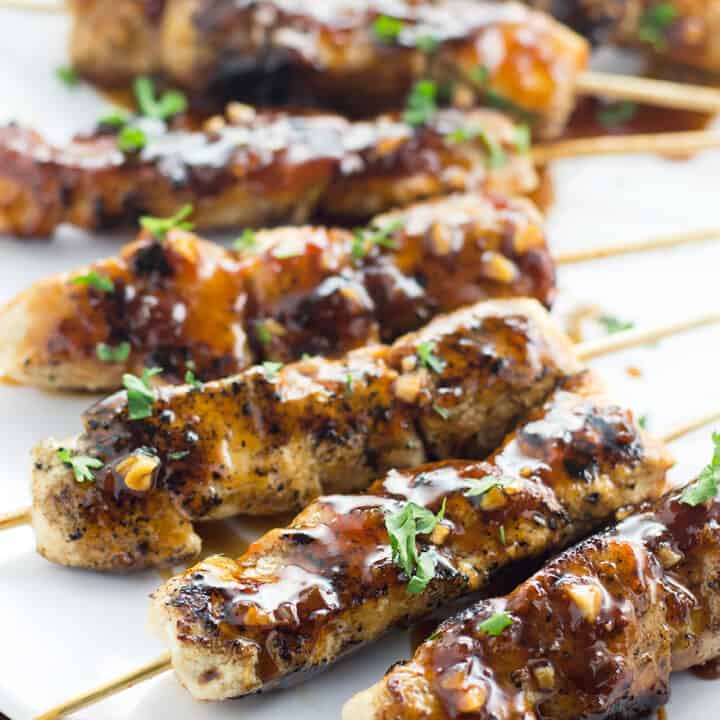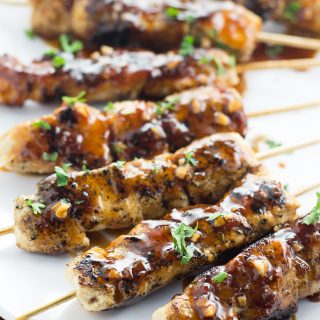 Apricot and Ginger Glazed Chicken Skewers
I made these delicious Apricot and Ginger Glazed Chicken Skewers for dinner the other night and now my hubby is asking for them again! Husband approved!
Print
Pin
Rate
Ingredients
2

large boneless skinless chicken breast diced

8

skewers

Marinade:

1/2

tablespoon

garlic powder

2

teaspoons

onion powder

Kosher Salt

Freshly Ground Black Pepper

Sauce:

1/2

cup

apricot preserves

2

and 1/2 tablespoons pure honey

7

large garlic cloves finely chopped

(minced)

1

and 1/2 teaspoon ground ginger

3

teaspoons

soy sauce

2

tablespoons

apple cider vinegar

Kosher Salt

Freshly ground black pepper
Instructions
First, marinade the chicken. When adding salt and pepper to the chicken as part of the marinade, sprinkle the salt and pepper evenly over the chicken.

Next, add the chicken to the skewer sticks. I put four pieces of chicken on each skewer. (Make sure to soak wooden skewers for at least five minutes before adding the chicken to the skewers to prevent the skewers from burning and catching fire during the cooking process.)

Let the chicken marinate in the refrigerator for at least two hours if you can. (If you have the time, the longer you marinade the chicken the better.)

When ready to cook the chicken, remove the chicken from the fridge and let the chicken sit for at least five to ten minutes.

While the chicken is resting to come to room temperature for even cooking, make the sauce. In a small sauce pan, add all of the sauce ingredients. Use medium low heat, and heat the sauce. Stir the sauce until well blended. Cook the sauce for about 2 to 3 minutes. Salt and pepper to taste.

Cook the chicken skewers on a hot grill for 2 to 3 minutes on each side or until the inside of the chicken is no longer pink.

When ready to serve the skewers, spoon the sauce onto the chicken skewers.
Notes
I made the cook time 15 minutes to include prep time for getting the grill ready.
Please note that I am not a nutritionist, and the nutritional information is an estimate only. It varies based on the products and brands used.
Pin this Recipe on Pinterest with this Picture Below:


Want more inspiration from Better Homes and Gardens? Check them out HERE!