My easy miso soup ramen bowl using leftovers is great for the beginner cook or the busy cook. This recipe is part of my 4 Day Menu Plan Using Leftovers to help save money and time in the kitchen!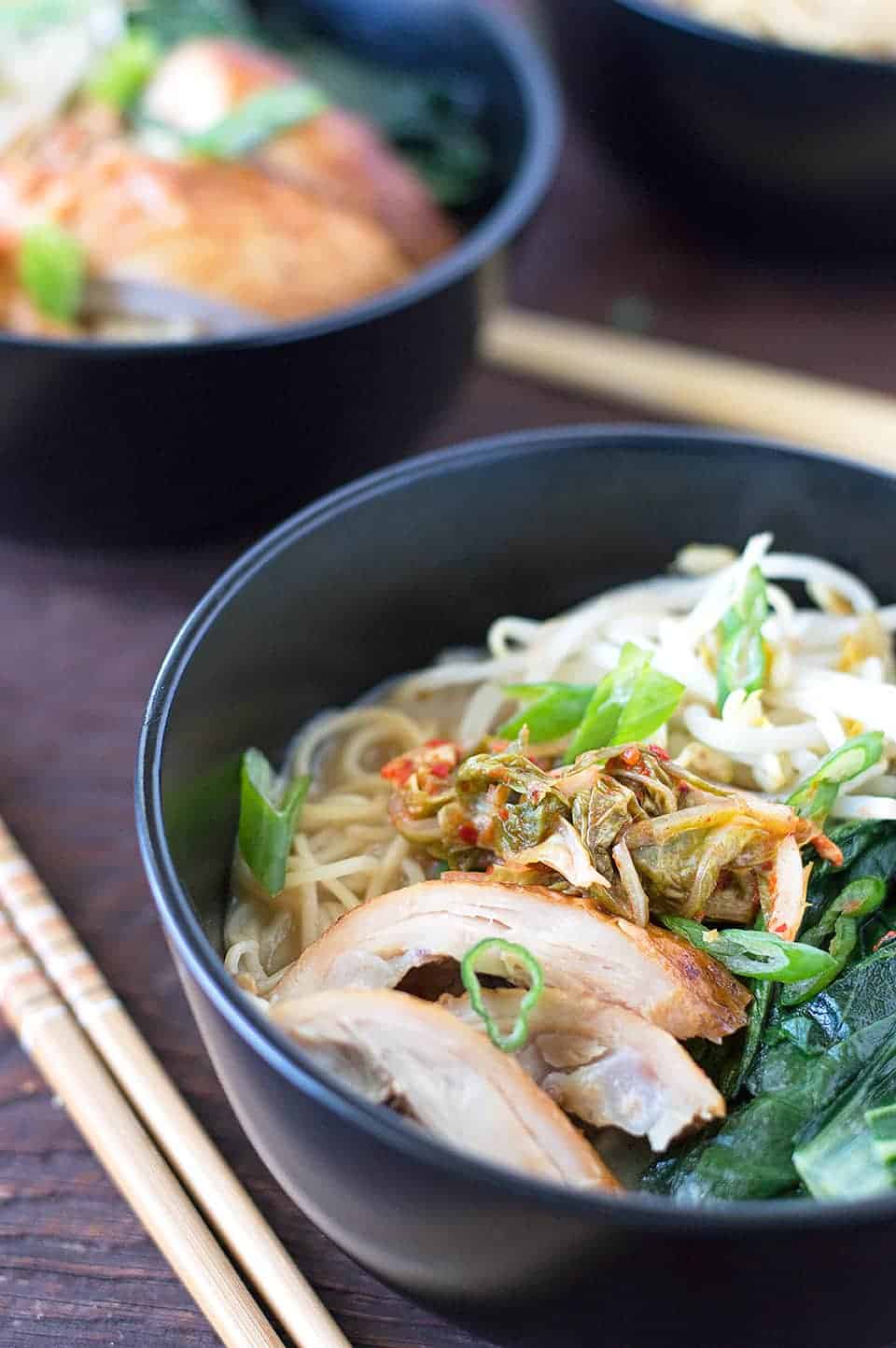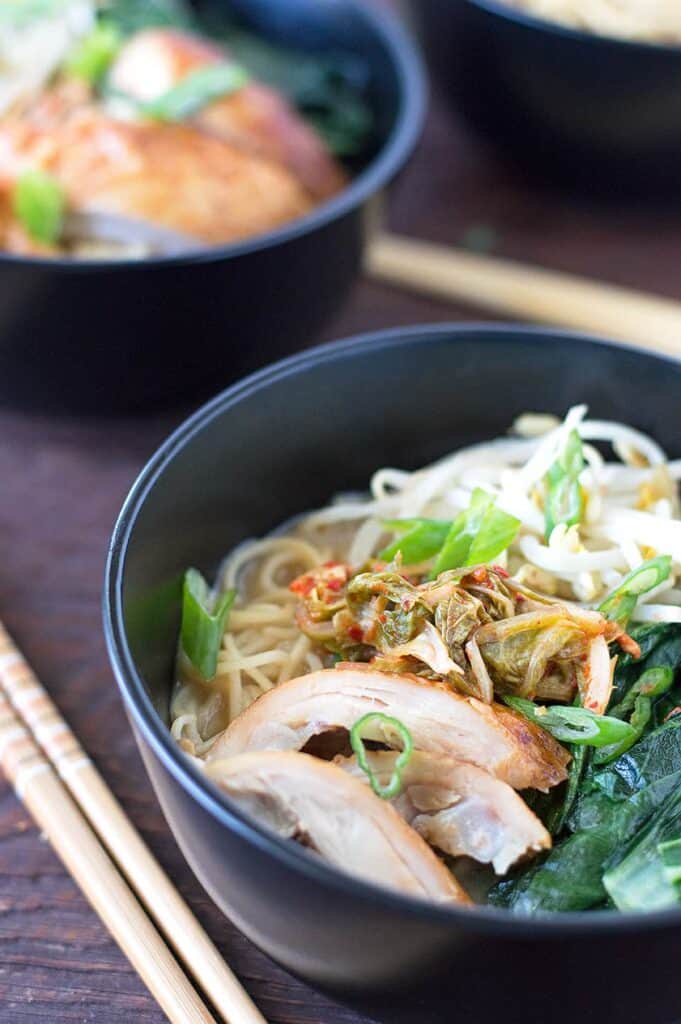 When I am super busy at times, and the wallet is lacking in the money department, this meal is a hearty comfort food for me. I make my own homemade miso soup broth with leftover chicken bones after we finish off a roasted chicken dinner. And any meat that's left on the bones from that roasted chicken dinner is the meat source for this ramen soup bowl. So that means we made two meals with once meat source. Helping me stretch the dollar and my time a little bit.
And even though this is a cheaper meal, it's full of protein and vegetables. So it's not like we loaded up on 99 cents burgers in the drive through because I was too tired to cook or we were hungry due to a lackluster meal.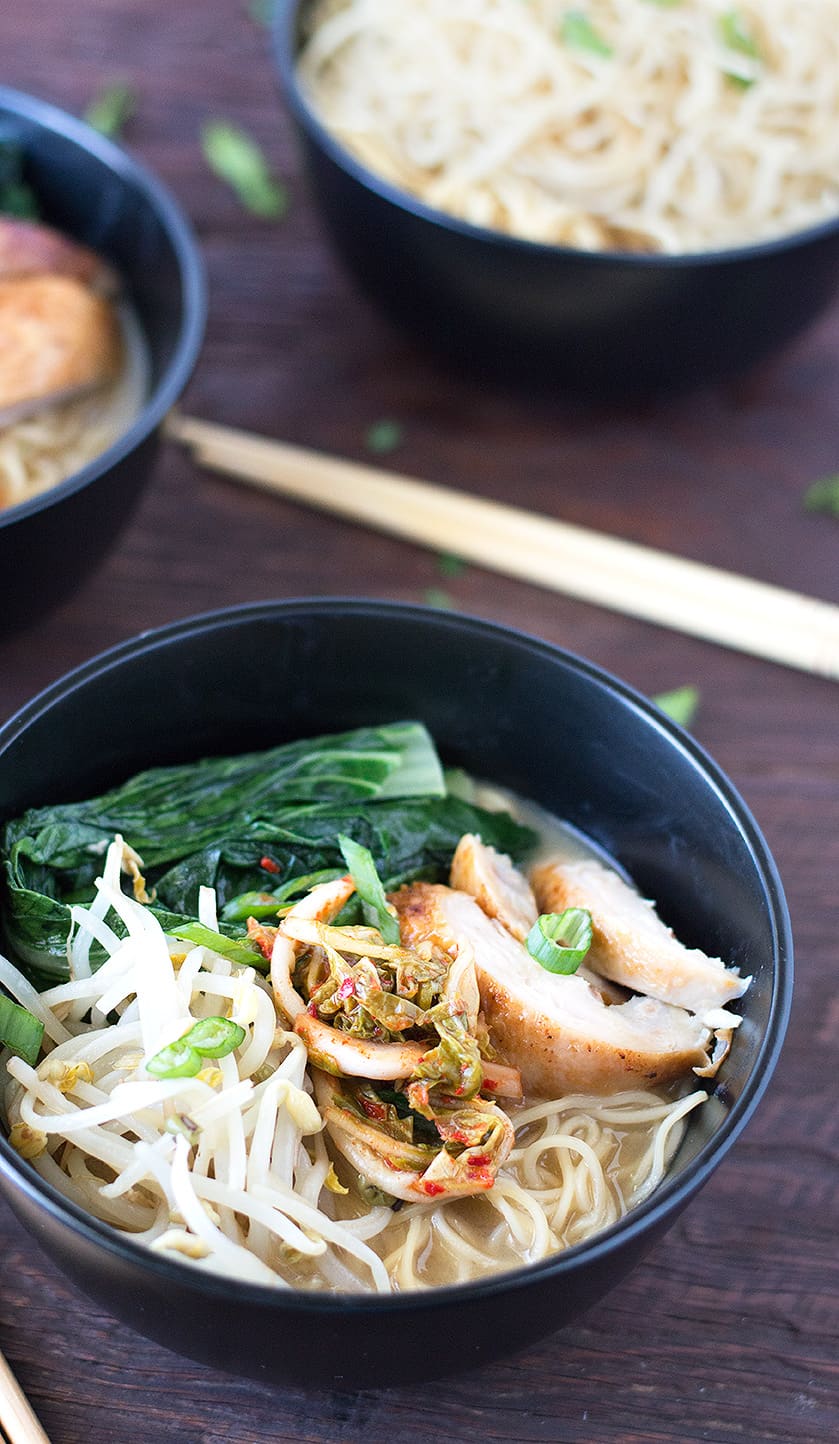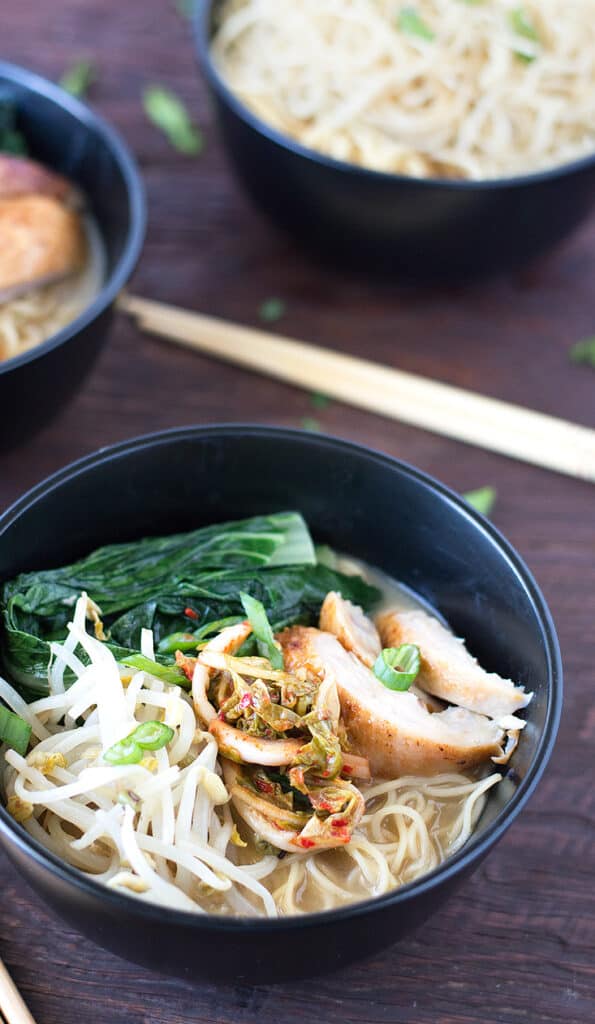 For this bowl I added bean sprouts, bamboo shoots, and eggs. But the possibilities are endless for the ingredients you can add to this ramen bowl. You can add spinach, kimchi, pork belly (my favorite), and seaweed. When we made this bowl that you see in the picture, I used kimchi as a side garnish.
It doesn't stop here! I have three more days of recipes to help while we try to make it through this work week! Check out my four day menu plan using leftovers HERE.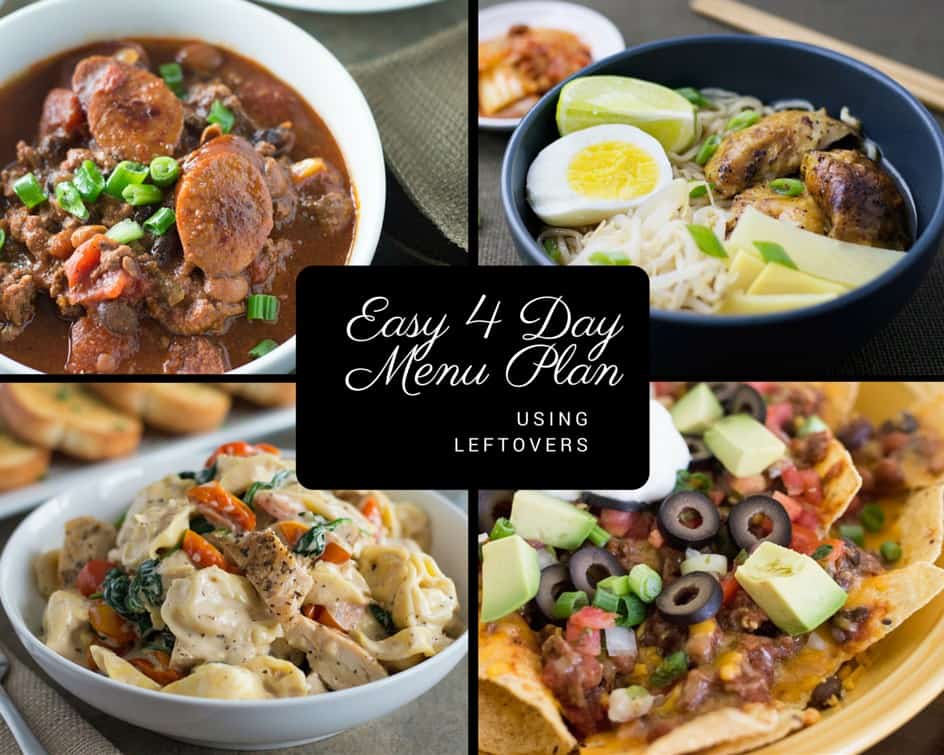 XO,

Enjoying this Miso Soup Ramen Bowl? Try These, Too: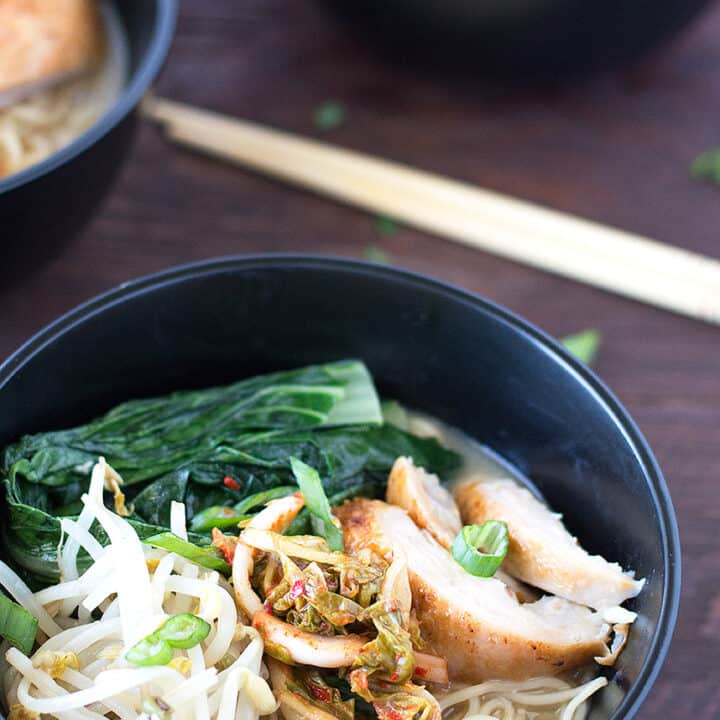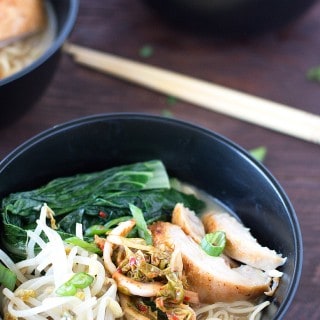 Miso Soup Ramen Bowl Using Leftovers
Easy recipe part of my 4 day menu plan that is great for the busy or beginner cook.
Print
Pin
Rate
Ingredients
Broth Ingredients:

Bones

, fat, and skin of one whole roasted chicken

6

large garlic cloves roughly chopped

½

tablespoon

roughly chopped fresh ginger

1

cup

chopped fresh white onion

8

and 1/2 tablespoons concentrated miso broth

2

and ½ tablespoons pure seasame oil

5

cups

water

¼

teaspoon

ground black pepper

Other Ingredients Needed:

4

eggs

2

packs of ramen style noodles

8

ounce

can or about 1 cup of fresh sliced bamboo shoots

2

bundles of fresh bok choy

(white stems cut off)

14

ounce

can or about 2 cups of fresh bean sprouts

2

to 3 cups of sliced cooked chicken

Diced green onions

(Optional for garnish)

Lime wedges

(Optional for garnish)

Kimchi

(Optional for garnish)

Diced Green Onion

(Optional for garnish)
Instructions
Place all of the broth ingredients into a large pot. Bring the broth ingredients to a boil, then reduce heat to low. Cover the pot of broth with a lid and cook on low for about one hour.

After the broth has cooked, strain the broth using a strainer.

Place the strained broth back into the pot. Bring the broth to a boil.

Add the ramen noodles to the broth. Cook the ramen noodles as directed on the package. While the noodles cook, add your eggs to a pot of water and boil for 4 minutes, then remove the pot of egg from heat and let the eggs sit in the water for another 3 to 4 minutes to get a soft boiled egg.

When ready to serve, add the sprouts, bamboo shoots, bok choy, and cooked chicken to the ramen soup, and allow the vegetables and chicken to heat through.

Peel eggs, cut eggs in half, and place half of an egg in each serving.

Garnish with diced green onions, and other optional garnishes.
Notes
Tasty Tip:
The possibilities are endless when it comes to ingredients you can add to this easy ramen bowl. Other ingredients you can add to a ramen bowl include roasted pork (my favorite), kimchi, seaweed, and spinach.
Please note that I am not a nutritionist, and the nutritional information is an estimate only. It varies based on the products and brands used.