I made a moist sour cream banana bread with toasted pecans from scratch….  And my hubby's coworkers gobbled it up….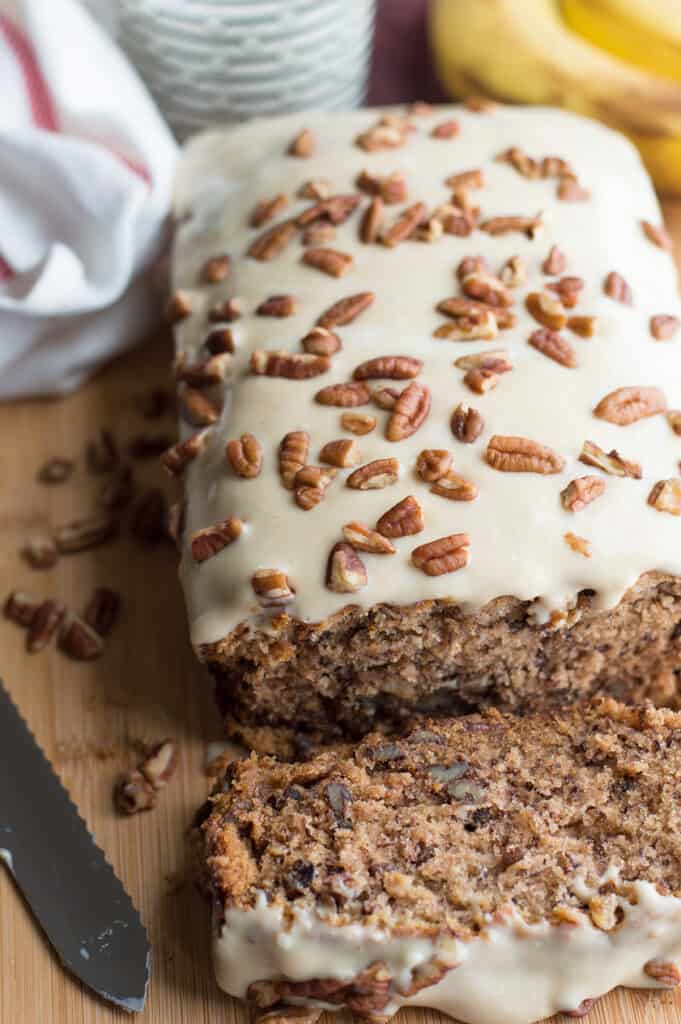 I love banana bread.  If there is any of that delicious stuff around, I'm there.  And I like to spread a little slice of butter on a piece of banana bread that's fresh out the oven too…
Even though I have a recipe for a Quick Banana Bread Cake  using cake mix, I still enjoy that good old thing made from scratch.  Because of that, I make homemade banana bread a lot, adding different ingredients such as sour cream to make the bread moist.
And the banana bread recipes I make are extremely easy requiring only a few steps.  I don't have to shift the ingredients or do anything else crazy.  The most difficult thing I have to do is chop the pecans.  How hard is that???
With this recipe I toasted the pecans to bring out the nutty flavor of the pecans.  And as I mentioned above, I added sour cream to help make the bread moist.  Check it out!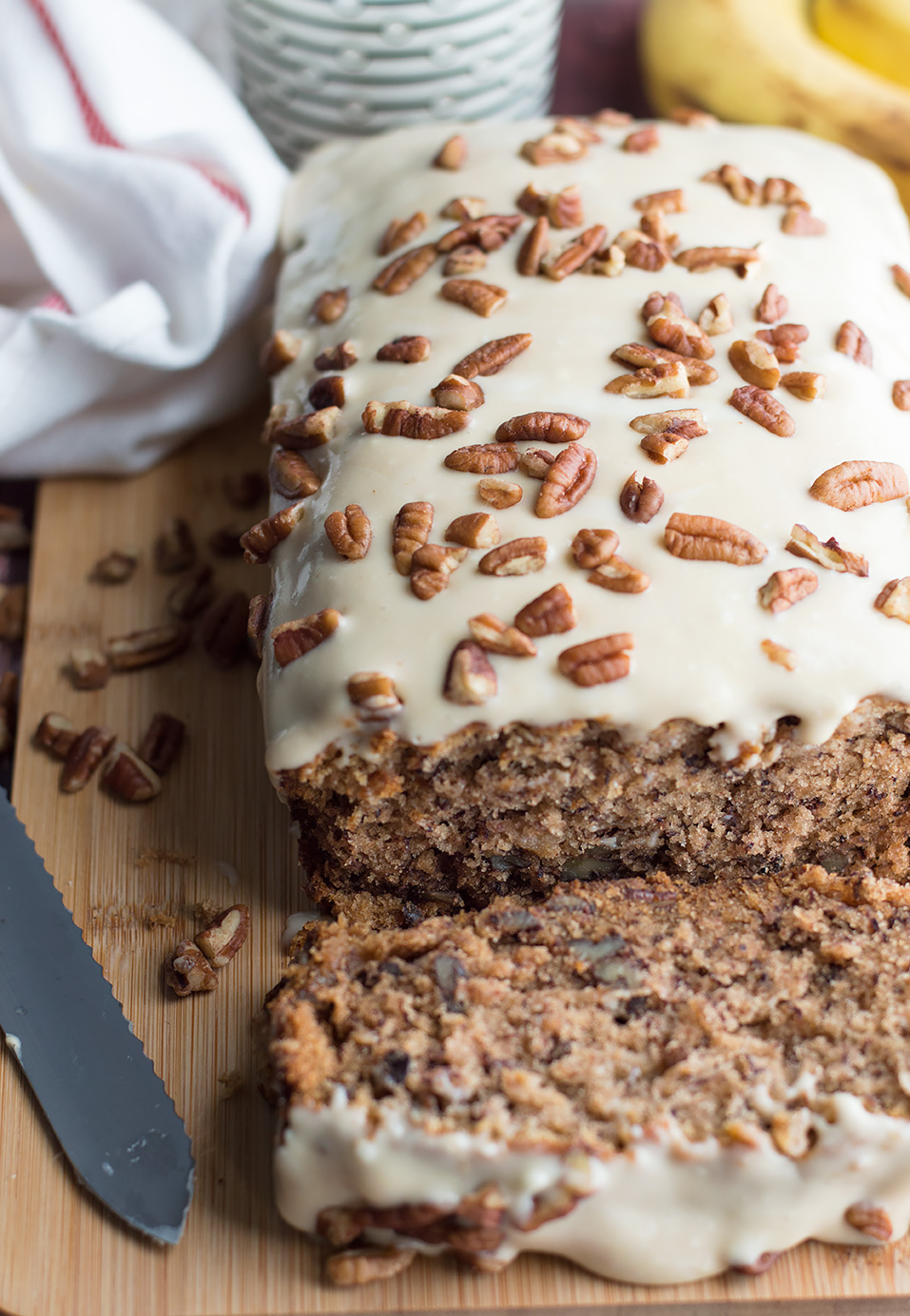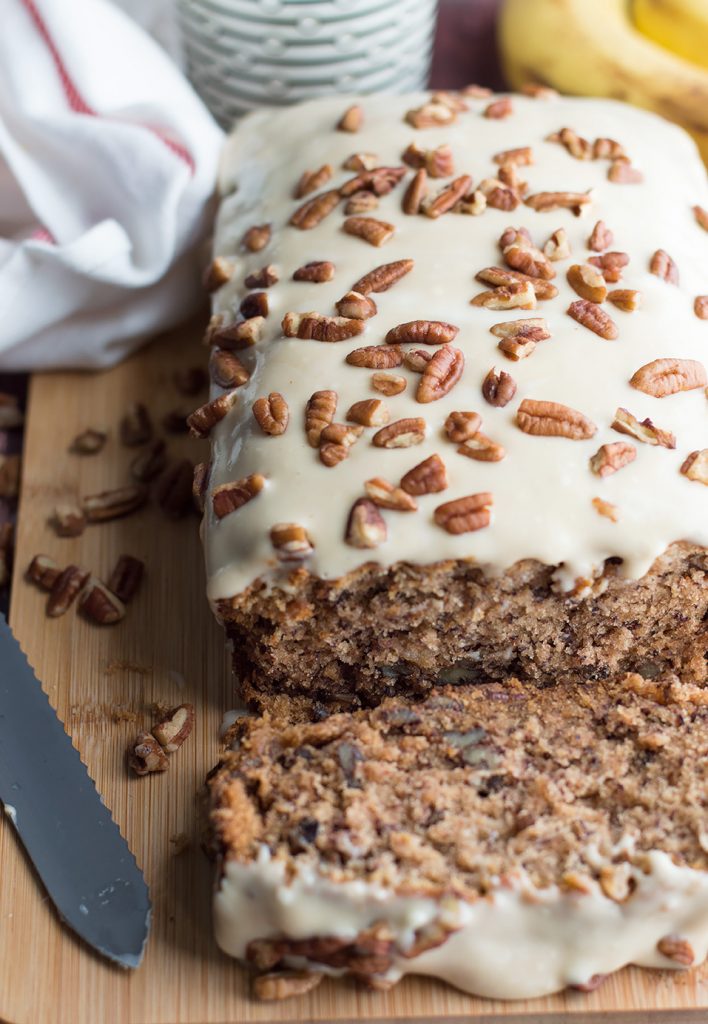 But One Question… Help me out with something….  How do you pronounce pecan??  Do you say PEA-CAN or PUH-KAHN????  We're having a debate in this household about it….
XO,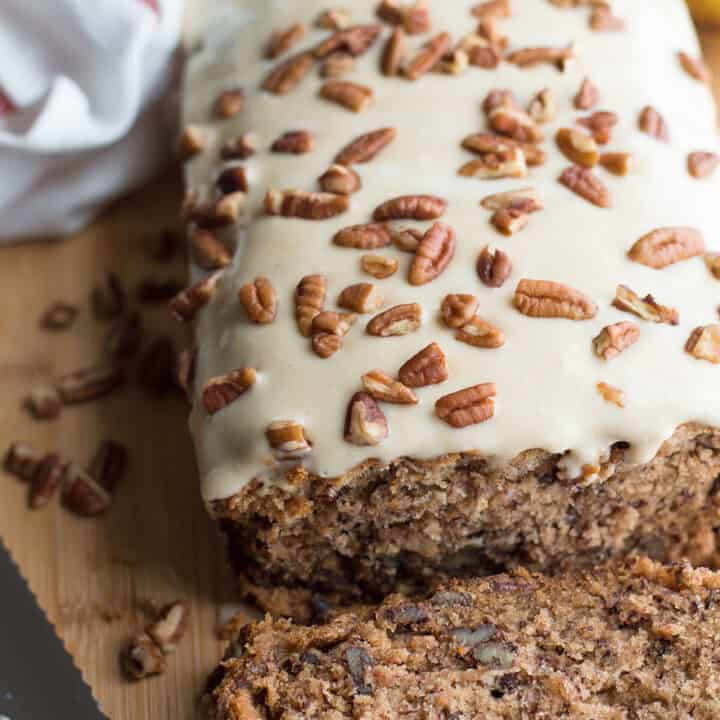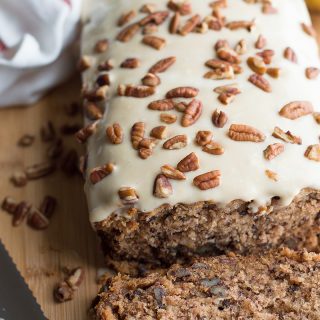 Sour Cream Banana Bread with Toasted Pecans
Easy to make moist and lightly sweetened sour cream banana bread with toasted pecans made with pure can sugar, and organic flour.
Print
Pin
Rate
Ingredients
1

cup

chopped pecans

1

and 1/2 cups unbleached organic flour

1

teaspoon

baking soda

1/4

teaspoon

salt

1/2

cup

soften unsalted butter

1/2

cup

pure cane sugar

1/2

cup

brown sugar

1

egg lightly beaten

1

teaspoon

pure vanilla extract

1/2

teaspoon

ground cinnamon

1/2

cup

sour cream

1

& 1/2 cup over ripe mashed bananas

Optional Cream Cheese Maple Drizzle:

8

ounces

cream cheese softened

3/4

cups

powdered sugar

6

tablespoons

milk at room temperature

1/2

maple flavoring extract or vanilla flavoring extract
Instructions
Preheat oven at 350 degrees.

Place the chopped pecans on a pan that has been lined with parchment paper.

Once the oven temperature is at 350 degrees, place the pan of pecans in the oven. Cook the pecans for about 5 minutes. Remove the pecans from the oven. Let the pecans cool.

While the pecans cool, whisk the flour, salt, and baking soda together in a bowl, set aside.

Next, mix the butter, and sugars with a mixer until well blended. (Mixing for about 1 to 2 minutes)

Then, add the egg, vanilla, cinnamon, and sour cream to mixer. Mix for about 30 seconds.

Now add the flour mix and mix for about 30 seconds. Make sure to scrap the bottom of the bowl and the sides of the bowl with a rubber spatula to make sure all the ingredients are mixed well into the batter.

Next, mix in the bananas into the batter, mix for about 30 seconds until bananas are mixed into the batter. Remember to scrap the sides and bottom of the mixing bowl to make sure everything is mixed together.

Mix the nuts into your batter mixture with your rubber spatula or spoon.

Pour the batter into a greased 9x5 bread loaf pan.

Bake the bread at 350 degrees for about 55 to 60 minutes or until a toothpick is clean when inserted into the bread when checking to see if the bread is done. (I usually start checking after 40 minutes of cook time to determine if the bread has finished cooking.

How to make the cream cheese drizzle:

Mix powdered sugar and cream cheese together in a blender until mixture is smooth.

Add milk and flavoring extract and blend until smooth.
Notes
Cooking Tip:
Make sure not to over mix the batter at is makes the bread tough.
Instead of pure cane sugar, you can use brown sugar instead and still get good results.
Please note that I am not a nutritionist, and the nutritional information is an estimate only. It varies based on the products and brands used.