I keep giving you these one pan/pot chicken dinners!  And guess what?  I have another one for you with this Golden Mushroom Chicken.  Check it out!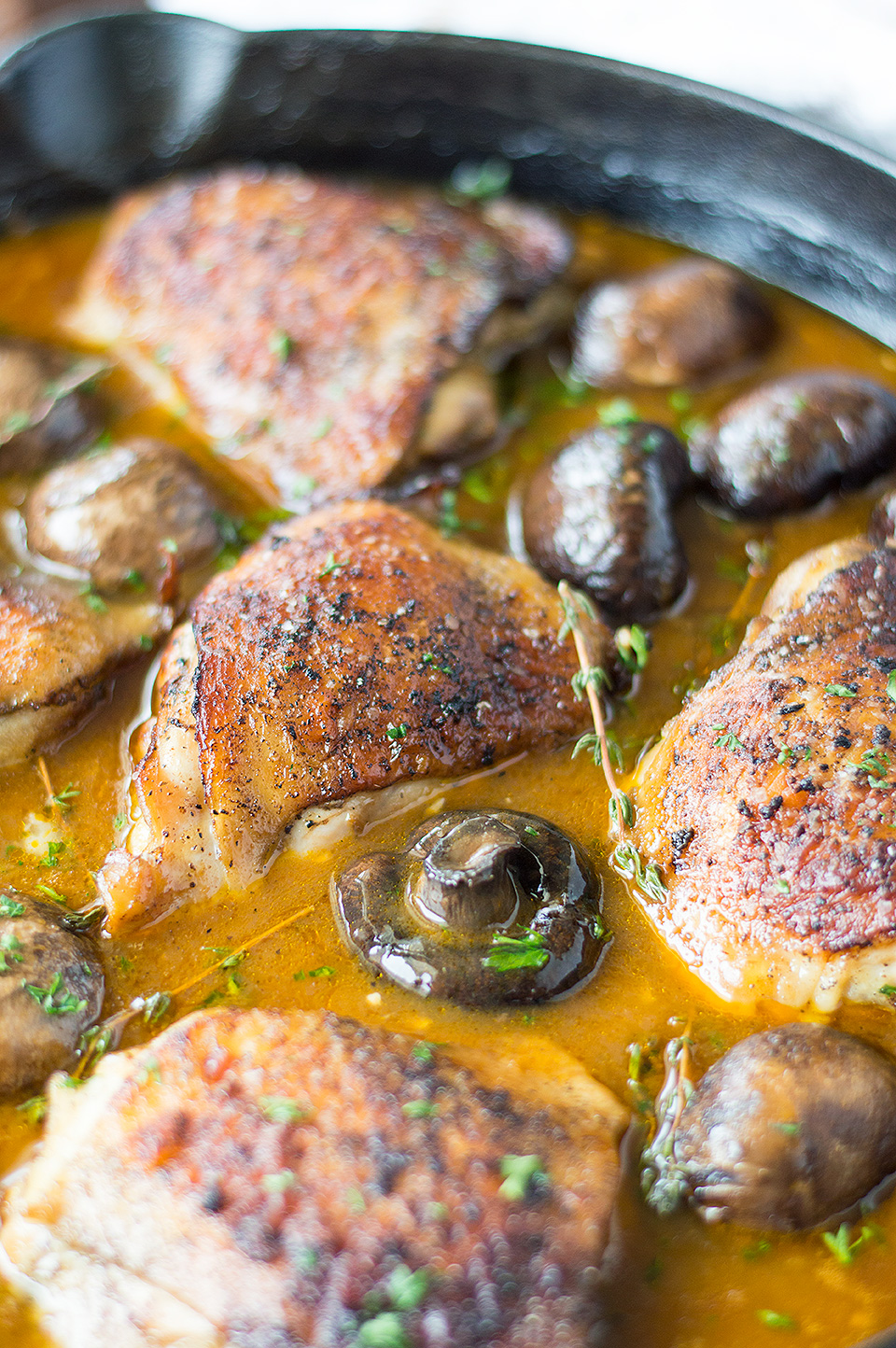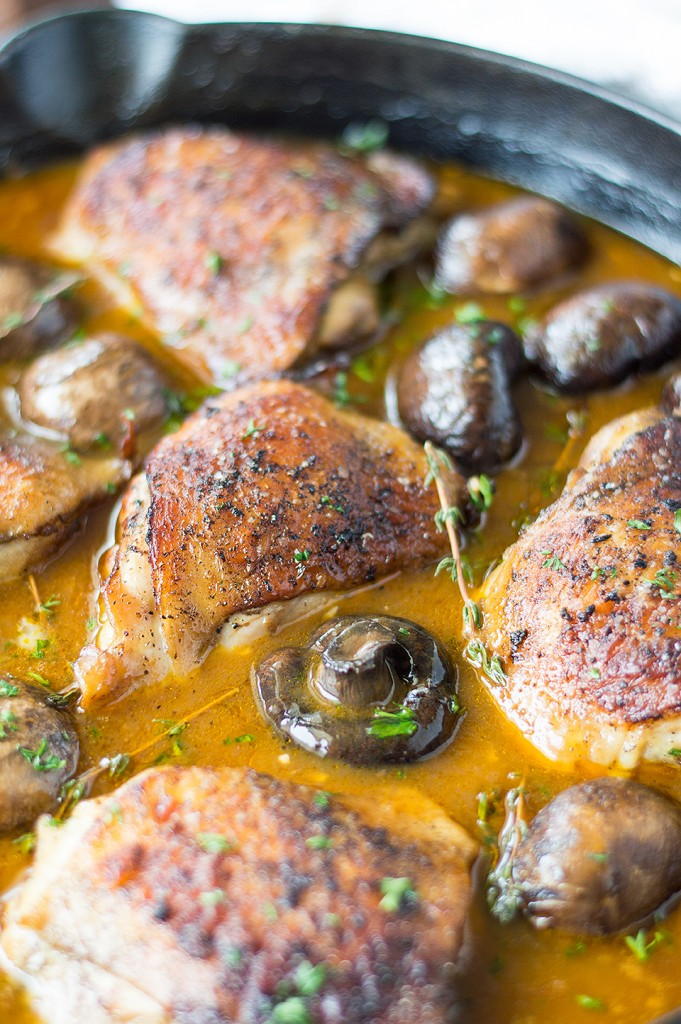 This golden mushroom chicken is inspired by my mother-in-law.  Every time we ended up at her house back in the day, she had chicken baked in a golden mushroom gravy, with a big pot of collard greens on the side.  And all us teenage young-in's would tear it up!  Hands down, this is one of my favorite meals she cooks.
The other day my hubby (JT) was reminiscing with me over a glass of wine and this golden mushroom chicken popped up in the conversation.  We were like – damn how did she take a can of golden mushroom soup and make that chicken taste like that??  Then JT was like – oh man I'm gonna make that chicken because I'm craving it now!  He went out and bought all of the stuff he needed to make the recipe, but it sat there for a while.  And then I realized that was my cue to make it! LOL Love you JT 🙂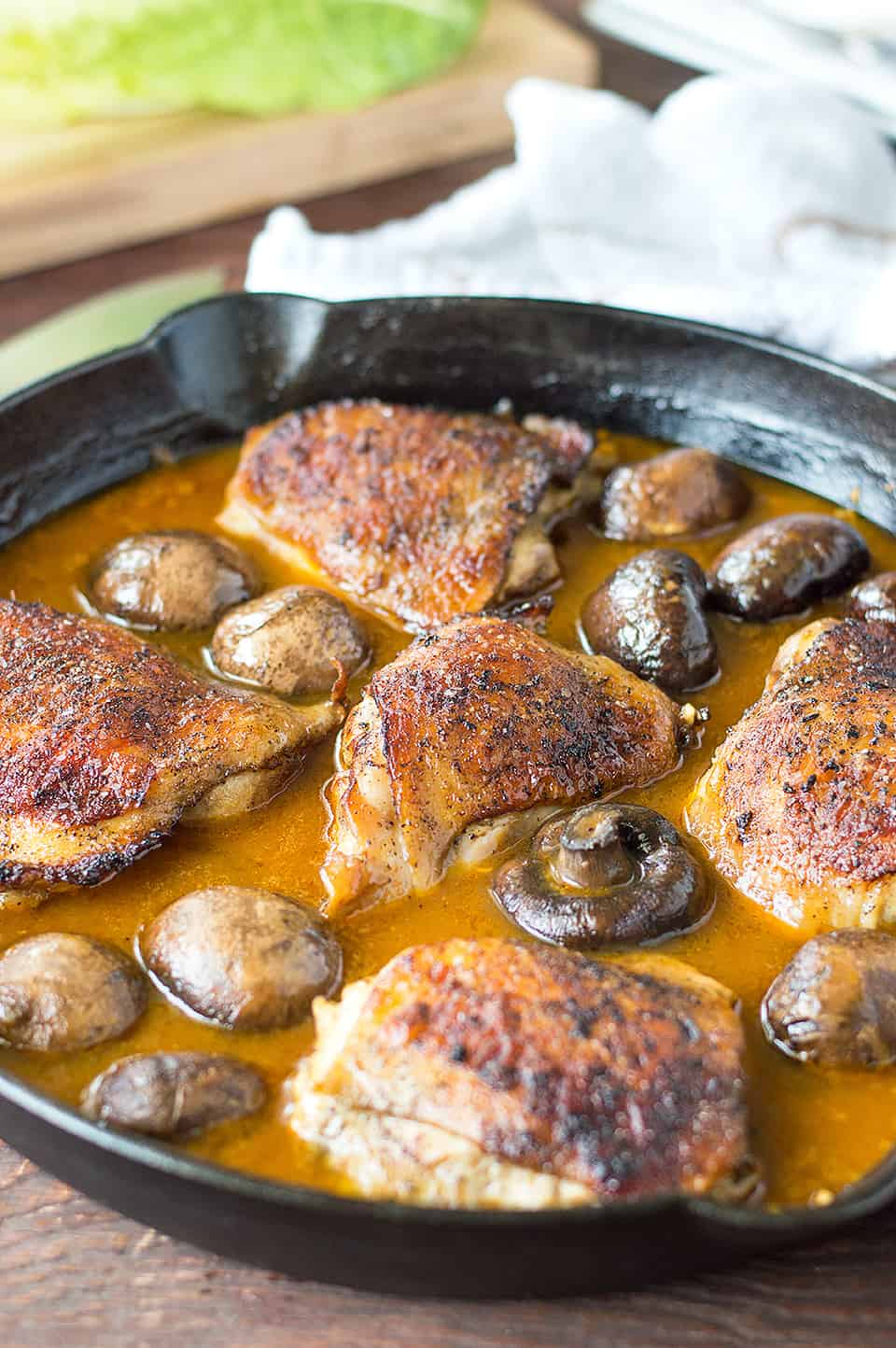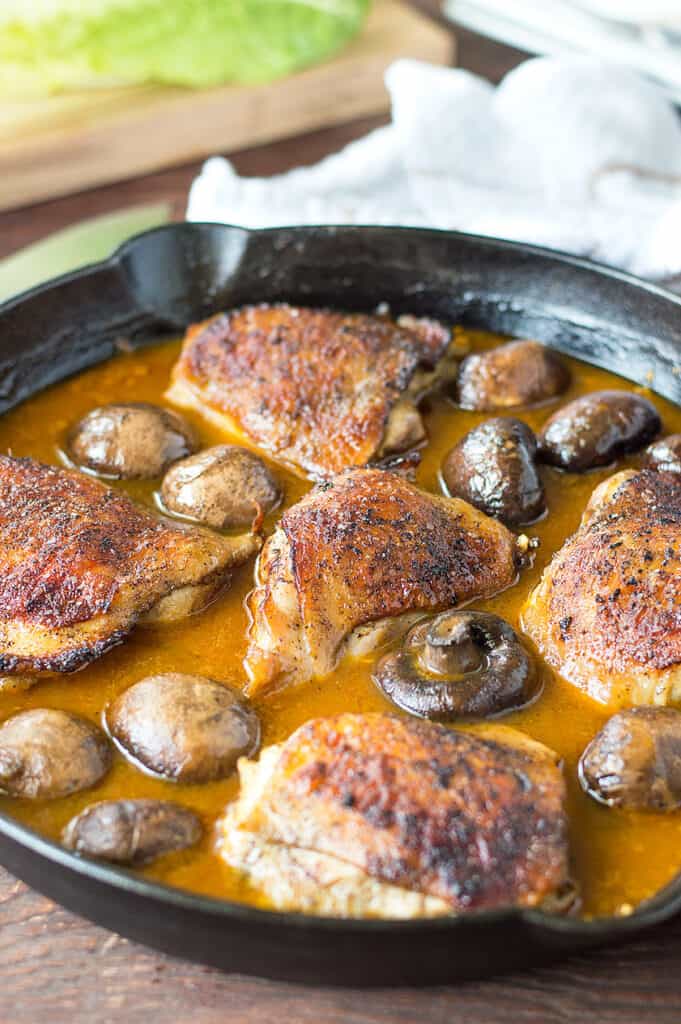 So I got my happy butt in the kitchen with another glass of wine and starting throwing some different ingredients together.  I love love love my mom's recipe but, I wanted to make Golden Mushroom Chicken 2.0.  So I added sherry, wine, and fresh thyme into the mix, and made sure to make this recipe as easy as possible….  I didn't even slice the mushrooms so it made it that much more easier for me.  Plus I made sure I was only using one pan to cook with.
When I served it to the love of my life, he cleaned his plate.  So I was like "who's your momma now".  LOL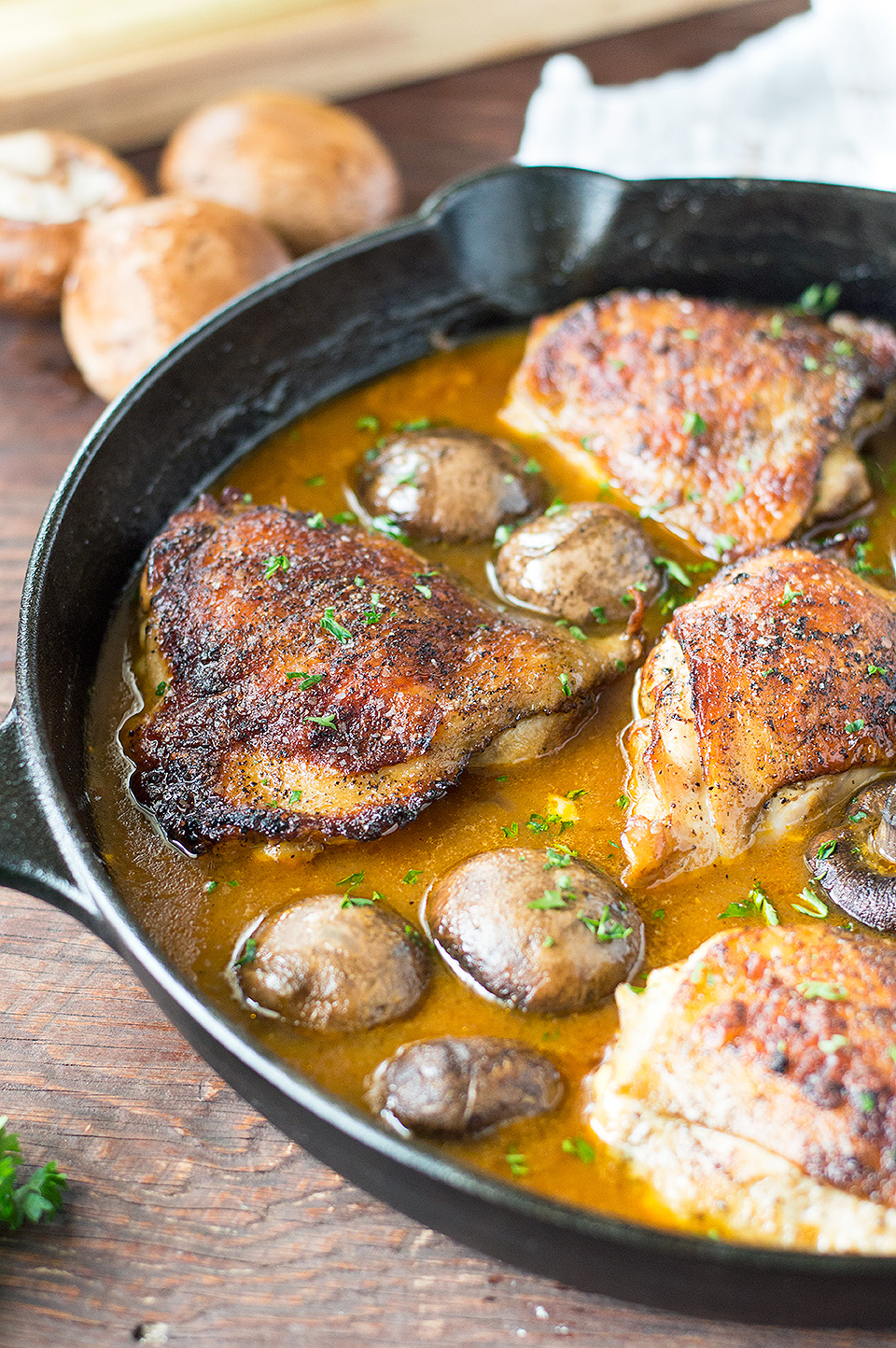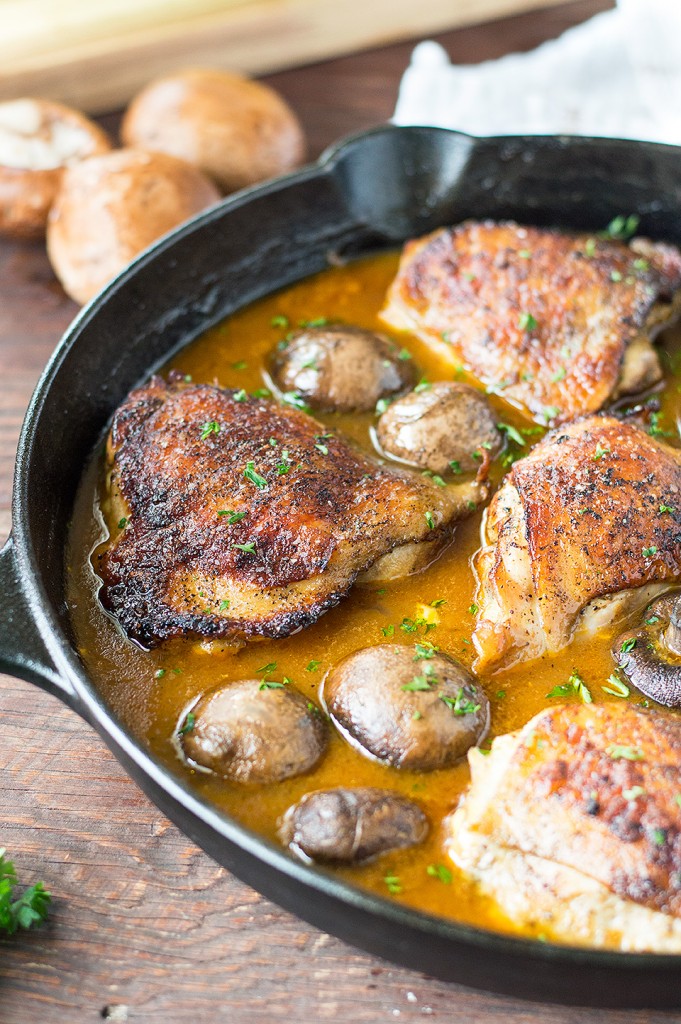 Enjoy Everyone!
And thanks Mom for the recipe!  We love you to the moon and back BT!
---
♥♥♥ Stay Connected – like us on Facebook, follow us on Twitter, Instagram, and Pinterest!  ♥♥♥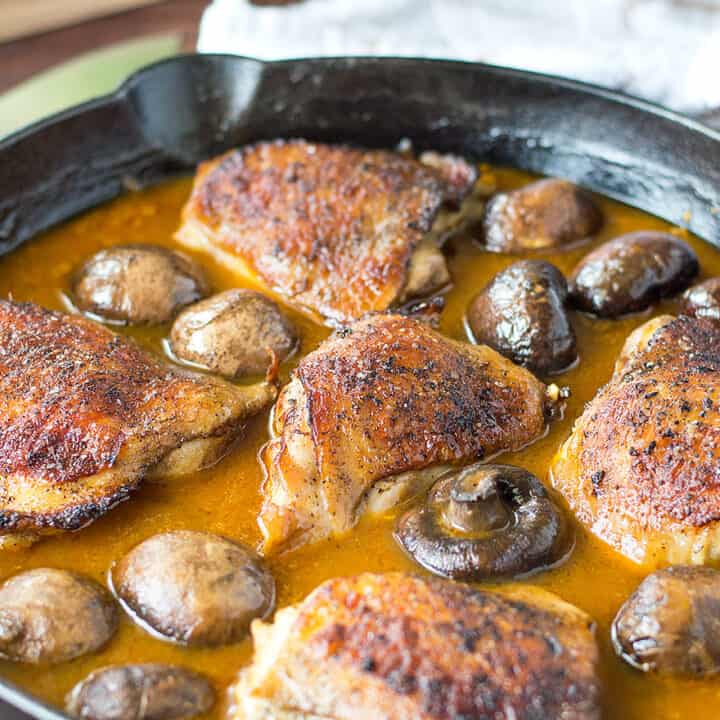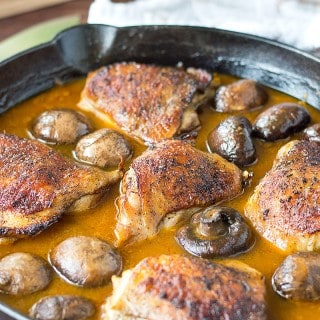 Garlic Golden Mushroom Chicken
An easy one pan chicken dish with a golden mushroom sauce.
Print
Pin
Rate
Ingredients
5

chicken thighs

(I use chicken thighs with bone and skin on)

1

to 2 tablespoons olive oil

Marinade:

5

large garlic cloves finely chopped

1/2

cup

dry sherry

3

sprigs of fresh thyme

(chopped)

Salt

Pepper

Sauce:

One 10.5 ounce can of golden mushroom soup

1/4

cup

dry white wine

1/4

cup

dry sherry

1/2

cup

chicken broth

4

large garlic cloves finely chopped

8

sprigs of fresh thyme

(chopped)

16

ounce

container of whole baby bella mushrooms

Salt

Pepper
Instructions
First marinade the chicken. Pierce a few holes in the meat with a fork to help the marinade penetrate through. Salt and pepper both sides of each chicken piece. Then add the marinade ingredients (which is the 1/2 cup of sherry, 3 sprigs of thyme, and 5 garlic cloves) in a Ziploc storage bag. Add the chicken to the bag of marinade and let the chicken marinate in the refrigerator for 2 to 8 hours. (I usually let my chicken marinate overnight for more flavor.)

When ready to cook your chicken, preheat oven to 375 degrees.

Mix together these sauce ingredients only: golden mushroom soup, wine, sherry, and chicken broth. Set aside.

While waiting for the oven to preheat, remove the chicken from marinade and start the process of browning your chicken.

Salt and pepper the chicken again at the time if desired.

Then let the chicken sit for a few minutes.

Get an oven safe pan hot using medium high heat using the stove top.

Once the pan is hot, add a few drizzles of olive oil to the pan.

Now add the chicken to the pan.

Brown the chicken on both sides for about 3 minutes or until the chicken is a nice golden brown.

Remove the chicken from the pan. Remove excess grease from the pan, leaving only a small amount of oil in the pan to brown the garlic (estimating about a few teaspoons or drizzles of oil).

Turn the heat off on the stove top. Add the garlic and additional thyme leaves to the pan and let it cook for only a few seconds until the garlic gets soft.

Add the soup mixture to the pan. Then add the chicken back to the pan. Place the whole mushrooms in the open spaces of the pan.

Bake uncovered for about 40 minutes or until the internal temperature of the chicken reaches 165 degrees.
Notes
Cooking Tips:
I save time by just adding the mushrooms whole. But slice the mushrooms if you like. But remember this will add to your preparation time.
Please note that I am not a nutritionist, and the nutritional information is an estimate only. It varies based on the products and brands used.
Other one pan/pot chicken dishes recipes for you to try: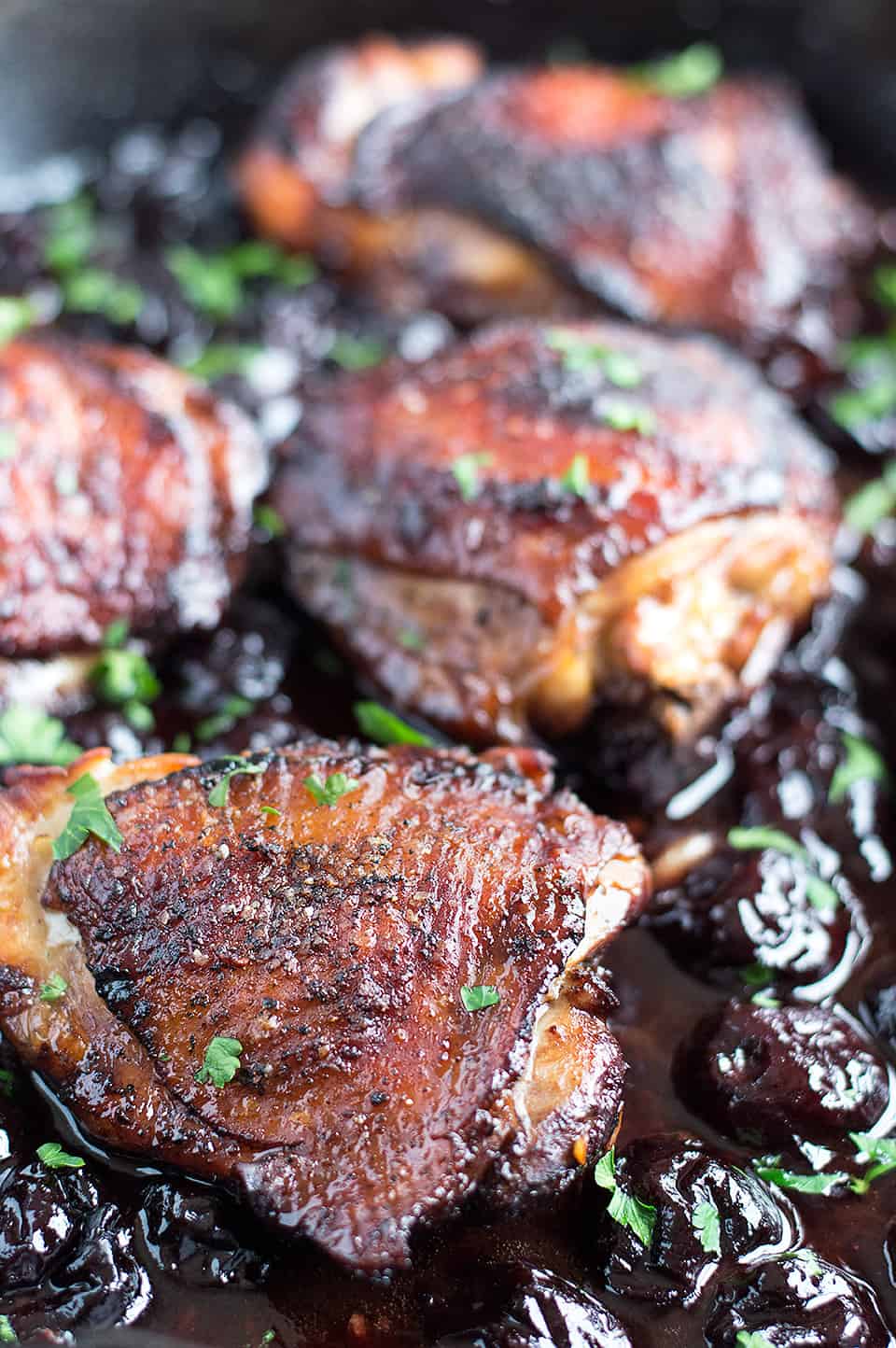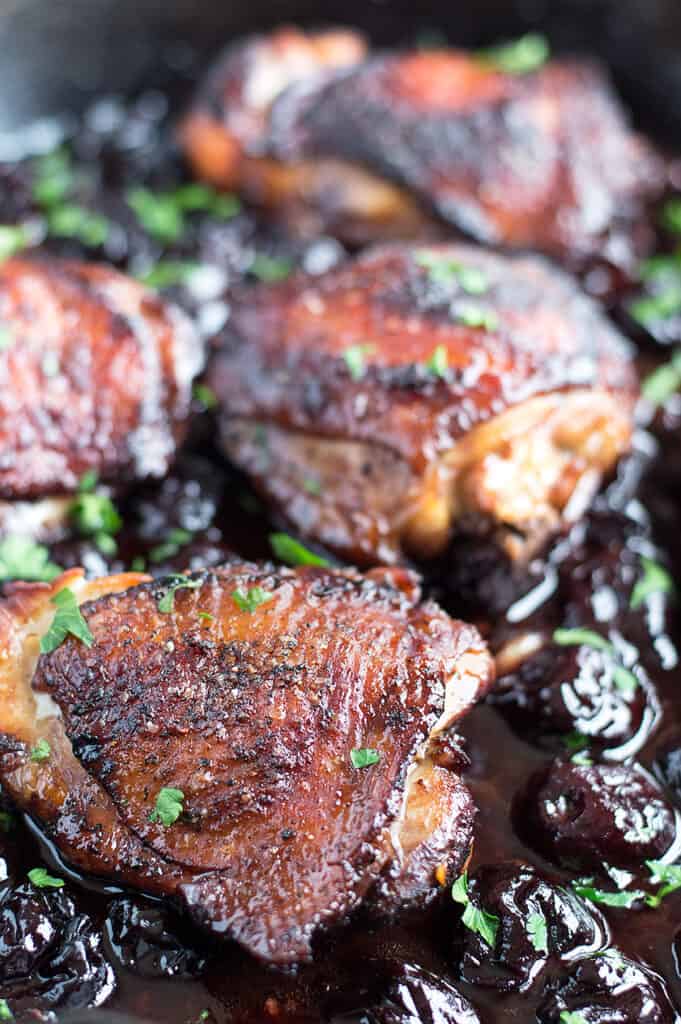 Get the Recipe Here: Roasted Black Cherry Balsamic Chicken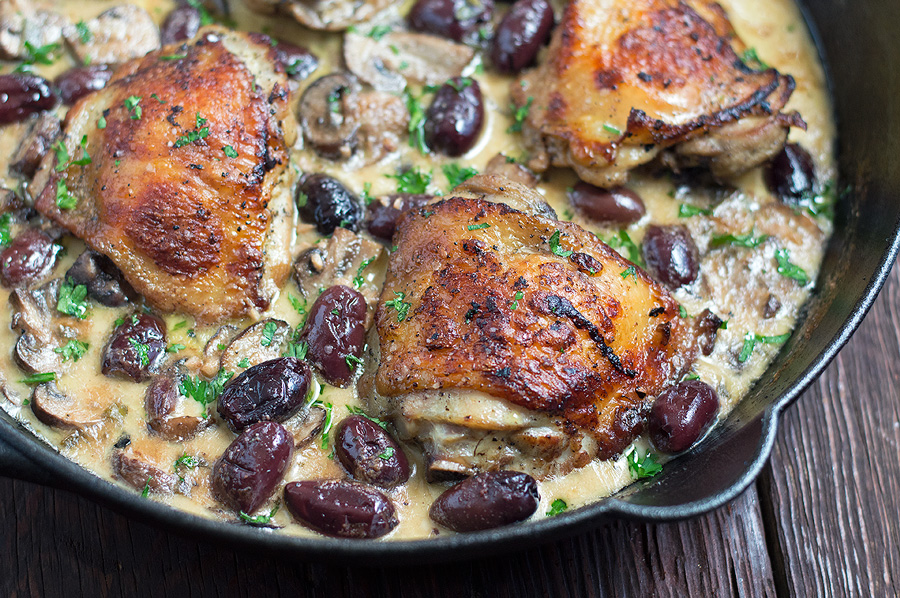 Ge the recipe HERE: Marinated Roasted Chicken in Wine Mushroom Cream Sauce with Kalamata Olives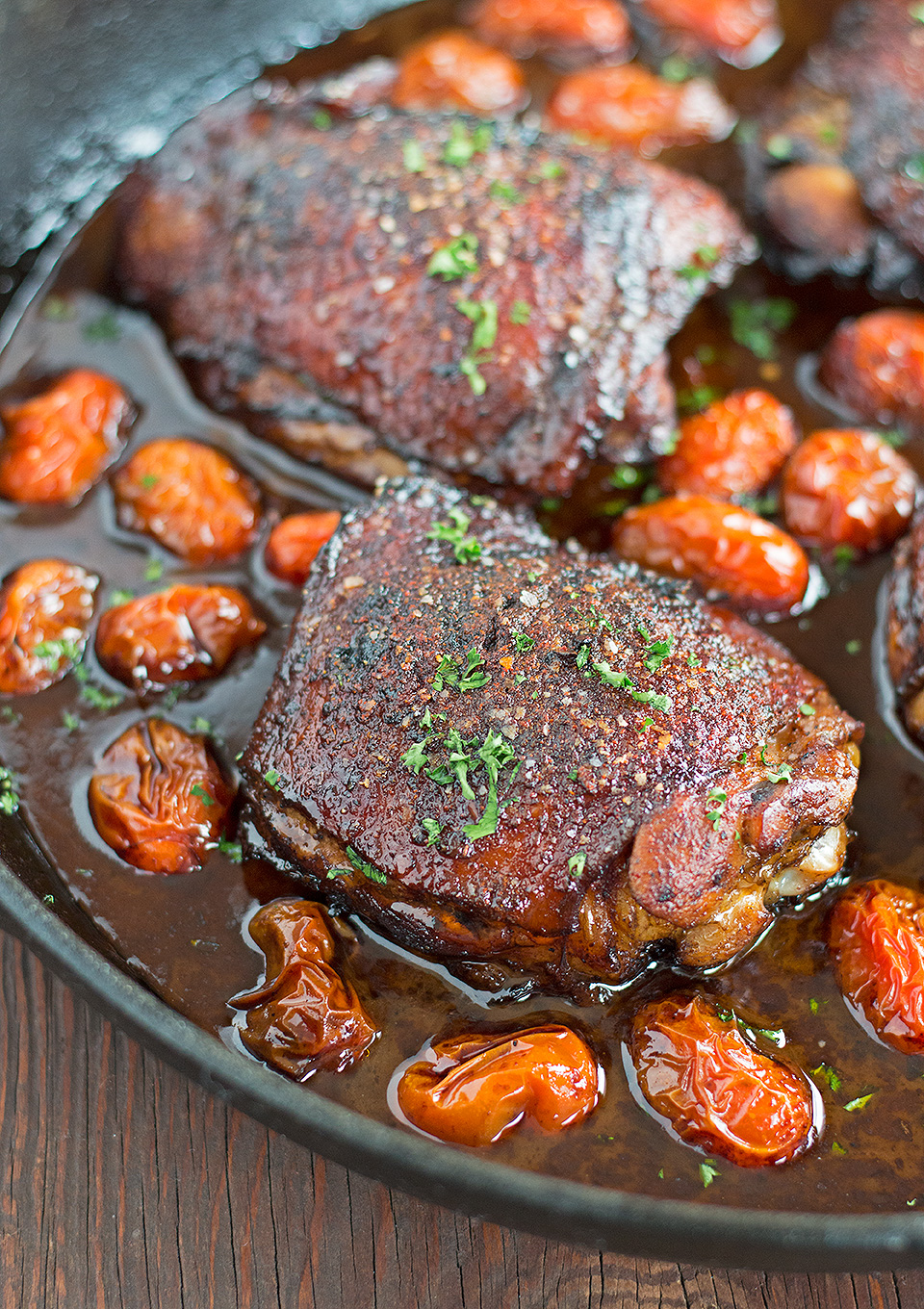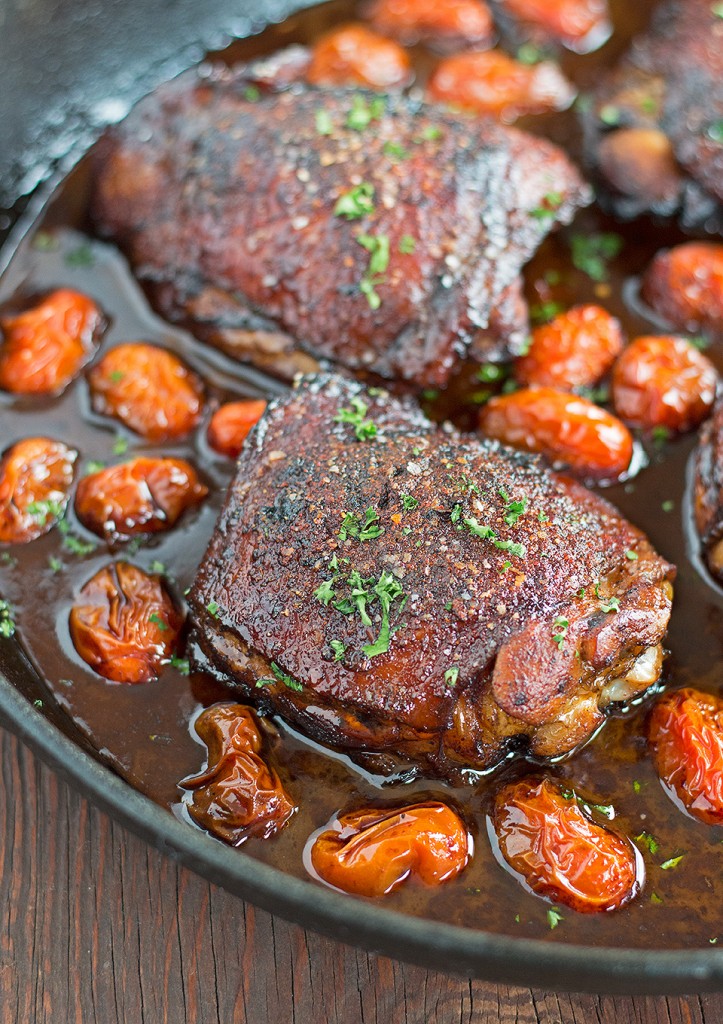 Get the Recipe HERE: One Pan Roasted Balsamic Chicken and Tomatoes