Spicy Italian Sausage Marinara Pasta that I truly believe is easy to make and has a little kick to it!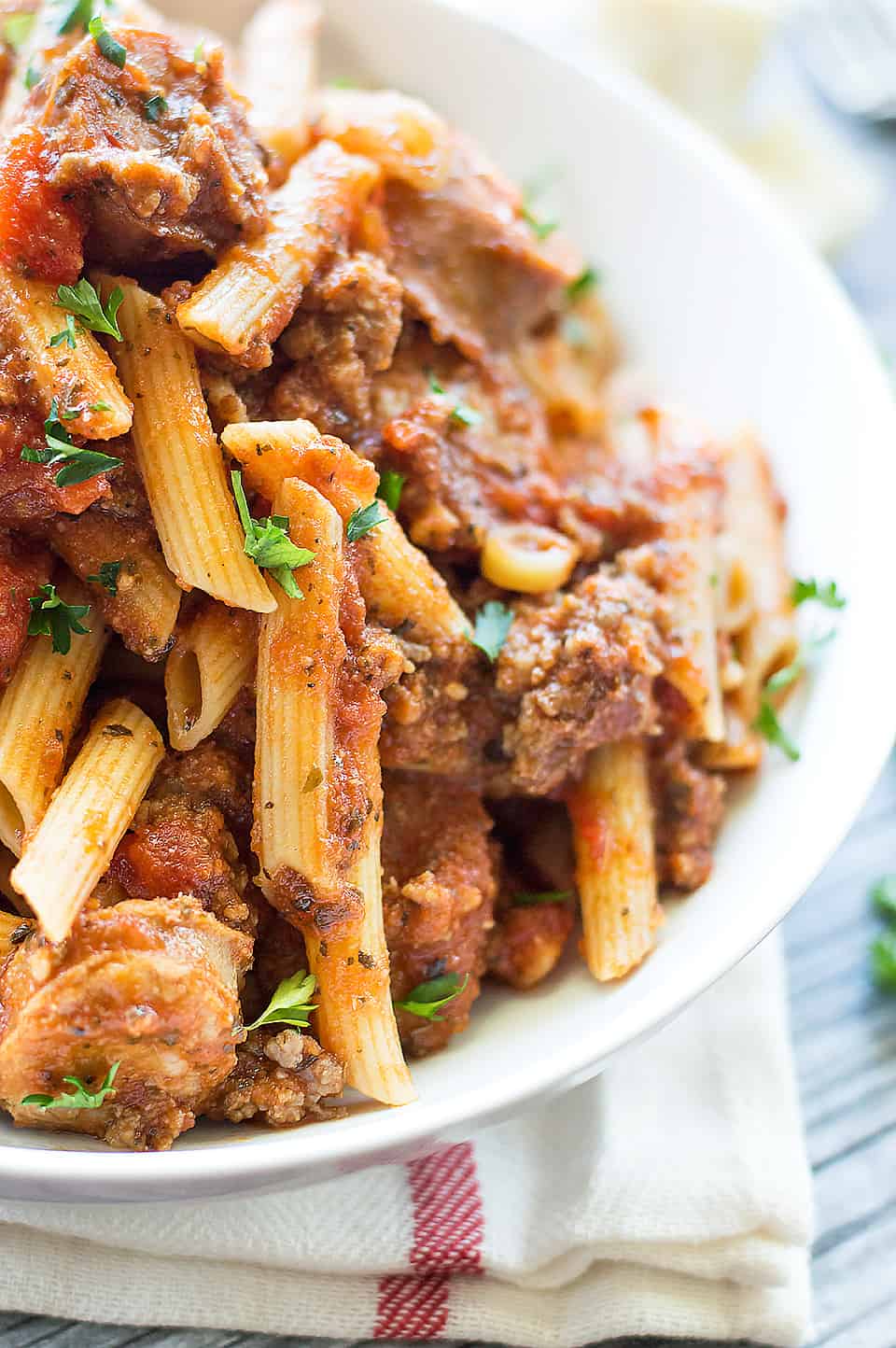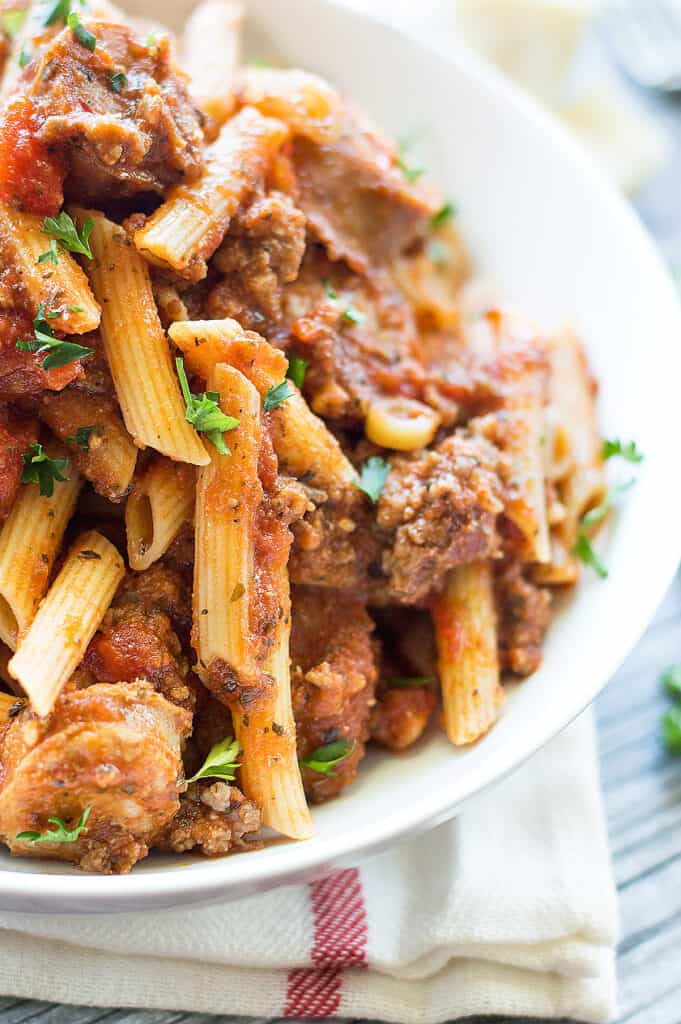 Pasta lovers everywhere come through and get some of this! Why wouldn't you?? It's so easy to make with the use of sausage, and organic canned tomatoes (because I'm trying to hurry up and cook this thing!).
Yea, I like to add sausage to my marinara sauces, soups, etc because it adds so much flavor. And when I make this marinara sauce I like to add Asiago cheese as a garnish because it taste AMAZING!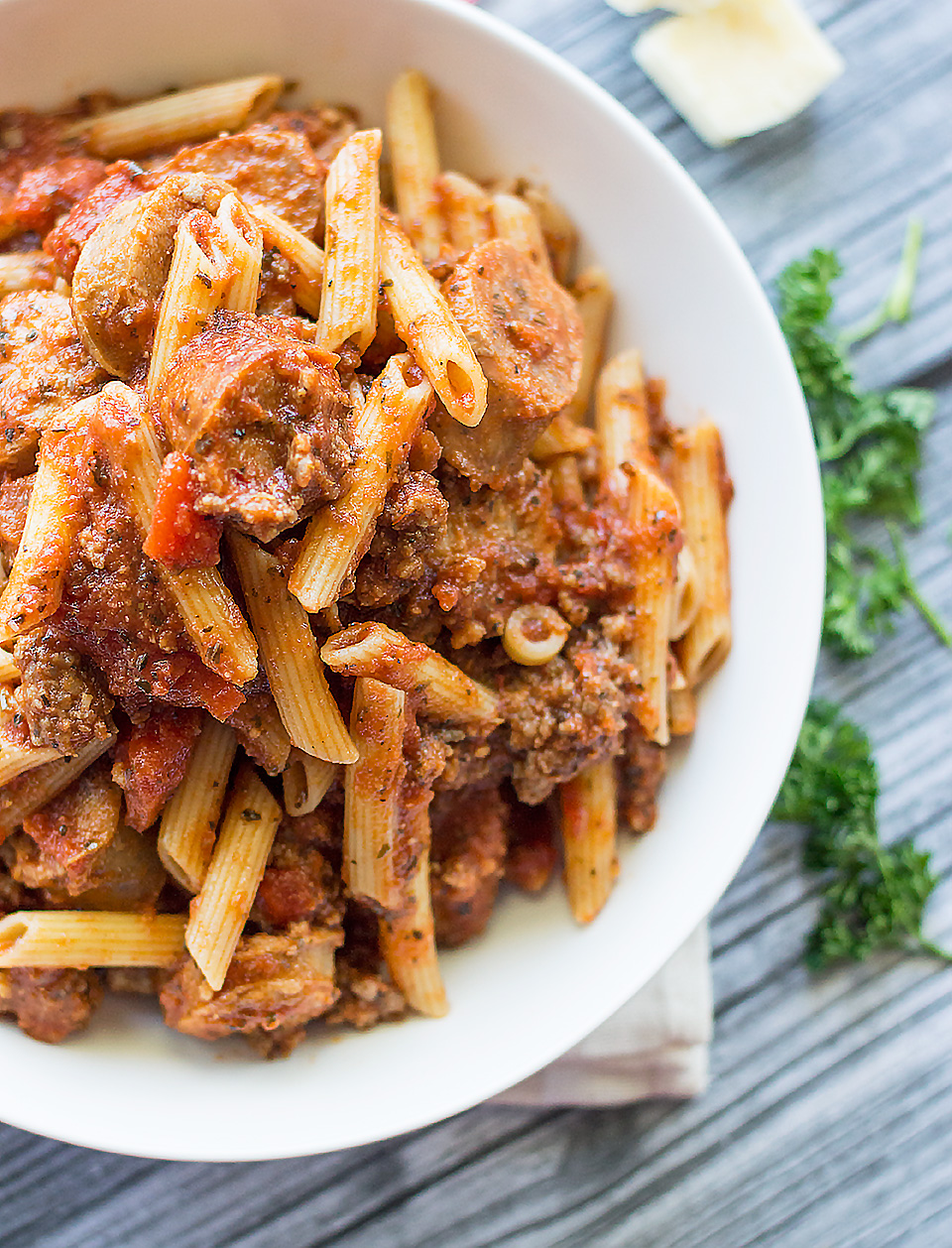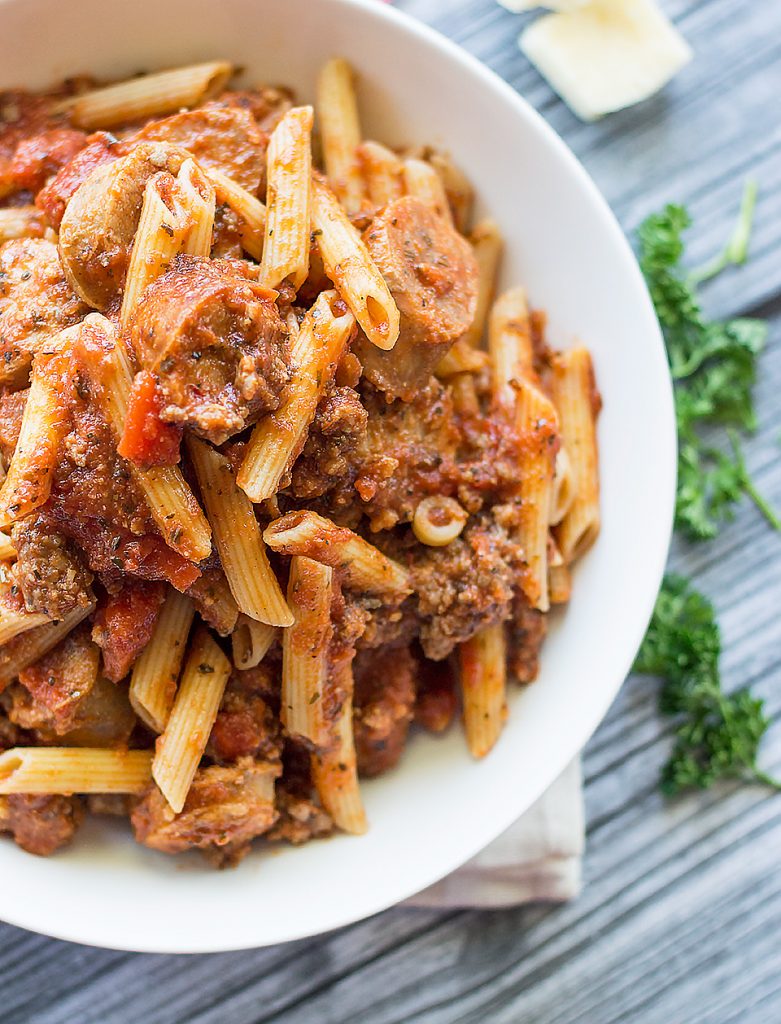 This sauce is freezer friendly as well. Just add your cooled sauce to a freezer friendly container. When ready to reheat this sauce, let the sauce thaw in the refrigerator for about an hour or so (just enough time so that the sauce is still slightly frozen). Then, warm the sauce in a saucepan until the sauce has completely thawed and heated through. FYI – I don't like to completely thaw my sauce as I noticed that sauces are watered down when thawed completely.
And if you have leftover sauce, make a budget friendly menu plan and use the sauce to make a lasagna later on in the week! Get two meals out of one!
---
♥♥♥ Stay Connected – like us on Facebook, follow us on Twitter, Instagram, and Pinterest! ♥♥♥
---
Enjoying This Spicy Italian Sausage Marinara Pasta? Try These, Too: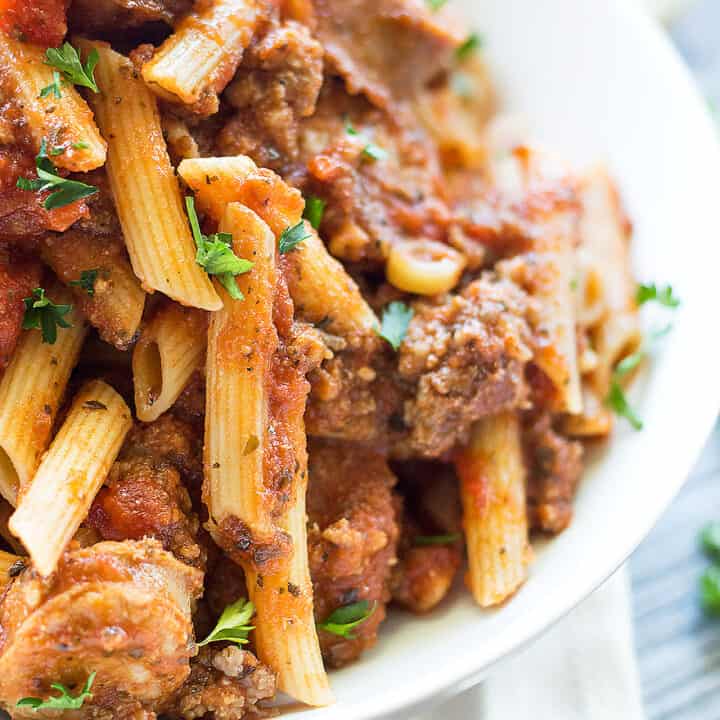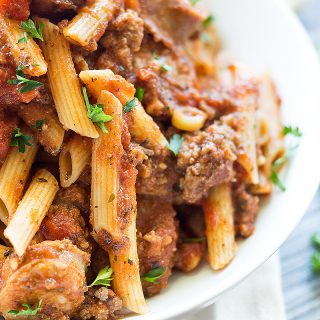 Spicy Italian Sausage Marinara Pasta
Spicy Italian Sausage Marinara Pasta that I truly believe is easy to make and has a little kick to it! 
Print
Pin
Rate
Ingredients
One 15 ounce can tomato sauce

One 28 ounce can diced tomatoes

3

tablespoons

tomato paste

1/2

cup

dry white wine

1/2

cup

chicken broth

12

roughly chopped garlic cloves

3

teaspoons

garlic powder

2

teaspoons

onion powder

3

tablespoons

dried basil leaves

1

and 1/2 tablespoons dried oregano leaves

1

teaspoon

sugar

(I used pure cane sugar)

Salt and Pepper to taste

12

ounces

Penne Pasta

1

pound

ground spicy Italian Sausage

5

spicy Italian Sausage Links

Freshly Shredded Aged Asiago Cheese

(optional for garnish)
Instructions
Start by making the sauce. Place all of the ingredients except for the pasta, sausage, and 1/2 of the can of diced tomatoes in a large pot. Use a handheld blender to blend the sauce to a smooth consistency. Once the sauce is blended well, add the reserved 1/2 can of diced tomatoes into the sauce. Stir, then salt and pepper the sauce to taste.

Bring the sauce to a boil, then reduce heat. Cover the pan and cook the sauce on low for 30 minutes.

While the sauce cooks, brown the ground sausage in a pan for 4 to 5 minutes or until the sausage has cooked through using medium heat. Remove the cooked sausage from the pan. Drain the excess grease from the cooked sausage by placing the sausage on a plate lined with paper towels.

Add the sausage links to the same pan you used to brown the ground sausage. Brown the sausage on each side cooking the sausage for about 4 to 5 minutes. Remove the sausage from the pan and slice the sausages.

After browning sausages, cook the pasta according to the pasta's box directions.

After cooking the sauce for 30 minutes. Add the cooked sausages to the sauce and cook the sauce for about another 10 to 15 minutes.

Serve this pasta with the shredded Asiago Cheese as a garnish for a additional layer of great flavors.
Notes
Healthy Tips:
Use a turkey sausage in place of pork sausage if you can find it, to create a healthier dish.
I used organic canned items to help also make this dish a little bit more healthier as well.
Also whole wheat pasta is a healthy substitute too!
Please note that I am not a nutritionist, and the nutritional information is an estimate only. It varies based on the products and brands used.
---
Here are some options to help complete your meal plan if you use this recipe: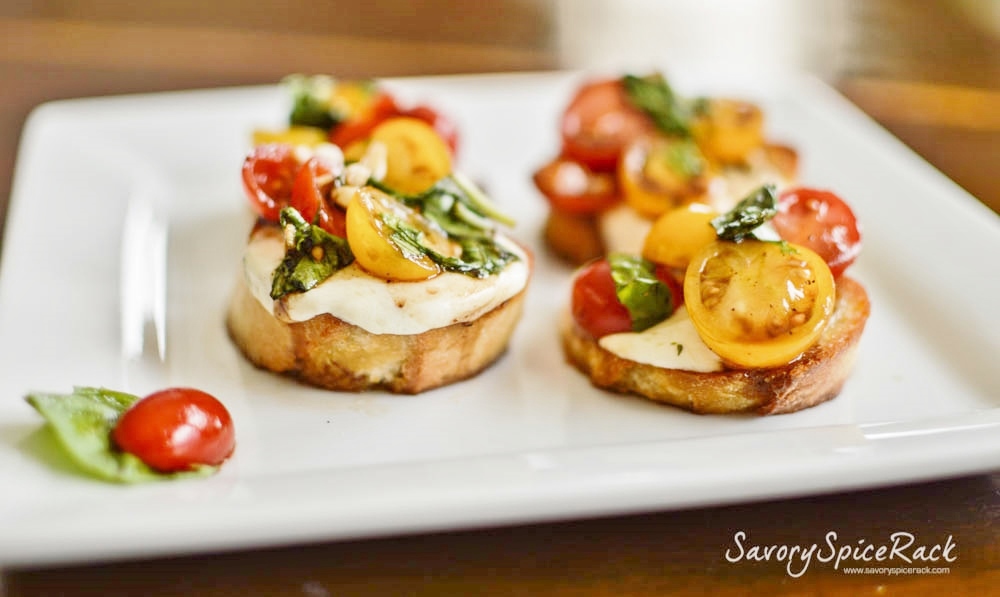 Add this Bruschetta with Cheese as an appetizer to your meal. Get the recipe >> HERE.