Get a quick romantic dinner ready in no time, using fresh ingredients for this Shrimp and Roasted Tomato Pasta with Garlic Wine Sauce.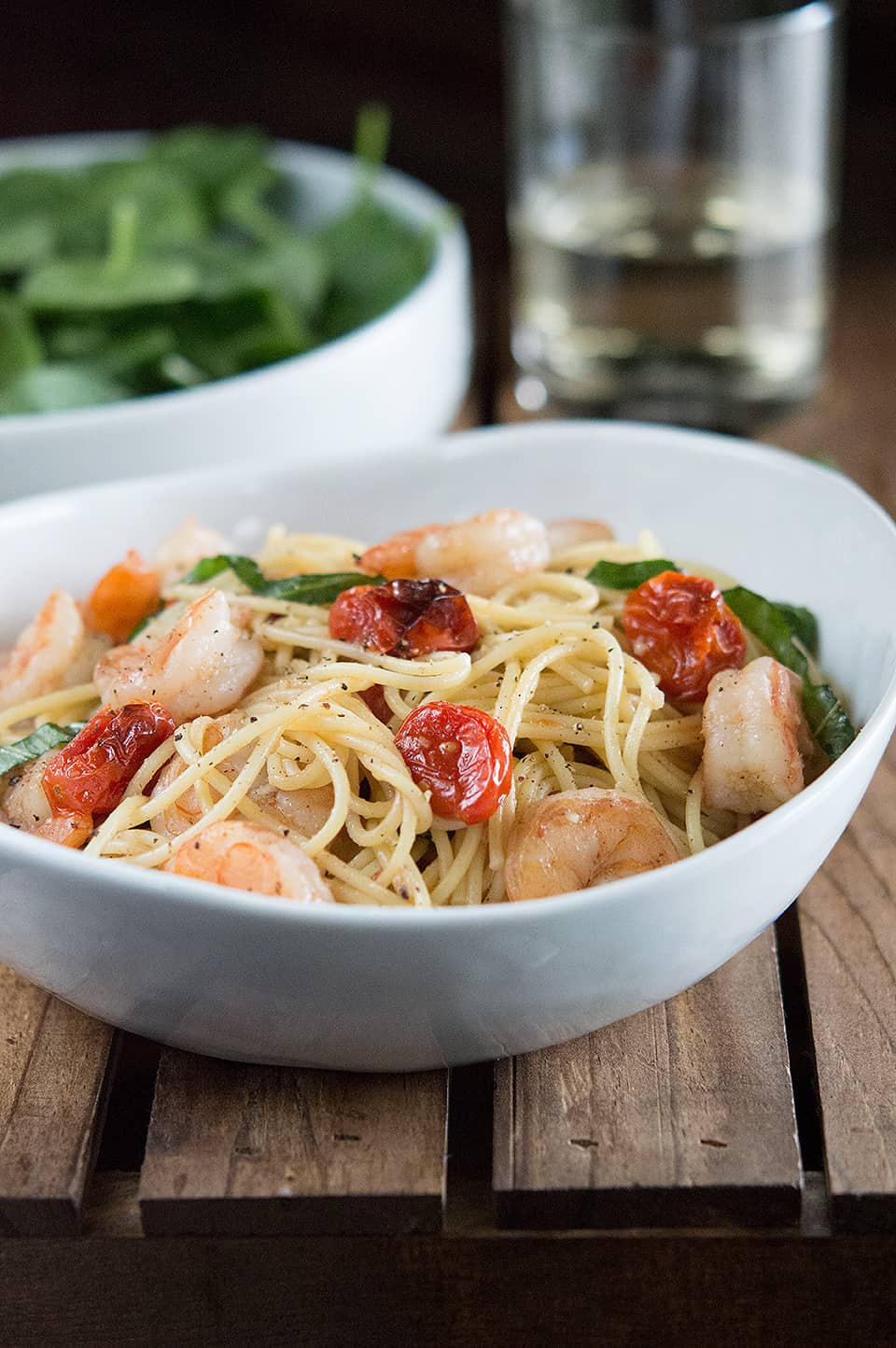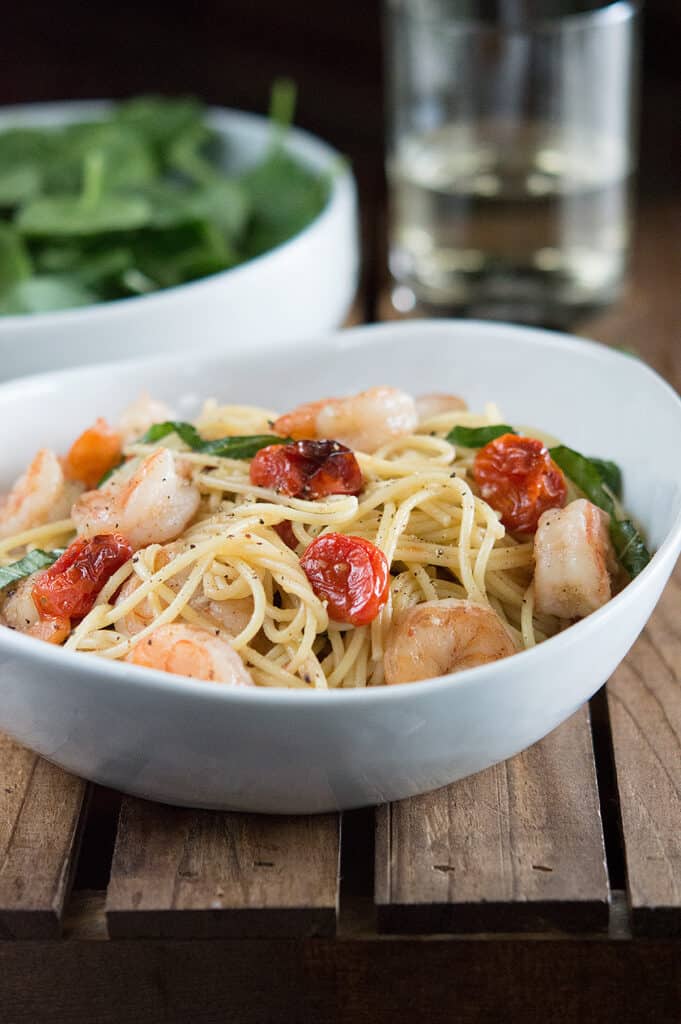 Happy Valentine's Day everyone!  I for some reason totally forgot, but then remembered again that this is a special love day as I played around on social media recently.  I should know right because I'm married, and this is the day of love.  I think we totally forgot because we are limbo awaiting some really big news….  I will keep you posted on that tidbit as soon as I find out.  🙂
I don't particularly like going out on Valentine's Day because every restaurant including McDonald's is packed.  (By the way, did you see that McDonald's Sign advertising dinner by candle light on Valentine's day this year??? HA!  Everybody gotta eat somewhere tonight – get it how you can.)  I for one will be cooking tonight.  I am between cooking this pasta dish again or my popular Shrimp and Grits. I think the man will be super excited for the shrimp and grits, because he just had this pasta dish recently.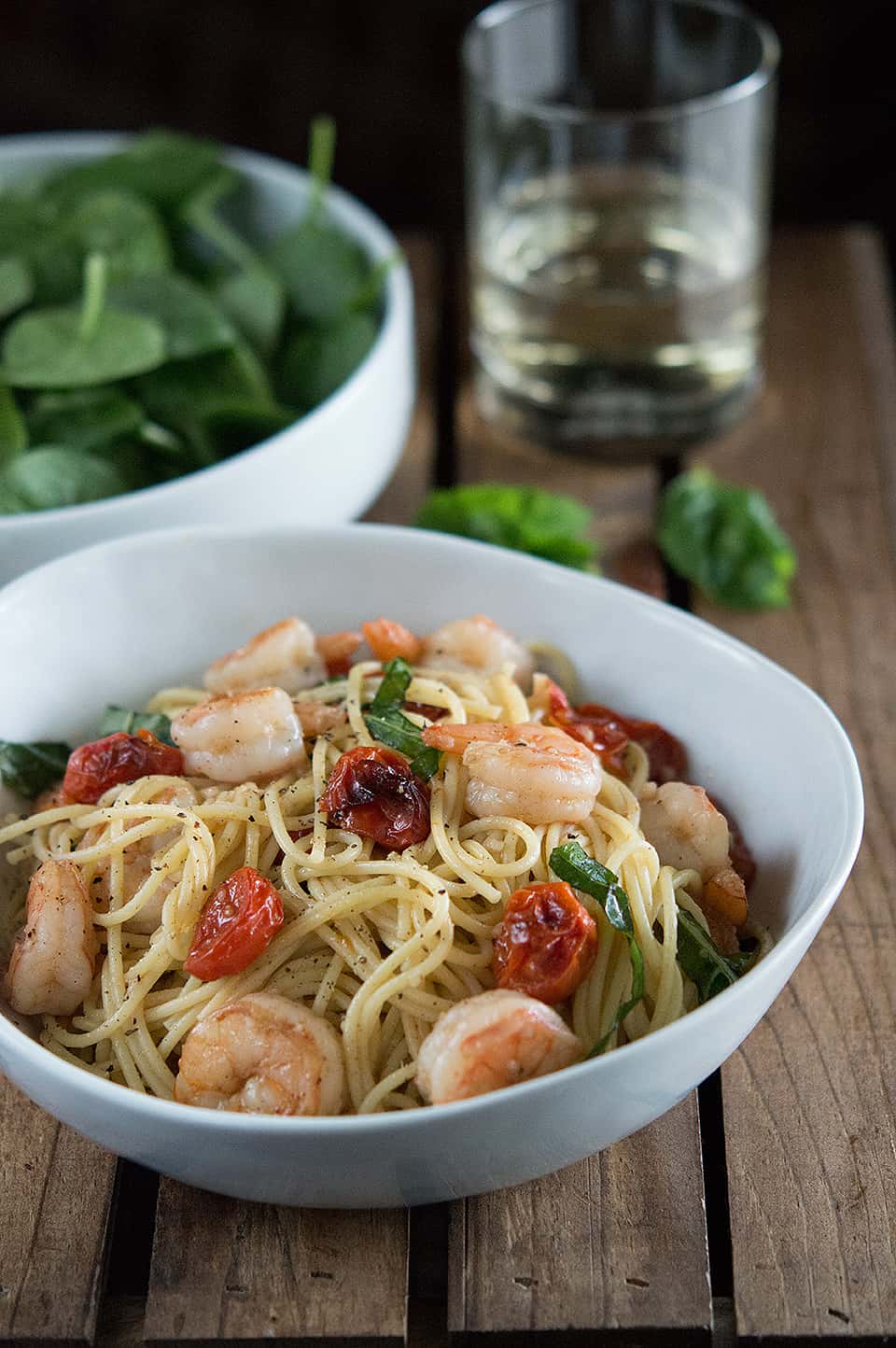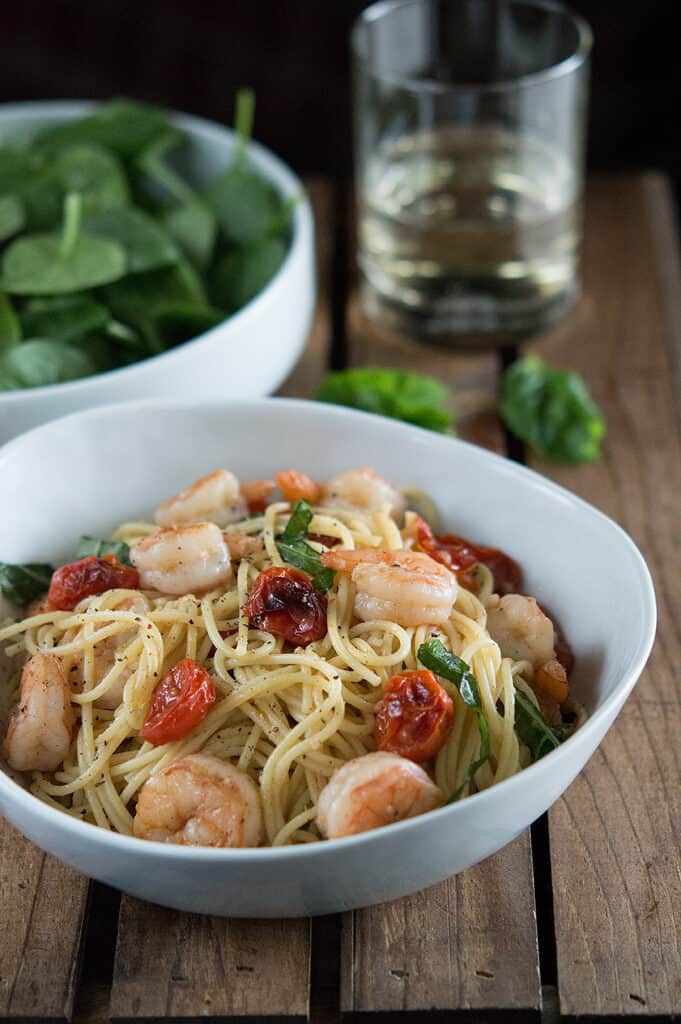 If you don't care for shrimp, grits, etc, try this easy pasta tonight with the one you love, or keep it all for yourself (I won't tell a soul, I promise.).  It really is super easy.  While I prep the other ingredients for the dish, as well as a side salad, and garlic bread, I let the tomatoes roast in the oven.  Then, I toss all of the recipe's ingredients together after the tomatoes have roasted.  Those roasted tomatoes add a nice little touch to this simple pasta.  No matter what you choose to do, please make sure to scrap every bit of that goodness from the pan of roasted tomatoes onto your pasta.  It adds great flavor folks.  
The next choice you have to make, is determining how much sauce you want for this pasta dish.  You can either make a small amount of sauce and serve it almost like a warm pasta salad.  Or you can make this dish with more sauce, and have at with a good piece of warm crusty bread for dipping.  Up to you, I will leave the notes to triple the sauce recipe in the recipe box below, so that you can see what your preference is on this one.  Then, drop a comment below and let me know which way you like it.
Happy Valentine's Day!
XO,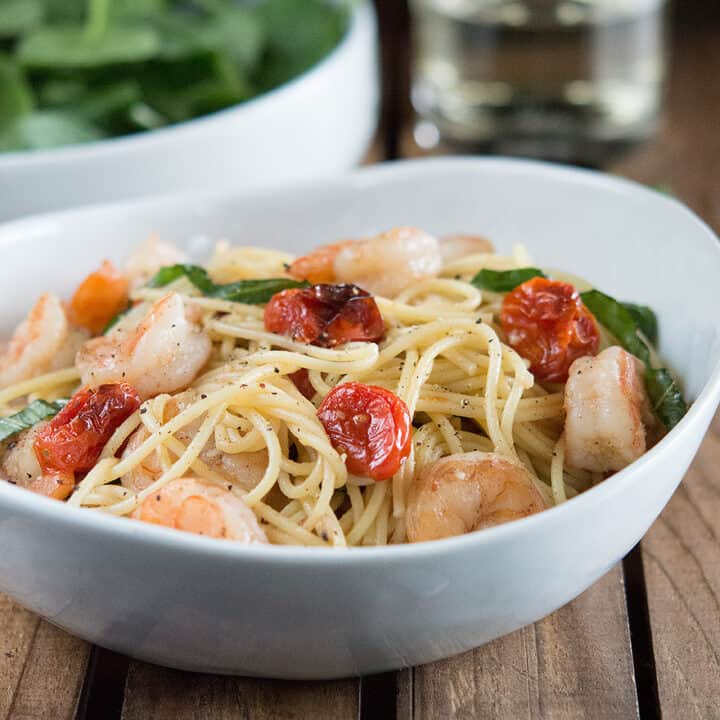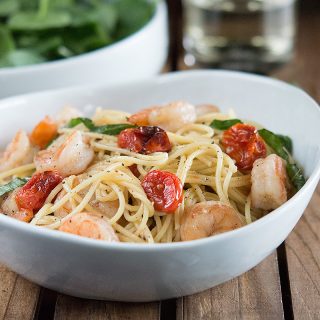 Shrimp and Roasted Tomato Pasta with Garlic Wine Sauce
Get a quick romantic dinner ready in no time, using fresh ingredients for this Shrimp and Roasted Tomato Pasta with Garlic Wine Sauce.
Print
Pin
Rate
Ingredients
1

pint

of cherry tomatoes

Coarse salt and fresh cracked black pepper for tomatoes

Few drizzles of olive oil

1

pound

of shrimp cleaned

, and peeled (Size 26/30)

3

teaspoons

garlic powder

Pinch of coarse salt

1/8

teaspoon

fresh cracked black pepper

8

ounces

(1/2 pound) of spaghetti noodles

Sauce:

3

tablespoons

butter

15

garlic cloves finely chopped or pressed with garlic press

1

teaspoon

chicken bouillon

1/3

cup

dry white wine

1

tablespoon

water

Additional Ingredients:

9

large basil leaves chopped

Coarse salt and fresh cracked black pepper to taste

Fresh grated Parmesan cheese for garnish
Instructions
Preheat oven to 450 degrees.

In a large bowl, Season shrimp with garlic powder, pinch of salt, and 1/8 teaspoon of black pepper. Set aside.

Place the cherry tomatoes on a baking pan (Line with the pan with foil for easy clean up.) Sprinkle the tomatoes with a few drizzles of olive oil, ensuring the tomatoes are coated with olive oil. Season the tomatoes well with salt and pepper. Place tomatoes in the preheated oven, and cook them for 20 minutes.

While the tomatoes are cooking, cook the pasta, shrimp, and garlic wine sauce.

Cook the pasta according to the package's directions in a pot of salted boiling water.

While the pasta is cooking, make the wine sauce with shrimp. Start by placing a medium pan on medium high heat.

Add the butter to the pan. Once the butter has melted add the garlic to pan. Cook the garlic for a few seconds until it softens.

Add the wine and water to the pan. Cook for about 4 minutes on medium heat.

Add the shrimp to the sauce and let the shrimp cook for about 3 to 4 minutes or until the shrimp becomes pink and cooked through.

When the pasta is finished cooking, drain the pasta. Then, rinse the pasta with cold water. Add a drizzle of olive oil to the pasta, and toss well. (This prevents the pasta from sticking together.)

When the tomatoes are finished cooking, let them cool for a few minutes.

Toss the shrimp, sauce, pasta, basil, and tomatoes together and serve immediately. Make sure to scrap all of the sauce from the pan of the tomatoes into the pasta. It gives the pasta great flavor.

Garnish with optional freshly grated Parmesan.
Notes
Save yourself some time by purchasing shrimp that are already cleaned, and peeled.
Triple the sauce if you want more sauce.
The recipe calls for enough sauce to make a pasta salad type dish.
Serve with a side salad and warm crusty bread.
Please note that I am not a nutritionist, and the nutritional information is an estimate only. It varies based on the products and brands used.