I knew these Shrimp Tacos with Avocado Ranch were a winner when my husband shouted "These are really good!".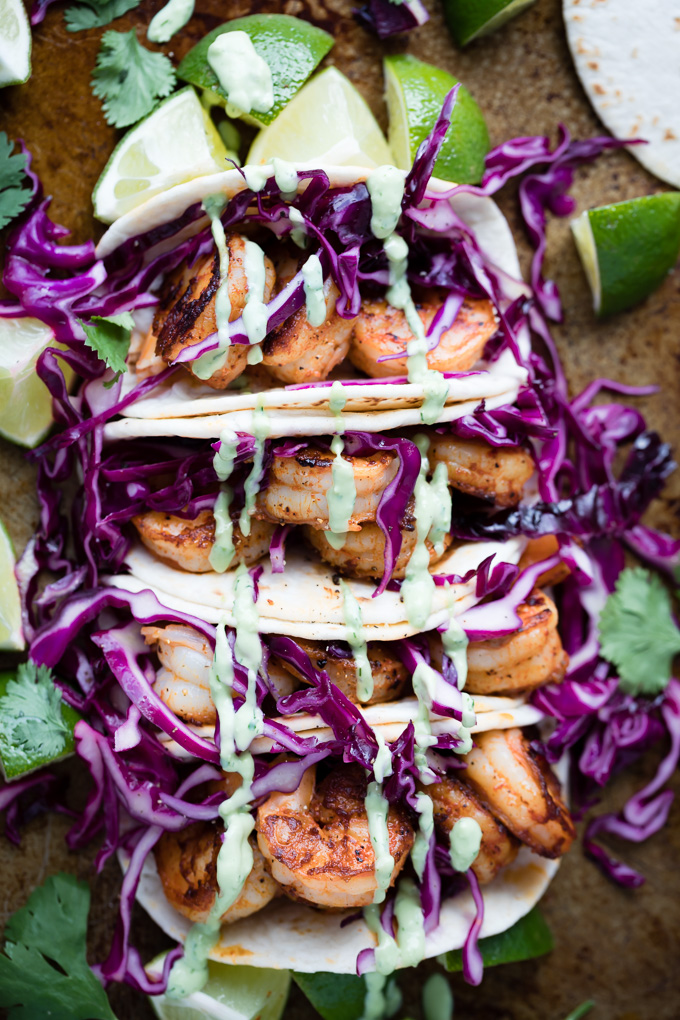 I would like to thank my taste buds for influencing the urge to make these tacos…  I have been on a taco kick lately… We have been visiting the local neighborhood Mexican Restaurant a little too much I think..  I'm not sure if it's the tacos or the sangria margaritas I'm after…
But anywho, I am practicing more with my camera and this was one of the practice shots..  I thought, why not share the recipe??  I think the photos are food blog worthy..  What do you think???
I know we are in the "hurry up and cook" era right now with instant pot recipes, and the snap your fingers and it's done recipe videos.  With that being said, I would like to think that this recipe is still pretty simple, although it requires you to use more than one kitchen device.  This recipe requires one to use a pan to saute the shrimp, a bowl to mix together the red cabbage mixture, and a blender to blend the homemade ranch.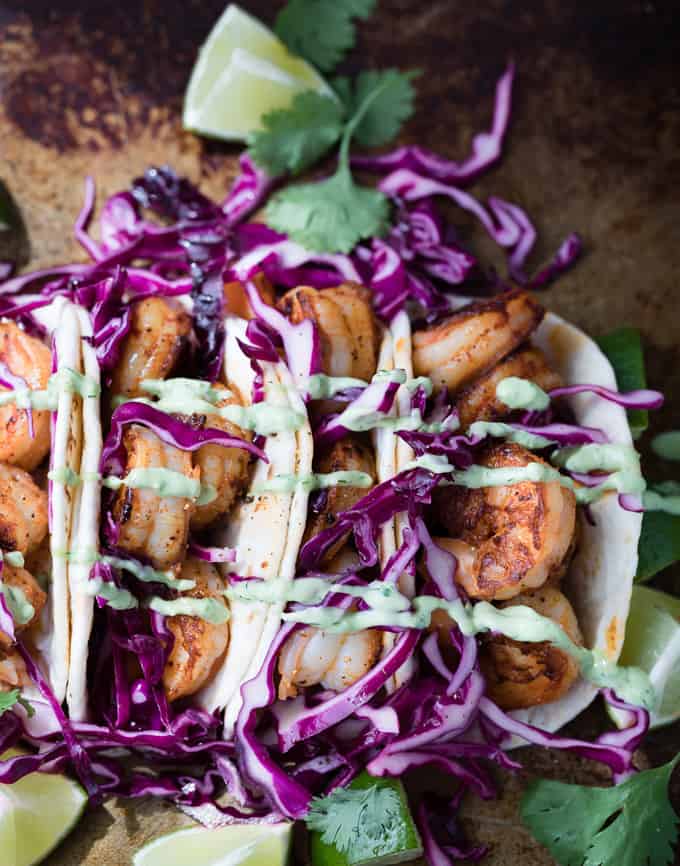 So please know this recipe is not for the one pot recipe lovers…  Unless you figure out how to make this recipe in it's entirety, with only the use of your blender…  I make a quick Cajun season mixture for the shrimp, toss together a vinaigrette for the red cabbage, and blend the h%*@ out of the homemade ranch ingredients.  And that's it!  I think you will be pleasantly surprised with the prep for this one, even though it requires more than one "pot". 🙂
Oh yea, and the recipe is definitely food blog worthy because the ingredients pair well together for this taco phenomenon.  The spicy shrimp with the sweet and tangy red cabbage slaw is the key that links true foodie paradise.  Plus I am in love with this homemade ranch.  Sometimes I catch myself just eating a spoonful of the ranch by itself from time to time (don't judge….  don't judge….).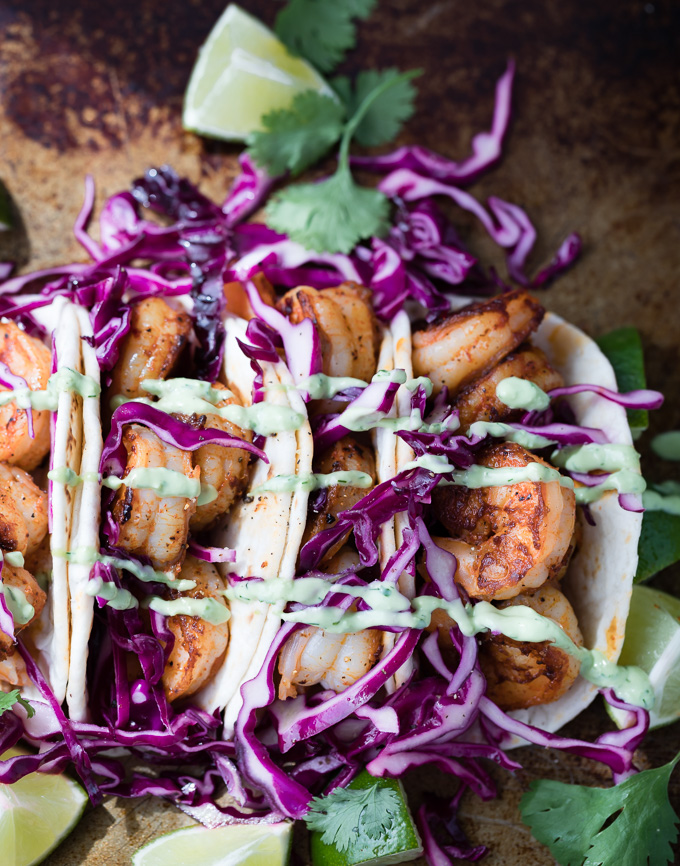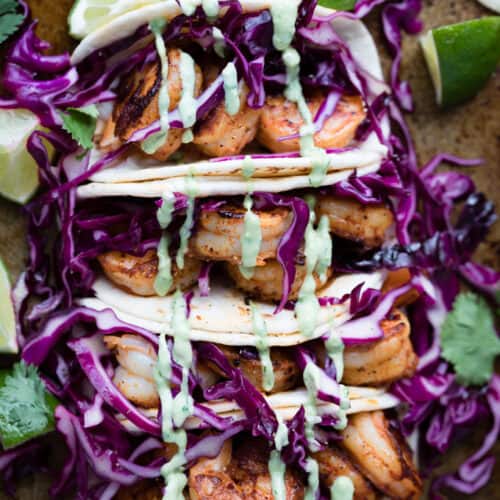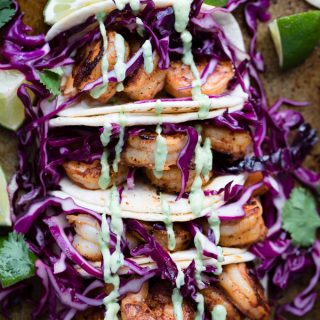 Shrimp Tacos with Avocado Ranch
Easy Shrimp Cajun Shrimp Tacos with Homemade Avocado Ranch.
Print
Pin
Rate
Ingredients
Shrimp:

1

pound

of Large Shrimp that are cleaned

, peeled and de-veined for easy prep.

2

teaspoons

of Cajun Season

1/4

teaspoon

white pepper

1/2

teaspoon

of ground cumin

1/2

teaspoon

smoked paprika

Red Cabbage Slaw:

2

cups

thinly sliced red cabbage

1

and 1/2 teaspoon sugar

(I used pure cane sugar)

2

tablespoons

rice vinegar or white vinegar

(I used rice vinegar)

1/2

tablespoon

olive oil

Salt and Pepper to taste.

Avocado Ranch:

1

avocado

1

small package of fresh dill

(1/4 ounce in size)

3

garlic cloves

1/2

cup

sour cream

1

tablespoon

olive oil

2

and 1/2 tablespoons rice vinegar

1

cup

buttermilk

1

cup

fresh parsley

(about 2 handfuls)

1/2

to 1 teaspoon of Kosher Salt

Pepper to taste

olive oil for cooking
Instructions
Make sure the shrimp are dried. Then, add the Cajun season ingredients to the shrimp, ensuring that the shrimp are evenly coated with the seasonings. Set the shrimp aside and let them marinate while you prep the rest of the ingredients.

Next, make the red cabbage slaw by mixing all of the slaw ingredients in a bowl. Salt and pepper the slaw to taste. Cover the bowl, place in refrigerator until ready to use.

Place all of the avocado ranch ingredients in a blender (I use the ninja bullet blender), and blend until the ranch is smooth and creamy. Set aside.

Now place a large nonstick pan on the stove, and let the pan get hot using medium high heat.

Once pan is hot, add a few drizzles of olive oil. Then add shrimp to pan. Please make sure to cook the shrimp in batches and not crowd the pan with shrimp. It usually requires cooking the shrimp in 2 to 3 batches.

When cooking the shrimp, cook the shrimp for about 2 to 3 minutes on each side until the shrimp have browned on the outside and cooked through.

Once shrimp have cooked, assemble tacos using corn or flour tortillas. Serve immediately.
Notes
You can meal plan by marinating the shrimp, making the slaw, and ranch the day before.
Add 1/2 teaspoon of salt to ranch and add more to suit you tastes..
Purchasing shrimp that are cleaned and peeled helps make your prep easier.
For a less spicier shrimp, use only one teaspoon of the Cajun Season.
The Cajun Season of my choice is called "Slap Yo Mama". (Seriously, that's what it's called...) .
Please note that I am not a nutritionist, and the nutritional information is an estimate only. It varies based on the products and brands used.