This Pasta with Asiago Cream Sauce with is simple, flavorful, and easy to make.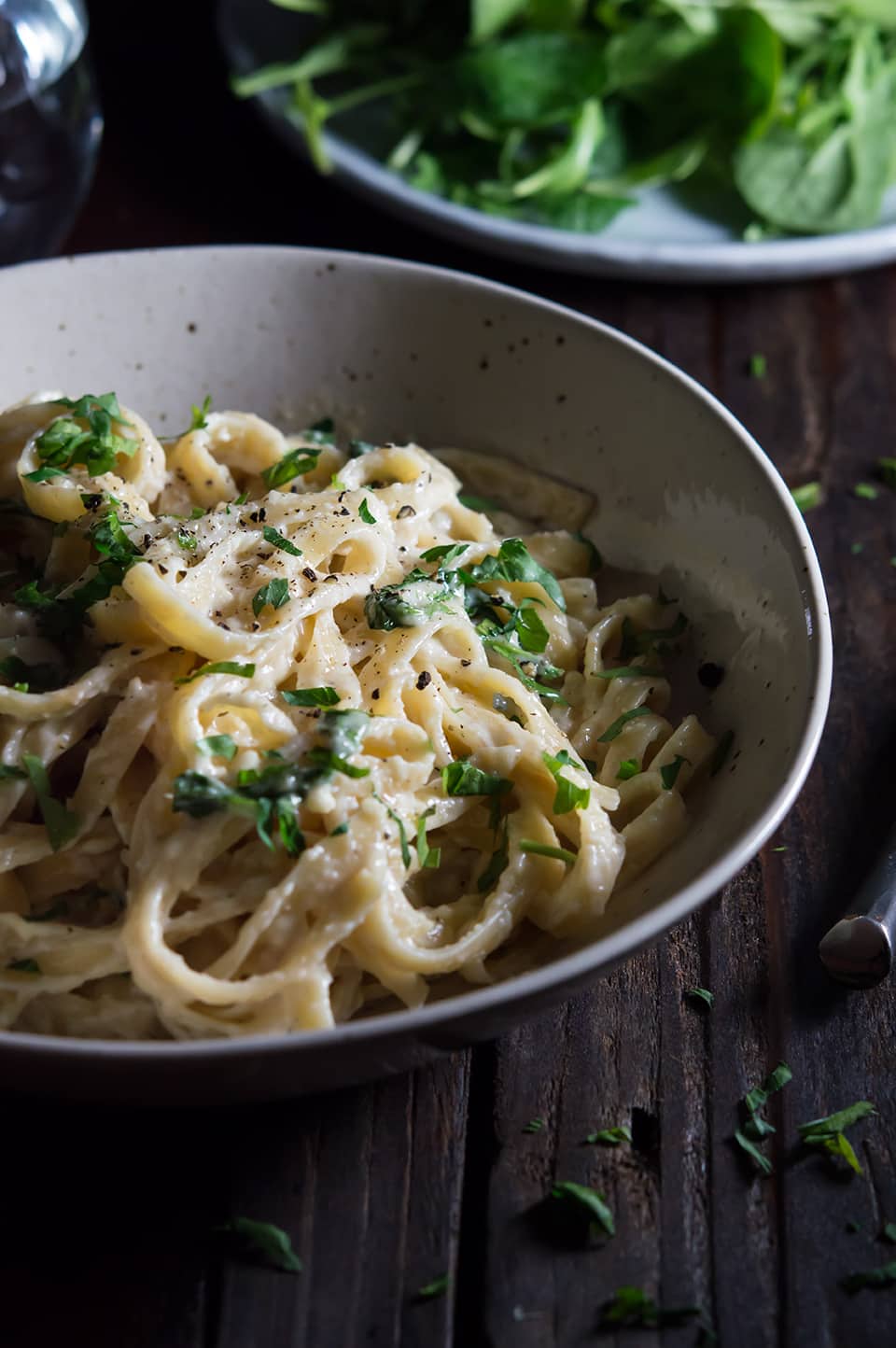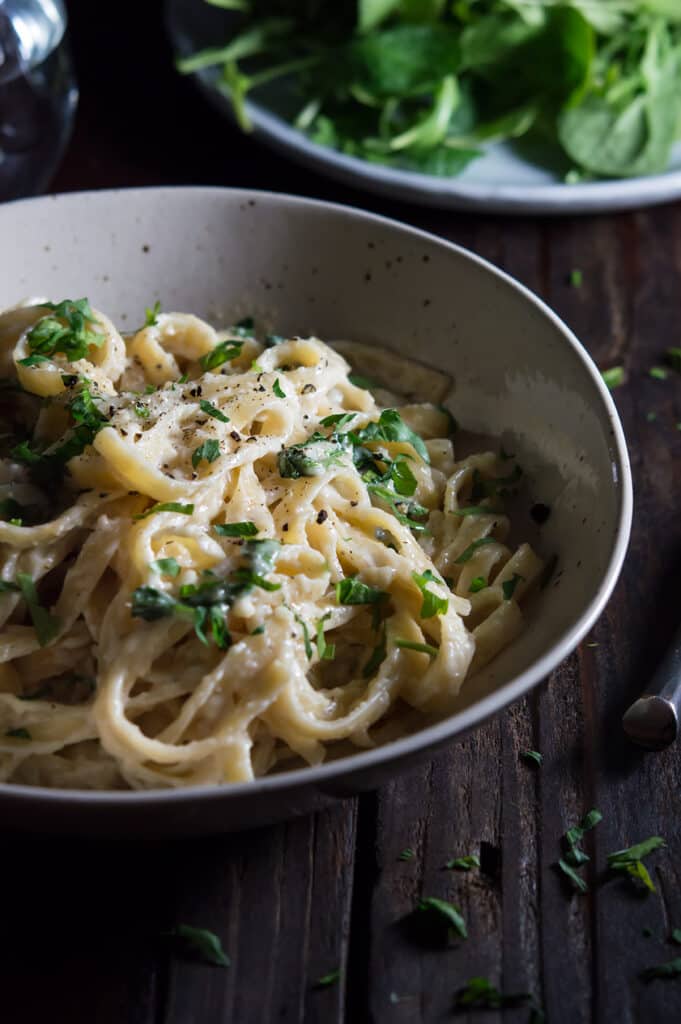 Oh my!  I shared a recipe last week, and didn't even catch up with you folks!  First and for most, how was everyone's holidays?  I was of course super busy working before the holidays.  Then, we took a small vacation throughout Texas to visit some of the cities, and see some old friends.  But right before the vacation started, why did I get sick?  So imagine us on a road trip stuck in my hubby's pick up with stuffy noses….  Between me and my kid, we sounded like the high school marching band with the coughing and nose blowing.  Luckily the hardest part of our illness was the first 24 hours, which was collectively inside my hubby's pick up, then our hotel room.  After that, we were good to go!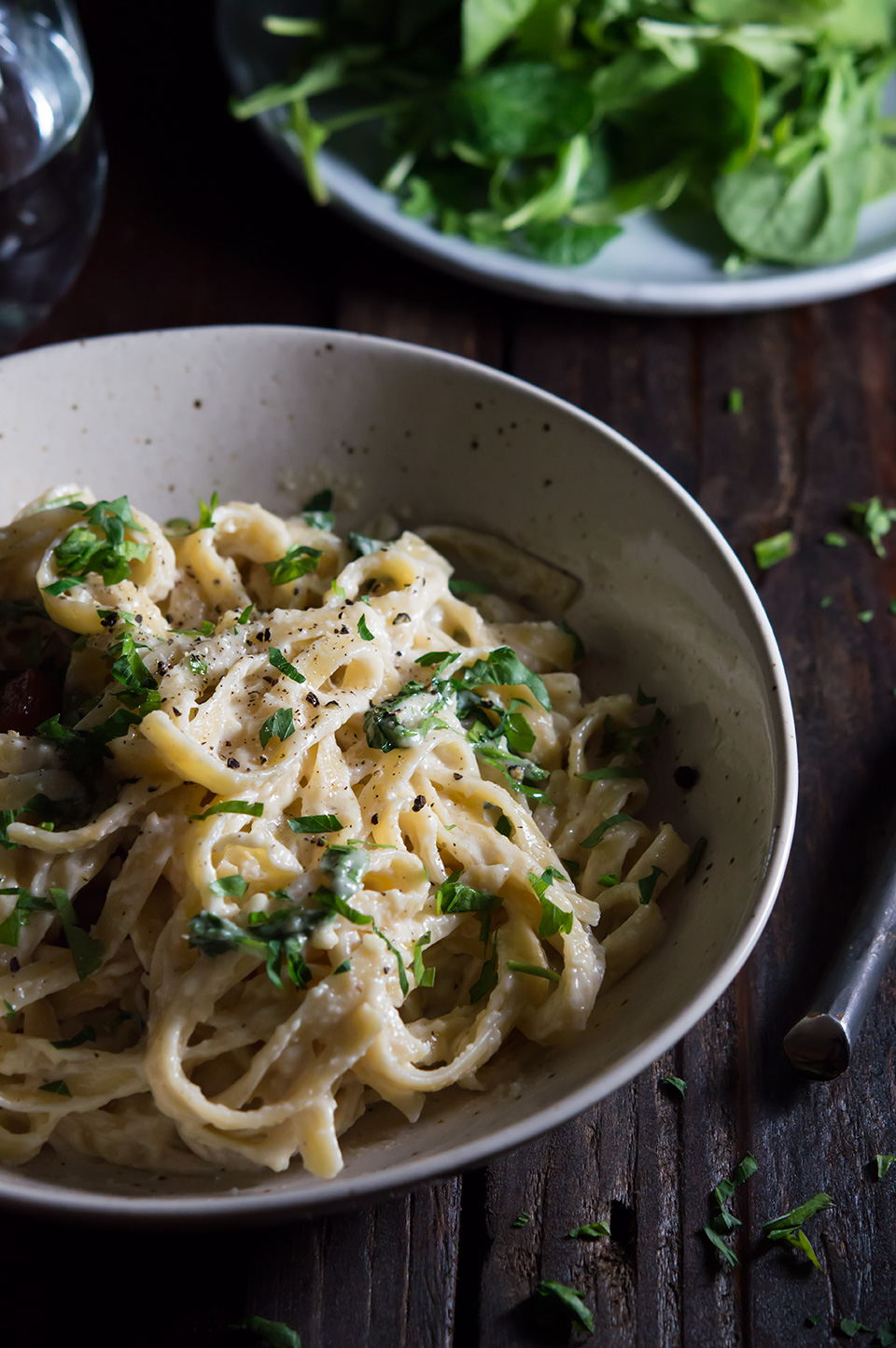 The trip from then on was pretty good, we got to stay in at a nice resort, visit our friends, and chow down on some good food.  The best part – I wasn't in the kitchen all day cooking Christmas dinner!  No ma'am not this year…  But I most certainly enjoyed a few champagne brunches.  Champagne plus no school assignments for the next two weeks…  I was living the dream.
But somewhere along the way we got sick of eating take out….  After getting home, As soon as we could let our suitcases hit the floor, my hubby was yelling out meal requests.  And one of the main attractions was of course pasta.
I'm always whipping up some type of creamy pasta sauce, experimenting with different cheeses to capture different flavors.  But this pasta in particular was inspired by an Italian eatery we dined at in San Antonio.  The service was piss poor, but the pasta dish I ordered was actually pretty good.  It was linguine pasta with an Asiago cream sauce.  And they laced it with one of my favorites – pancetta (an Italian bacon that's to die for – you should definitively try if you have never in your lifetime yet).  The pancetta is a great addition adds to this pasta.
After making this cream sauce a few times now, I wanted to share the cream sauce recipe with you so that you can create your own variations with this pasta sauce.  You can add whatever meat you prefer (I sometimes add seared chicken breast), and you can add an array of vegetables to suit your taste.  My only suggestions would be doubling your sauce when adding extra ingredients.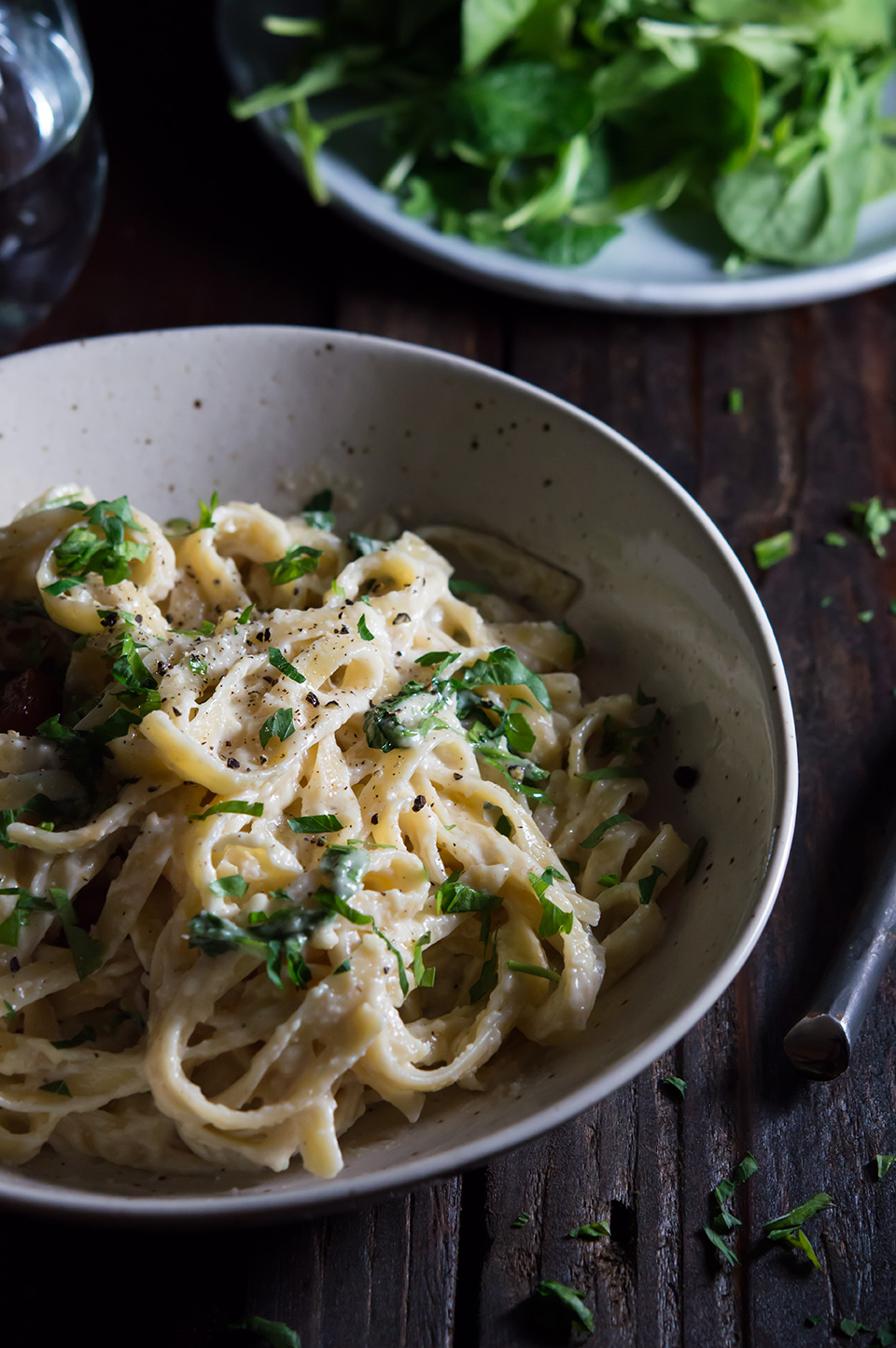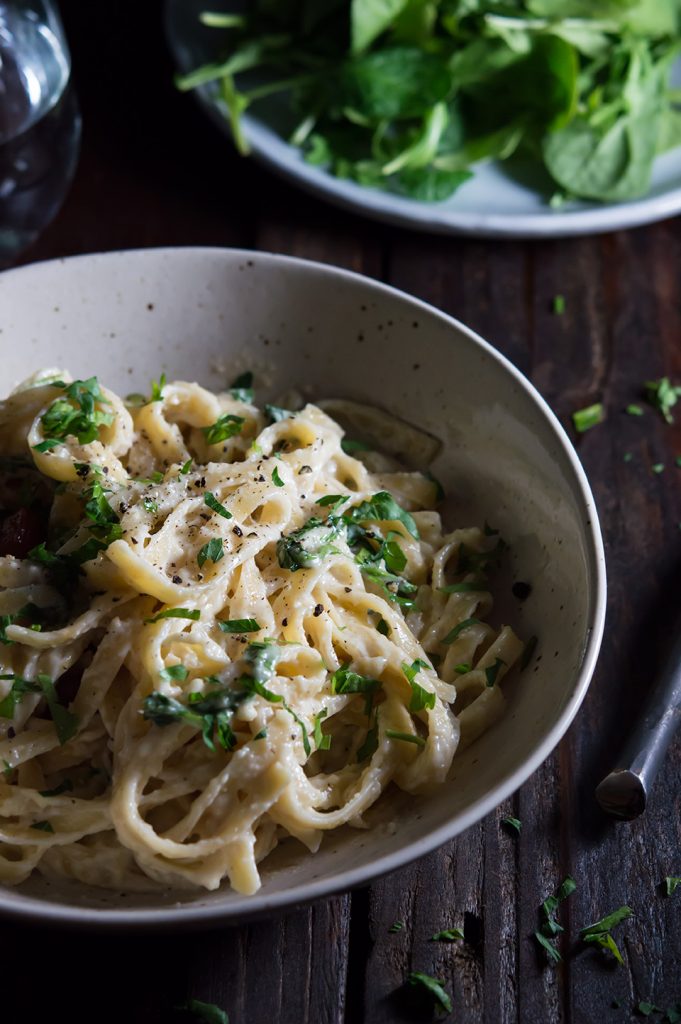 I hope you enjoy the simple, yet delicious sauce as much as we do!  Chow until next time.  (I think the next time I post, remind me to talk about my big event that also kept me busy over the Christmas/January months.  Didn't want to add all of that in this recipe share, it was just too much reading and writing for one chat session…. 🙂 )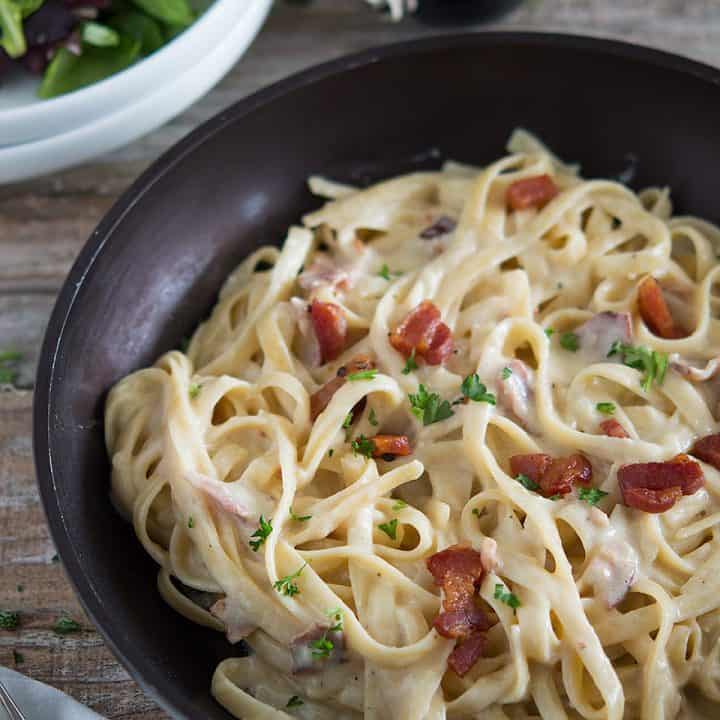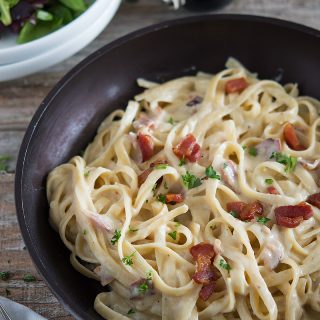 Ingredients
1

pound

of linguine pasta

Drizzle of olive oil

1

pound

of pancetta diced

(Optional - instructions added if using this)

1

tablespoon

of butter

12

large garlic cloves finely chopped of pressed

4

cups

of heavy cream

1

cup

dry white wine

1

and ½ tablespoon garlic powder

3

teaspoons

onion powder

2

cups

of freshly shredded asiago cheese

Salt and pepper to taste
Instructions
Place a large pan on stove top, turn the heat up to medium high. Once the pan is hot, add the olive oil to the pan.

Next, add your pancetta to the pan. Brown your pancetta until it's nice and crisp like you would when cook bacon. Takes about 3 minutes or so to cook…

Now remove your pancetta from the pan and drain on a plate lined with paper towel. Leave a few drizzles (about 2 teaspoons or so) of the reserved fat from the pancetta in the pan.

Add the butter to the pan, let the butter melt. Then, add the garlic. Let the garlic only cook for a few seconds. We just want to "wake up" the garlic.

Then, turn the heat to medium. Add the heavy cream, wine, garlic powder, and onion powder. Mix well.

Let the sauce mixture come to a slight boil, then turn the heat down to medium low.

Cook down the sauce to about ¾, for about 10 to 13 minutes. Your sauce is ready for the next step once the sauce has thickened slightly. Make sure to keep

Now remove the pan from the heat source, then add your cheese, and mix well. Salt and pepper to taste. If you feel the cheese has not melted well into the sauce, use a handheld blender to blend your ingredients into a smooth sauce. (This always works for me with creamy pasta sauces.)

Toss in the pancetta, and then toss with pasta. Serve immediately.
Notes
Budget Friendly Tip: Use bacon instead of pancetta if it is hard to find or too expensive.
Cooking Tips:
Double sauce if you like more sauce with your pasta, or if you decide to add more ingredients such as vegetables or extra meats.
If you don't like too much garlic, only add 1 tablespoon of garlic powder then taste before adding more.
Please note that I am not a nutritionist, and the nutritional information is an estimate only. It varies based on the products and brands used.