Cheesy Chicken and Spinach Pasta is a quick meal that requires only a few steps and only a few ingredients. Great for the beginner cook. Budget friendly.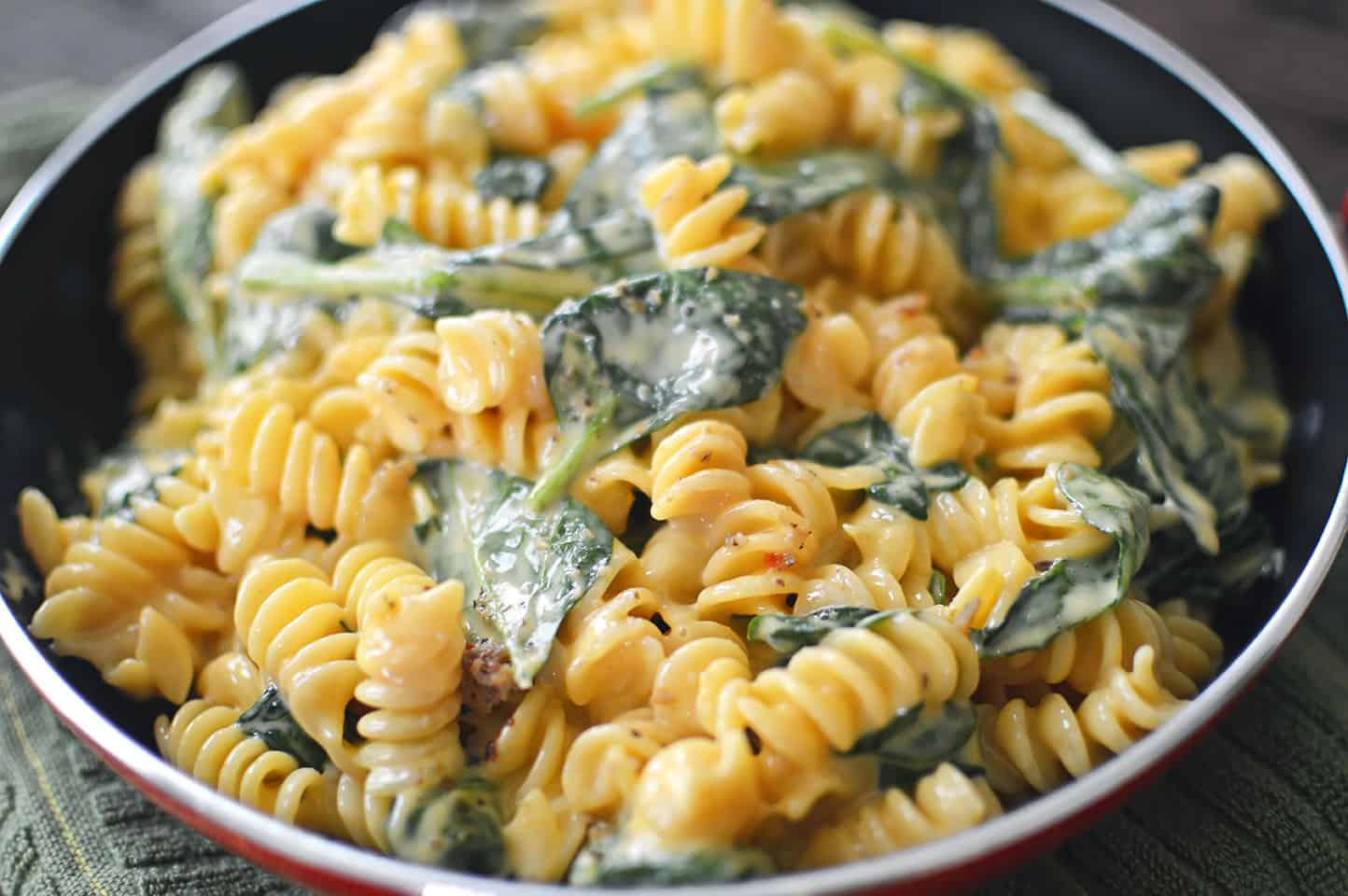 I Love Velveeta Cheese
So I decided to do something that a lot of people would not agree with….. I made a quick easy meal using Velveeta cheese…. Yep!
Some would shun away from this cheesy spinach and chicken pasta. But I guarantee you everyone that has been to a super bowl party or any party for that matter, has dipped their chip into a bowl of this melted goodness.
So with that being said, let's please all unite in unison and sing the "I love Velveeta cheese" song. If you're not too proud to display your Velveeta cheese badge, this one's for you……
How This Whole Dish Came About
At times I am guilty of buying grocery items and not using them. So I decided to clean out my pantry with a challenge to make meals with what I already have, instead of running to the store and spending more money. During this week's pantry cleaning challenge, I made this delicious pasta. It took only a few steps and ingredients to make.
And let's not forget to mention that this is definitely an easy meal for the beginner cook as you learn key steps like how to boil water, how to cook pasta, how to brown chicken, etc without wasting money on a lot of expensive ingredients.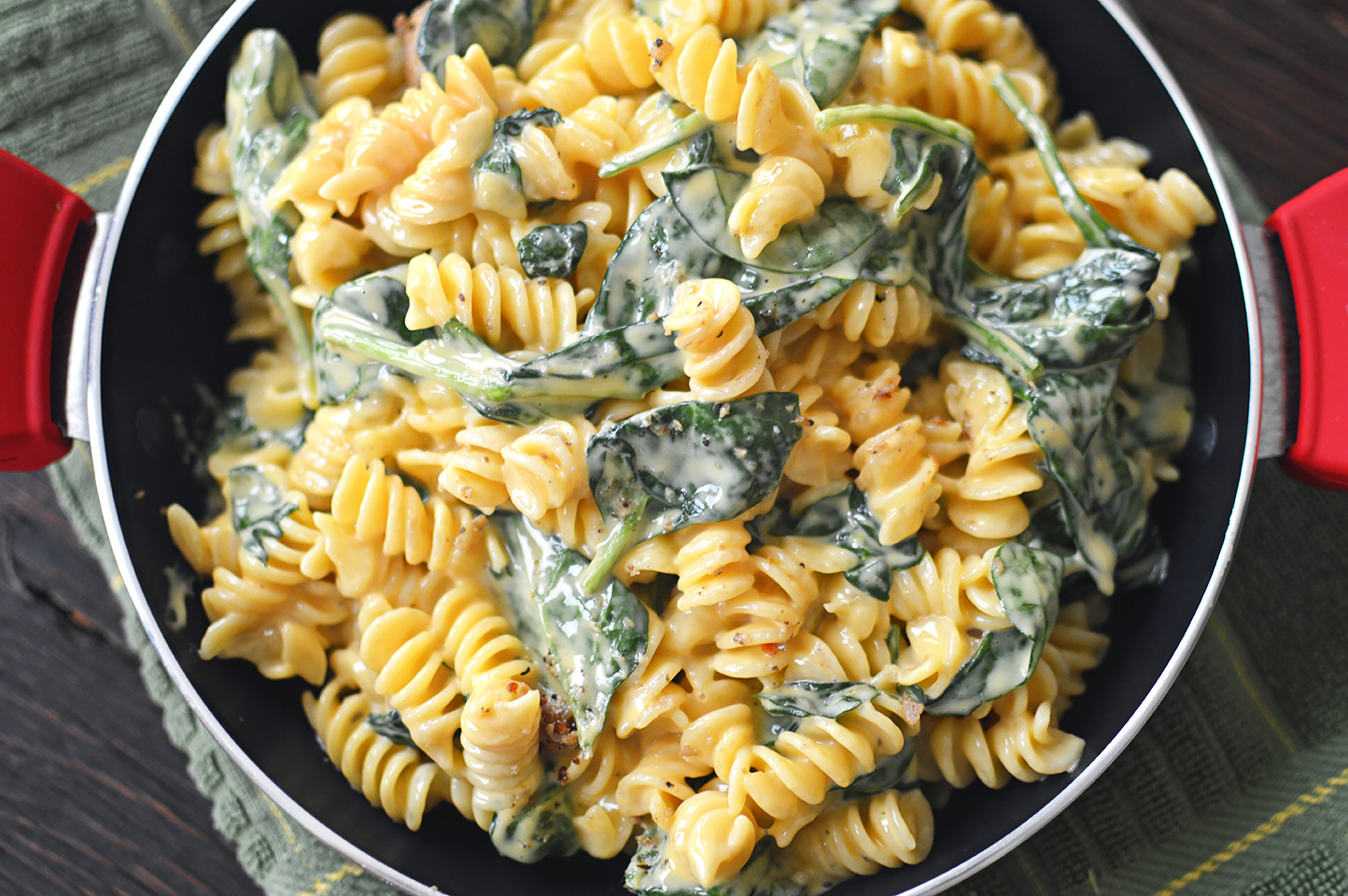 Recipe Note
It costs about $1.25 per serving (for six servings). That's pretty decent to me in the savings department. I got the Velveeta cheese during a buy one get one free sale. The pasta cost 79 cents after a coupon and sale, the chicken was $1.69 per pound, and the spinach was on sale for 99 cents.
Even without these sales it would still cost roughly around $2.50 – 3.00 per serving, which is still cheaper than going out to eat.
And if you are doing a "clean out your pantry challenge" like I did, then you probably didn't have to go to the store and spend money for dinner tonight. That's a win win if you ask me!
One can put those Noodles in a cup back up with ease, and enjoy a more hearty meal while the money is tight. Plus it is also that last minute meal when everything is going to hell and you barely have time to breathe with the kids tugging at your shirt, the spouse calling, and the dog a barking.
Enjoy!
Enjoying Cheesy Chicken and Spinach Pasta?
You will love these recipes, too:
Becky's Best Bites have a great spinach chicken pasta recipe, too.
Made This Recipe?
♥♥♥ Please rate this recipe and leave a comment below to let me know if you enjoyed it. And follow me on Pinterest, Facebook, Instagram and Twitter for more delicious inspiration! ♥♥♥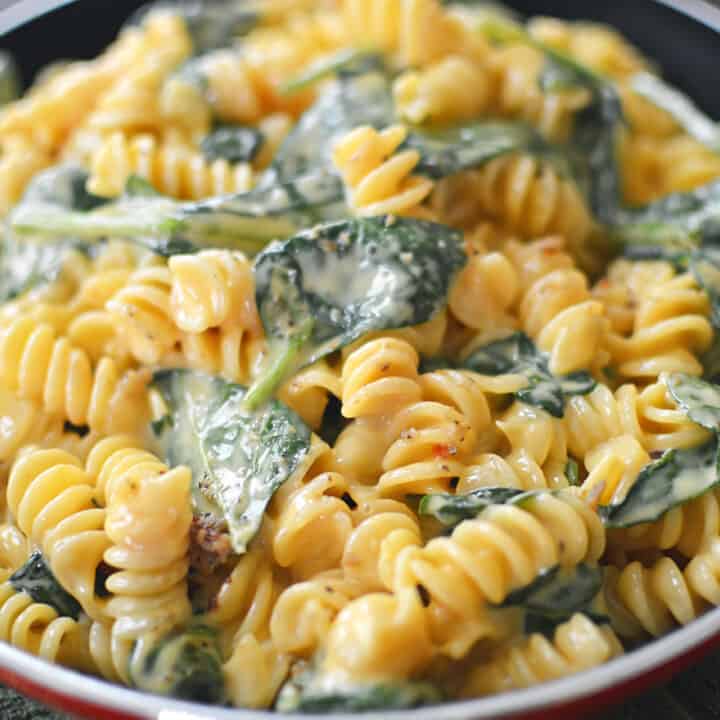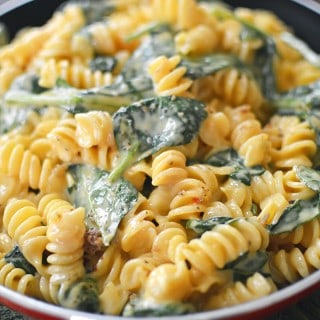 Cheesy Chicken and Spinach Pasta
Cheesy Chicken and Spinach Pasta is a quick meal that requires only a few steps and only a few ingredients. Great for the beginner cook. Budget friendly.
Print
Pin
Rate
Servings:
6
healthy servings
Ingredients
2

boneless skinless chicken breasts

3

teaspoons

of Mrs. Dash

(garlic and herb flavor)

½

teaspoon

salt

¼

teaspoon

black pepper

1

pound

rotini pasta

2

tablespoons

butter

16

ounces

of Velveeta cheese

(cut it up in small chunks)

1

and ½ cups milk

1

teaspoon

garlic powder

1

bag

(9 to 10 ounces) fresh spinach

Salt and pepper to taste
Instructions
Dice the chicken breasts into little pieces. Season the chicken breasts with the Mrs. Dash seasoning, salt, and pepper. Let the chicken marinate for at least 2 hours (preferably overnight).

Heat a few tablespoons of olive oil in pan. Once oil is hot add the chicken to the pan. Brown the chicken.

Cook pasta according to the box instructions provided for the pasta. While the pasta is cooking, place a medium to large saucepan on low heat. Add butter to this pan. Once the butter has melted, add the Velveeta cheese to the saucepan. Cook this cheese sauce on low heat stirring frequently. While the cheese is melting, add the milk to the cheese sauce 1/3 cup at a time until desired consistency.

After pasta has cooked, drain the pasta. Once the cheese has melted, mix the pasta, cheese sauce, chicken, garlic powder, and spinach together in the large pot. Continue to add milk to the pasta to get the desired consistency of the cheese sauce. Salt and pepper to taste.
Notes
I like to use a double boiler to melt my cheese so that the cheese melts successfully with no burning issues.
I also dice the cheese into cubes to help the cheese to melt. I also do not thin out the cheese sauce completely until everything is mixed together.
You can also make this meal preparation easier buying using cooked chicken from a previous meal or from your local grocery deli/hot foods area.
Give it a twist and add mushrooms to this dish.
Serve it with french crusty bread and a side salad to make it feel "fancy".
Please note that I am not a nutritionist, and the nutritional information is an estimate only. It varies based on the products and brands used.