Red Wine Rosemary Marinated Steaks are the star of the show every time because of the easy marinade I put together.  The blender is our friend with this one!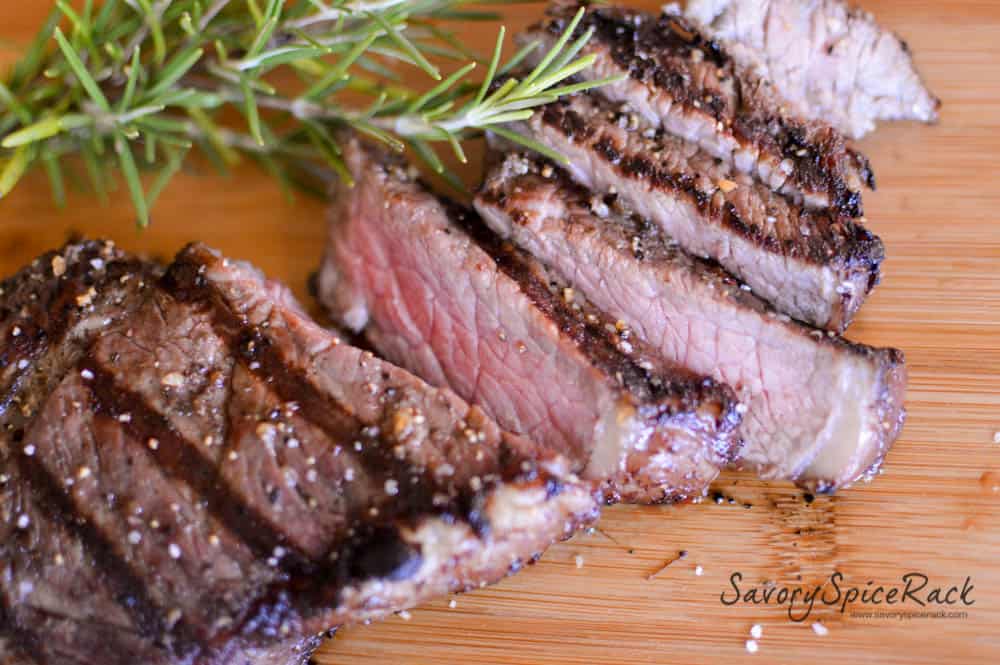 I think steak is one of the most beloved foods out there (well, outside of seafood of course).  But a steak has to be cooked right with the proper seasoning.  All of these requirements are different for everyone.  Some want a steak well done, and some want a rare steak "with the hooves still on".  But the one thing that I think everyone agrees on in reference to qualifications is a nice thick juicy steak.
So after years of cooking and serving my family and friends, I finally met the steak qualifications that I wanted with this red wine rosemary marinated steak.
When I go down the check off list to ensure that the qualifications have been met, it goes like this…..  Juicy steak – check.  Thick steak – check.  Tender melt in your mouth steak – check.  Cooked to a "medium" perfection – check.  A steak marinade that I can't live without – double check!
My checklist is successfully completed because of this simple yet superb marinade I do believe….  For one, the key ingredient to help create a tender steak would definitely be the red wine (due to the acidity of the wine, which causes the steak to become tender).  For me it's just something about adding wines to your food.  It takes the flavors of the food to a whole other level.  Then, add in the fresh garlic and rosemary and you've got yourself a winner!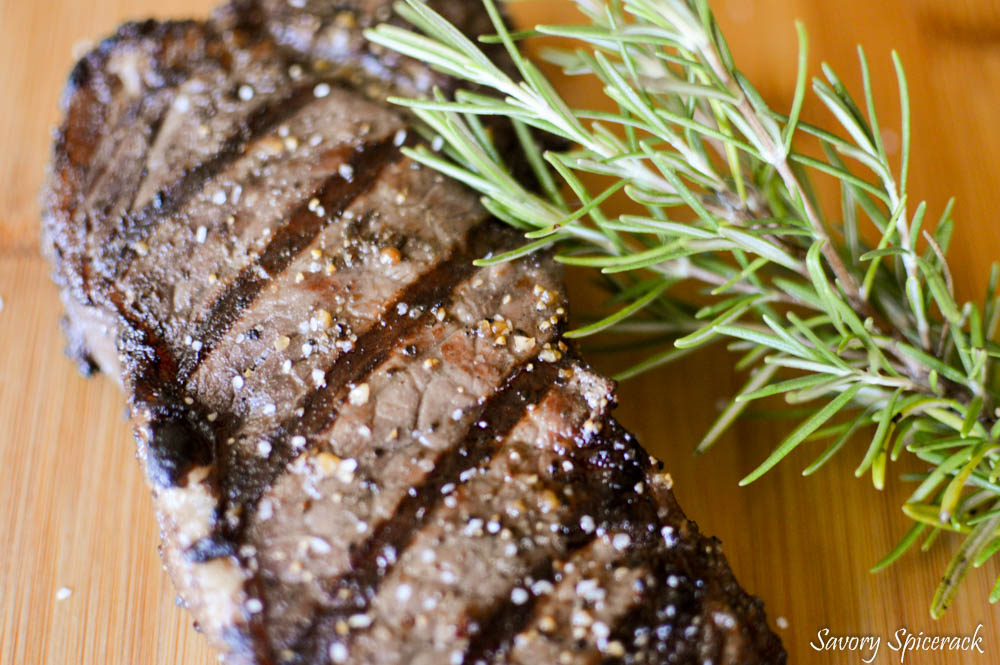 And this marinade is not only a great marinade because it makes the steaks taste good, but it also is super simple to make.  You can't screw it up, no matter how hard you try.  Preparation only requires you to place all of your ingredients into a blender in order to blend the ingredients into a liquid marinade.  Then, you pour it over the steaks and let them marinade.  And then you're done.  No chopping required.
After that, you just throw them on the grill.  Thus, leaving you with less time in the kitchen for other things that need to get done, like sitting on your butt and doing nothing because you deserve it…..
Then after you get to do nothing all day because this meal was so easy to prep, you get to enjoy a steak with awesome flavor from the earthy rosemary, dry oaky red wine, and of course the mother of all flavors – garlic…  Let's get to cooking these easy steaks with the recipe below.
P.S. Here is what the Montreal Steak Seasoning looks like if you care to use it.  For those that choose not to use the Montreal Steak Seasoning – I have done these steaks with just Kosher salt and pepper, and I still achieved great results.
---
♥♥♥ Stay Connected – like us on Facebook, follow us on Twitter, Instagram, and Pinterest!  ♥♥♥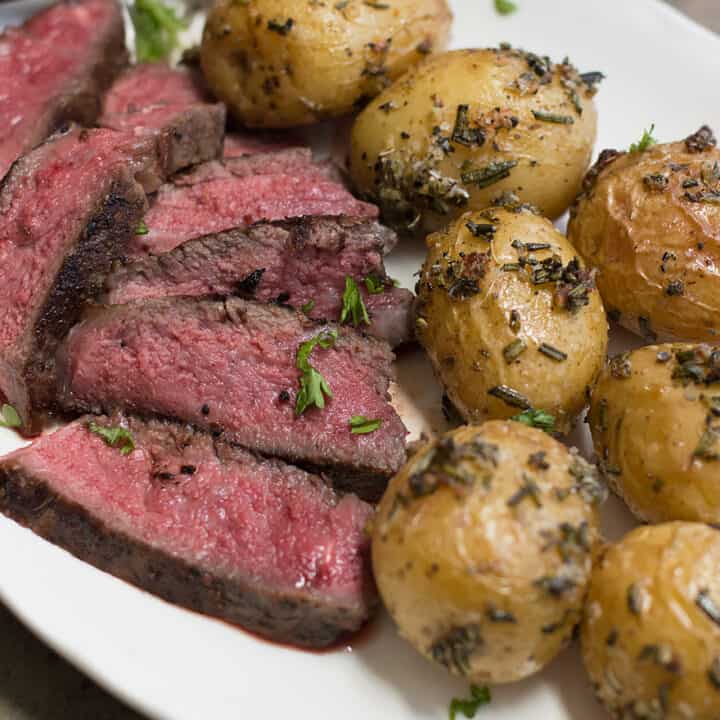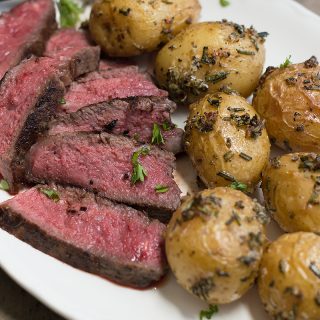 Red Wine Rosemary Marinated Steaks
Steaks marinated in a red wine, rosemary, and garlic marinade.
Print
Pin
Rate
Servings:
4
steaks or servings
Ingredients
4

thick New York strip steaks

1

& ½ cup dry red wine

5

garlic cloves

1

and a half sprigs of fresh rosemary

McCormick Montreal Steak Seasoning

Kosher Salt

Black Pepper
Instructions
Season the both sides of each steak liberally with kosher salt, black pepper, and the McCormick Montreal Steak Seasoning.

Place the steaks in a Ziploc bag or in a container of your choice.

Place whole garlic cloves, rosemary leaves, and wine into a blender.

Blend the wine, garlic, and rosemary in the blender until garlic and rosemary are finely minced. Pour wine mixture over steaks. If steaks are placed in container, cover container with top, foil, or plastic wrap. When using a Ziploc bag, make sure to place dish to prevent leaking of marinade. Refrigerate and marinate steaks for four hours or overnight (preferably overnight).

When ready to cook the steaks, start grill (use of charcoal grill is preferred).

Remove steaks from refrigerator 15 minutes before cooking the steaks.

Once charcoals are gray, oil the grill plates.

Put the steaks on the oiled grill.

Grill steaks until desired doneness is achieved.

Let steaks rests before slicing the steaks, and serving.
Notes
The steaks have a more intense marinade flavor if the steaks marinate longer. This recipe gives you a nice hint of rosemary. If you want more rosemary flavor add a little bit more of the rosemary. I don't like to add too much more rosemary for my own preference, because too much rosemary overpowers the other flavors. I also like to sprinkle a pinch of the Montreal Seasoning and or Kosher salt on the steaks while they cook. These steaks can also be cooked on the stove top in some olive oil and butter. Serve with red wine au jus dipping sauce.
Please note that I am not a nutritionist, and the nutritional information is an estimate only. It varies based on the products and brands used.