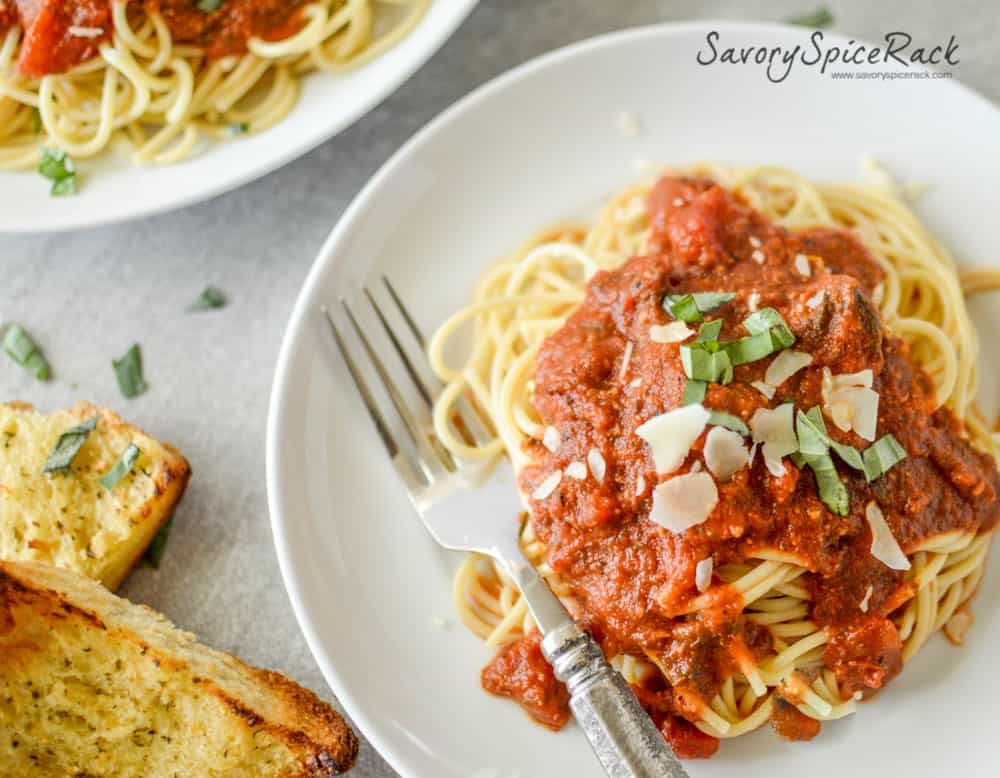 Marinara sauce has a robust flavor that can sometimes be a little over the top for me.  This robust taste is the acidity from the tomatoes of course.  And sometimes this is the only thing I can taste when ordering marinara sauce.  Sorry but I don't want that!  I want something with a little more flavor, and the acidity level balanced out.  So this recipe was perfected with that in mind.  It has lots of garlic, Italian herbs, and one key ingredient that makes you say mmmmmmm.  And that key ingredient is none other than my favorite – wine!  That's right I said it!  I said wine!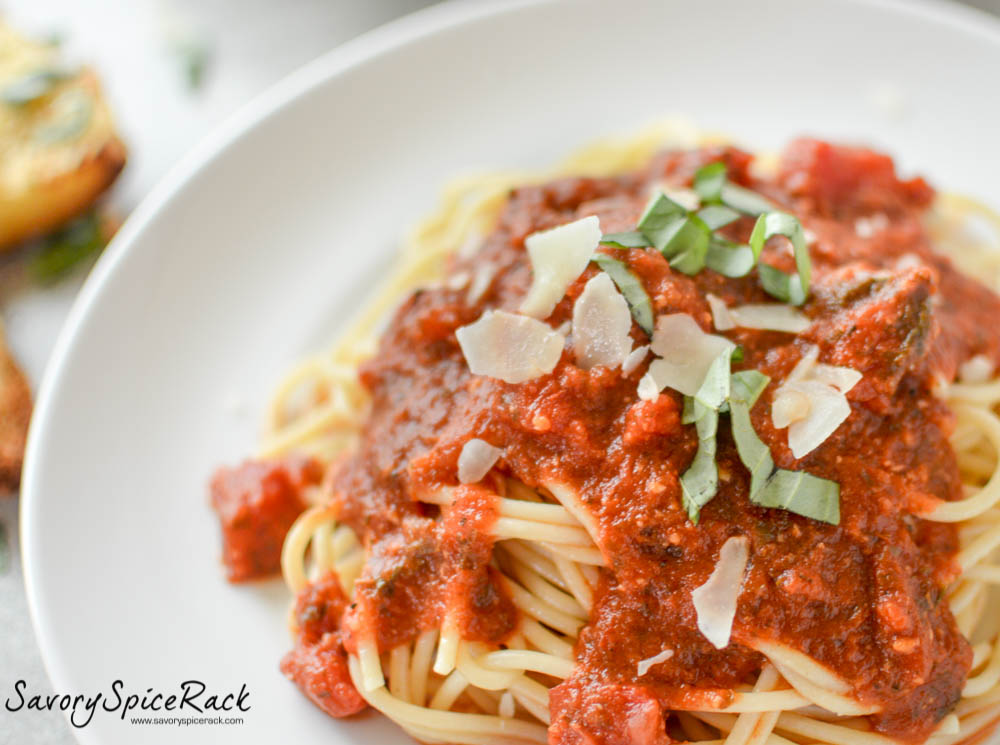 Throw that wine in to balance out the acidic flavor of the sauce and change up how you do spaghetti night.  Because spaghetti night usually feels like a blah moment for you right? Especially after throwing together that jar of store bought sauce or that can of tomato sauce with a pack of pasta…  Try out this sauce to bump up those budget night meals.  It only takes a few more dollars to make this feel like a gourmet meal.  Plus you still have the remaining wine to serve with this lovely meal if you didn't drink it all while you were cooking!  Enjoy!
Savory Savings (Budget Friendly Tip): I like to use organic canned tomatoes and tomato sauce.  If you are near an Aldi's Grocery Store, purchase organic items there, because they sell organic items for a cheaper price than most stores.
♥♥♥ Don't forget to like us on Facebook, follow us on Twitter, Instagram, and Pinterest!  ♥♥♥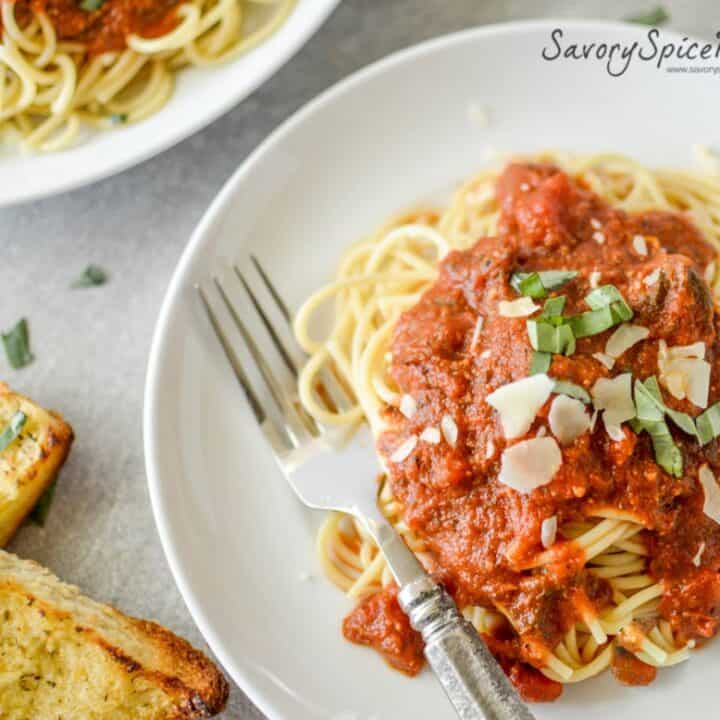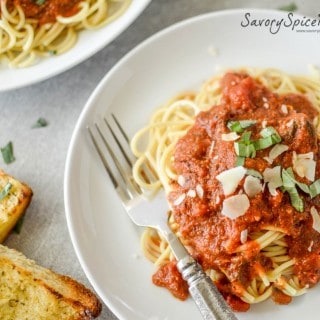 Homemade Marinara Sauce Infused with Wine
Balance out the acidity level of the tomatoes in your marinara sauce with one key ingredient.
Print
Pin
Rate
Ingredients
Ingredients:

Olive Oil

11

garlic cloves

(roughly chopped)

½

onion

(roughly chopped)

2

cans tomato sauce

(15 ounce cans)

1

can of diced tomatoes

(14.5 ounce can)

11

basil leaves

6

tablespoons

oregano leaves

1

tablespoon

garlic powder

1

tablespoon

Italian season blend

½

teaspoon

white sugar

1

cup

of dry white wine

(divided)

Salt

Pepper
Instructions
Add about one tablespoon of olive oil to a large saucepan. Heat olive oil on medium high heat.

Once the olive oil is hot, add the chopped garlic and onions. Sauté the garlic and onion for about one minute. Turn the heat down to medium.

Next, add the cans of tomato sauce, the can of diced tomatoes, basil, oregano, garlic powder, Italian seasoning, and the white sugar to the pan.

Then, stir in a ½ cup of wine into the sauce.

Salt and pepper the marinara sauce to taste. At this point you can use the handheld blender to blend the sauce to get a smooth consistency if you don't like chunky sauce.

Cook the sauce on medium low heat for about 40 minutes to an hour.

Make sure to stir the sauce from time to time while the sauce cooks.

After the sauce has cooked, remove the sauce from heat, and add the other ½ cup of white wine.
Please note that I am not a nutritionist, and the nutritional information is an estimate only. It varies based on the products and brands used.