This Bruschetta with Cheese is easy to make with melted fresh mozzarella and french baguettes toasted to golden brown perfection.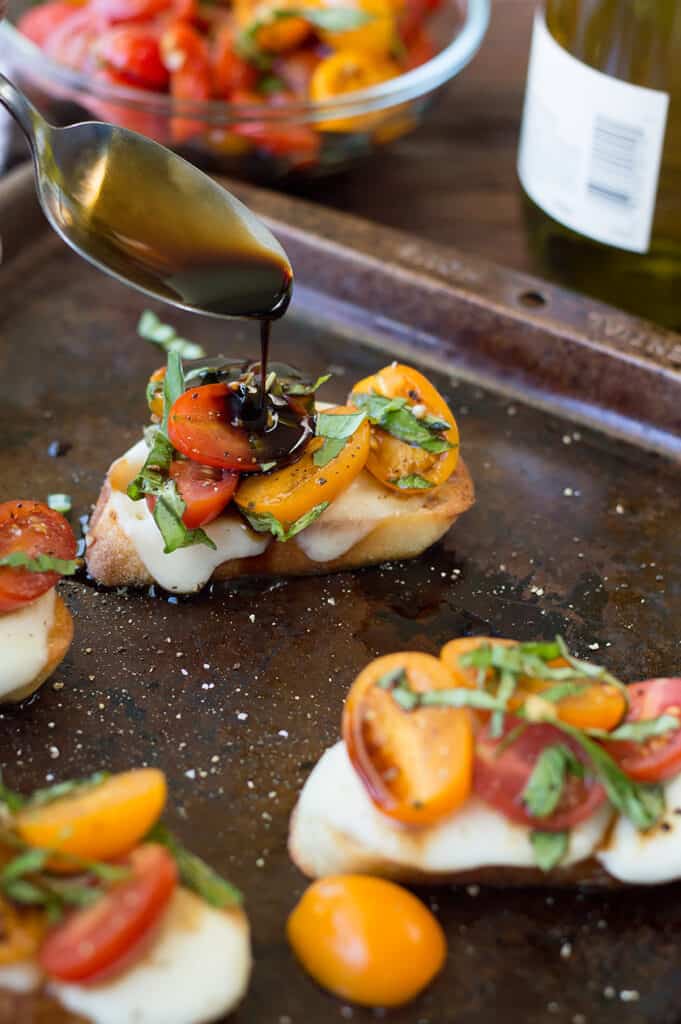 I like to serve these Hors d'Oeuvres with my pinky up.  I try my best not to gobble up these tiny wonders while I am prepping them to serve.  I feel like the cookie monster ready to attack when I bring these appetizers to life, because they are so damn good!  Excuse my profound language, but these miniature delights deserve a round of applause and a standing ovation.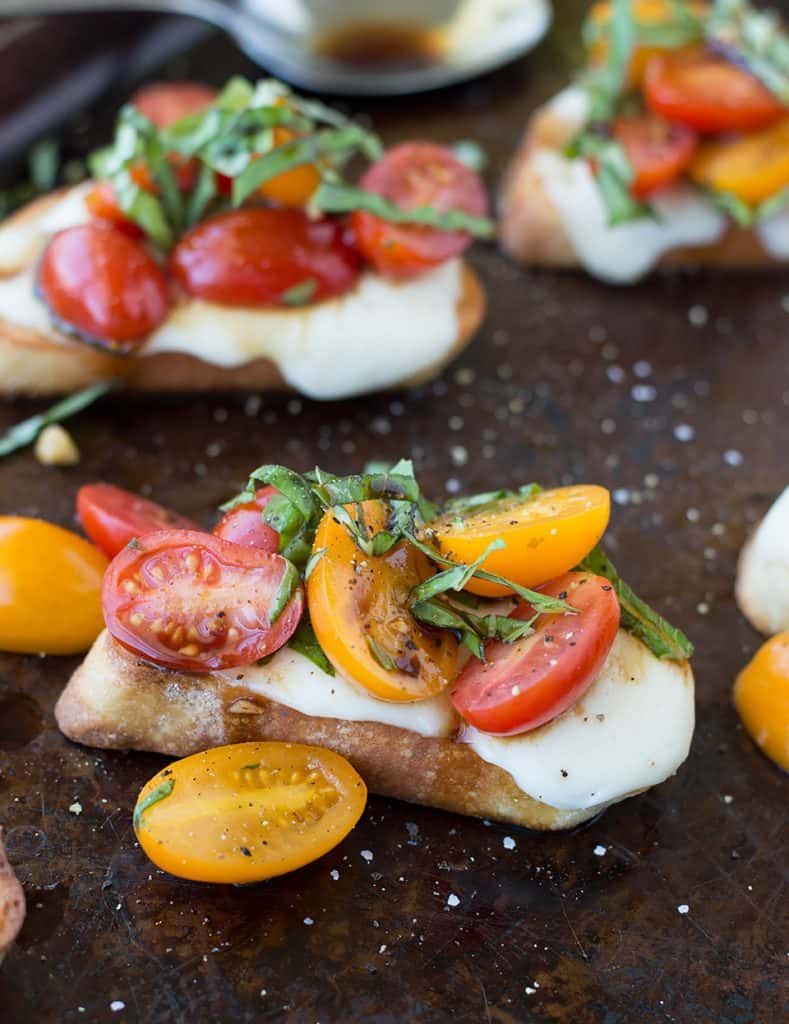 This easy to make bruschetta recipe requires only a few ingredients, with taking only a few minutes to make.  You can slice your bread ahead of time if you're entertaining, so that you can further decrease your prep time.  Plus, they are the perfect addition for a dinner party, or for any dinner for that matter.  But on the flip side, they have been my go to comfort food this week while I cram for some work related test……  So with that being said, black suite attire is not required when you have the urge to stuff your face full of these cheesy bread concoctions.  Enjoy!
Cooking Tips:
You can slice and brown your bread ahead of time if you're entertaining, so that you can further decrease your prep time.  Just make sure to store the browned bread in a covered container until ready to use.  You can also make the tomato mixture ahead of time and keep covered in the refrigerator – this also allows the flavors to penetrate the tomatoes.  Plus slice your fresh mozzarella if you didn't purchase pre-sliced fresh mozzarella ahead of time and keep covered and refrigerated until ready to use.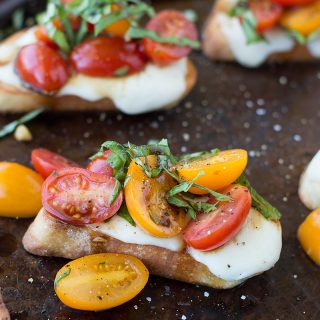 Bruschetta with Cheese
Easy to Make! Takes only a few minutes to make.
Print
Pin
Rate
Servings:
16
to 25 pieces
Ingredients
Ingredients for Tomato Mixture:

1

pint

of red grape tomatoes

1

pint

of yellow grape tomatoes

2

to 3 garlic cloves

(minced or grated)

6

basil leaves

(roughly chopped)

1

tablespoon

of honey infused balsamic vinegar

2

tablespoons

of balsamic vinegar

1

teaspoon

of olive oil

¼

teaspoon

black pepper

Salt to taste

Ingredients for Bread Portion of Recipe:

1

pound

of Fresh Mozzarella

1

French baguette bread loaf

¼

to ½ cup olive oil
Instructions
Cut the tomatoes in half.

In a medium size bowl mix together the tomatoes, garlic, basil leaves, both balsamic vinegars, and black pepper.

Salt this tomato mixture to taste with a pinch or two of salt.

Cover the mixture and place in the refrigerator.

Let the tomato mixture sit for about 30 minutes to an hour to allow all the flavors to blend together.

While the tomato mixture sits, slice the French baguette bread loaf into equal slices.

This should give you about 26 slices of bread.

Place the sliced bread loaf pieces into a Ziploc bag or container and set aside until you are ready to finalize your bruschetta.

When ready to complete the bruschetta bread for serving, turn the oven on to broil.

Slice the mozzarella into equal slices. This should give you 16 slices of mozzarella. (When using the whole bread loaf- I usually cut these 16 slices of mozzarella into halves so that I have enough mozzarella for the whole bread loaf.)

Brush each side of the sliced bread pieces with olive oil.

Place the bread loaf slices on a baking pan or cooking sheet, and place in oven.

Cook the sliced bread pieces on each side for about 1 to 1 & ½ minutes or until both sides of the bread pieces are golden brown.

Top each of the browned bread pieces with a one slice of the mozzarella.

Place these mozzarella covered bread slices back into the oven, and cook (using the broil temperature) the bread slices for about 2 to 3 minutes or until the cheese melts.

Garnish these cheese bread slices with the tomato mixture and serve immediately.
Notes
Time Saving Tip:
Save time by prepping all ingredients before serving time. Bread can be sliced and toasted ahead of time, and cheese can be sliced ahead of time. This helps for easy assemble of ingredients when completing the cooking process of this appetizer prior to serving. And Remember to serve immediately! Freezer Tip:
Is one French baguette too much for you? Any unused sliced bread can be stored in the freezer for future use. When ready to use, take the sliced bread out of the freezer and let it sit for about 20 minutes, then it's ready to use! Note- I usually don't oil and toast the unused bread before freezing……