This Easy and Super Moist Sour Cream Chocolate Bread reminds me of a cakey type brownie. I could just eat this forever and a day!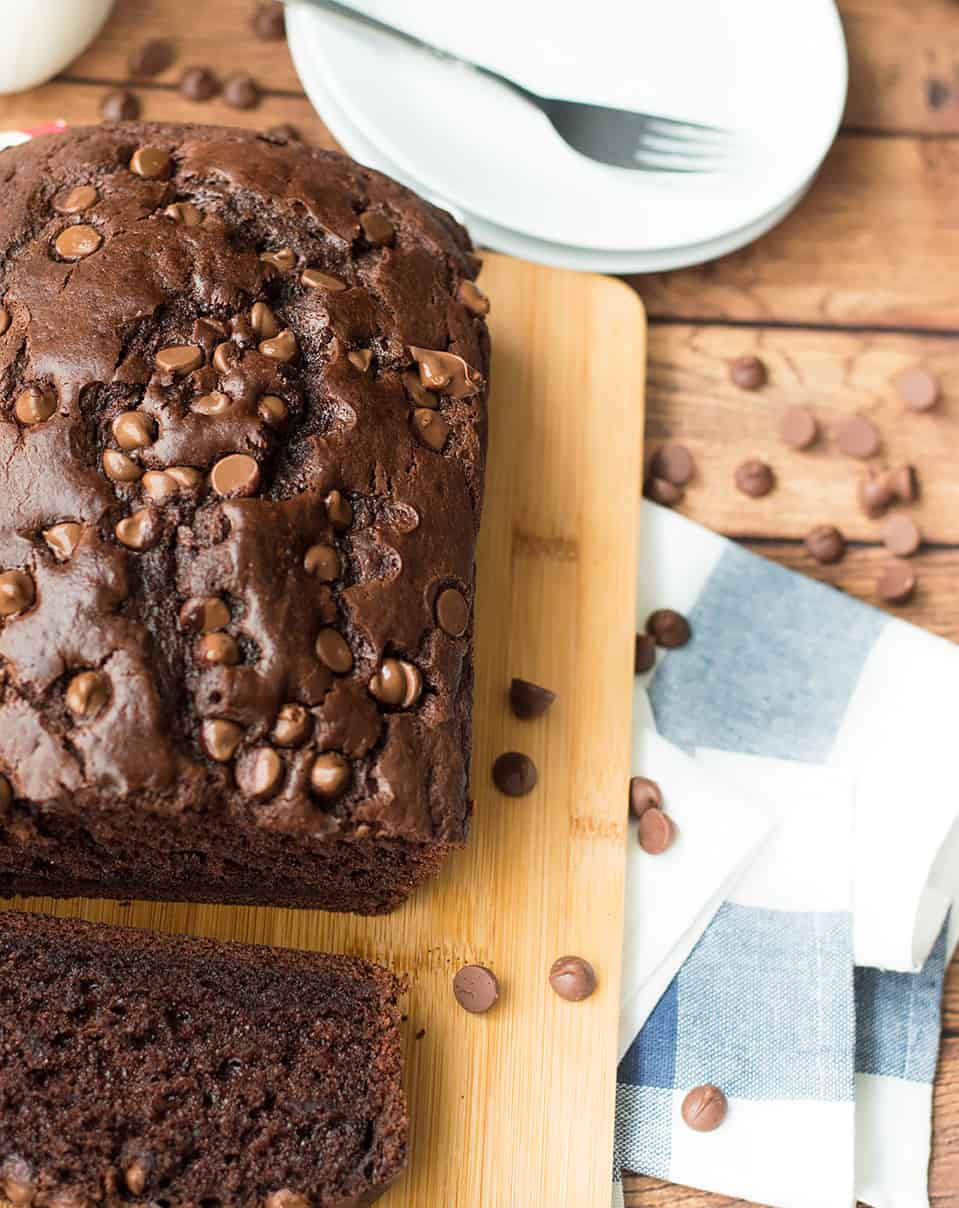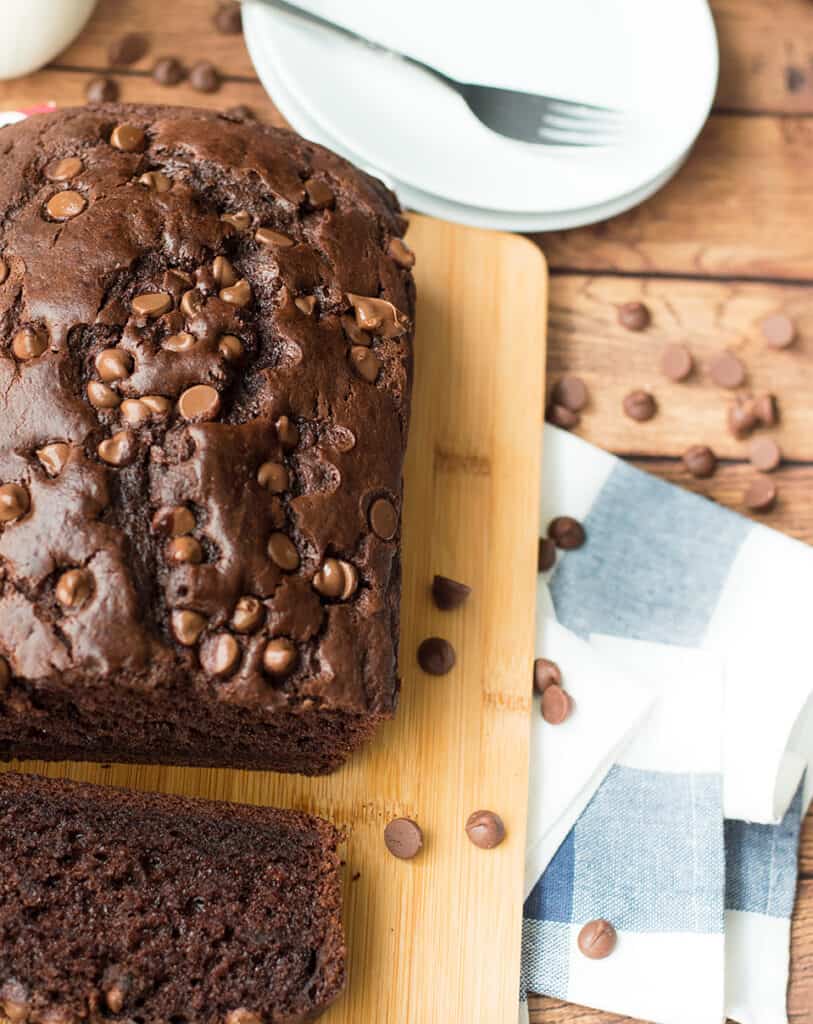 Sour Cream Chocolate Bread
But if I ate this chocolaty sweetness as much as I wanted too, I am sure my thighs and belly would really hate me…
I'm going back to school folks…. As my start date draws near, my to do list seems to steadily grow. Yikes! So as my nerves get the best of me, I am craving something sweet and as always it's chocolate. So I made my favorite sour cream chocolate bread that is incredibly moist. And of course this bread is so moist because of that sour cream, a good butter, and buttermilk!
I thought about attempting to make this with greek yogurt, and coconut oil so that I could share a more healthy alternative. But…… I decided not to. Nope! Sour cream is healthy enough for me right now, let's add that good quality butter instead. Disclaimer – I did use organic flour, and pure cane sugar… Does that count?? 🙂
Ok I have to log off and get some certifications together before school starts! Let me know how you like the recipe in the comments. xo
Enjoying this Sour Cream Chocolate Bread? Try these, too: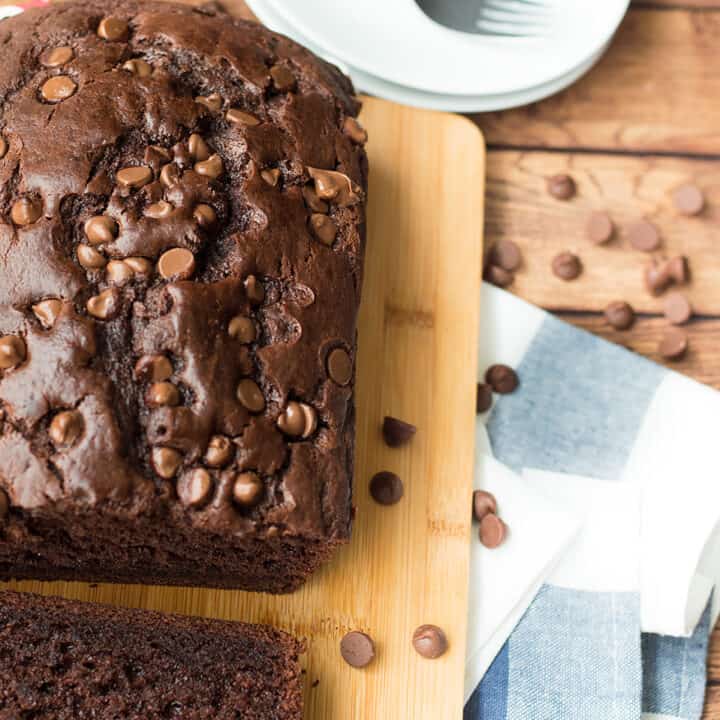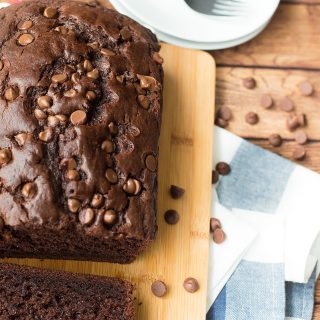 Ingredients
1

and 1/2 cups all purpose flour

1/2

teaspoon

salt

1/2

teaspoon

baking powder

1/2

teaspoon

baking soda

1/2

cup

unsweetened cocoa powder

3/4

cup

sour cream

1/2

cup

buttermilk

1

and 1/2 teaspoon pure vanilla extract

2

eggs

(lightly beaten)

1

cup

sugar

(I used pure cane sugar)

8

tablespoons

unsalted butter

(soften)

Optional- 1/4 cup chocolate chips for garnish
Instructions
Preheat oven at 350 degrees.

Spray 9 x 5 size baking pan with baking spray.

Mix dry ingredients together in a bowl (except for the sugar). Set aside.

Mix wet ingredients together in another bowl (except for the butter). Set aside.

Cream butter and sugar in mixing bowl for about 1 minute.

Add wet ingredients into mixer with the creamed butter and sugar. Mix for about 30 seconds or until the ingredients have mixed together. Use a rubber spatula to scrap the sides and bottom of the mixers bowl to ensure that all the ingredients are incorporated into the mix.

Next add the dry ingredients to the bread mix. Blend the ingredients for about another 30 seconds or until all the ingredients are fully blended together.

Pour the bread mixture into your greased baking pan.

Top the bread mixture with the optional chocolate chips at this time if you want to add the chocolate chips.

Bake the bread loaf for about 50 to 55 minutes our until a toothpick comes out clean when inserted into the cooked bread loaf.

After removing the bread loaf from the oven. Let the bread cool before serving.
Notes
Cooking Tips:
Use room temperature ingredients to help your ingredients blend together better. It also helps the ingredients to trap air which will make the baked goods nice and fluffy.
To keep your bread moist make sure to keep the bread stored in a covered container.
Please note that I am not a nutritionist, and the nutritional information is an estimate only. It varies based on the products and brands used.