I whipped up some easy Stir Fried Chinese Noodles with Shrimp the other night…  And I threw every vegetable in there that I could think of…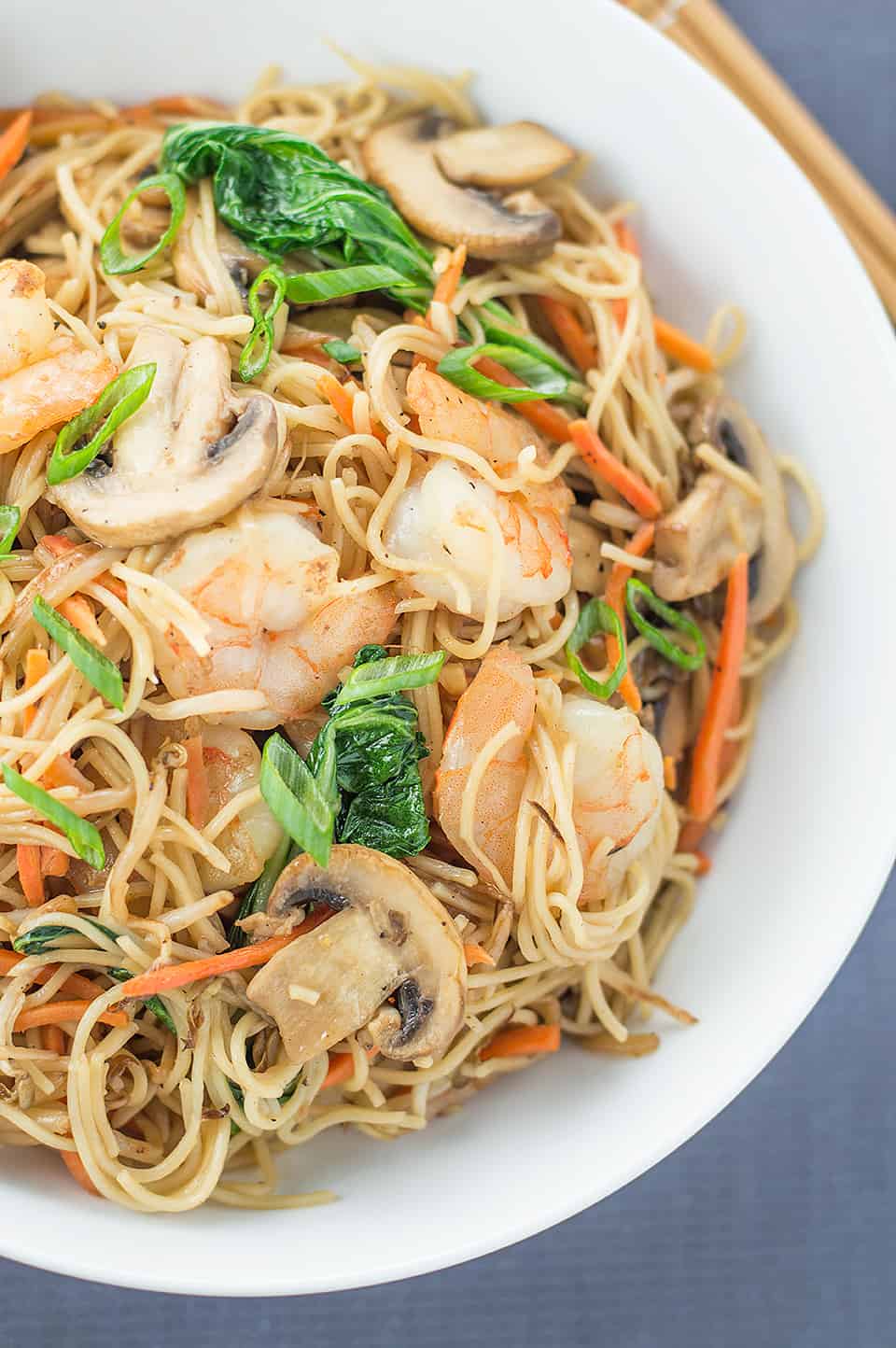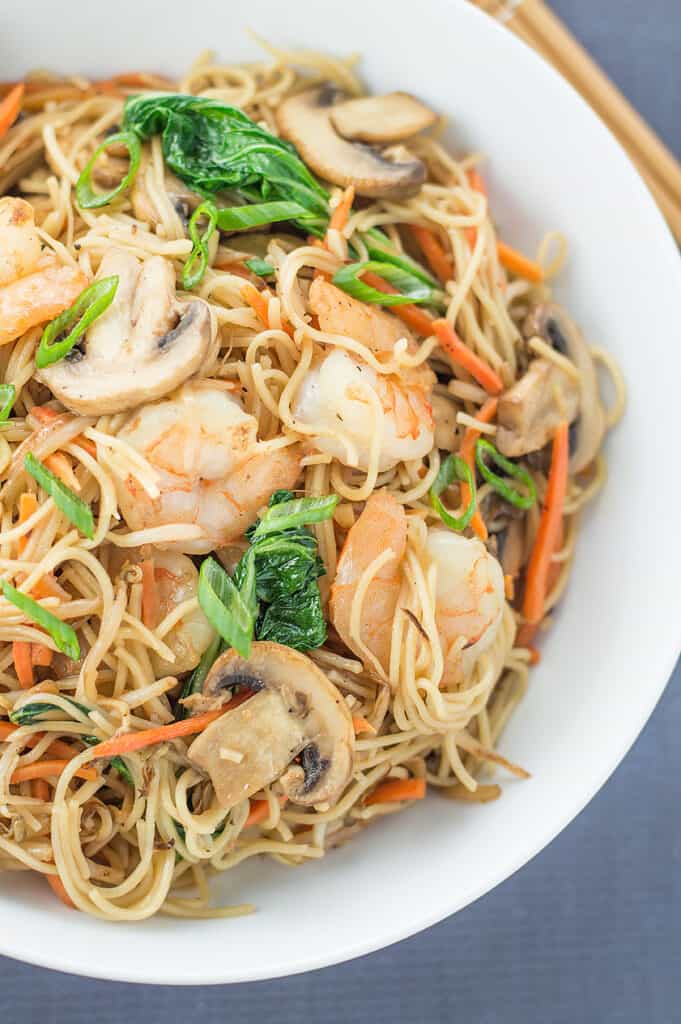 Every week on the first day off from work, I clean out my refrigerator's produce cabinets as I rotate out any meals that need to visit the trash can.  And this pass week I came across some carrots, mushrooms, bean sprouts, and green onions as I kept digging through my jungle of a produce cabinet (Why do those damn cabinets always get junkie? Geez!).
So when it was time to meal plan for my next week of meals, I grabbed some Chinese noodles, shrimp, and bok choy to make this stir fry.  Because I'm not trying to throw away those expensive veggies!  They were still good….  They still had some shelf life…
And if you end up with a similar situation just as I have encountered, you can add whatever veggies you have in the fridge.  Let this recipe be a guide to help you make your own creation!
Peace!  It's spring break baby!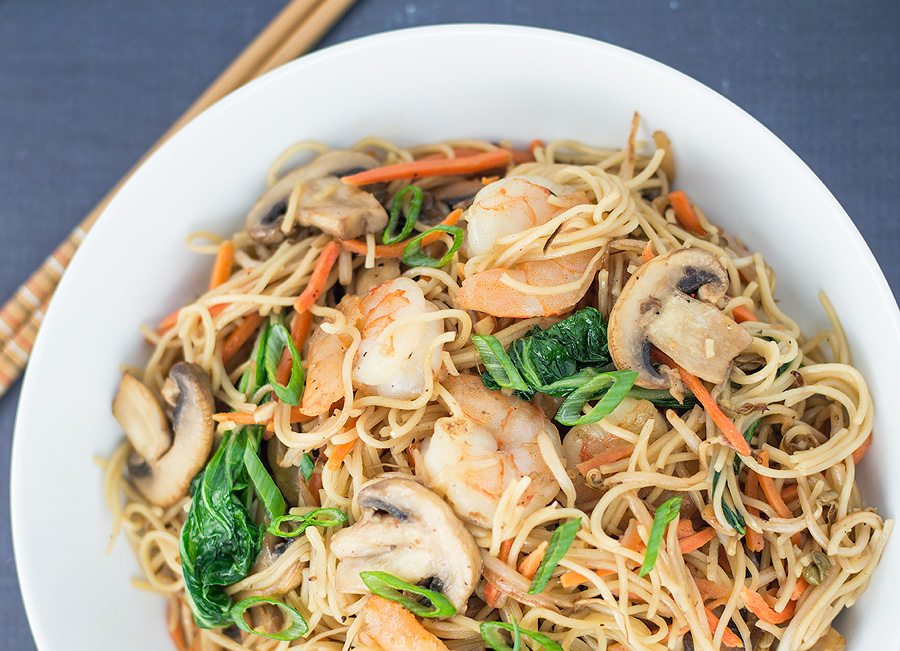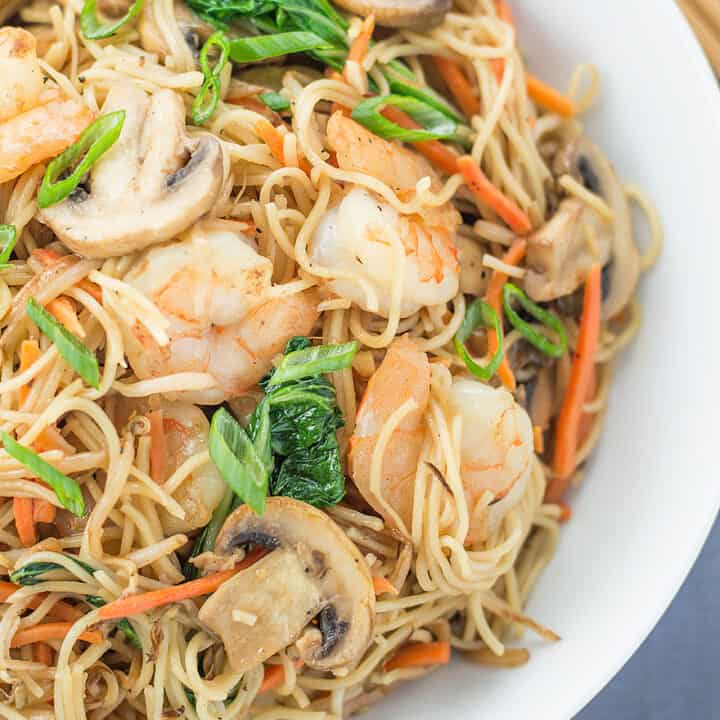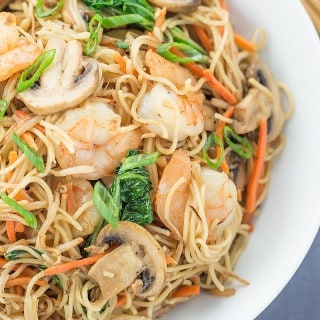 Ingredients
Vegetable oil

16

ounces

of white mushrooms - sliced

1

and 1/2 cups fresh bean sprouts

1

and 1/2 cups sliced carrot straws

2

large bundles of fresh bok choy

2

pounds

of large shrimp - cleaned and peeled

5

garlic cloves minced

(finely chopped)

5

cups

noodles

(cooked)

2

teaspoons

fish sauce

1/2

tablespoon

sesame oil

1/8

cup

soy sauce

salt and pepper to taste

Diced green onion

(optional for garnish)
Instructions
Heat a large wok pan using medium high heat. Once the wok is hot, add a about half a tablespoon of oil to the pan.

Note: With each vegetable that I cook in the pan, I add a pinch of salt and dash of black pepper while the vegetables cook.

Add the mushrooms to the pan and cook for about 2 minutes or until tender.

Remove mushrooms from pan and add a few drizzles of oil to the pan.

Next add the bean sprouts to the pan and cook for about a minute until tender. Remove from pan.

Add a drizzle of vegetable oil to pan if needed, then add the carrots. Cook carrots for about 2 minutes until tender. Then remove carrots from pan.

Add a drizzle of vegetable oil to pan if needed, then add the bok choy. Cook for about 1 minute then remove from pan.

Add a a few drizzles of vegetable oil to the pan if needed. Then add shrimp, cook for about 3 minutes. Add the garlic to the pan and cook the shrimp and garlic for about 30 seconds.

Now add your cooked Chinese noodles, sesame oil, soy sauce, and fish sauce. Toss these ingredients together with tongs.

Turn off heat, add the rest of the vegetables back into the pan. And mix all of the ingredients together.

Garnish with optional green onion.

Then serve.
Notes
Cooking Tips:
Add more vegetables that you want to add or have available.
Increase the amount of vegetables if you want to your liking.
I like to cook my vegetables separately as this prevents overcooking vegetables that take a shorter time to cook.
Please note that I am not a nutritionist, and the nutritional information is an estimate only. It varies based on the products and brands used.