Cajun Shrimp and Grits – creamy cheesy grits piled high with sausage and juicy shrimp and a Cajun sauce.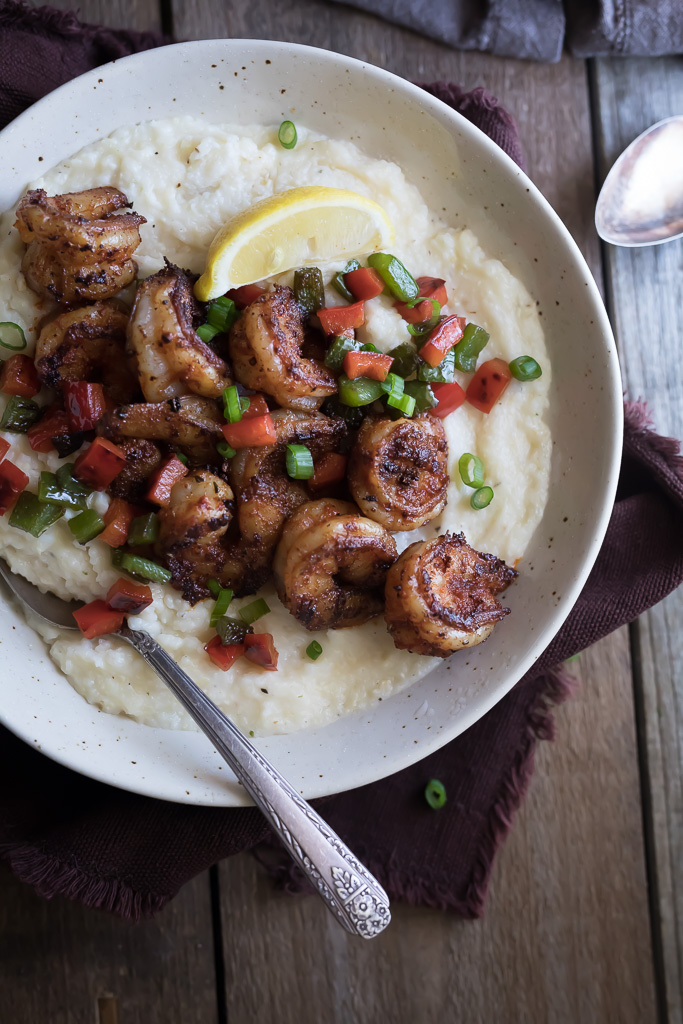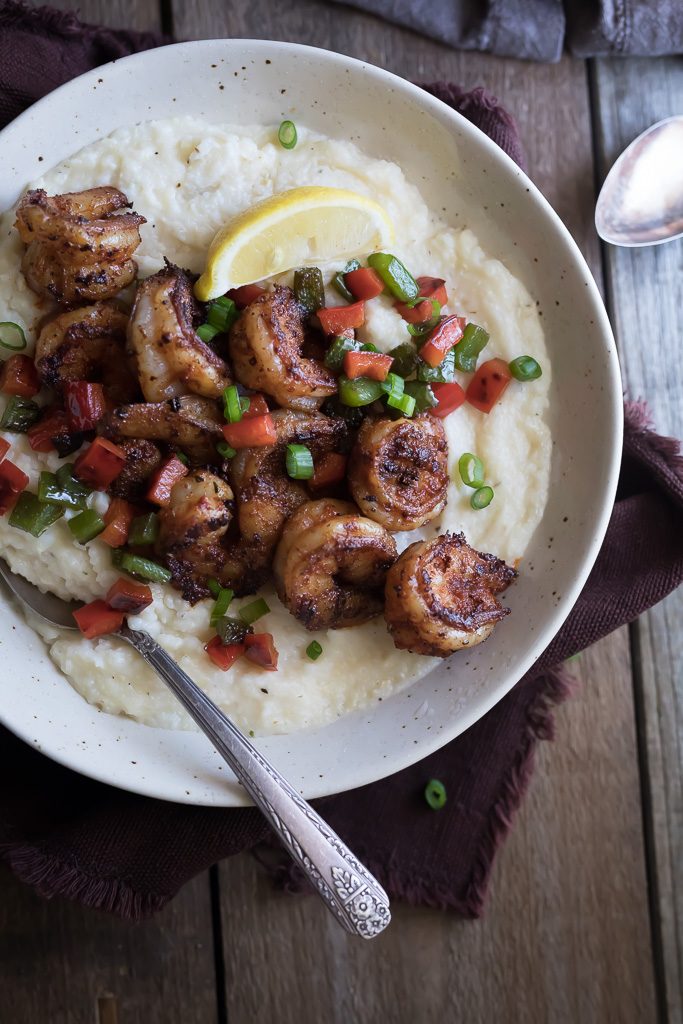 If you don't have an excessive appetite for food as I do (The proper term is Foodie… I think that's what they call it…), or you're not a southerner or have been exposed to the south, then you probably haven't heard of Cajun shrimp and grits. So let's get caught up to speed on what this blazing hot dish is….
Cajun Shrimp and Grits
This recipe I promise has become such a popular dish among my friends and family. Every event or party that I do, I serve this as an appetizer.
Everyone loves it, and requests it all the time. Word has been passed around my circles, and it always becomes a topic of discussion. I have made this recipe so much, which is why I have updated the photos…
New VS Old
As I learn more about photography and editing, I thought I would give it a shot, and redo my photos for this recipe. Let me know in the comments if you like the new photos (an older photo is at the bottom of this post)….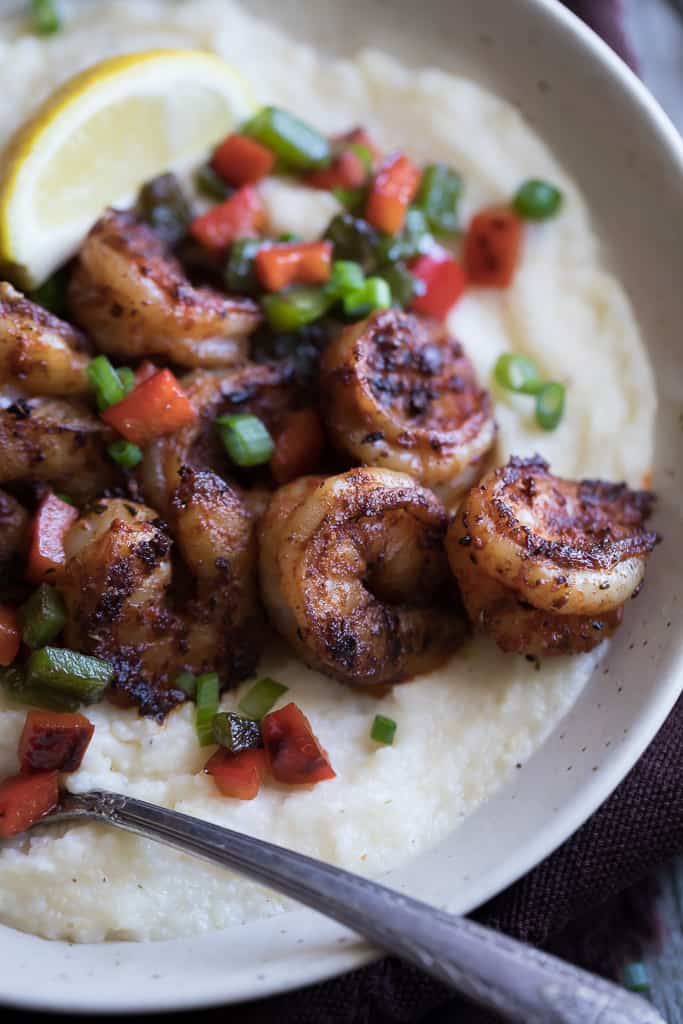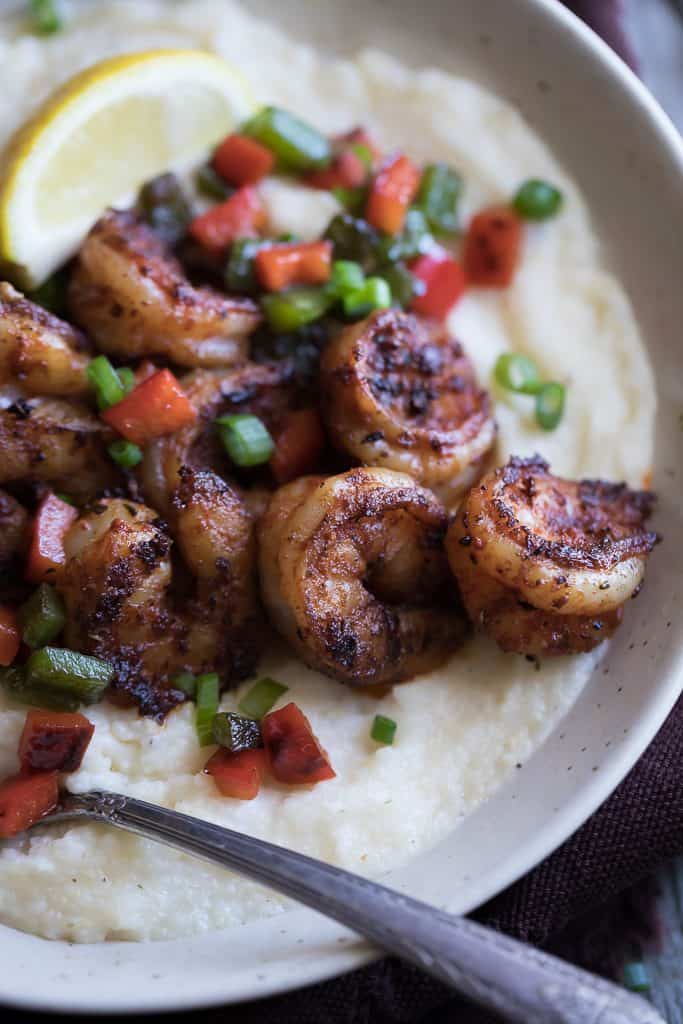 But anyway, Shrimp and Grits are a delicious combination of shrimp and andouille sausage, that one combines with a Creole Cajun sauce. This mixture is then served over a creamy cheesy grits mixture. Simple as that.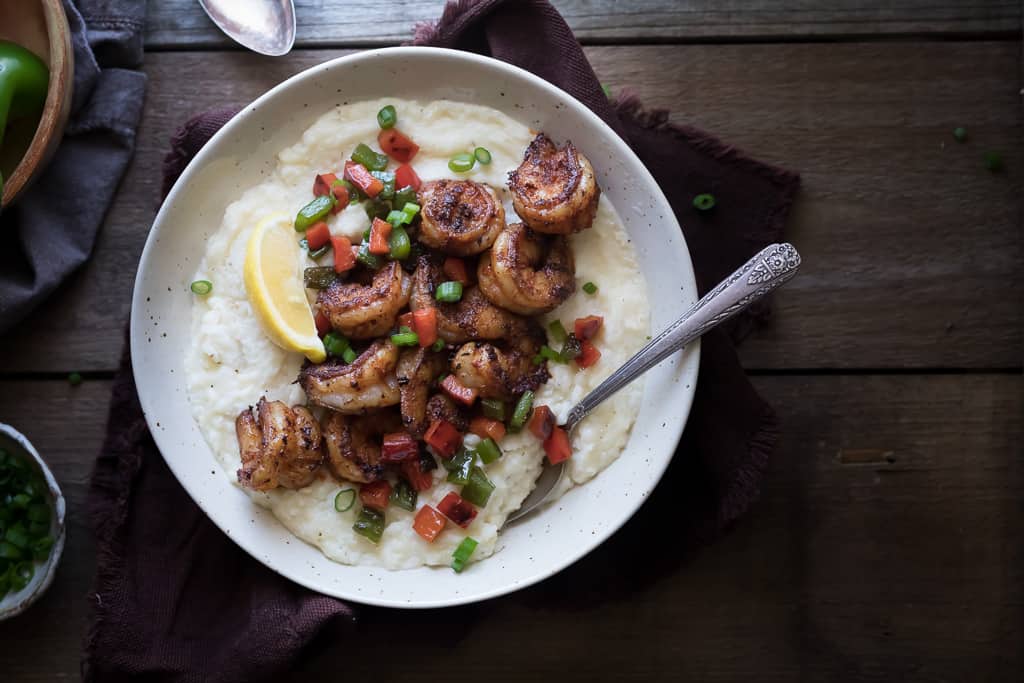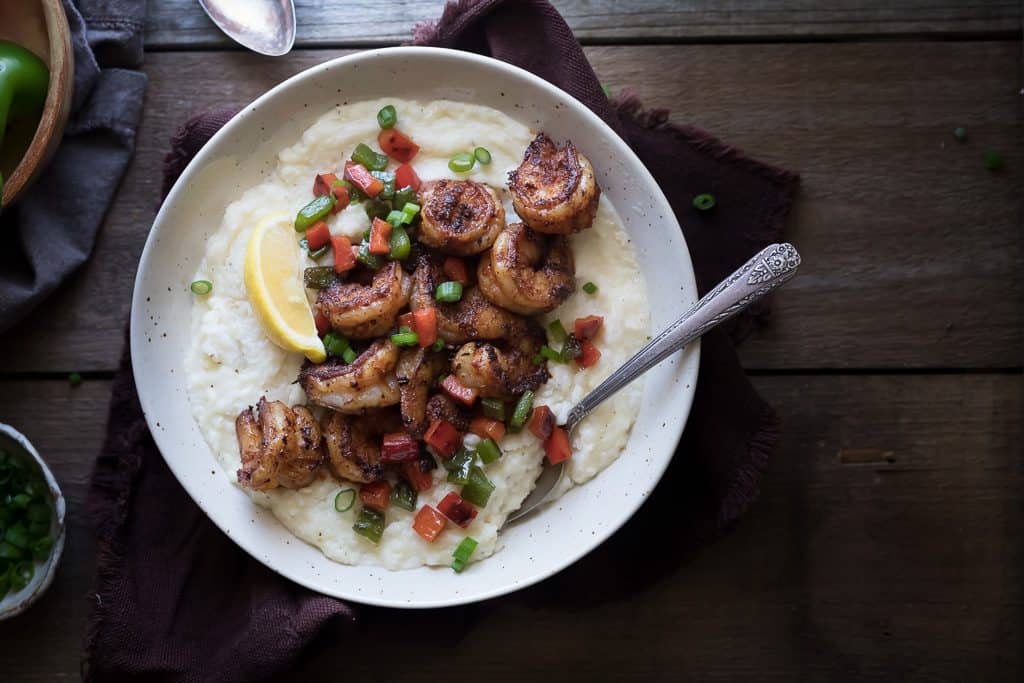 First Time I Tried Shrimp and Grits
My first time with shrimp and grits was a few years ago in Atlanta, Georgia. I was hooked after that. Once we relocated to Hawaii, I found a Southern Cuisine restaurant that had some of the best shrimp and grits. I would get the shrimp and grits and my little devil (the kid) would get the chicken and waffles.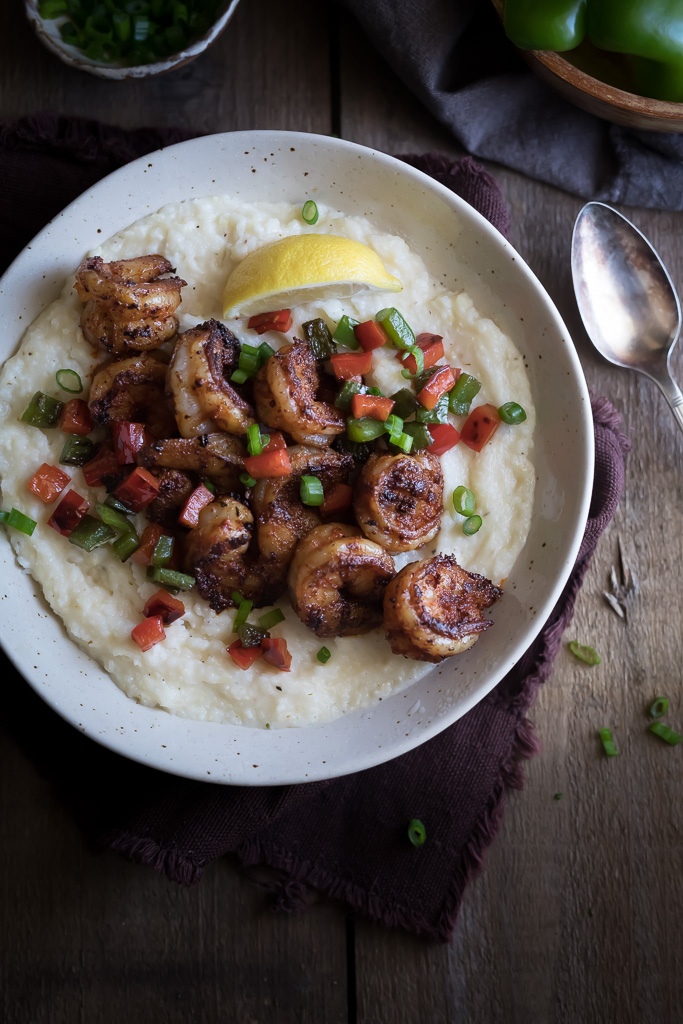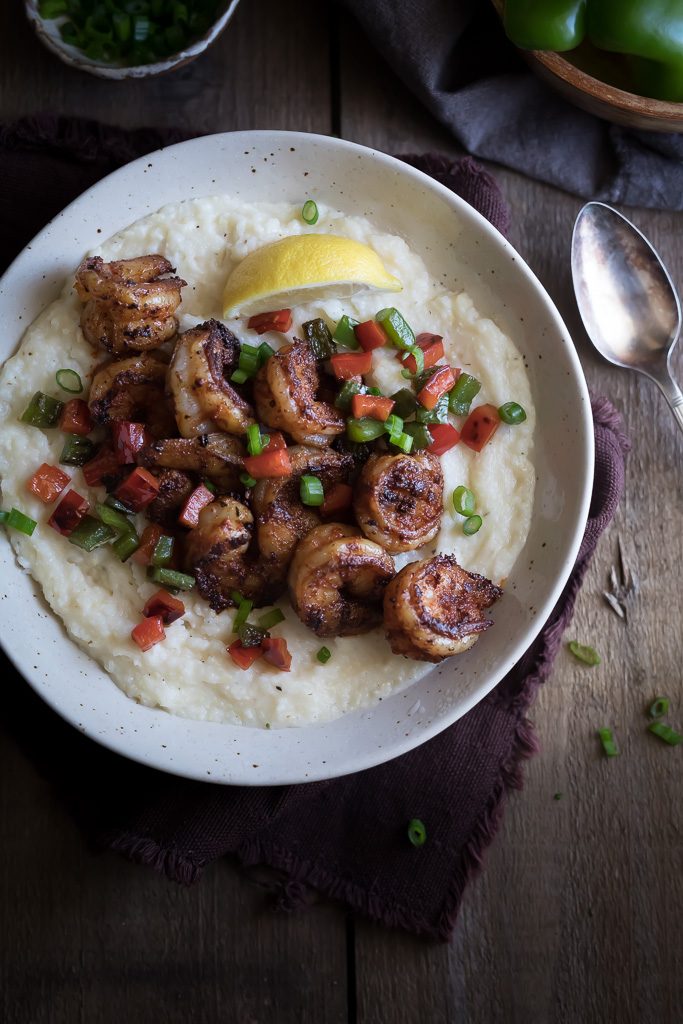 The place had no air condition, but we were still happy and content as the sweat poured down our face in that little hot box. The food was that good, that you didn't give a damn about the sweat bullets popping up on your forehead! Haha!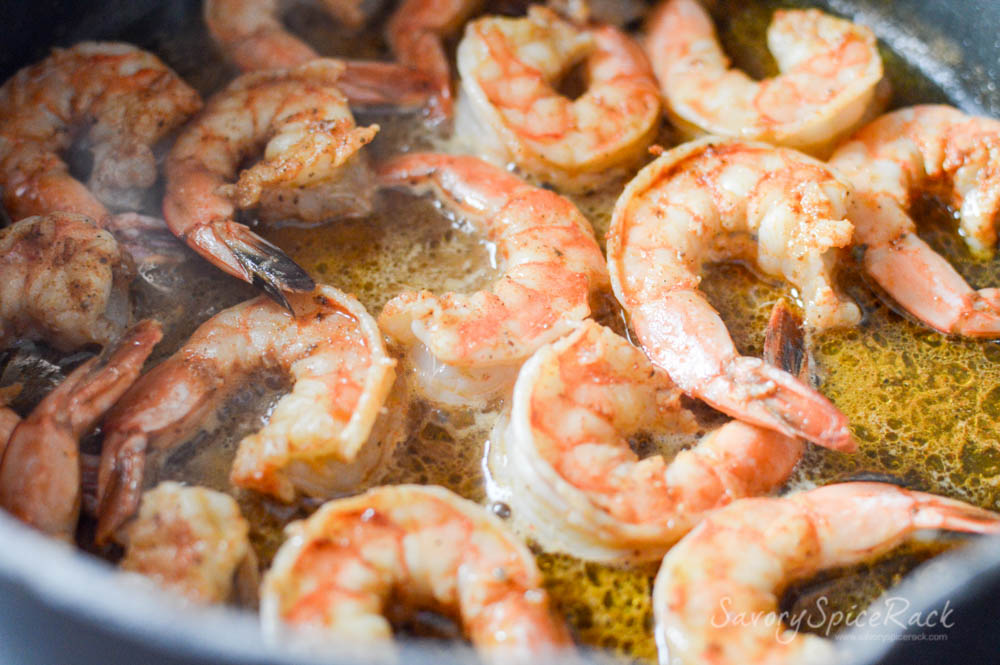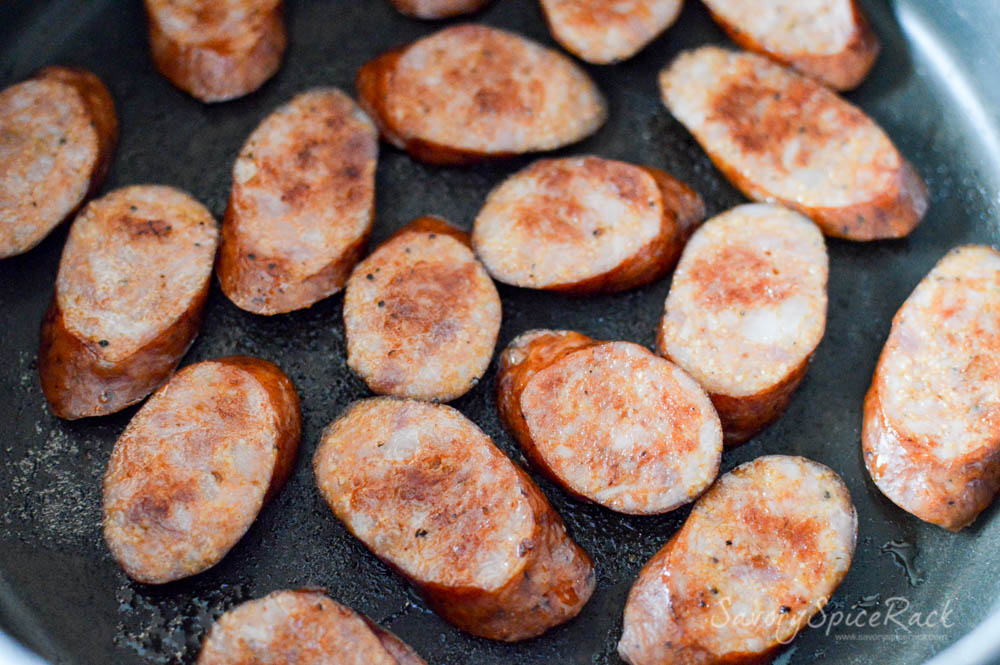 Well, guess what??? The place closed down all of sudden! We were like "what do we do now". You guessed it…. I finally came up with a recipe I was comfortable enough with to get my shrimp and grits fix. So I am gonna share it with you lovely folks. I hope that you enjoy it! Let me know what you think!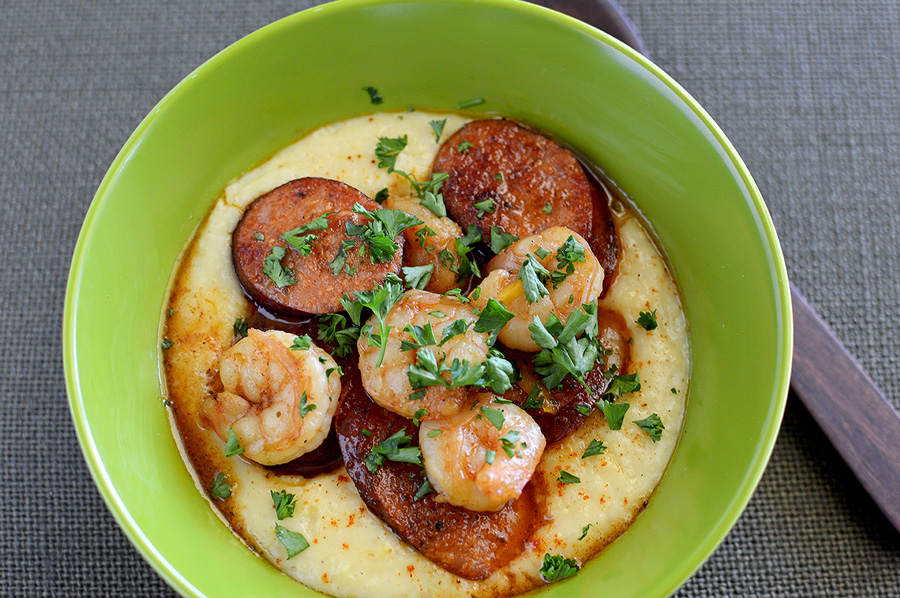 And in case you want to check out another cheesy version of this dish, Taste of Home have a great recipe, too.
Tips to Make Cajun Shrimp and Grits
When you make this recipe, my ingredients calls for Cajun Seasoning.  In my recipe card below I provide a homemade Cajun Seasoning Recipe with less salt.  If you choose to use store bought Cajun Seasoning, please take note that your Cajun Seasoning will have more salt. This can make the sauce salty! Adjust your store bought Cajun Seasoning accordingly to avoid this.
Mix all the ingredients together and blend in a food processor if you can to grind the mixture into a fine powder.
Need to save it for later? Store in an airtight container.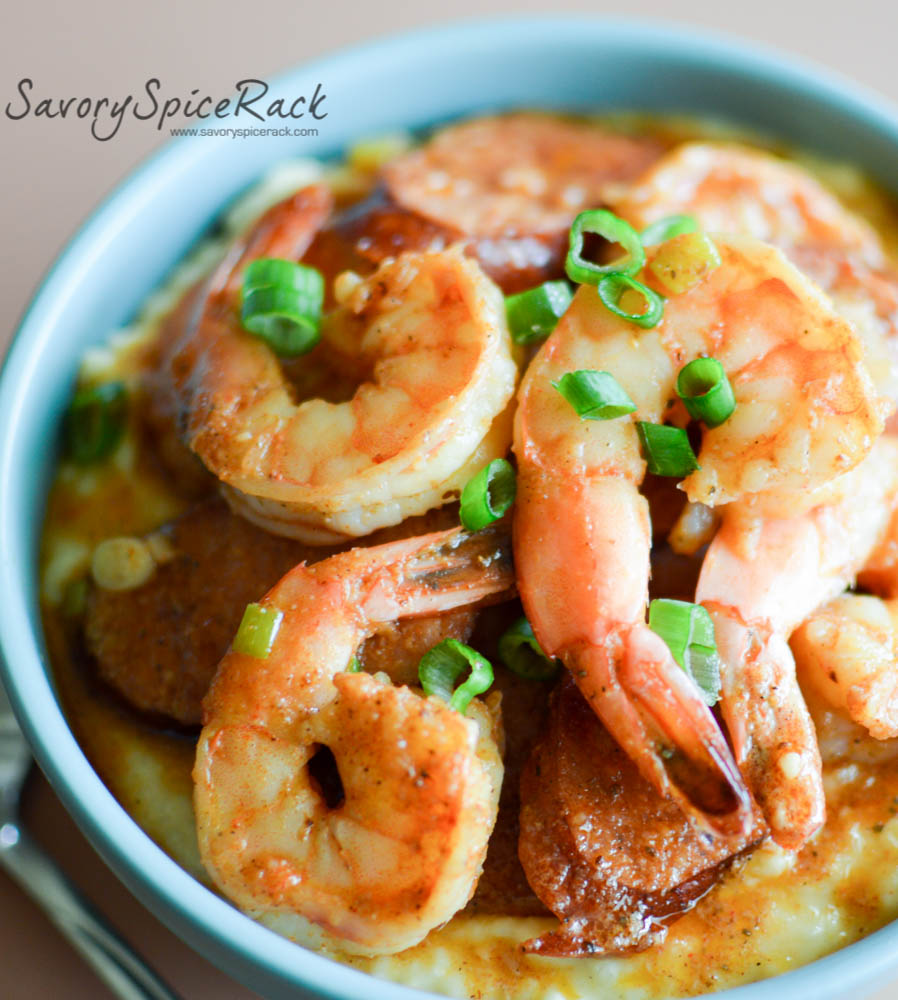 ENJOYING THIS CAJUN SHRIMP AND GRITS? YOU WILL LOVE THESE, TOO:
MADE THIS RECIPE?
♥♥♥ Please rate this recipe and leave a comment below to let me know if you enjoyed it. And follow me on Pinterest, Facebook, Instagram and Twitter for more delicious inspiration! ♥♥♥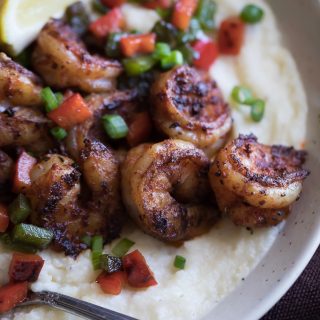 Cajun Shrimp and Grits
Cajun Shrimp and Grits – creamy cheesy grits piled high with sausage and juicy shrimp and a Cajun sauce.
Print
Pin
Rate
Ingredients
1

pound

of shrimp

(Shell removed, Cleaned)

12

ounces

andouille sausage

For Grits:

¼

teaspoon

of Cajun seasoning

(see recipe in notes below)

¾

cup

of grits

3

cups

of water

3

teaspoons

of chicken bullion

1

and ½ cups of shredded smoked gouda cheese

1

cup

of shredded extra sharp cheddar cheese

2

tablespoons

butter

1/4

cup

heavy cream

Salt to taste

For Sauce:

Drizzle of olive oil

1

tablespoon

of butter

1

garlic clove minced

½

cup

of chicken broth

½

cup

of heavy cream

1

tablespoon

of Cajun seasoning

(see recipe in notes below)

Salt to taste
Instructions
Dry shrimp off with a paper towel, then add one tablespoon of Cajun seasoning to the shrimp. Let the shrimp marinate for at least 15 to 30 minutes if you can.

While shrimp are marinating, you can brown your sausage,and make the grits.

Slice your andouille sausage, and brown them in a pan that you have lightly sprayed with baking spray.

Remove the sausage from the pan.

Now start cooking your grits. First get the water to a boil, and then add the grits and chicken bouillon. Cook your grits per the grit's package instructions.

After the grits have finished cooking, add the butter and shredded cheese to the grits. Stir the grits until the cheese and butter have melted.

Then, add the Cajun seasoning and heavy cream to the grits and stir until blended. Salt grits to taste. Set aside (the grits will thicken as they sit.)

Once the shrimp are ready to cook, brown the shrimp in the same pan you cooked the sausage in (there should be some grease left in the pan from the sausage, if not add oil to the pan to cook the shrimp).

Cook the shrimp for about one minute on each side. Remove the shrimp from the pan. You may have to do two batches to avoid over crowding the pan.

Next, add the drizzle of olive oil, and tablespoon of butter to the pan. Once the butter has melted, add the minced garlic and let it cook for about a minute on medium heat, making sure not to let the garlic get brown.

Then, add the chicken broth and heavy cream to the pan.

Next, mix the Cajun seasoning into the sauce.

Let this sauce mixture cook for about 5 to 7 minutes on medium heat letting the sauce reduce to about half the amount.

After the sauce has cooked, salt the sauce to taste, and remove the sauce from the heat.

Add the shrimp and sausage to the pan of sauce.

Serve the sauce mixture over the grits.

Top the dish with additional shredded cheese, additional Cajun seasoning, and chopped green onions.
Notes
Cajun Seasoning Recipe
Servings: Makes about 3 tablespoons of seasoning mix
Ingredients:
1 and ½ tablespoons of paprika
1 tablespoon of oregano
½ teaspoon of ground coriander
½ teaspoon of ground thyme
1 teaspoon of white pepper
½ teaspoon garlic powder
½ teaspoon onion powder
¼ teaspoon cayenne pepper
½ teaspoon old bay seasoning
Instructions: Mix all the ingredients together and blend in food processor if you can to grind the mixture into a fine powder. Store in airtight container.
Tasty Note: I double the sauce because my family likes more sauce to spoon over the grits.
Nutrition
Calories:
817
kcal
|
Carbohydrates:
27
g
|
Protein:
51
g
|
Fat:
55
g
|
Saturated Fat:
26
g
|
Cholesterol:
457
mg
|
Sodium:
2001
mg
|
Potassium:
516
mg
|
Fiber:
1
g
|
Sugar:
1
g
|
Vitamin A:
2047
IU
|
Vitamin C:
8
mg
|
Calcium:
426
mg
|
Iron:
4
mg
Please note that I am not a nutritionist, and the nutritional information is an estimate only. It varies based on the products and brands used.