Did I title this delicious biscuit recipe appropriately????  The Fried Chicken Jalapeno Cheddar Biscuit….  How does that sound???  No matter what it's called, it is a soft biscuit, and flavorful fried chicken breast made with simple ingredients.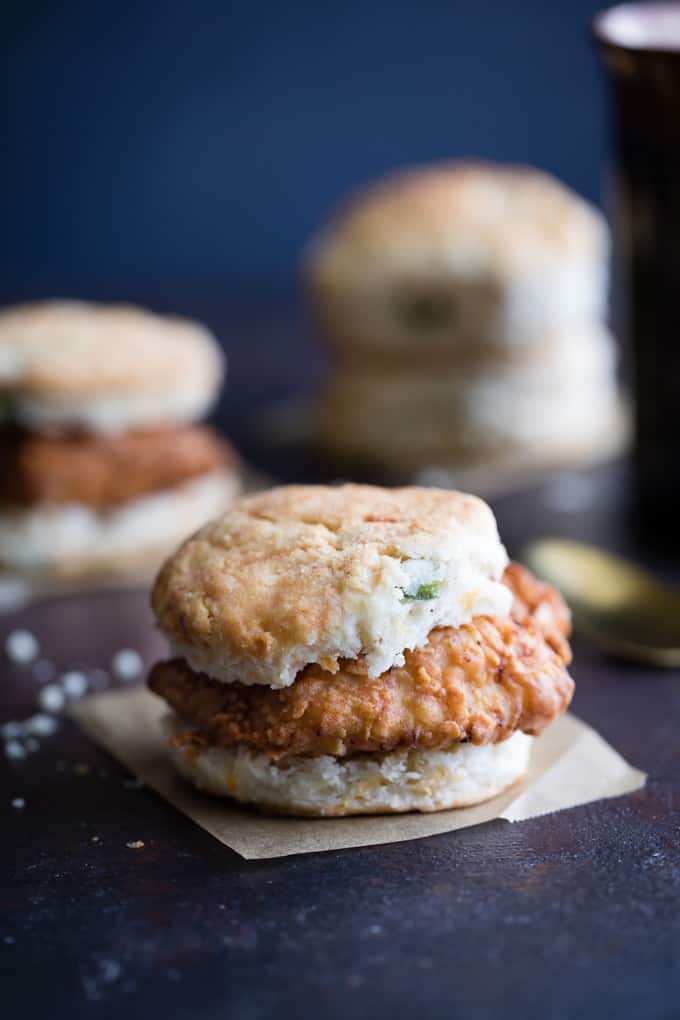 I kid you not, I have worked on these biscuits foreva (forever).  My first attempt at making homemade biscuits, I attempted to channel my inner "Semi- Homemade Sarah" from food network.  During this first attempt I used dry pancake batter as my flour ingredient.  They tasted good, but I just had to try a true made from scratch biscuit.  It took two attempts to make the biscuit I was destined to have.  These biscuits are so soft and tender (can I say that about a biscuit??).
I continued making these biscuits because I just couldn't get the picture I so rightfully liked.  So this delicious recipe (like many others) was placed on the back burner.  I never shared the recipe with you guys.  Then, about a month ago I purchased a new camera, and attempted to learn more about lighting, colors, etc.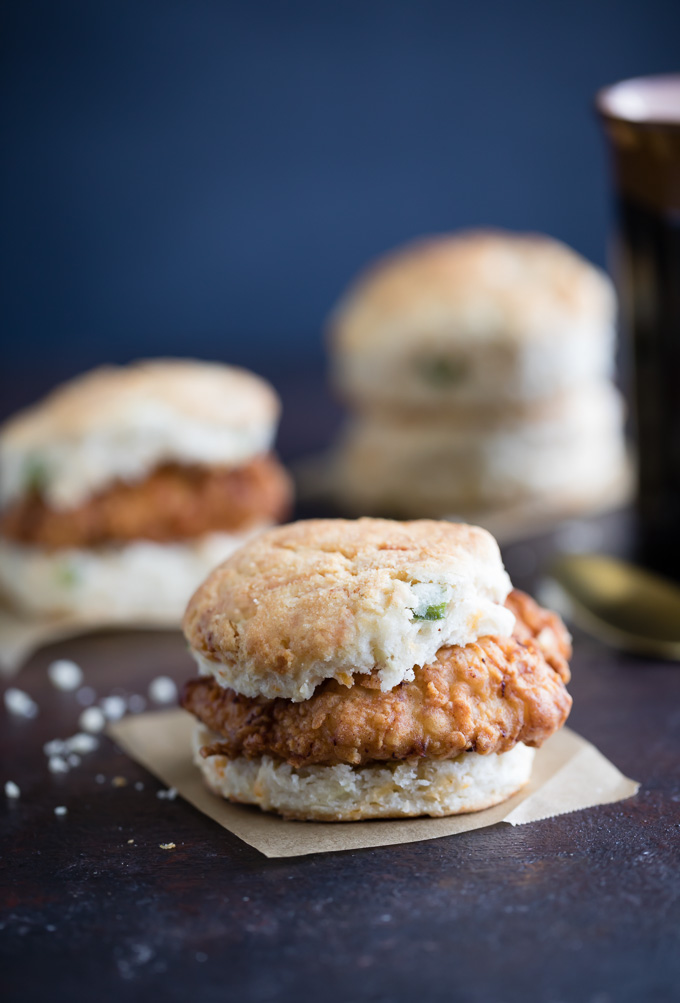 I also was recently intrigued by this local eateries jalapeno cheddar biscuit with fried chicken patties.  I said "Hey now!  Let's try this again!"  After all of the biscuit picture practice, I went to the best north facing window I had, put together a color scheme complimentary to the biscuit sandwich, and this lovely picture happened!  I am extremely excited about these photos!  (Do you know how many biscuit pictures I did??)
Anyway, this biscuit has a lovely balance of cheddar and jalapeno flavors.  And the chicken has been marinated in a butter milk brine, which creates a juicy breast filet.  And yes, I know, I'm posting this biscuit recipe in the summer time, but I figured it shouldn't be a problem to turn on your oven for 14 to 15 minutes.  Because as an award, you get this wonderful biscuit sandwich.  Another reason why I felt it was okay to post biscuit recipes in the summer – I traveled back home to the small town I was raised in.  Honey, they were making cornbread, biscuits, etc.  It didn't matter that it was summer time back home!  All that mattered was our family spending time together in this moment…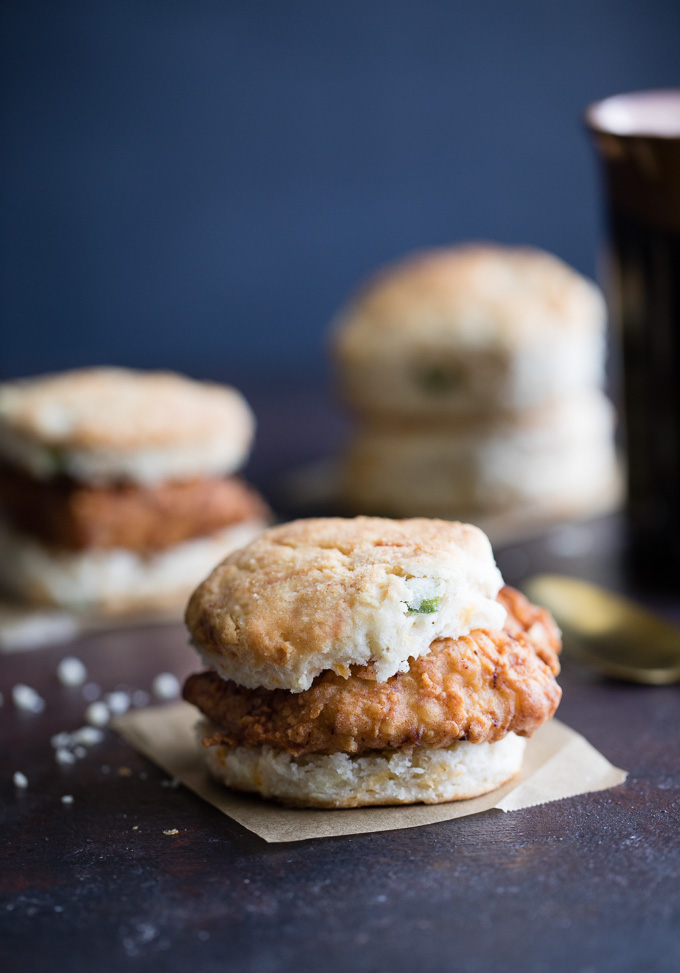 Enjoy more of my fried chicken recipes here:
Buttermilk Fried Chicken Sandwich with Cilantro Jalapeño Coleslaw
Buttermilk Fried Chicken and Buttermilk Peach Waffles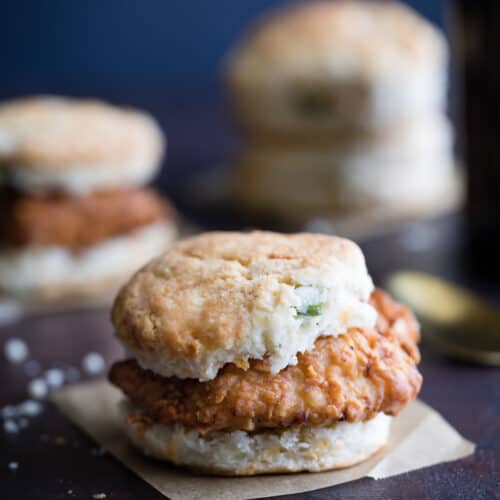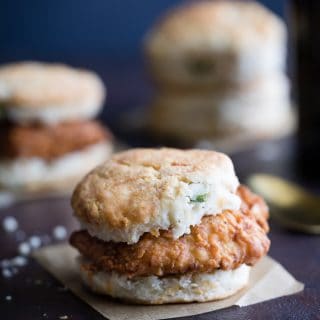 Fried Chicken Jalapeno Cheddar Biscuit
Tender and fluffy buttermilk biscuits with jalapeno and cheddar cheese flavor throughout, that is paired with juicy buttermilk fried chicken breast!
Print
Pin
Rate
Ingredients
Chicken and Buttermilk Brine Ingredients:
3

boneless skinless chicken breast

1

cup

buttermilk

1

teaspoon

season salt

2

teaspoons

garlic powder

1

teaspoon

onion powder

1/2

teaspoon

white pepper
Chicken Flour Batter:
1 and 1/2

cup

all purpose flour

2

teaspoons

paprika

1

tablespoon

garlic powder

1/2

teaspoon

kosher salt

1/2

teaspoon

season salt

1

tablespoon

onion powder

1/2

teaspoon

white pepper
Biscuit Ingredients:
5

tablespoons

unsalted butter

(cold and cut into chunks)

3

tablespoons

shortening

(cold and cut into chunks)

2

cups

self rising flour

1

teaspoon

sugar

1/2

cup

shredded sharp cheddar cheese

(cold)

1

jalapeno

diced and seeded

1

cup

buttermilk

(cold)

Additional butter to brush top of biscuits before baking

Additional flour to flour surface and hands
Cooking Oil for frying chicken.
Instructions
Start by cutting the the chicken breast horizontally. Once you have done this, cut each piece in half.

Place the chicken, and buttermilk brine ingredients in a large bowl. Ensure that all ingredients are mixed well together. Cover, and marinate for at least to 30 minutes or up to 2 hours in refrigerator if you can.

Next place chicken batter ingredients into a food storage bag (such as a Ziploc bag), and set aside.

When ready to make the chicken and biscuits, preheat oven to 450 degrees. Pour cooking oil into the frying pan or deep fryer. Let grease temperature reach 340 degrees when checked with a candy/fat thermometer.

Remove chicken from refrigerator. Remove each piece of chicken and dredge the chicken piece in the flour mixture. After each piece of chicken is coated with flour, place the floured chicken pieces on a wire rack and let the chicken sit for at least five minutes. (This helps the batter adhere to the chicken). The chicken can sit while you make the biscuits.

Start making biscuits by mixing dry ingredients together in large bowl. Then, add the shortening and butter into the dry ingredients. Using a pastry blender or a fork and, cut the butter into the dry ingredients until the flour is pea-sized crumbles. Then, add the cheese, and jalapenos. Mix well. Drizzle in the buttermilk and stir just until a moist, dough comes together.

Dust your work surface with flour. Scrape the dough onto the surface and dust the top with more flour. With floured hands, pat the dough into a circle 1 inch thick.




Mold the scraps into a ball, pat it into a 1-inch-thick circle, and cut out more biscuits. Keep doing this until you have 6 biscuits.

Place the biscuits on the prepared baking sheet, placing them close together (I usually use a baking pan lined with parchment paper). Brush the top of the biscuits with additional melted butter. Place the biscuits in the oven and bake for 15 to 16 minutes. To get a nice golden brown on the top of the biscuits, use the broil temperature setting for about 1 minute or so. Remove the biscuits from oven, and set aside.

Once the oil is hot, Fry the chicken breasts until they are cooked through and golden brown. Cook the chicken for about 6 to 8 minutes, and turn the chicken halfway through. Make sure the chicken's temperature reaches 155°F when checked with a kitchen thermometer. Note: when you remove the chicken from the cooking oil, the temp will rise to 165°F as it rests. Drain the cooked chicken on a clean wire rack. (Note: this can be done while the biscuits cook.)

Once the chicken has drained. Split the biscuits in half, and place a chicken piece between each biscuit. Serve immediately.
Notes
Biscuit dough works well if ingredients are cold.  
Don't over mix or knead biscuit dough because this makes the biscuits tough.  
When you cut out the biscuits, press straight down through the dough with your dough cutter or cup.  Do not twist the cutter, as this prevents the biscuits from rising properly.  
Please note that I am not a nutritionist, and the nutritional information is an estimate only. It varies based on the products and brands used.