I love this Buttermilk Fried Chicken Sandwich with Cilantro Jalapeno Coleslaw.  Crispy, Juicy, Flavorful Fried Chicken Breast with a Spicy Buttermilk Coleslaw to end the summer!  But I still eat this thing throughout the year….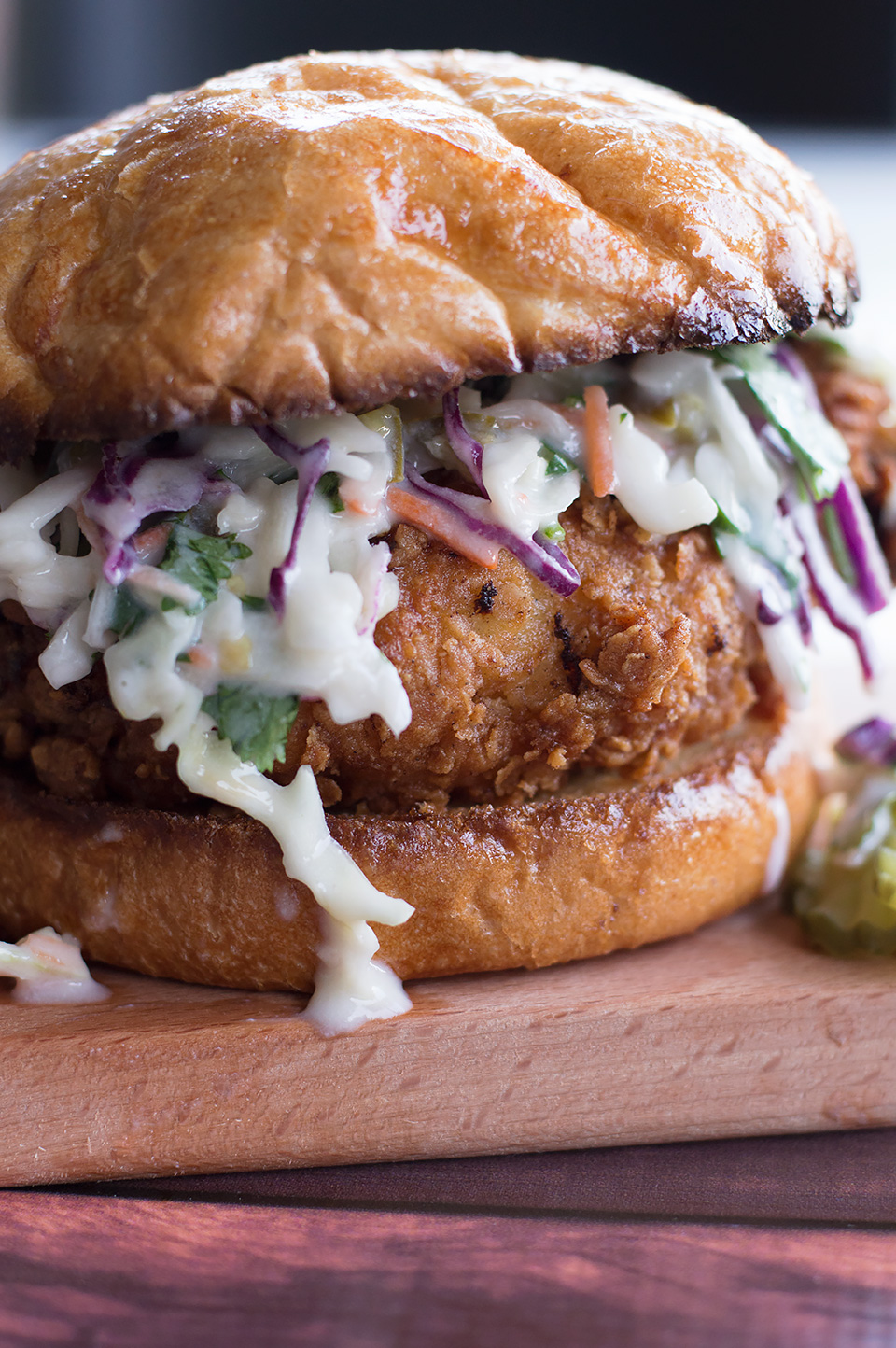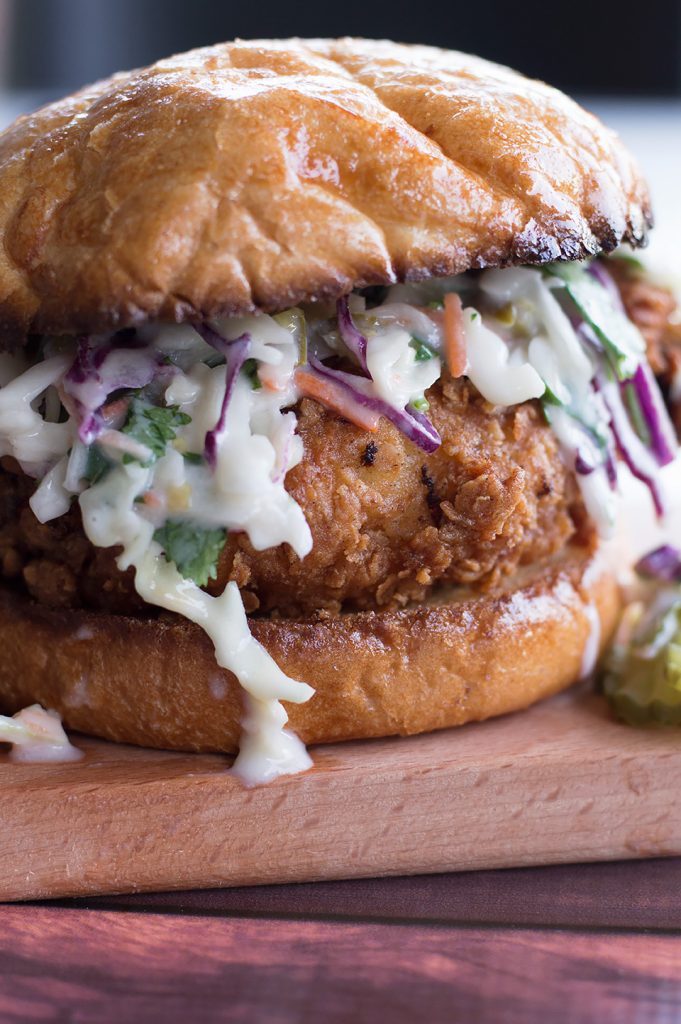 For the past 10 years I have lived in an area where the summers are longer and winter is null and void.  So I get a little confused around this time of the year when I start seeing pumpkin spice everything every time I blink.  Me and my kid were on Pinterest like "What's going on? It's hot! It's 110 degrees right now!"  Why is my Pinterest timeline full of hot soups and Christmas Cookies?  We always get a friendly reminder from the well traveled gentleman Mr. Hill that fall is near, and in other states the temperature is slightly cooling (my hubby just came back from a business trip in Kansas – so he's well traveled….)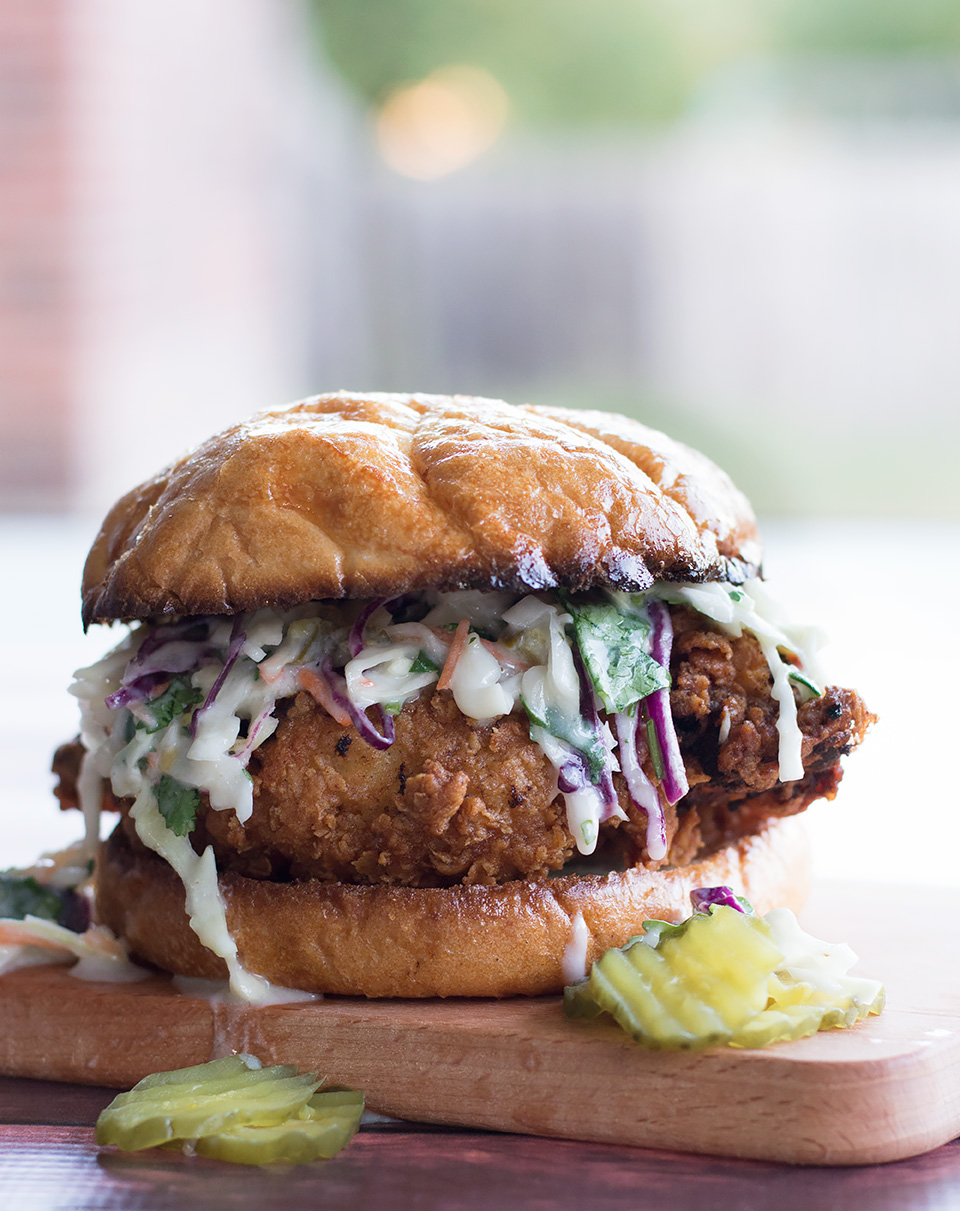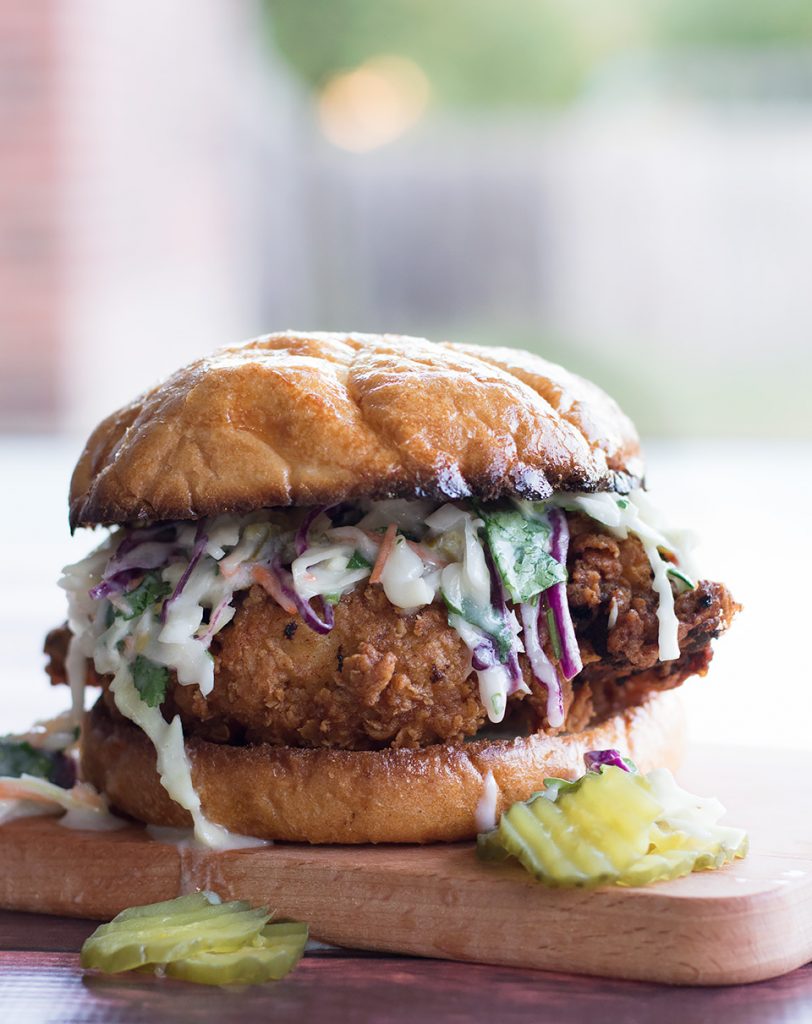 Anywho…  It's still hot here deep in the heart of Texas…  It was 100 degrees the other day I think…  But when I got in my car after a homework power hour, it felt like hell and the little temperature thingy in my car said 110 degrees.  So, in honor of this summer heat we still get to enjoy, I'm hanging out on the porch eating these fried chicken sammiches.
I was actually craving them a few weeks ago and started working on a recipe because I didn't want a franchise fried chicken sandwich with all the shiny fried fake patties.  I wanted a truck stop homemade diners drive in and dines special but I didn't want to take my chances and waste my money on a crap sandwich, so I made my own.  Plus Mr. Hill enjoys the finer things in life – homemade meals….  🙂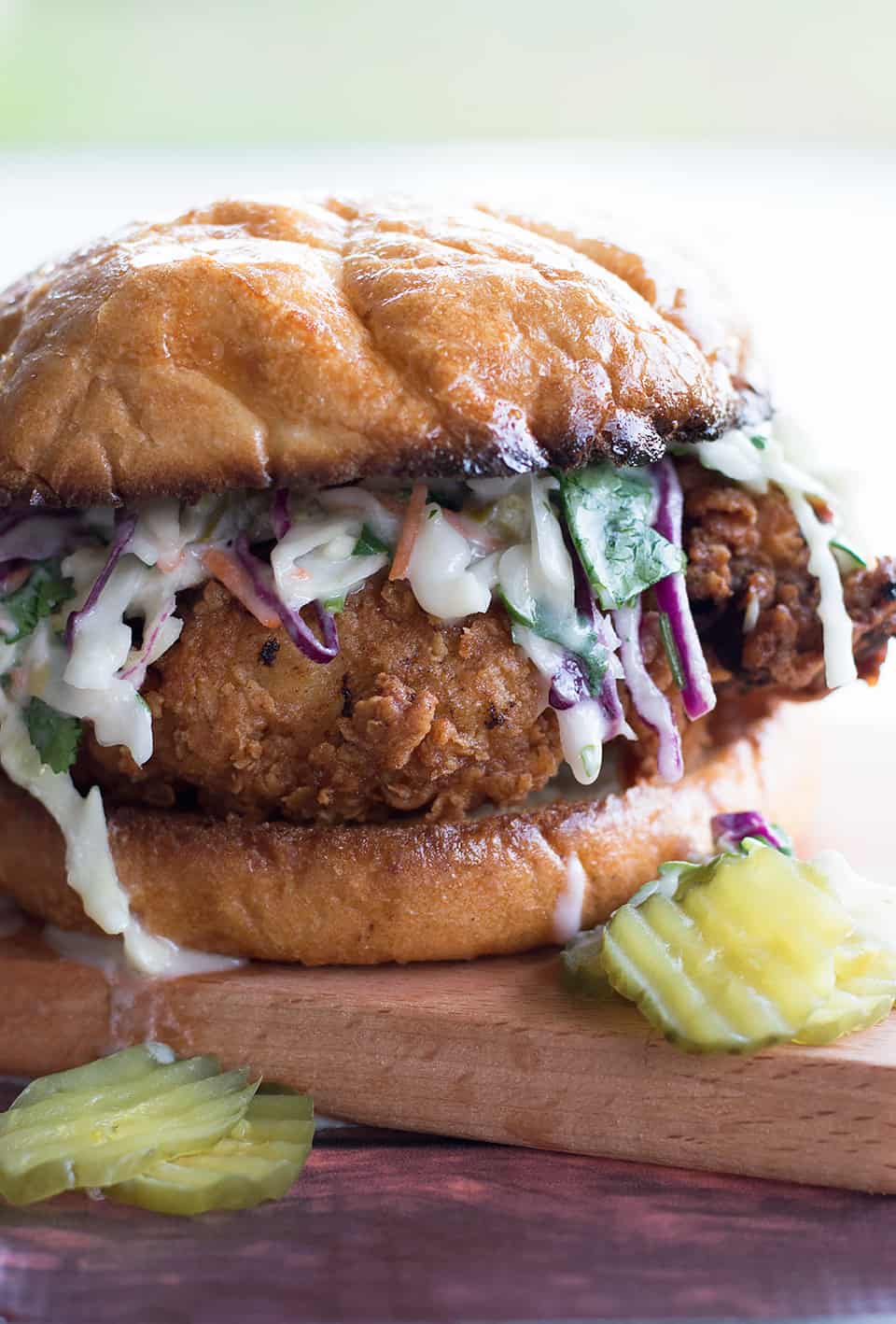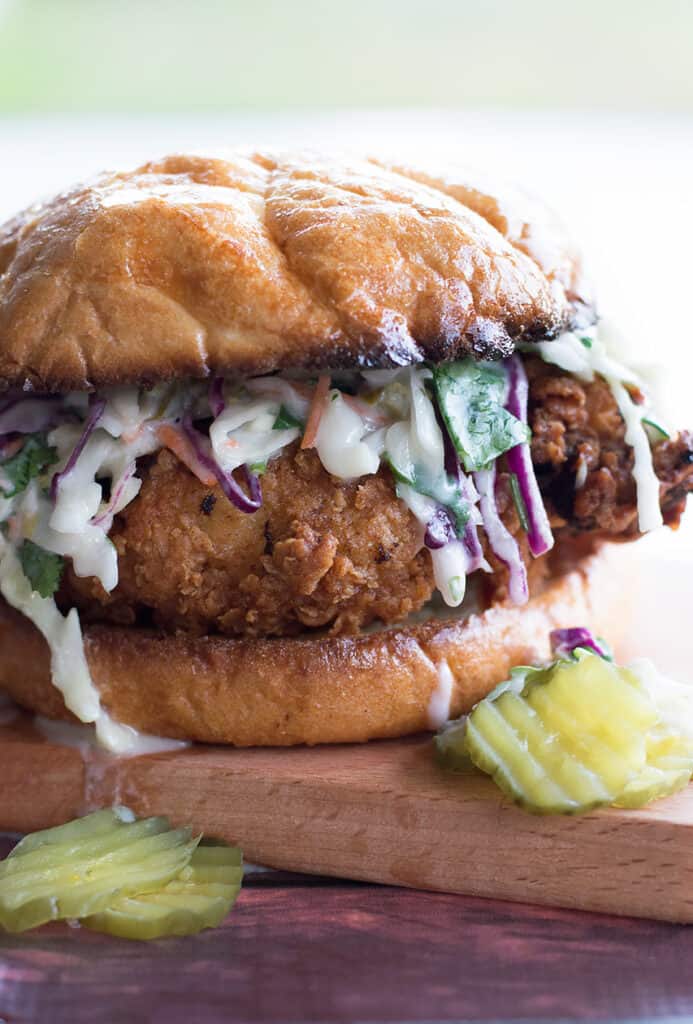 Sorry I haven't shared a "fall recipe" yet friends.  I will try to get on the bandwagon soon.  Until then, make this juicy tender chicken breast sandwich that got all of it's juiciness and flavor from a buttermilk brine, and seasoned batter.  Then top it with this cool creamy buttermilk cilantro slaw that's got a nice kick to it from the pickled jalapenos.
Much Love Until Next Time Friends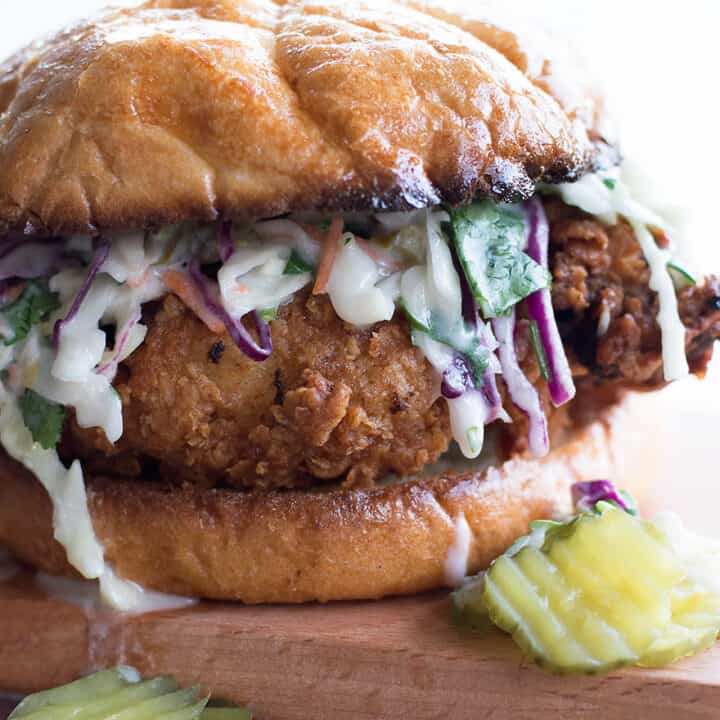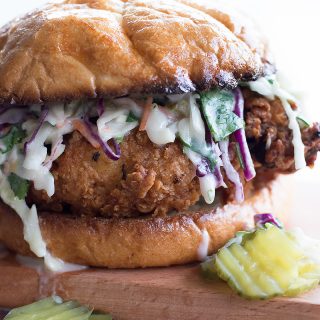 Buttermilk Fried Chicken Sandwich with Cilantro Jalapeño Coleslaw
Crispy, tender, and juicy fried chicken breasts with a spicy cilantro buttermilk coleslaw.
Print
Pin
Rate
Ingredients
2

large boneless skinless chicken breast cut in half

Buttermilk Brine:

2

cups

buttermilk

1/2

tablespoon

kosher salt

Flour Mixture

2

cups

all purpose flour

1/2

tablespoon

season salt

1/2

teaspoon

paprika

1/2

tablespoon

garlic powder

2

teaspoons

Kosher Salt

1/2

teaspoon

black pepper

1

teaspoon

onion powder

Additional 1 cup of buttermilk for double dredged chicken- optional

Coleslaw

1

tablespoon

rice vinegar

1/2

cup

buttermilk

1

tablespoon

sugar

2

tablespoon

mayonnaise

1/2

cup

sliced pickled jalapenos

1/2

cup

fresh cilantro

3

cups

pre-shredded coleslaw

Kosher Salt

Fresh Cracked Black Pepper
Instructions
Mix the buttermilk brine ingredients together in a large bowl. Add the chicken breast to the brine. Cover the bowl. Refrigerate up to four hours. (I usually just let my chicken brine overnight because I get a little lazy or maybe too busy to follow back up.)

When ready to cook the chicken breast, Pour cooking oil into a deep fryer. Use the amount of grease per the manufacturer guide. Heat the oil until it reaches 325 to 350 degrees.

While the oil heats up, Mix the flour ingredients together in a ziploc bag.

Deep the chicken breasts into the flour mixture.

To double dip and get a nice crunchy coating, at this time you can dip the chicken breast into the additional buttermilk and then dip the chicken back into the flour mixture. Let the chicken rest for about 5 to minutes while your grease heats to the proper temperature and you chop your jalapenos and cilantro for the coleslaw.

To make the coleslaw, mix the coleslaw buttermilk, sugar, mayonnaise, rice vinegar together in a medium bowl. Then mix in the coleslaw mix, chopped jalapenos and cilantro. Salt and pepper to taste. Place in refrigerator until ready to use.

Place chicken breast into the deep fryer and fry for 7 to 8 minutes or until the internal temperature of the meat reaches 165 degrees when you insert a cooking thermometer into the thickest part of the meat.

After the chicken cooks. Let the chicken rest on a cooling rack for about 5 minutes. (The cooling rack keeps the crispy skin from getting soggy.)

Then serve.
Notes
You can use white vinegar in place of the rice vinegar if you don't have rice vinegar.
Please note that I am not a nutritionist, and the nutritional information is an estimate only. It varies based on the products and brands used.