These Red Thai Curry Stir Fried Noodles with Beef has a tasty spicy red curry sauce and beef marinade that brings your stir fry to life!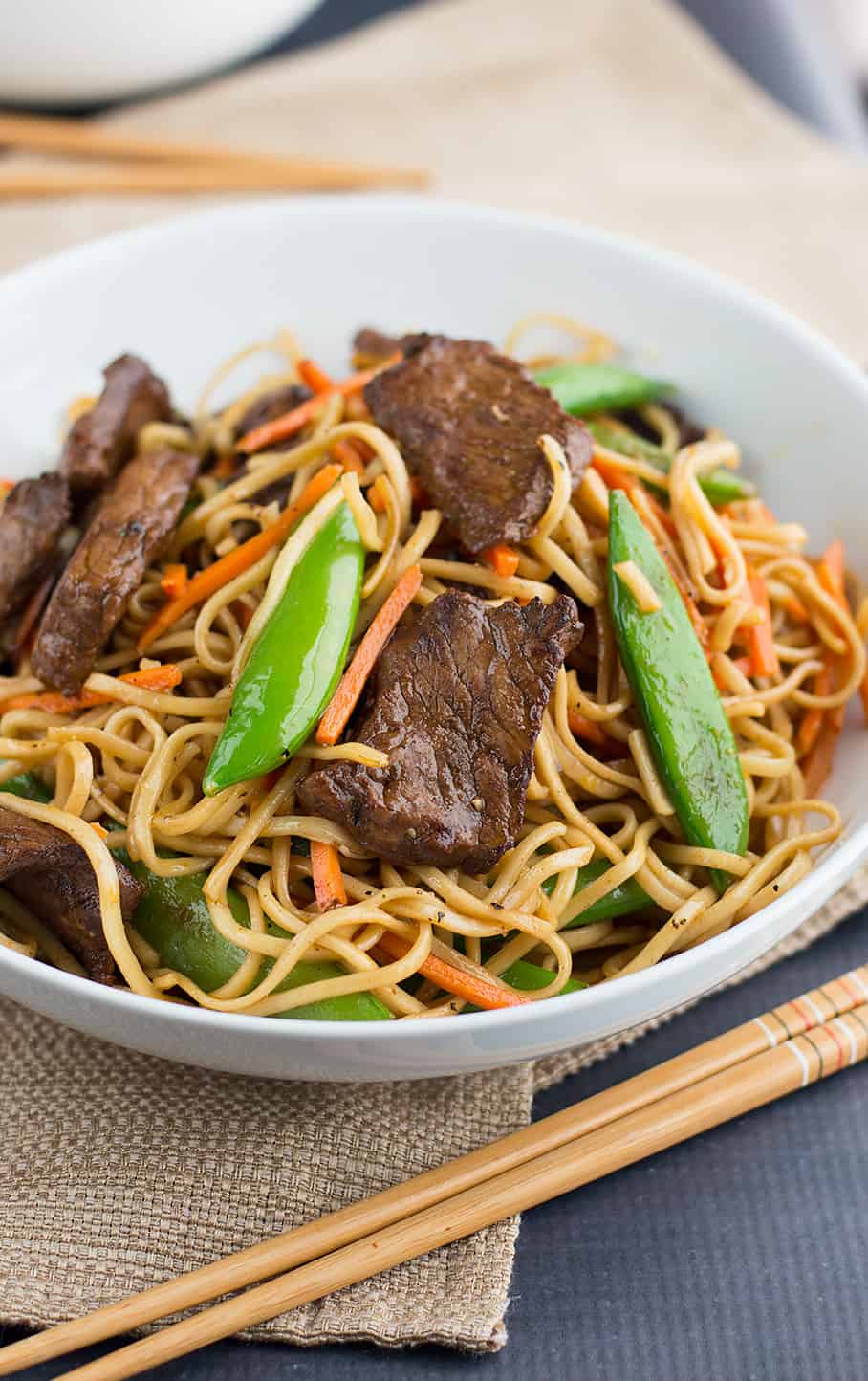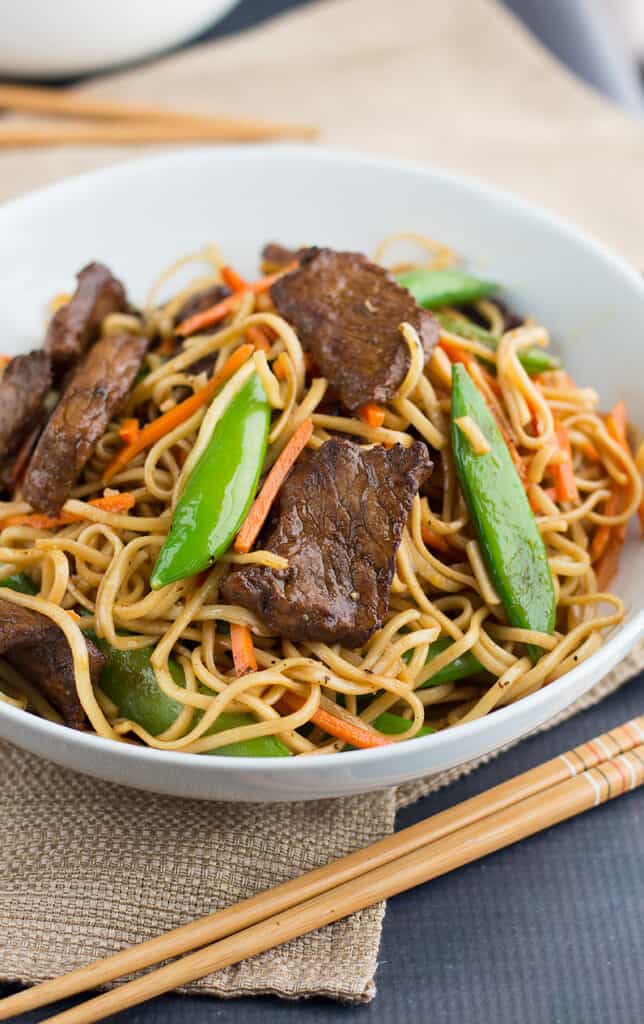 The kid was gone for the day and my husband and I decided to hit the town.  We drove a little ways out of town to a bigger city.  While we were there we did some shopping.  We built up an appetite after spending a bunch of money (ugh) so we hit up our YELP app to find some local eateries.  The first restaurant that popped up on the Yelp list was a Ramen Bar.  Hands down this was our pick, no questions asked because we became lovers of Ramen restaurants while staying in Hawaii.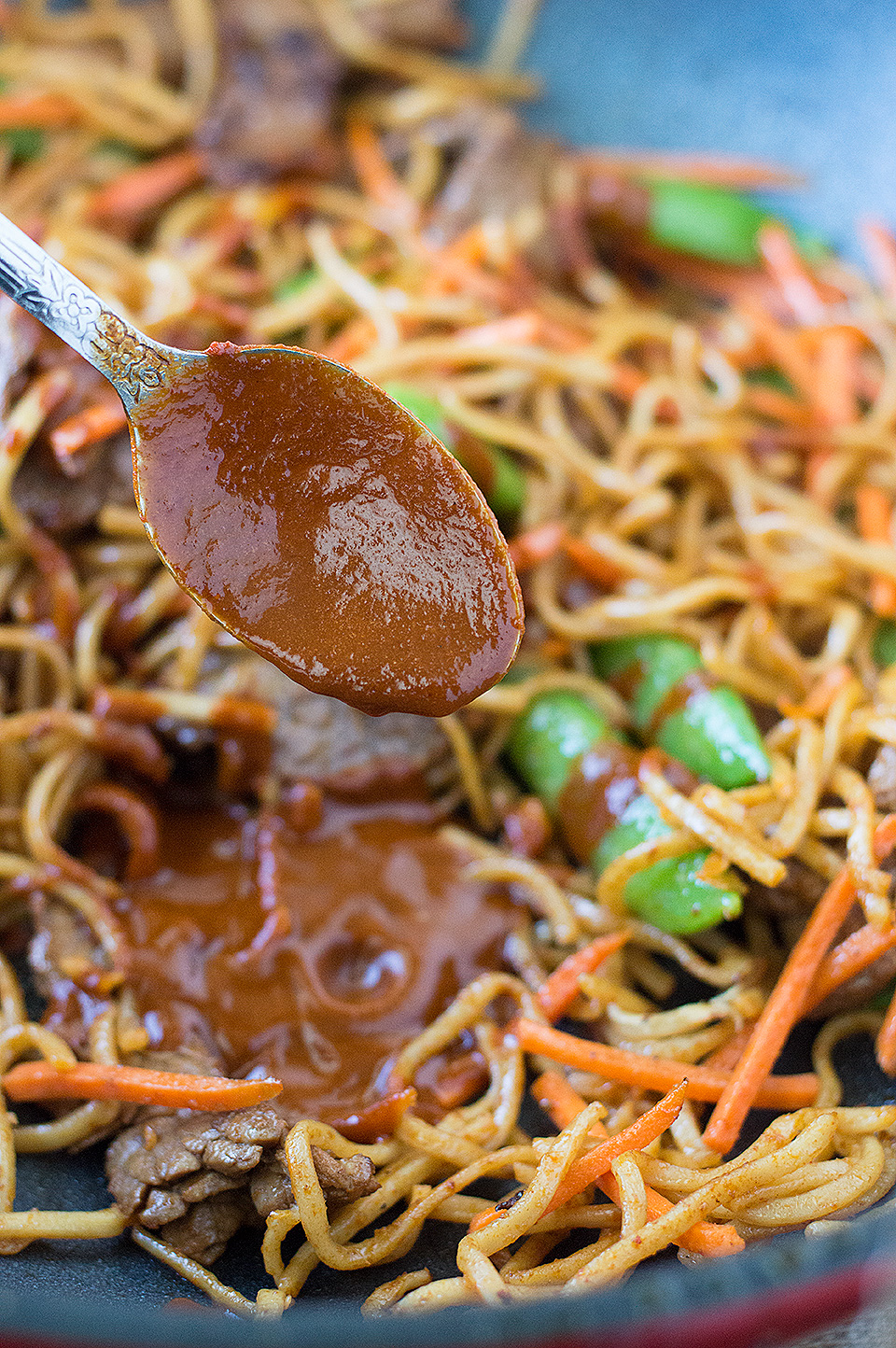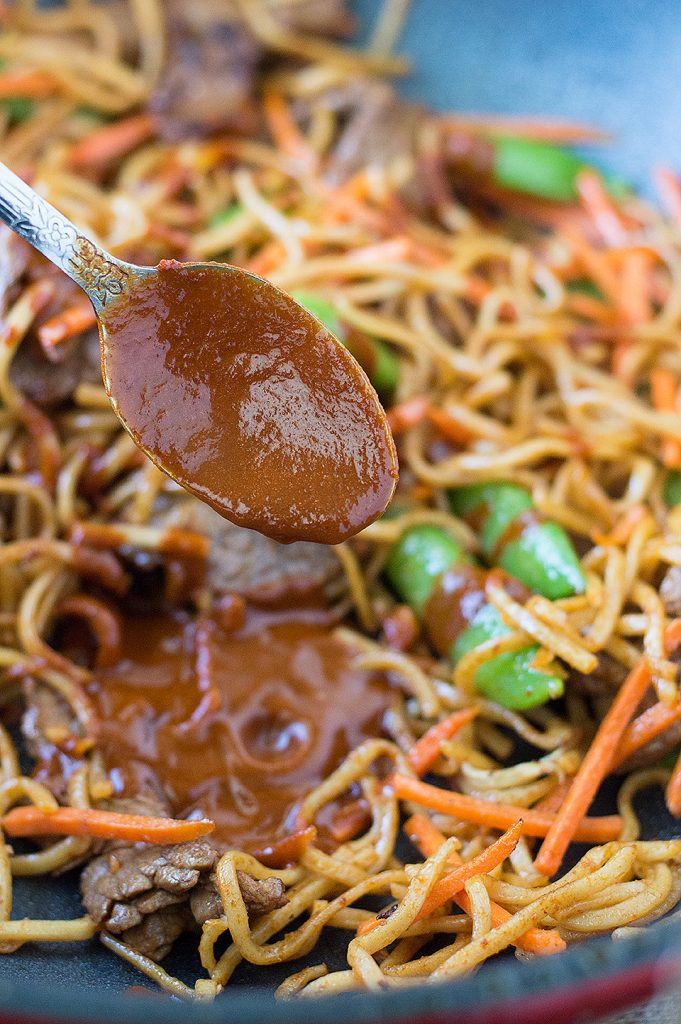 Nope not what you think…. A true Ramen Bowl is nothing like that dry pack of noodles you get in the store for about 15 cents…  It's a bowl full of fresh vegetables, meats, herbs, and spices that are swimming around in this gorgeous broth.  Then to top it all off, you have a slightly poached egg as a garnish that you break open before you dig in.  Sounds delicious right??  But the true star of the show is the broth.  With a good ramen bowl, the broth is cooked for hours to get a nice rich broth that I can't leave hanging once I finish my vegetable portion of the bowl.  No drop of that broth is left behind.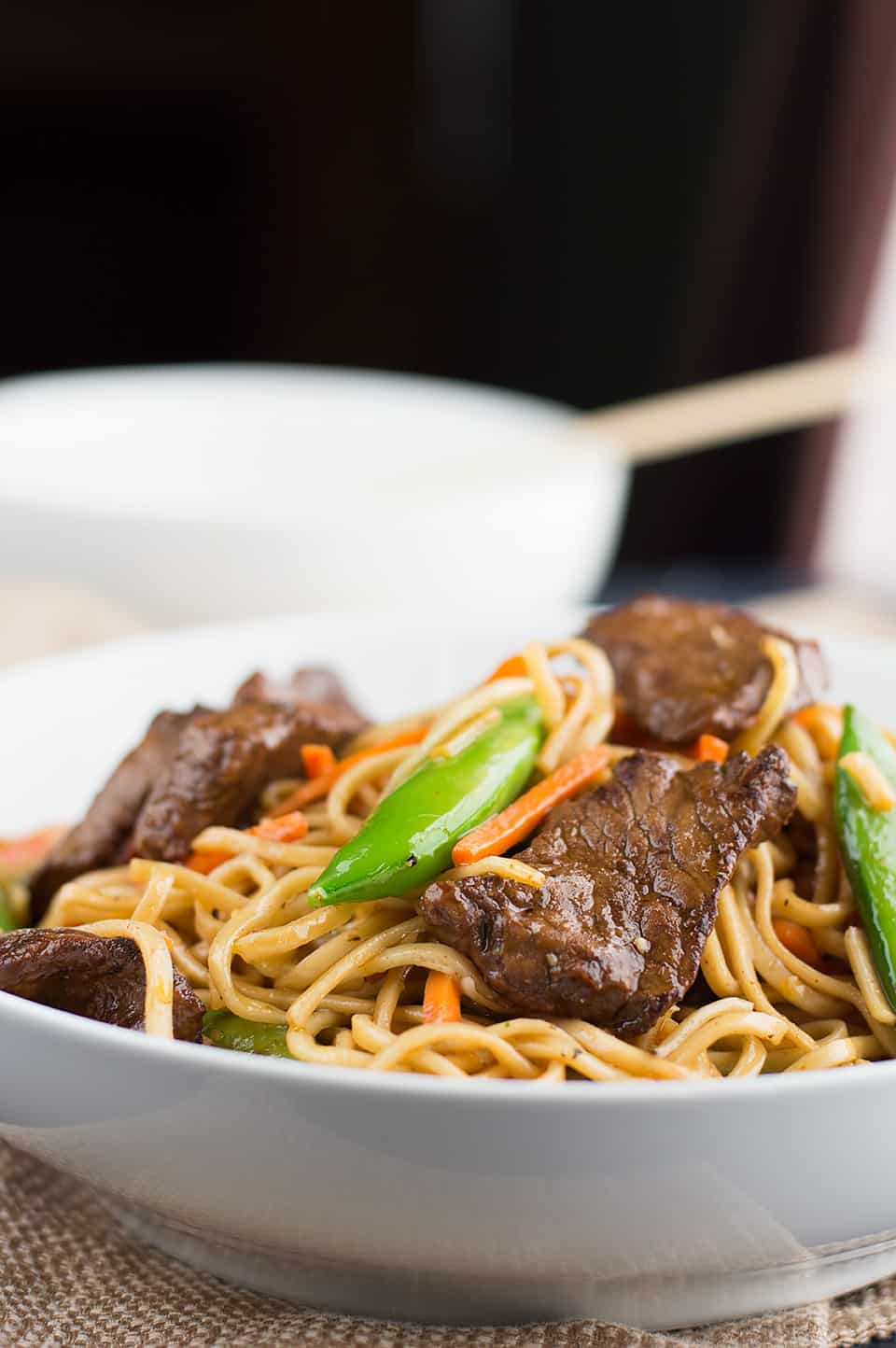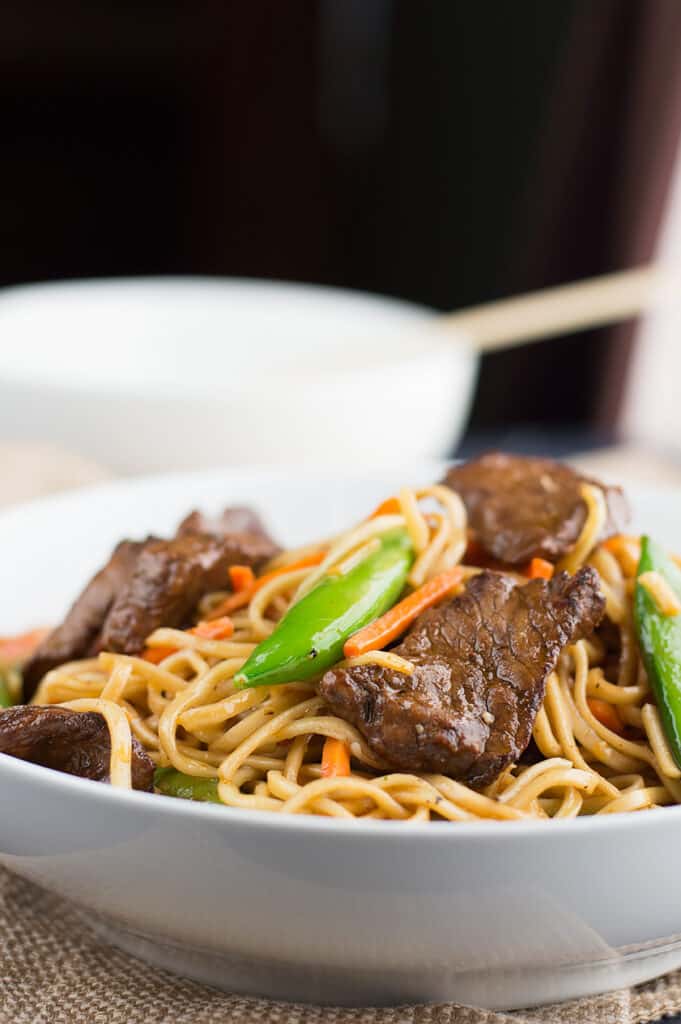 Once we got home, we were still on a noodle kick so later on that week I made something a tad bit different when I decided to make a stir fry.  I marinated the beef in soy sauce, and chili oil.  Then, I made a red curry paste to toss the noodles and veggies in.  This curry paste was on point as the flavors from the chili peppers, chili oil, garlic, and fish oil came together.  It was a great addition to our stir fry.  And don't worry, if you don't like spicy, you can eliminate the curry sauce and just add soy sauce to your stir fry.  Your marinated steak will give you a slight kick but it's not too severe…  I think you can handle it…  🙂
Enjoying my stir fry recipes???  Try this easy Shrimp and Chinese Noodle Stir Fry Recipe.  Get the recipe HERE.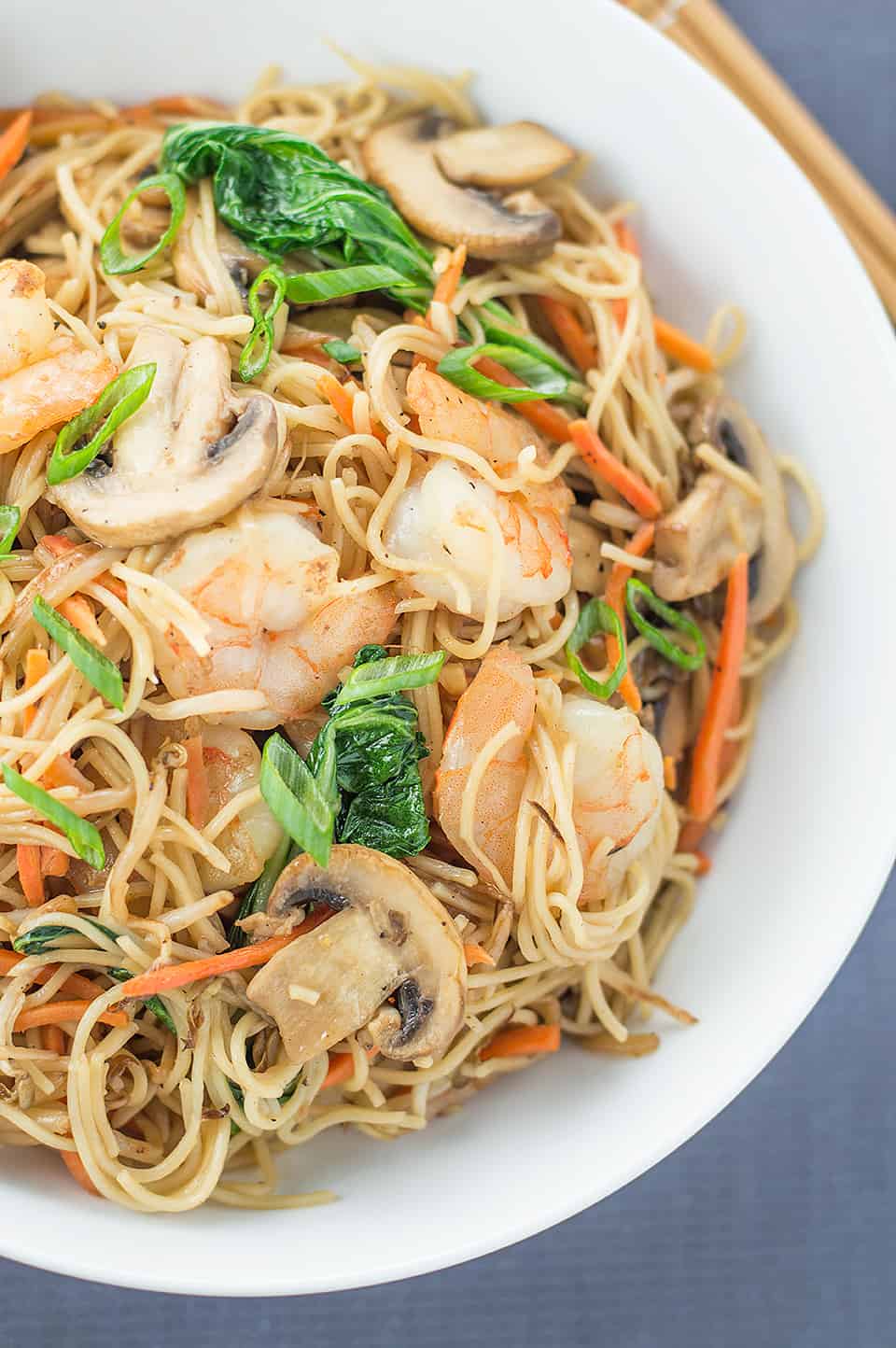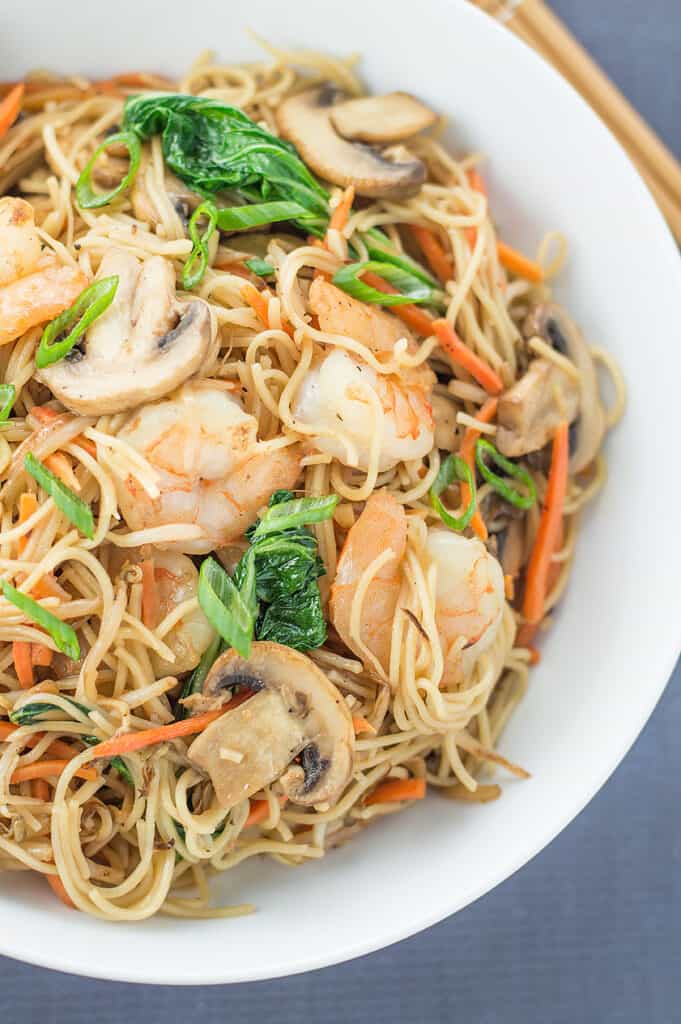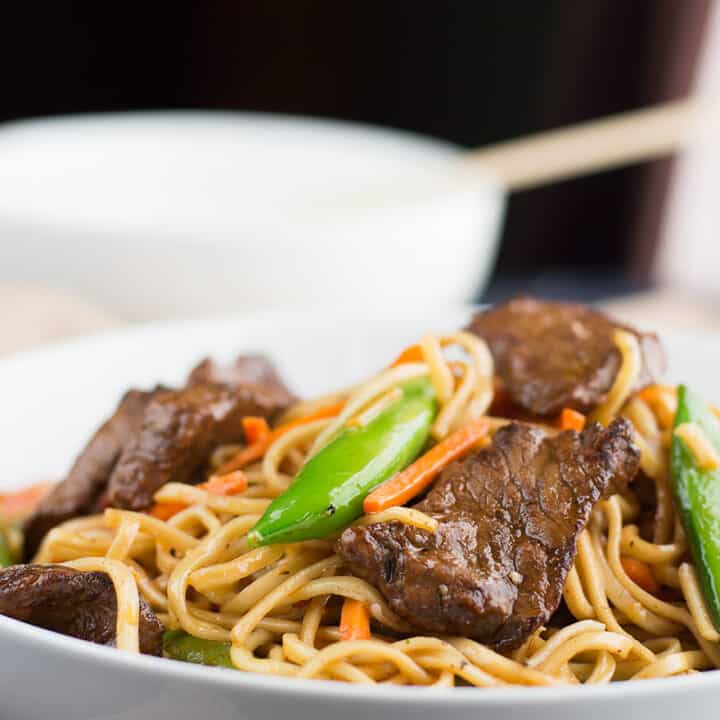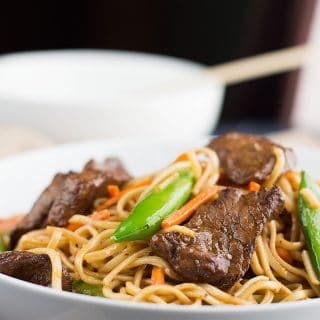 Red Thai Curry Stir Fried Chinese Noodles with Beef
These Red Thai Curry Stir Fried Noodles with Beef has a tasty spicy red curry sauce and beef marinade that brings your stir fry to life!
Print
Pin
Rate
Ingredients
Meat Marinade:

1

tablespoon

chili oil

2

tablespoons

soy sauce

Sauce:

1/4

teaspoon

ground ginger

4

garlic cloves

2

teaspoons

fish sauce

1

and 1/2 teaspoons Red Thai Curry Powder

1

dried Thai Chili Pepper

1/4

cup

chicken stock

1

teaspoon

chili oil

Stir Fry Ingredients:

Chili Oil for cooking

2

New York Strip Steaks

(about 1/2 inch thick)

2

cups

snap beans

2

cups

carrot strips

6

ounces

medium egg noodles
Instructions
Thinly slice the steaks. Pour the chili oil and soy sauce over the sliced steak, making sure to mix the marinade throughout the meat. Cover and let the meat marinate for at least two hours in the refrigerator (the longer the better).

Add all of the sauce ingredients into a blender. (I use my nutri-bullet). Blend the ingredients until smooth. Set aside.

Cook noodles according to package directions. Drain, set aside. (I add about 2 teaspoons of chili oil to the drained noodles. Use tongs to make sure the noodles are coated with the chili oil to make sure they don't stick together.)

Heat wok pan using medium high heat. Add a few drizzles of the red chili oil to the pan, once the chili oil is hot, add the meat to the pan. Cook the meat for about two minutes making sure to stir or flip the meat during the cooking time. Remove meat from the pan.

Add a few drizzles of red chili oil to the pan, once the pan gets hot add the snap peas and cook for 2 to 3 minutes.

Then add in the carrots and cook for about 2 more minutes.

Toss the noodles, beef, and sauce into the pan. Ensuring that mixture is mixed well together.
Notes
Add a few tablespoons of the chili sauce at a time to adjust the heat/spice level to your preference.
If you don't want to use the chili sauce, just add about 2 tablespoons of soy sauce to the final stir fry mixture for flavor.
Please note that I am not a nutritionist, and the nutritional information is an estimate only. It varies based on the products and brands used.