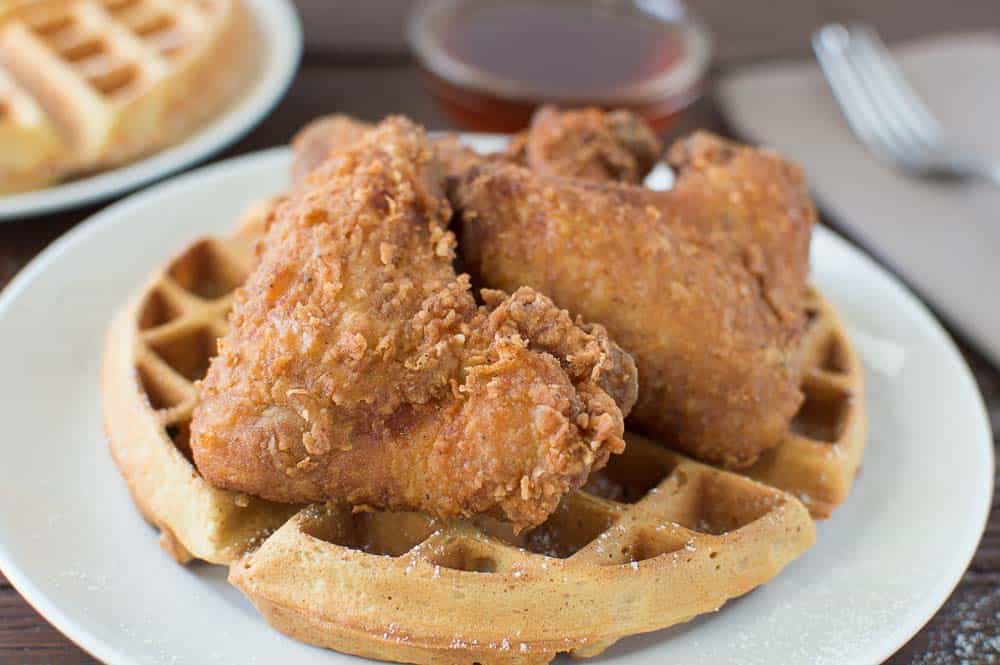 Buttermilk Fried Chicken and Buttermilk Peach Waffles….  Sounds yummy right????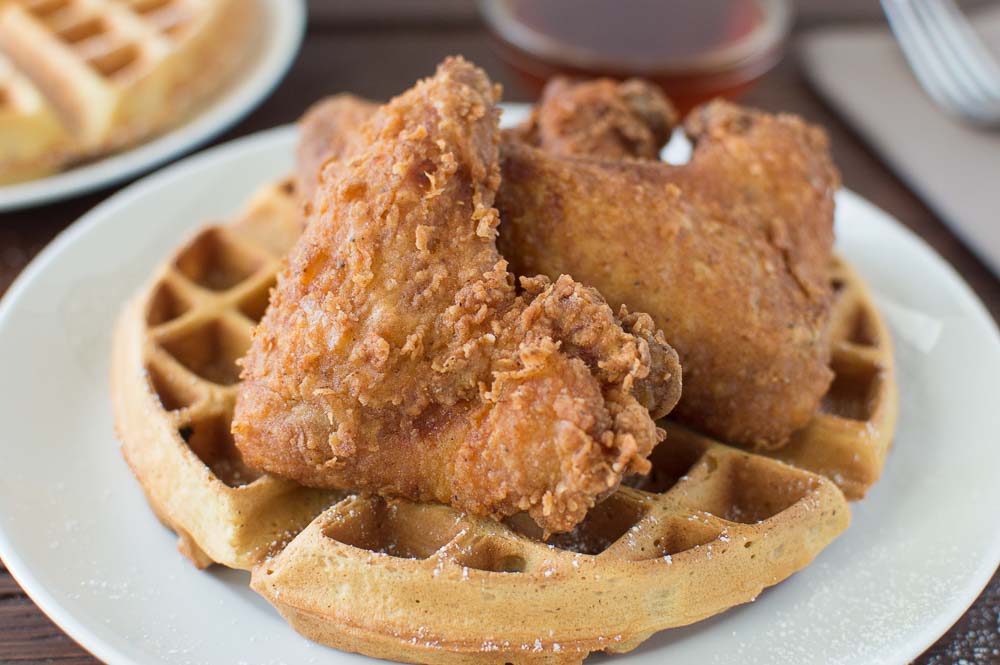 This buttermilk fried chicken and buttermilk peach waffle recipe ordeal all started after a small summer field trip with my kid……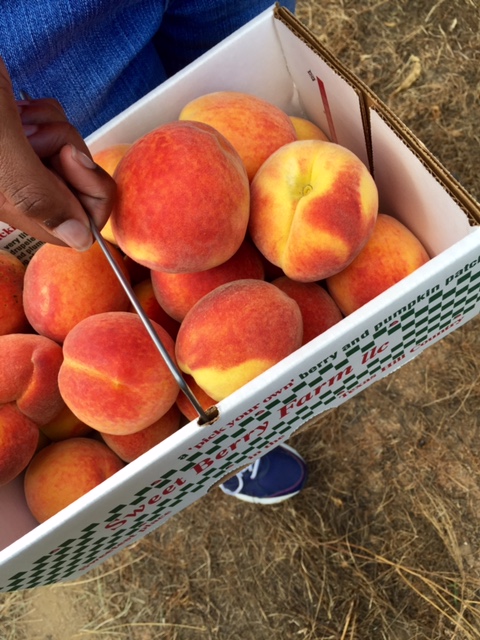 One fun thing I decided we should do included picking our own fruit at a local farm.  Fun, exercise, and the opportunity to get fresh healthy ingredients seemed like a great idea.  And guess what??? It turned out to be awesome.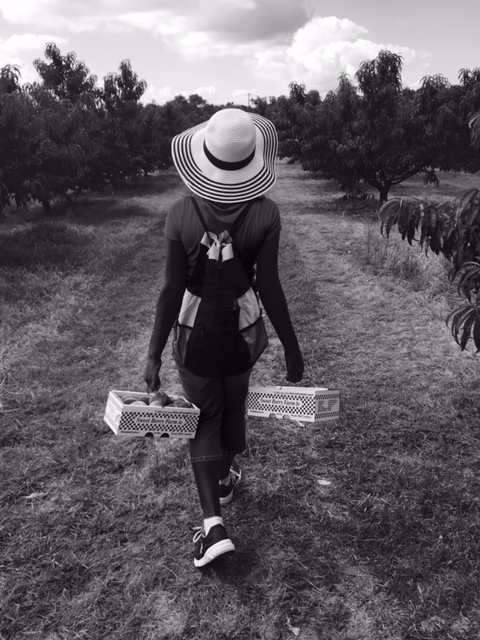 This mini field trip allowed me the chance to spend quality time with my kid with no technology around (except for the camera).  We both thoroughly enjoyed this outing.  I can't even count how many times my kid said "this was so much fun mom".   That made me happier than anything in the world.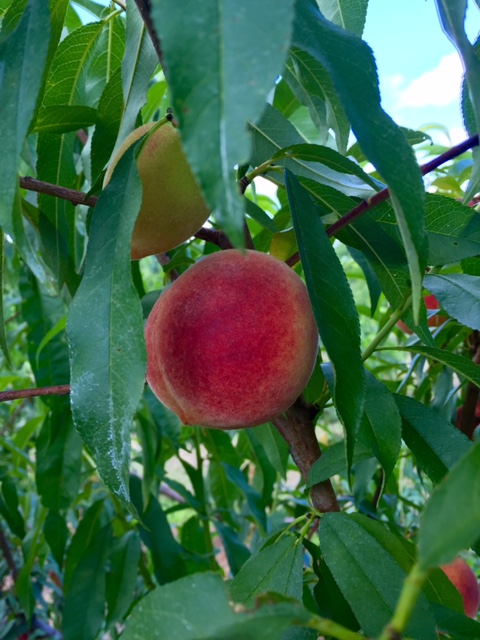 We set up the trip with the intentions of picking strawberries that the farm was so famous for, but we ended up missing the season…  Everything had been picked!  So we ended up getting there for the beginning of their peach harvest.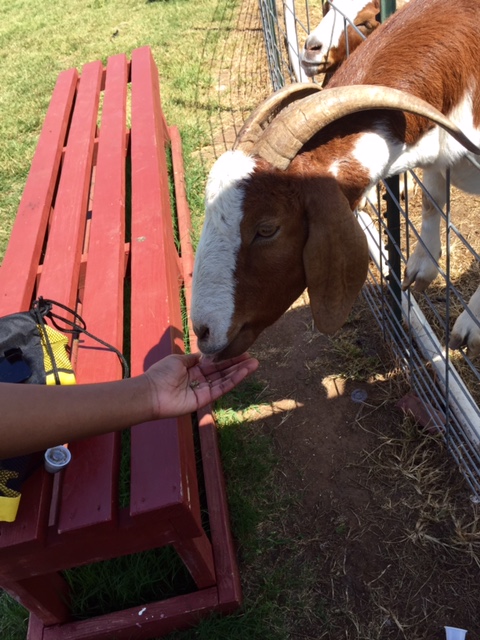 It was a blessing in itself for so many reasons…. For one, the quality time with my kid.  We talked, laughed, and sang all the way there and back.  We even fed the goats!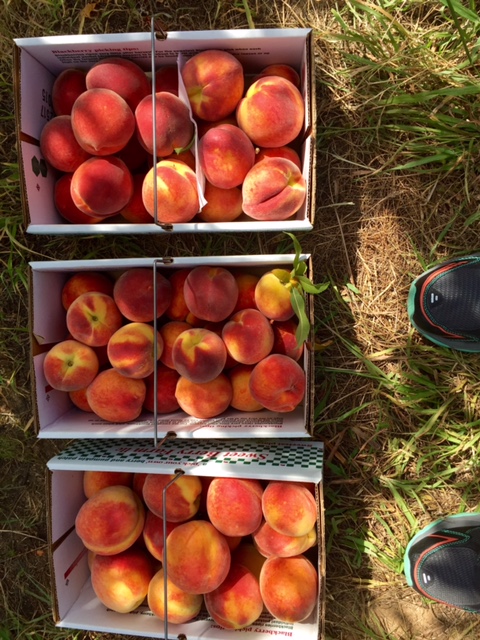 Also, we were some of the first to pick peaches during their peach harvest, which meant the supply was in abundance.  We could not contain ourselves as we picked those peaches!  We purchased four nice size boxes of those things.  Now what the heck am I suppose to do with all of those peaches with a three person household??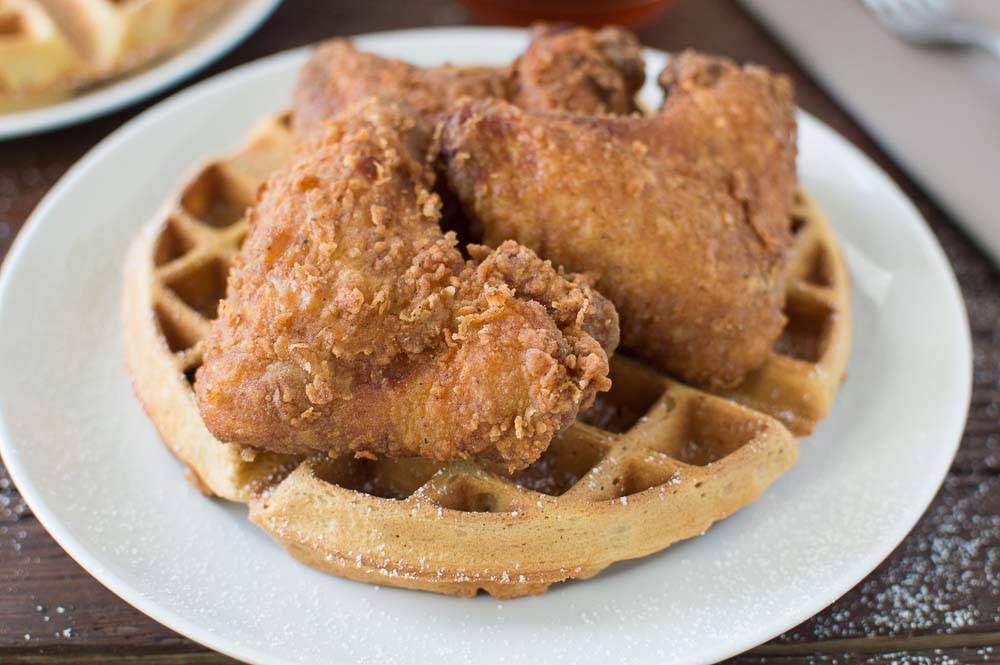 Outside of freezing them, I wanted to make different recipes, but I didn't want pies or cobblers.  Let's do something that is just a wee bit different and make some buttermilk peach waffles.  And what a great choice this was!  I experimented by not only adding buttermilk to the waffles, but I also added malted milk powder. The malted milk added some sweetness and the buttermilk added some flavor.  These waffles tasted like a peach cake of some sort with a nice soft texture.  Then, add the buttermilk fried chicken (which is partly to blame for how I came up with the idea to make waffles, because I had just made buttermilk fried chicken during this time), and it's over!!
The waffles are SUPER EASY to make.  And here are some steps below to prove it.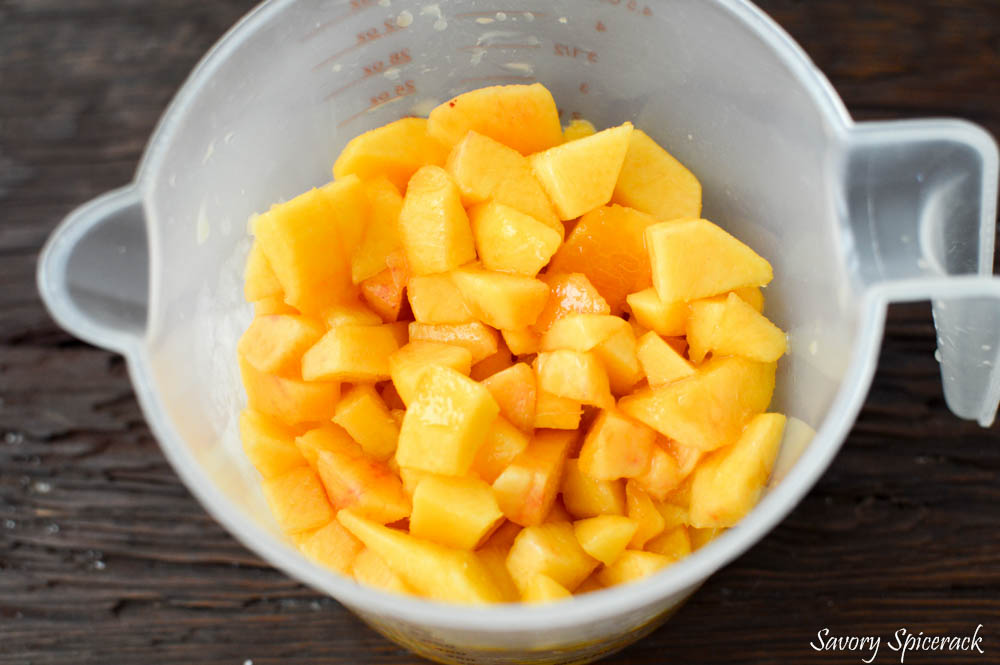 Dice up you peaches like this.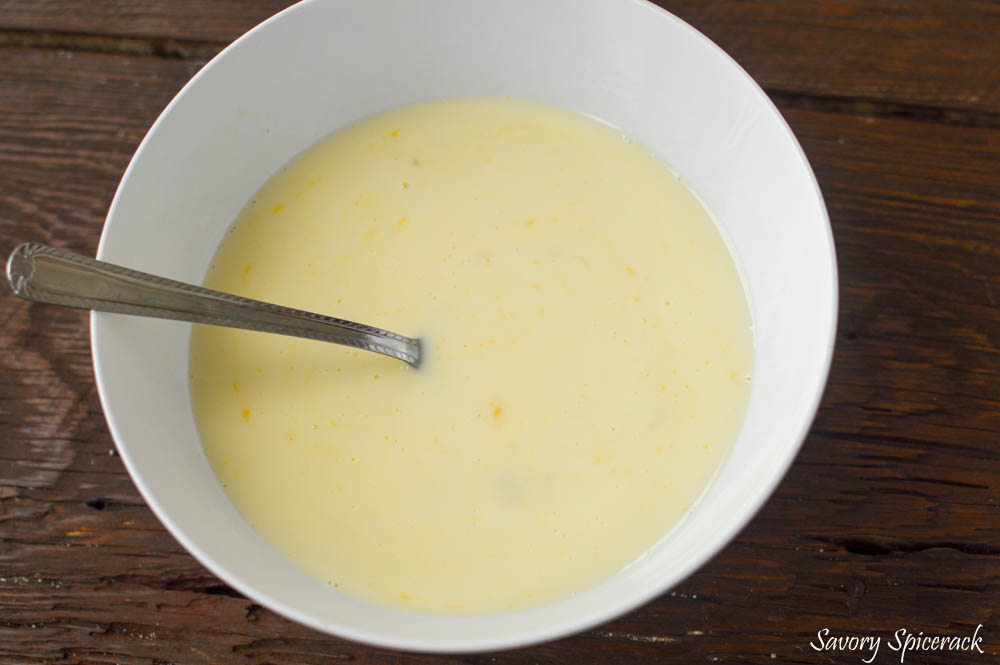 Mix all of your wet ingredients together.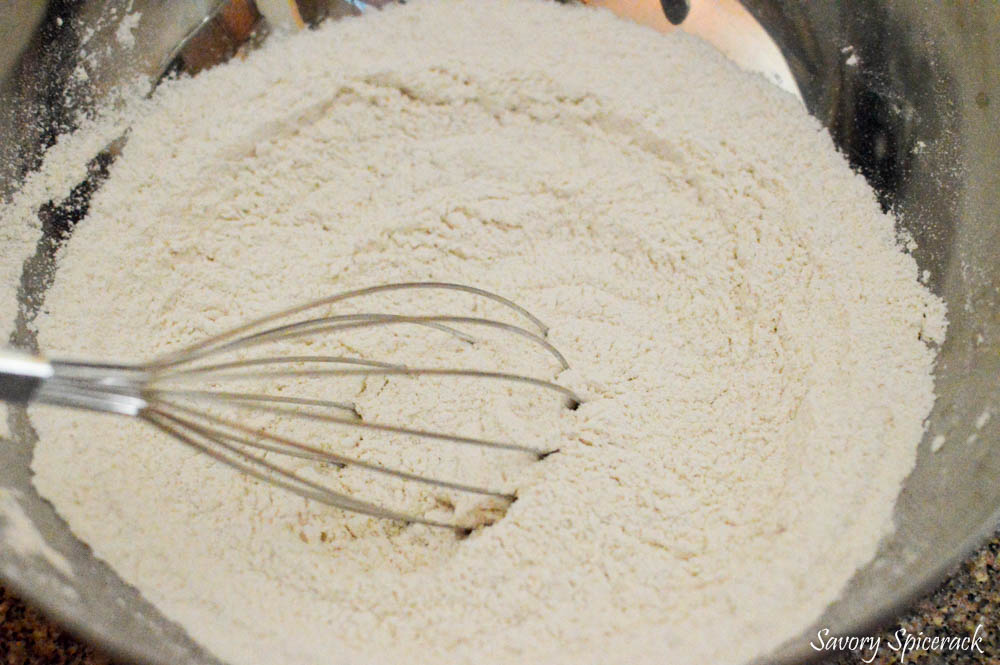 Mix all of your dry ingredients together.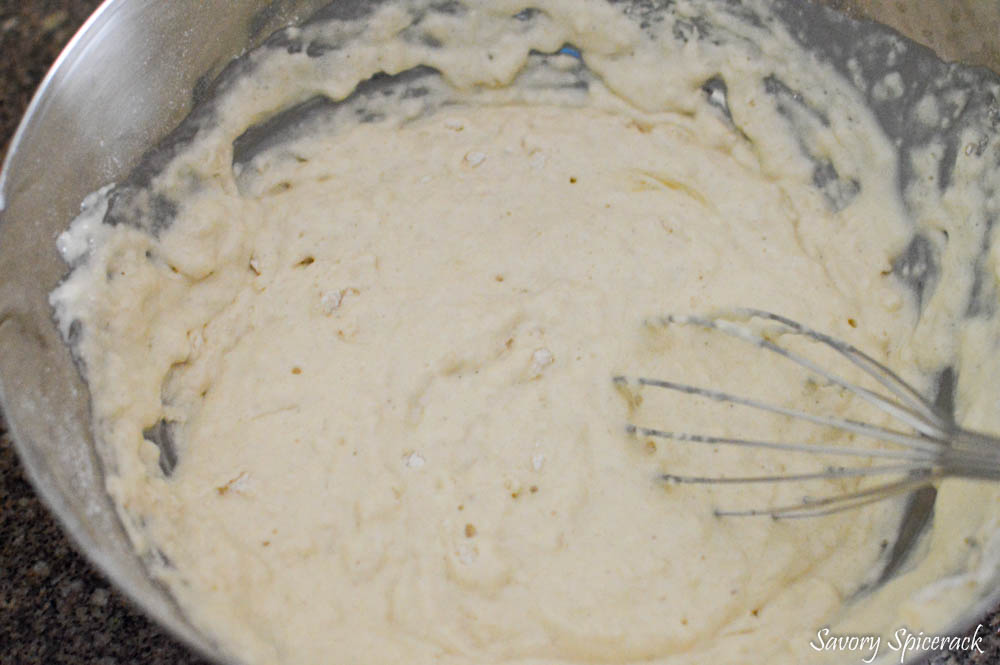 Then, combine all of your ingredients together.  Don't worry about the lumps, because you don't want to over mix your batter.  Over mixing your batter results in tough waffles.  We want soft and tender waffles.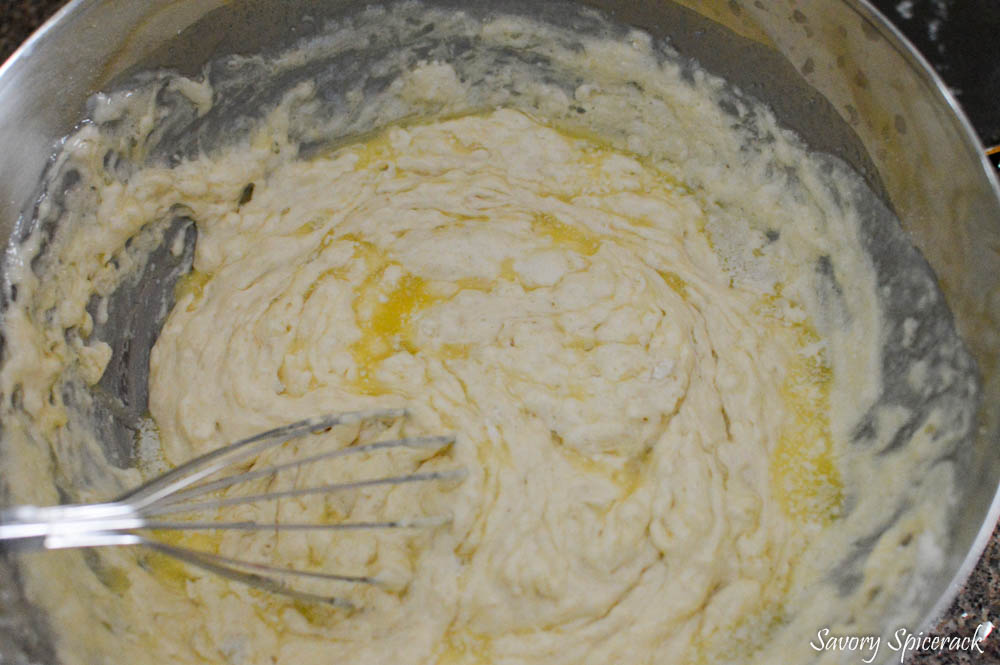 Gently fold in your melted butter.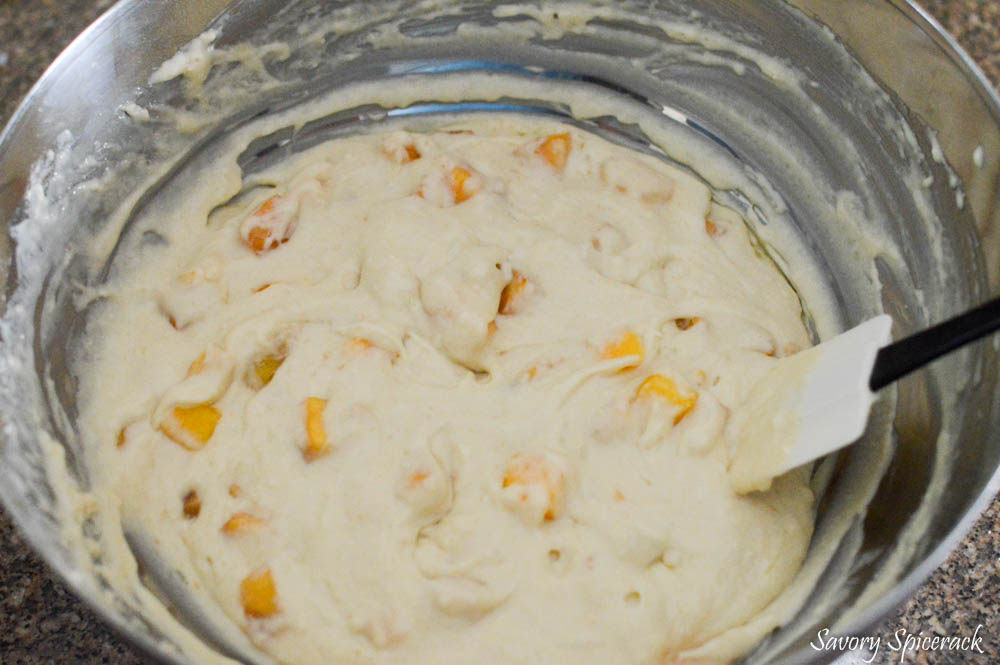 Then, gently fold your peaches into the mix.  And let the batter rest for about five minutes.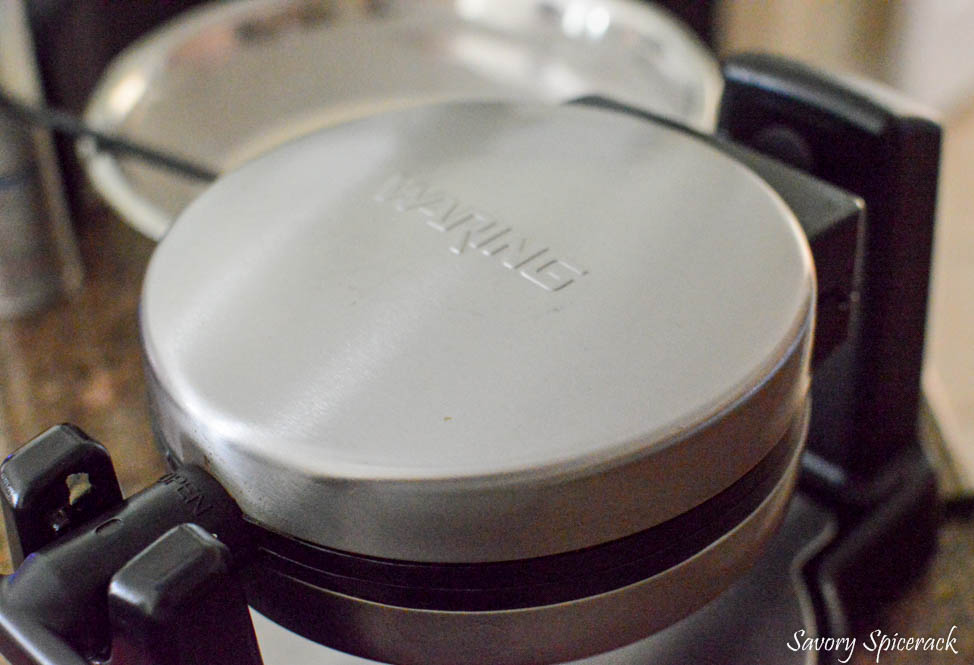 While your batter is "resting", let the waffle maker heat up to the desired temperature.  My waffle maker beeps once it reaches the temperature I have it set to reach.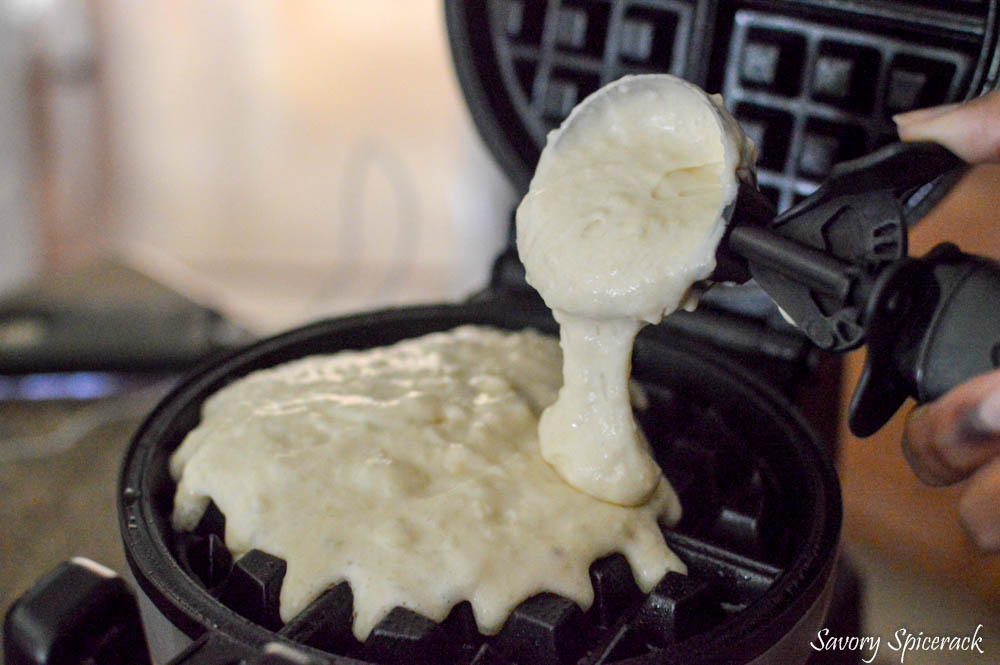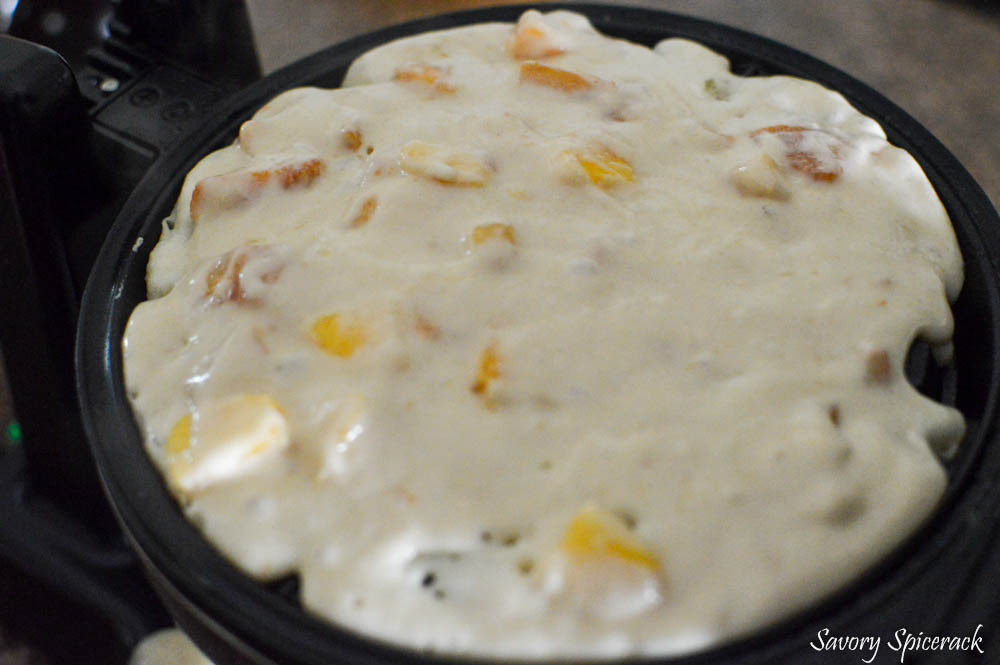 Add your batter to the greased waffle maker.  Close the waffle maker and let the waffle cook until the waffle maker beeps.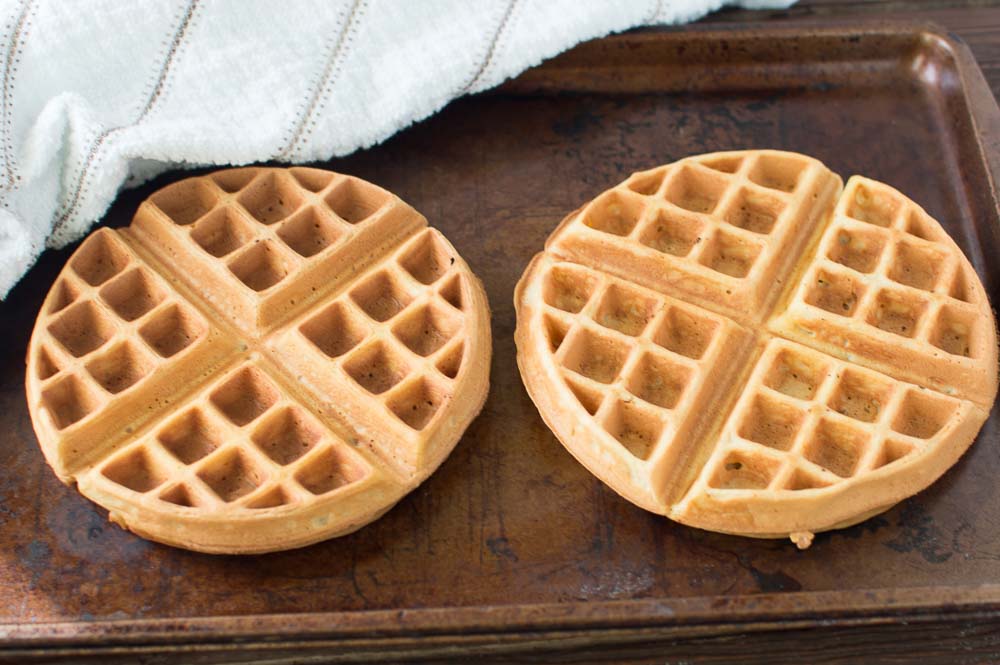 And then you get a delicious waffle.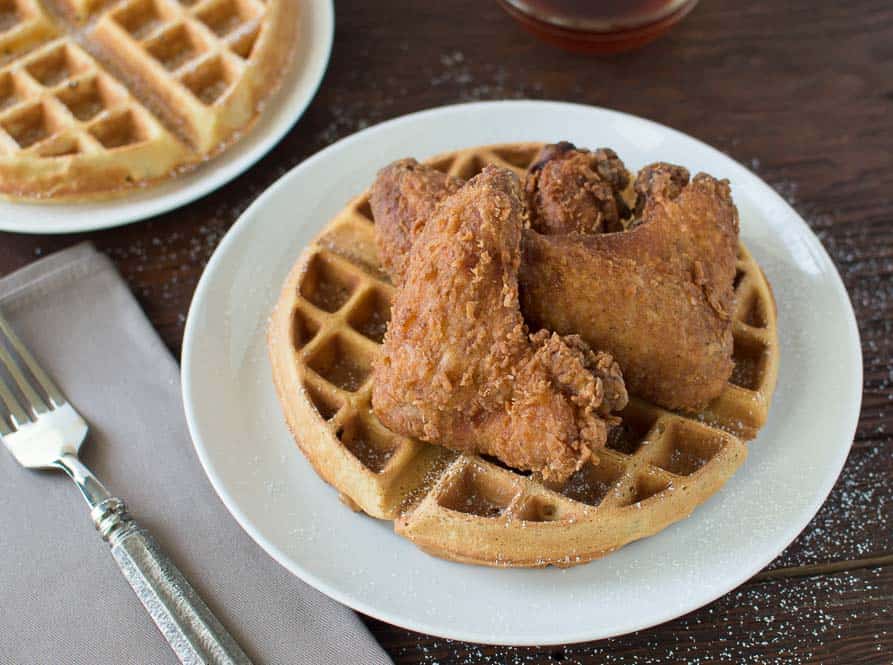 After that, make my Buttermilk Fried Chicken Recipe for the perfect sweet and savory dish.  The buttermilk fried chicken recipe is located HERE.
Enjoy!
Meal Planning Tip: You can make these waffles ahead of time and freeze them while you wait for your chicken to marinate.  Follow my How To Freeze Waffles Tips located HERE.
 ♥♥♥ Stay Connected – like us on Facebook, follow us on Twitter, Instagram, and Pinterest!  ♥♥♥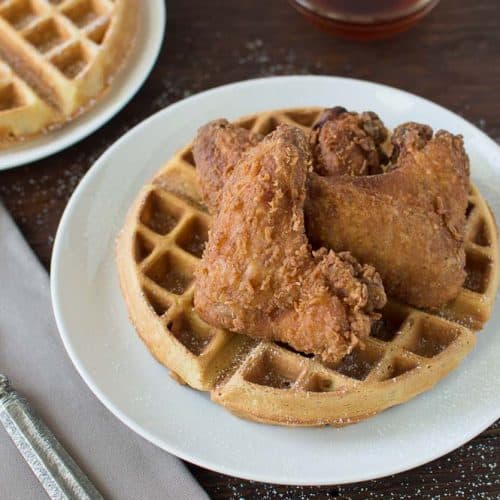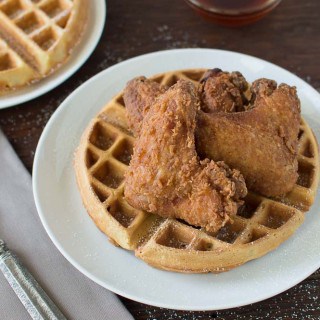 Ingredients
2

cups

buttermilk

2

eggs

2

teaspoons

pure vanilla extract

2

cups

all purpose flour

3

tablespoons

white sugar

2

tablespoons

malted milk powder

1

teaspoon

baking soda

2

teaspoons

baking powder

1/2

cup

melted butter

1

and 1/2 cup diced peaches
Instructions
Mix the buttermilk, eggs, and vanilla together. Set the liquid mixture aside.

In another bowl mix the flour, sugar, malted milk powder, baking soda, and baking powder together.

Then, combine all of the ingredients together. Make sure not to over mix the batter, because this causes the waffles to come out tough and chewy.

Gently fold the melted butter in the batter.

Then, gently fold in the peaches into the waffle batter.

Let the mix rest for about five minutes to allow the baking soda and baking powder to activate so that the waffles cook properly and fluff up.

While the batter is resting, turn on your waffle maker so that it can heat up to the appropriate cooking temperature. Set the waffle maker to the desired temperature. (I like to set my waffle maker at a 4 setting to get a crispy brown waffle. Check your waffle temperature adjustments for the desired temperatures on your waffle maker.)

When ready to cook your waffles, make sure to grease your waffle maker. I just use baking spray.

Add your batter to the waffle maker, adding the batter to the center of the waffle maker and then spreading the batter ensuring the batter has covered the entire area of the waffle maker that holds the batter during the cooking process.

Close the waffle maker and cook according to your waffle makers instructions. As mentioned above, I like to cook my waffles at a 4 setting, which cooks the waffle for about 3 to 4 minutes producing a crispy golden brown waffle.
Notes
Follow my recipe for the buttermilk fried chicken which is located in the link below:
https://savoryspicerack.com/buttermilk-fried-chicken/
These waffles can also be made without peaches. I placed a picture in the post that shows waffle batter without peaches, so you could see what it looks like.
The peaches are measured at 1 and 1/2 cups after they have been diced.
Plan ahead: Make these waffles and freeze them while you wait for your chicken to marinate. Follow my how to freeze waffle instructions in the link below:
https://savoryspicerack.com/food-freezing-tips-homemade-waffles/
Please note that I am not a nutritionist, and the nutritional information is an estimate only. It varies based on the products and brands used.