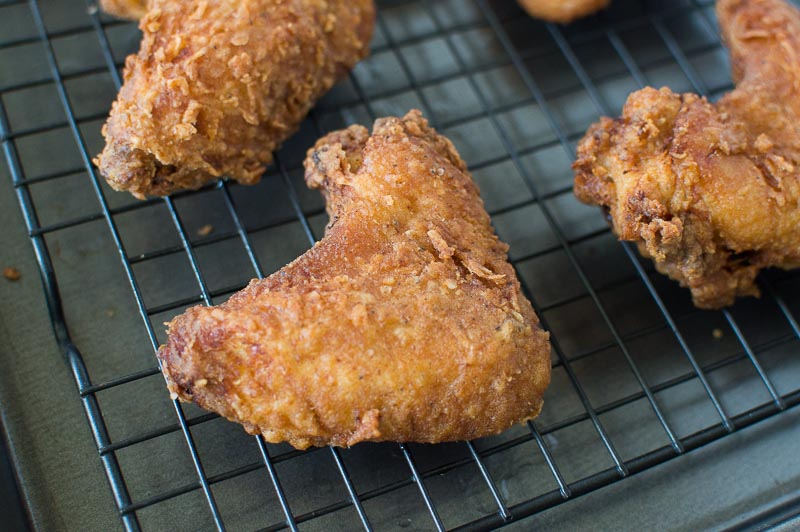 I promise you I don't know not one person who doesn't like fried chicken (I even know vegans that think back to their fried chicken days and reminisce)….  If you don't like fried chicken, you're missing out.  And if you haven't tried buttermilk fried chicken, now is the time to start!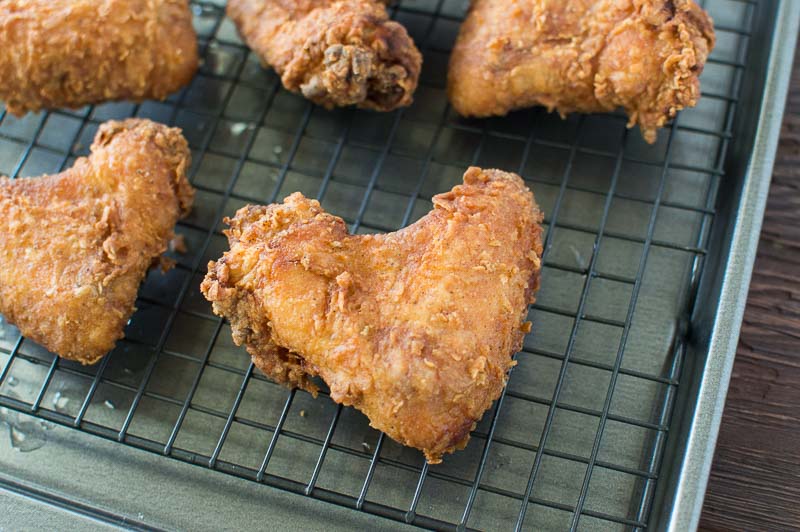 What makes buttermilk fried chicken one of the best or so special?  The buttermilk of course!  The buttermilk is like a meat tenderizer that makes the chicken tender.  It also helps to make the chicken juicy on the inside and aids with making the chicken crispy on the outside.  Which is what you are definitely looking for in a piece of fried chicken…..
Fried chicken is one of those things that can be a scary territory to cross for fear of creating flavorless, dry, under cooked, or even burnt chicken.  But it can be done……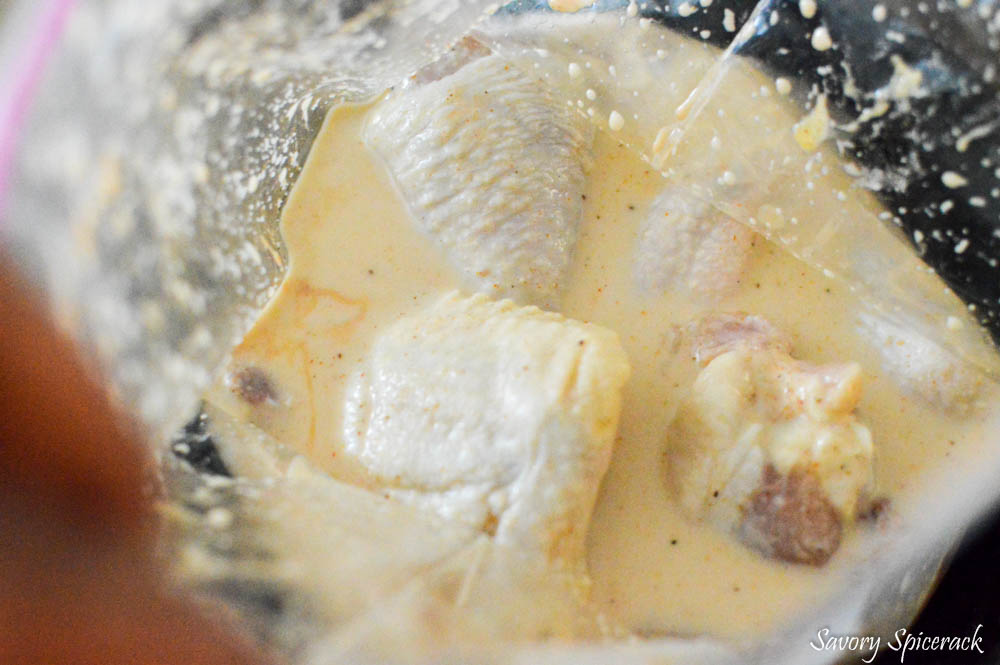 Things that help with frying the perfect fried chicken:
Don't forget that buttermilk marinade I just talked about…  It helps to tenderize the meat, make the chicken juicy, and help with creating a crunchy fried outside coating.
Let the chicken marinate as long as you can to ensure you have the "buttermilk" effect.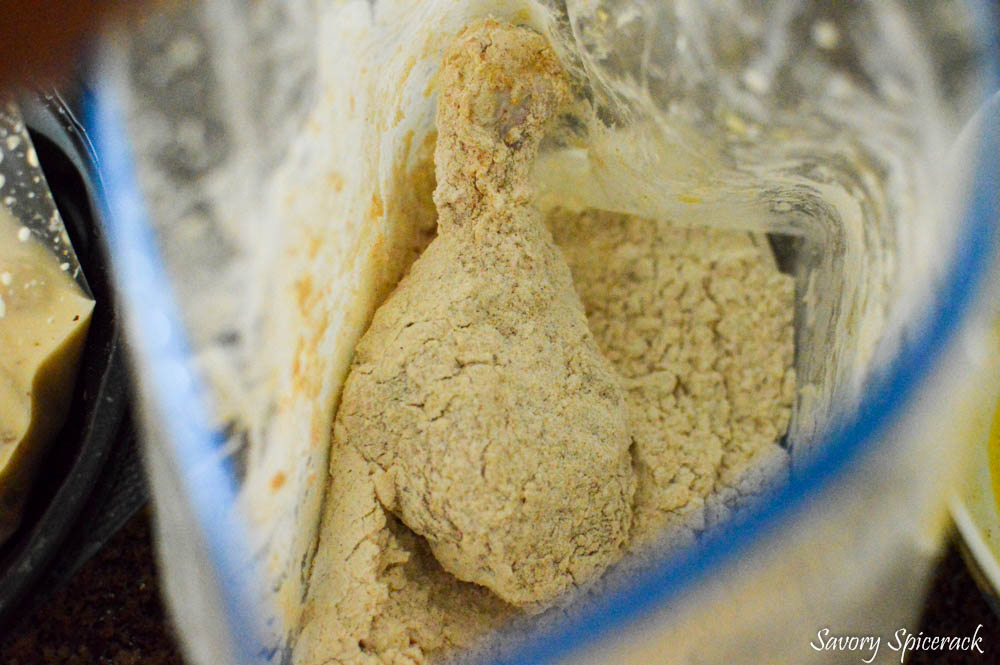 Add a little baking powder to the flour mix, it makes the flour puff up when it fries.  And the final product is so pretty.
Don't be afraid of the salt content for the flour mix, you are using a lot of flour and the salt gets lost in the flour some where.  And if you don't have enough salt, you won't have enough flavor.  You will think you're eating fried cardboard.  I like to add a seafood creole seasoning mix known as Old Bay, and some cayenne pepper to the flour.  This gives it a little kick…..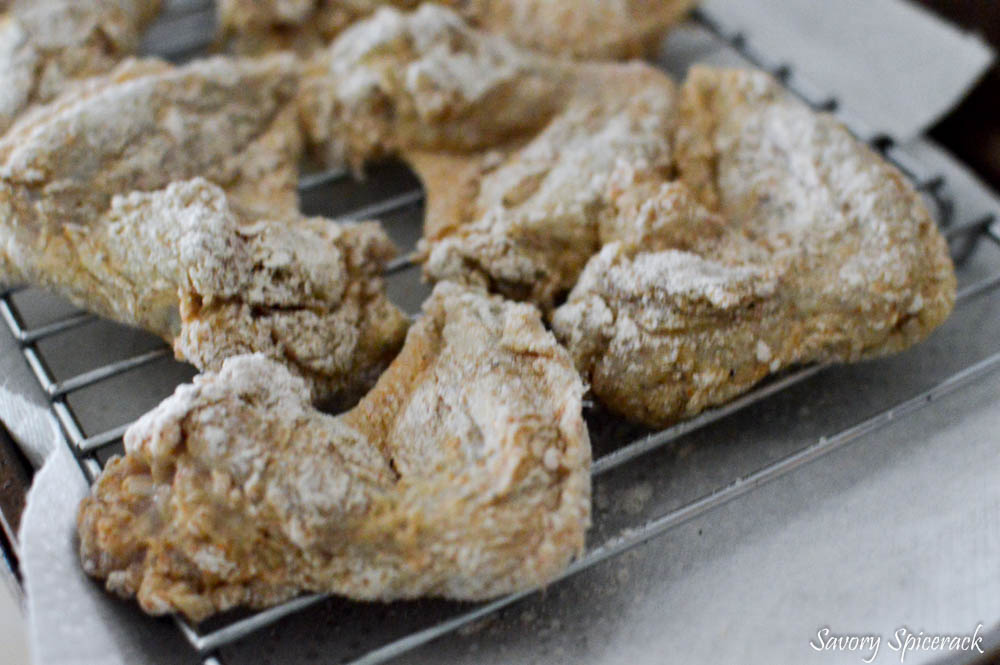 Let your chicken rest on a baking rack after flouring the chicken.  This helps the chicken to reach room temperature to keep the cooking grease temperature from dropping.  (If the temperature of the cooking oil drops, you will have under cooked chicken after you get tired of sitting there waiting for you're chicken to finish frying).  Plus letting the chicken sit for a bit before cooking helps the flour to adhere to the chicken, so that you have a perfect flour coating all over the chicken, with no "naked" spots.
Don't overcrowd the deep fryer.  Because the chicken will be crammed in the deep fryer, stuck together, and you will end up with a soggy mess.  It also drops the temperature of the cooking oil, which as mentioned above is a no no.
There is nothing like having a deep fryer handy.  It makes it easy to keep the temperature of the oil regulated.  And you don't have to worry about flipping chicken in a pan, making a mess everywhere.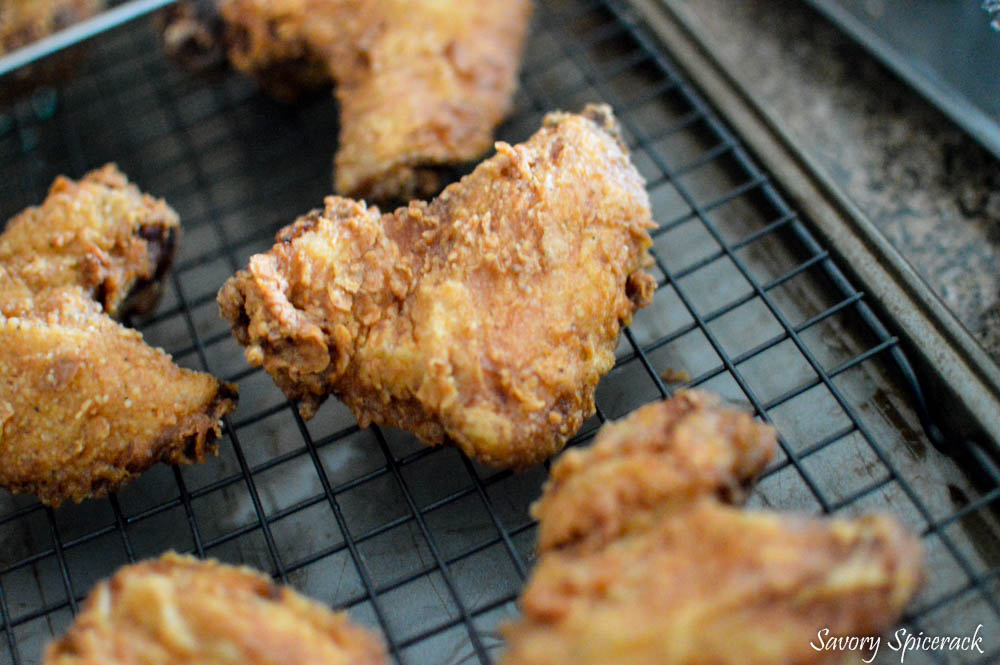 Last but not least –  place your cooked chicken on a baker's rack as you see in the pictures here.  It helps to keep the chicken crispy.
Then, you can get pretty chicken like this.  Something I never thought I could do in a million years….  But I did it, so I believe you can do it too!  Enjoy!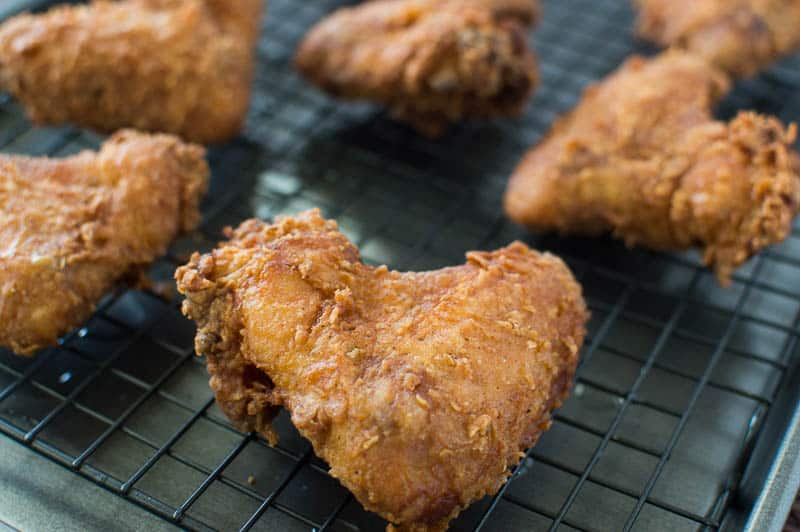 ♥♥♥ Stay Connected – like us on Facebook, follow us on Twitter, Instagram, and Pinterest!  ♥♥♥
Pair this Buttermilk Fried Chicken with my Homemade Buttermilk Peach Waffles.  The recipe is located HERE.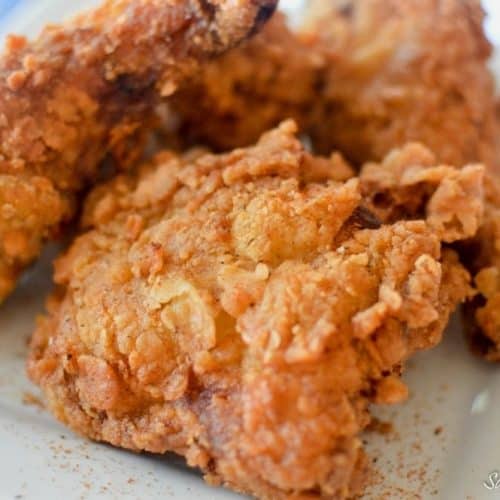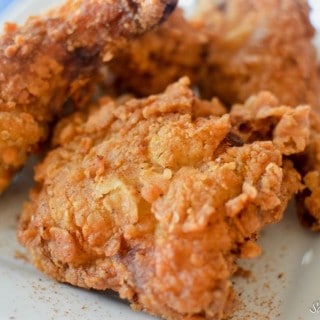 Buttermilk Fried Chicken
Fried chicken that has been marinated in a seasoned buttermilk then fried to perfection, giving you crispy chicken on the outside and moist and flavorful on the inside.
Print
Pin
Rate
Ingredients
1

whole chicken cut into 8 pieces or about 15 wings

cooking oil

Marinade:

1

whole white onion

5

garlic cloves roughly chopped

2

cups

buttermilk

1

tablespoon

season salt

1/4

teaspoon

red cayenne pepper

1/2

teaspoon

freshly ground black pepper

1/2

tablespoon

garlic powder

1/2

tablespoon

old bay seasoning or Creole seafood seasoning

1/2

teaspoon

Kosher salt

Flour Mix:

2

cups

all purpose flour

1

teaspoon

baking powder

1

to 2 teaspoons red cayenne pepper

1/2

tablespoon

paprika

1/2

tablespoon

garlic powder

1/2

tablespoon

Old Bay seasoning

(or Creole seafood seasoning)

1/2

tablespoon

season salt

1/2

tablespoon

Kosher salt

1

teaspoon

fresh ground black pepper
Instructions
For the marinade, mix all of the ingredients together and place in a plastic storage bag or a covered bowl used for marinating meats.

After mixing the marinade ingredients together, submerge the chicken pieces into the marinade. Marinate the chicken for 12 to 24 hours in the refrigerator. (I like to marinate my chicken for 24 hours for more flavor and tenderness).

When ready to cook the chicken, remove the chicken from the refrigerator, mix all of your flour mix ingredients together. I like to place my flour mix in a plastic food storage bag. This makes it easy for me to coat my chicken pieces with flour with less mess and clean up.

After making your seasoned flour mix, add your chicken to the flour mix and make sure the chicken pieces are completely covered with the flour mix.

Place the floured chicken pieces on a baking rack.

Let the chicken sit for about 15 minutes. This helps to cook the chicken evenly, and prevent the cooking oil temperature from dropping (because if the grease temperature drops, it takes longer to cook the chicken). It also helps the flour stick to the chicken, so that you have a perfect crispy coating with no "naked" areas.

While letting the chicken come to room temperature, prep your cooking oil.

Add oil to your deep fryer (about six cups or enough to ensure that chicken will be fully submerged in oil while cooking, check your deep fryer's manual if you want an exact amount of oil for your particular deep fryer).

Set the temperature of the deep fryer at 350 degrees.

Once the deep fryer temperature has reached 350 degrees and the chicken is at room temperature, add a few pieces of chicken to the deep fryer. Make sure not to overcrowd the deep fryer because also affects the cooking oil temperature and the chicken gets soggy preventing you from having that crunchy coating, because it doesn't have room with all of the chicken stuck together.

Cook the chicken for about 10 to 15 minutes or until internal temperature reaches 160 degrees.

Remove chicken from oil and place on a baking rack that has a pan up under it. This helps to keep the chicken crispy.

Let the chicken sit for about 5 to 10 minutes so that chicken retains it's moisture, leaving you with juicy fried chicken.
Notes
This recipe has just enough spice/heat level for me. I put 1 to 2 teaspoons of red cayenne pepper in the recipe ingredients. Start with 1 teaspoon and work your way up to meet your heat level preference.
Please note that I am not a nutritionist, and the nutritional information is an estimate only. It varies based on the products and brands used.