This quick black peppered chicken and asparagus stir fry gets all of it's flavor from leftover homemade black pepper sauce I use for my Crispy Black Peppered Chicken Wings.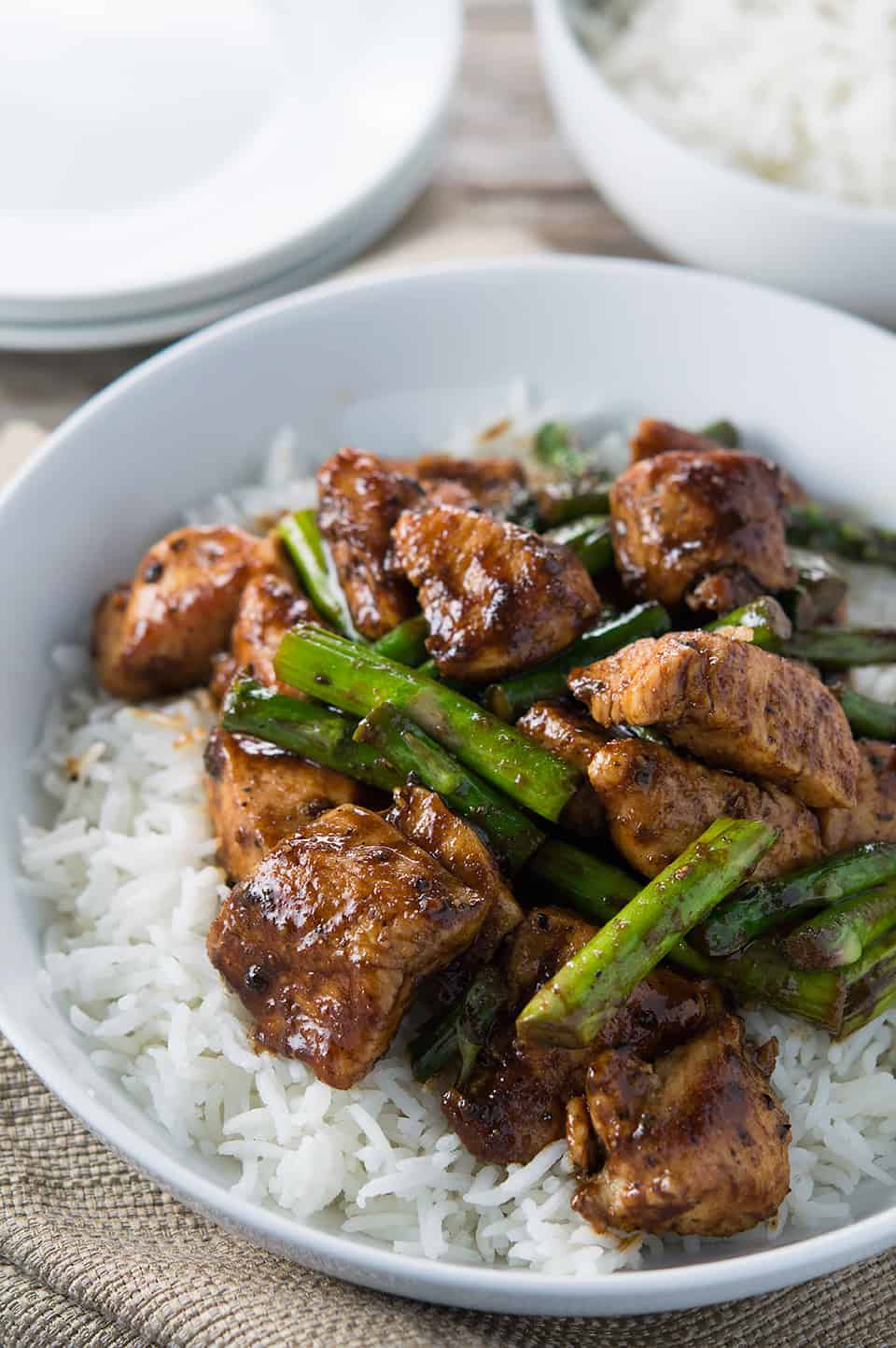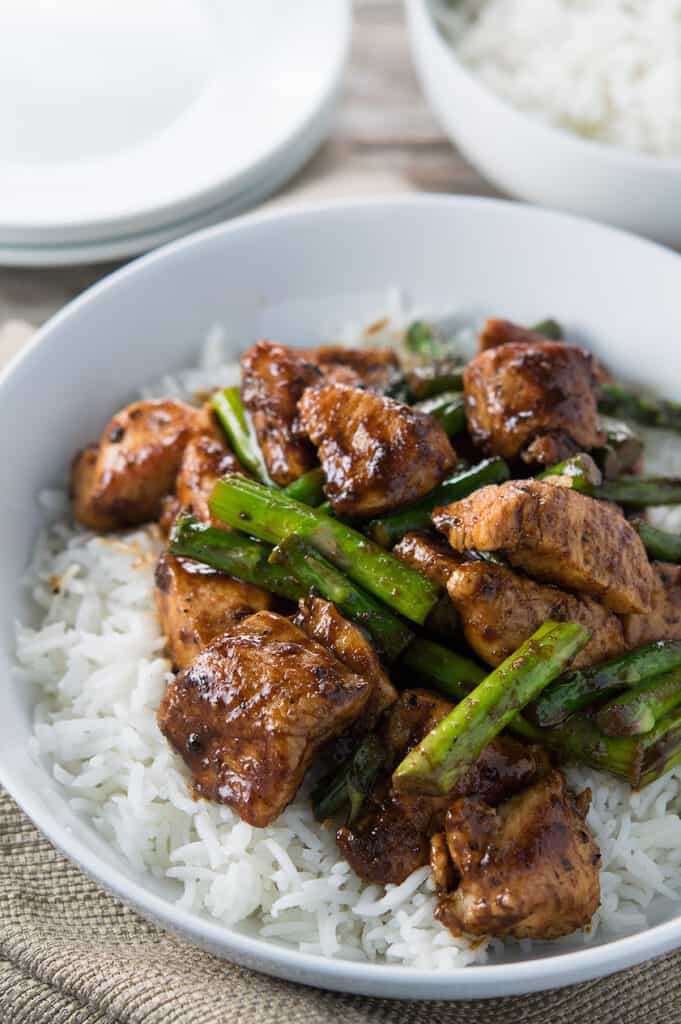 When deciding to do a spin on the infamous black peppered chicken stir fry, I made Crispy Black Peppered Chicken Wings about a year ago.  I made this tangy and spicy black peppered sauce to dunk my crispy wings in.  These wings were already something special because, they had their own delicious marinade.
The sauce has a taste similar to restaurant style black peppered chicken sauce.  The only difference is my sauce is a bit darker when added to the dish, as oppose to the traditional sauce which doesn't seem to have a dark color.  My black pepper sauce also has a little kick to it.  But, you can taper the spice level to your liking.  But I always like mine a little bit on the spicy side.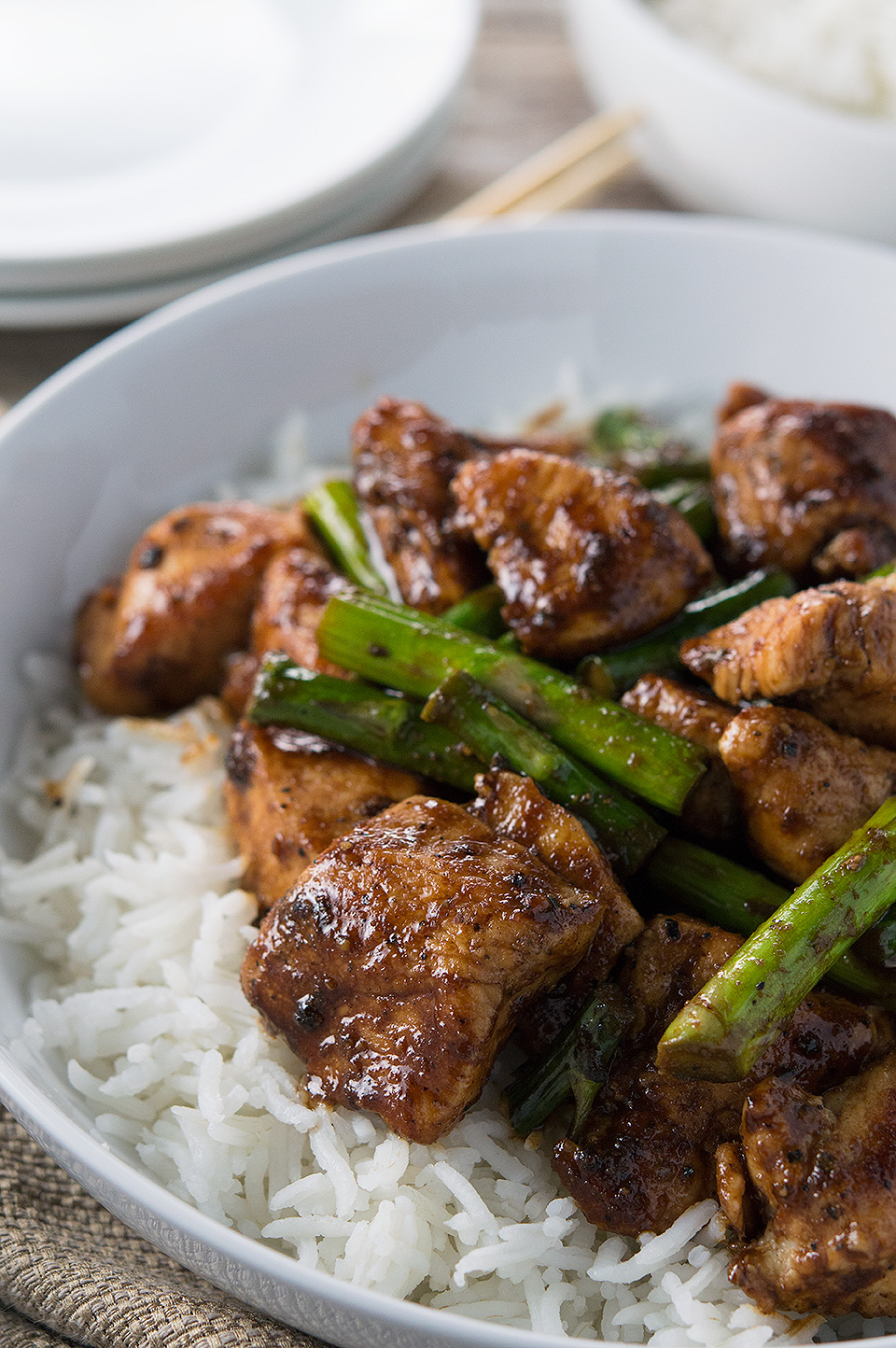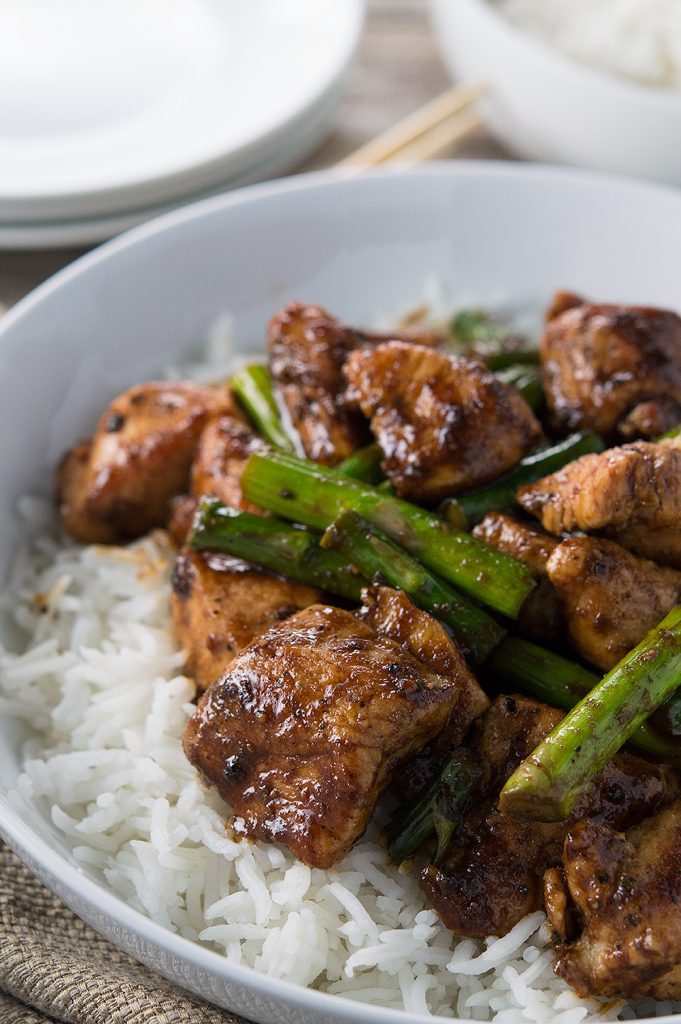 I made these wings again recently, and some friends came over for dinner.  They left us with only a dash of the black peppered sauce, and a graveyard (plate full of bones).  I didn't want to waste the sauce, so I decided to go ahead and make the traditional black peppered chicken stir fry.  But instead of making this stir fry with the typical onions as the vegetable, I used asparagus instead…..  Just to change it up……
Again this recipe was quick.  I just dice and season the chicken breast well.  Then, I make the sauce (it takes minutes to make the sauce).  A quick stir fry cooking method finalizes the dish that I pair with white, brown, or fried rice.
If you need a fried rice to pair with this stir fry, try out these two fried rice recipes:
Hawaiian Island Style Fried Rice
Since I have talked so much about them, try out my Crispy Chinese Black Pepper Chicken Wings.  It is one of my most popular recipes that I have shared.
If you are in need of more stir fry recipes, try these stir fry recipes below:
Red Thai Curry Stir Fried Chinese Noodles with Beef
Stir Fried Chinese Noodles with Shrimp
♥♥♥ Stay Connected – like us on Facebook, follow us on Twitter, Instagram, and Pinterest!  ♥♥♥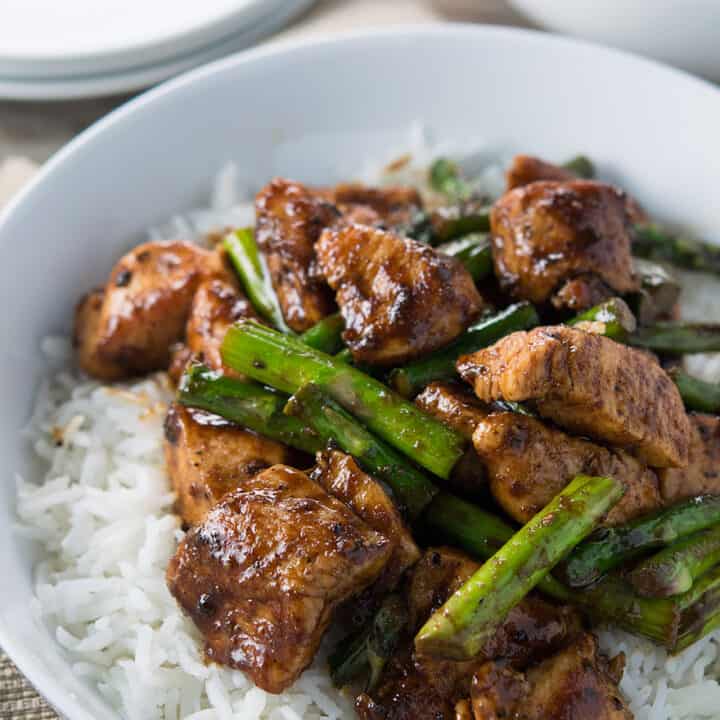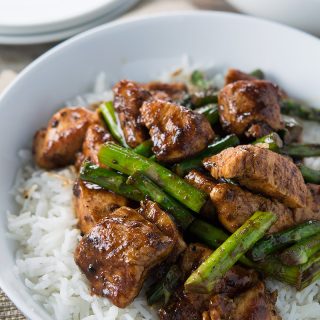 Black Pepper Chicken and Asparagus Stir Fry
This quick black peppered chicken and asparagus stir fry gets all of it's flavor from leftover homemade black pepper sauce I use for my Crispy Black Peppered Chicken Wings.
Print
Pin
Rate
Ingredients
3

large boneless chicken breast diced

1

teaspoon

garlic powder

1

bundle of fresh asparagus diced

3

garlic cloves finely chopped

Fresh Cracked Black Pepper

About 1 to 2 tablespoons sesame oil

Sauce Ingredients:

4

tablespoons

rice vinegar

8

table spoons soy sauce

1

and ½ teaspoons cornstarch

2

teaspoons

oyster sauce

1

teaspoon

onion powder

2

teaspoons

garlic powder

1

to 2 teaspoons fresh cracked black pepper
Instructions
First season the diced chicken breast with fresh cracked pepper, and garlic powder. Set aside.

Next, make the black peppered sauce. Place the rice vinegar, soy sauce, and cornstarch into a small saucepan. Make sure the cornstarch is thoroughly mixed in.

Once the cornstarch is mixed in, add the oyster sauce, garlic powder, and fresh cracked black pepper to the sauce.

Place the sauce on a stove top and use medium heat to cook the sauce for about 5 minutes. Make sure to stir the sauce while it cooks. Once the sauce has cooked, remove it from the heat source. The sauce thickens slightly while it sits.

Next heat your wok skillet on high heat. Once the wok gets hot, add a few drizzles of the sesame oil to the wok.

Once the oil is hot, add the asparagus. Cook for about 3 to 4 minutes. Remove asparagus from pan, set aside.

Add a few drizzles of sesame oil to the pan, when the oil is hot add the chicken. If needed, Cook the chicken in batches. (Usually cooked in 2 to 3 batches with a few drizzles of sesame oil added to the pan for each batch if the wok/pan is small.)

Cook the chicken for about 7 to 8 minutes (or until the chicken is cooked through) if you cut the chicken in large chunks as I did.

After cooking the chicken, turn the heat down to medium high, add the garlic and let it cook for about 30 seconds.

Then add the asparagus, and about ½ of the sauce to the pan. Stir the ingredients together until well incorporated. Add additional sauce per your taste preference.

Serve with rice or noodles.
Notes
You can add more sauce to the cooked dish if you prefer more sauce. I usually leave some as dipping sauce.
I didn't add salt to this recipe because the soy sauce I feel adds enough salt to the dish.
Use low sodium soy sauce and or decrease your soy sauce by 1 to 2 tablespoons if you are sensitive to salt.
If you are super sensitive to spicy foods, add a 1/2 teaspoon of black pepper to your sauce, and add more pepper until you have a heat level that is good for you.
Please note that I am not a nutritionist, and the nutritional information is an estimate only. It varies based on the products and brands used.