Make this delicious cheesy enchilada dish that has the best easy to make white sauce!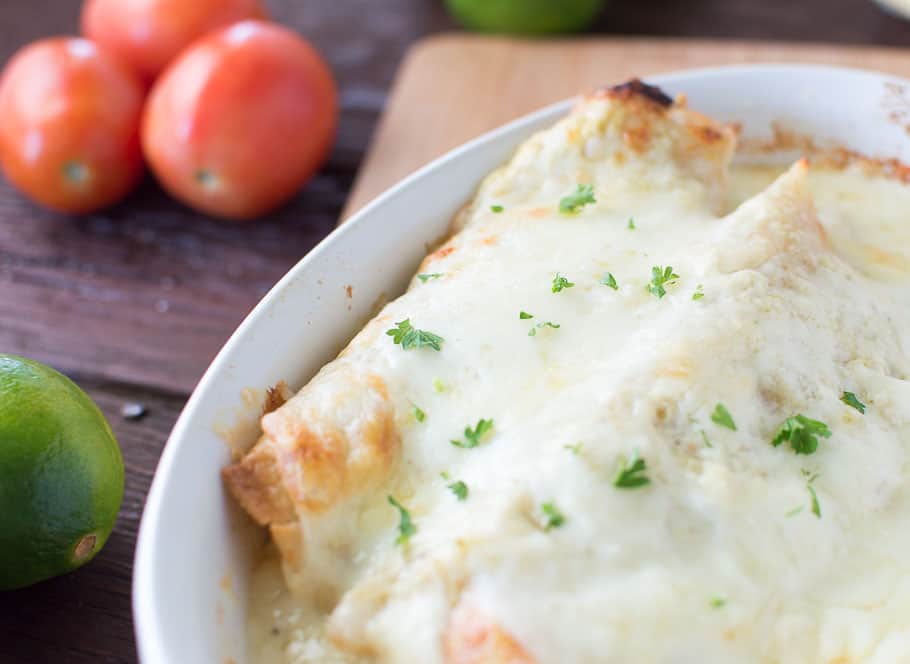 I was never big on enchiladas for two reasons – I always thought the tortillas were too mushy and the red sauce piled high on my hubby's plate at the restaurant wasn't a mountain I wanted to climb.  But then I met enchiladas with white sauce, and we fell in love.
I created this recipe to correlate with my taste buds after grabbing tips, bits, and pieces from friends that have recipes of their own.  My creation gave me the crunch, and flavor I needed.  This enchilada sauce in this recipe does not require one to grate, shake, and mix for hours to get that special taste you get at the restaurant.  A few simple steps and ingredients help me to reach a creamy goodness unlike no other.  Enjoy!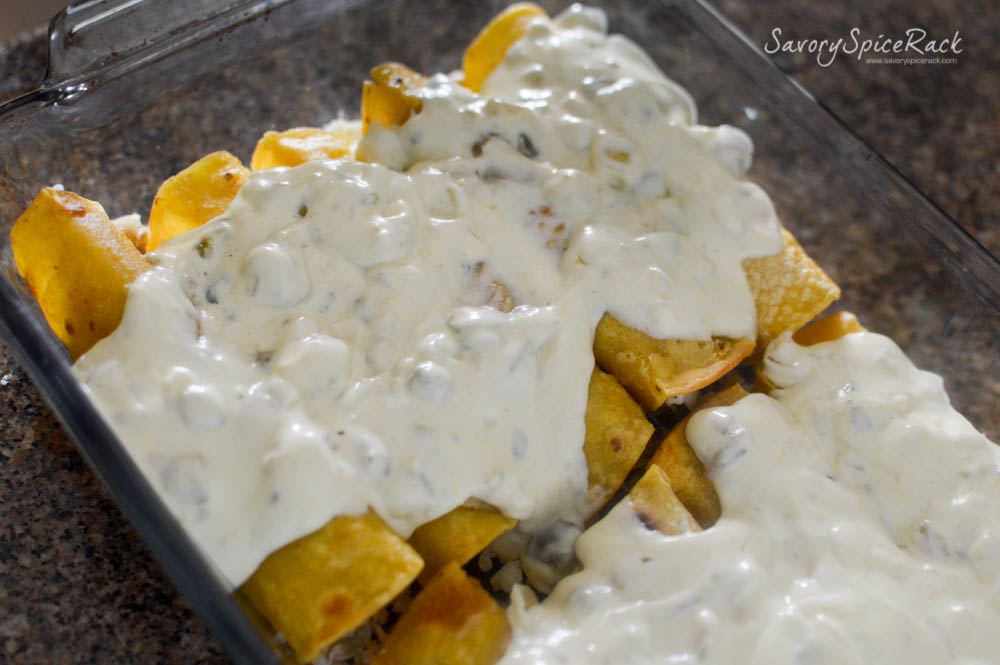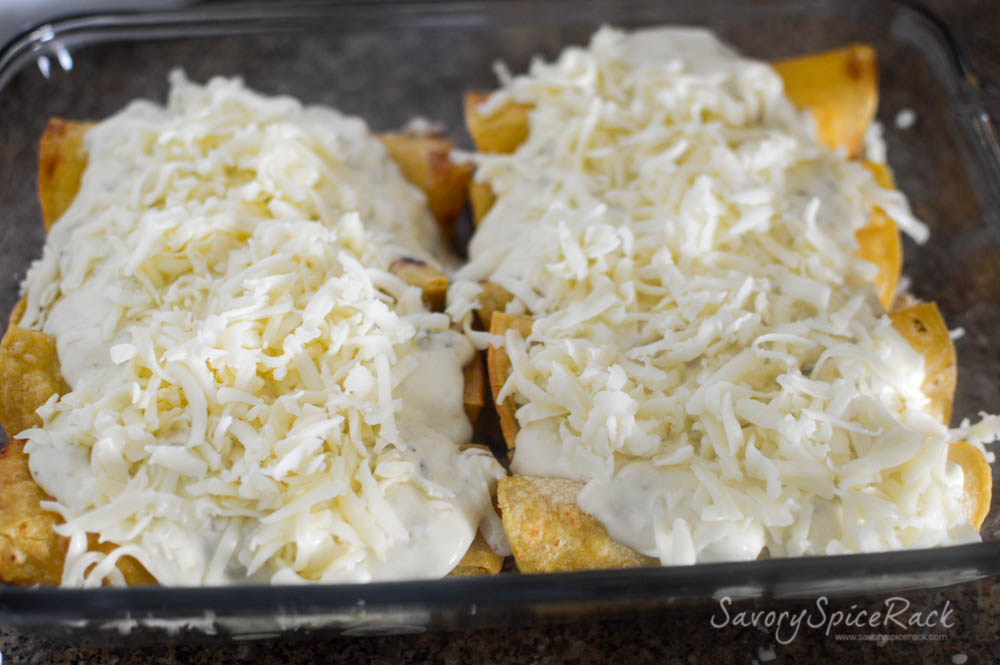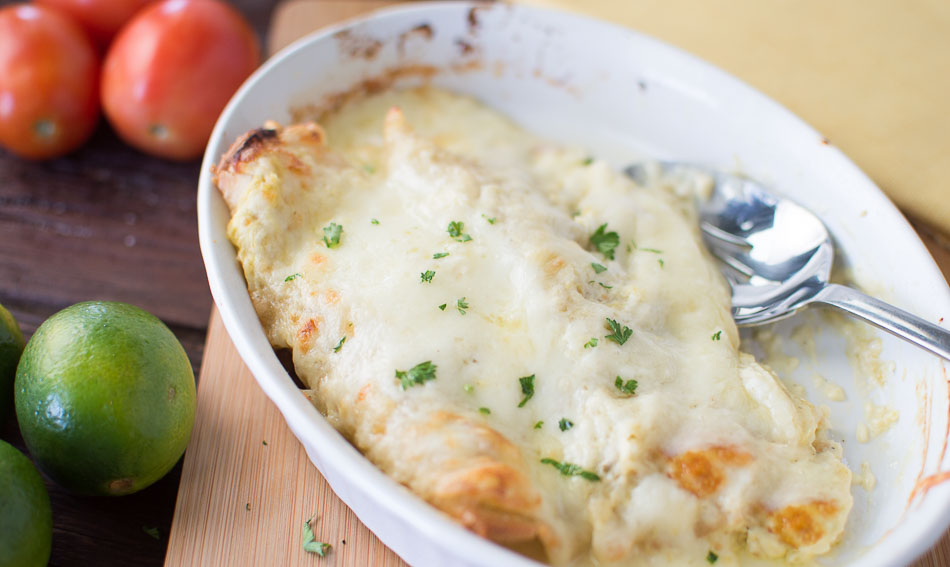 Pair these enchiladas with my Mexican Rice recipe!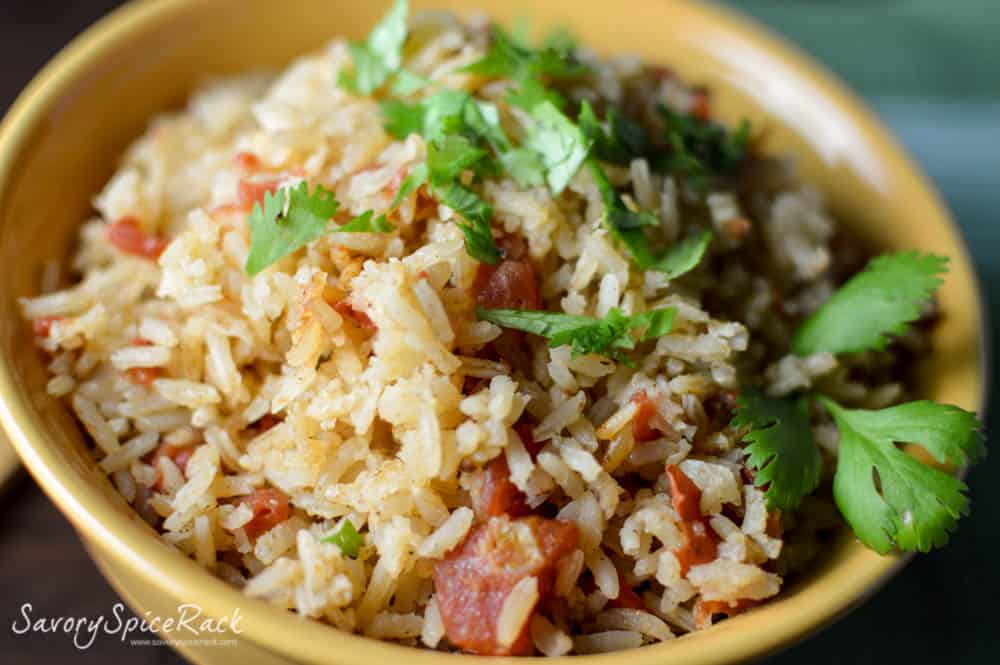 ♥♥♥ Don't forget to like us on Facebook, follow us on Twitter, Instagram, and Pinterest!  ♥♥♥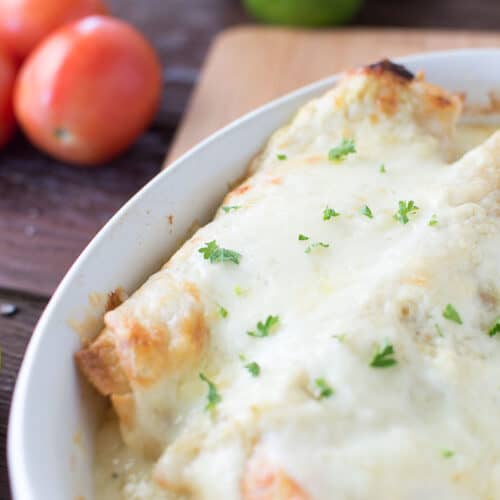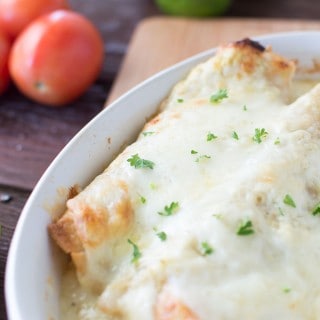 Ingredients
2

boneless skinless chicken breasts

2

teaspoons

ground cumin

1

can of cream of chicken soup

1

cup

of green salsa Verde

2

tablespoons

butter

1

cup

of sour cream

16

to 17 small corn tortillas

5

cups

freshly shredded Monterey jack cheese

(separate one to two cups of the shredded cheese to garnish the enchilada casserole)

Salt and pepper to taste
Instructions
Boil chicken breasts in chicken broth or salted water until chicken breasts are fully cooked. Allow the chicken breasts to cool, and then shred the chicken breast.

After shredding the chicken breast, mix the ground cumin and shredded chicken together, then set aside.

In a medium saucepan combine cream of chicken soup, salsa Verde, and butter.

Cook this sauce mixture for about 5 minutes on medium heat. Remove the sauce mixture from heat, and mix in the sour cream. Salt and pepper the sauce mixture to taste.

Lightly fry the corn tortillas in a large frying pan, using baking spray or a small amount of cooking oil.

Drain grease from the fried corn tortillas if cooking oil was used to fry the tortillas.

Remember to reserve 1 to 2 cups of the shredded cheese and set aside (this will be used to top the enchilada casserole). Then, evenly fill each corn tortilla with the shredded chicken and the remaining 3 cups of shredded cheese (I like to put more cheese than chicken in each tortilla- just my preference).

After filling each tortilla with chicken and cheese, roll up each tortilla and place the rolled tortillas seam side down in a baking dish.

Pour the sauce mixture over the stuffed corn tortillas.

Then garnish the dish with the remaining shredded cheese.

Cover the baking pan, and bake the enchiladas at 400 degrees for about 20 to 25 minutes, or until the cheeses have melted through.
Notes
Easy Tip:
Use a precooked roasted chicken to decrease your prep time for those busy days.
Make your sauce and chicken ahead of time when meal prepping. This takes time off of your cooking time when you actually cook the meal. Tasty Tip:
Add a few tablespoons of the sauce to your chicken if you don't like the inside of your enchiladas completely without sauce. I have done this before for guests and it taste good like this also.
Sometimes we get a little over zealous and use tons of cheese (about 1 & 1/2 pounds) in this dish. Stuffing about 2 to 3 tablespoons of cheese in the enchiladas, and we sprinkle the rest of the cheese on top of the enchiladas.
Please note that I am not a nutritionist, and the nutritional information is an estimate only. It varies based on the products and brands used.