Use left over holiday turkey and ham (Or any leftover ham or turkey) to create a light and tasty meal after all of that heavy eating…. Make these Turkey Cuban Sandwiches! (A great way to create a Budget Friendly Menu Plan.)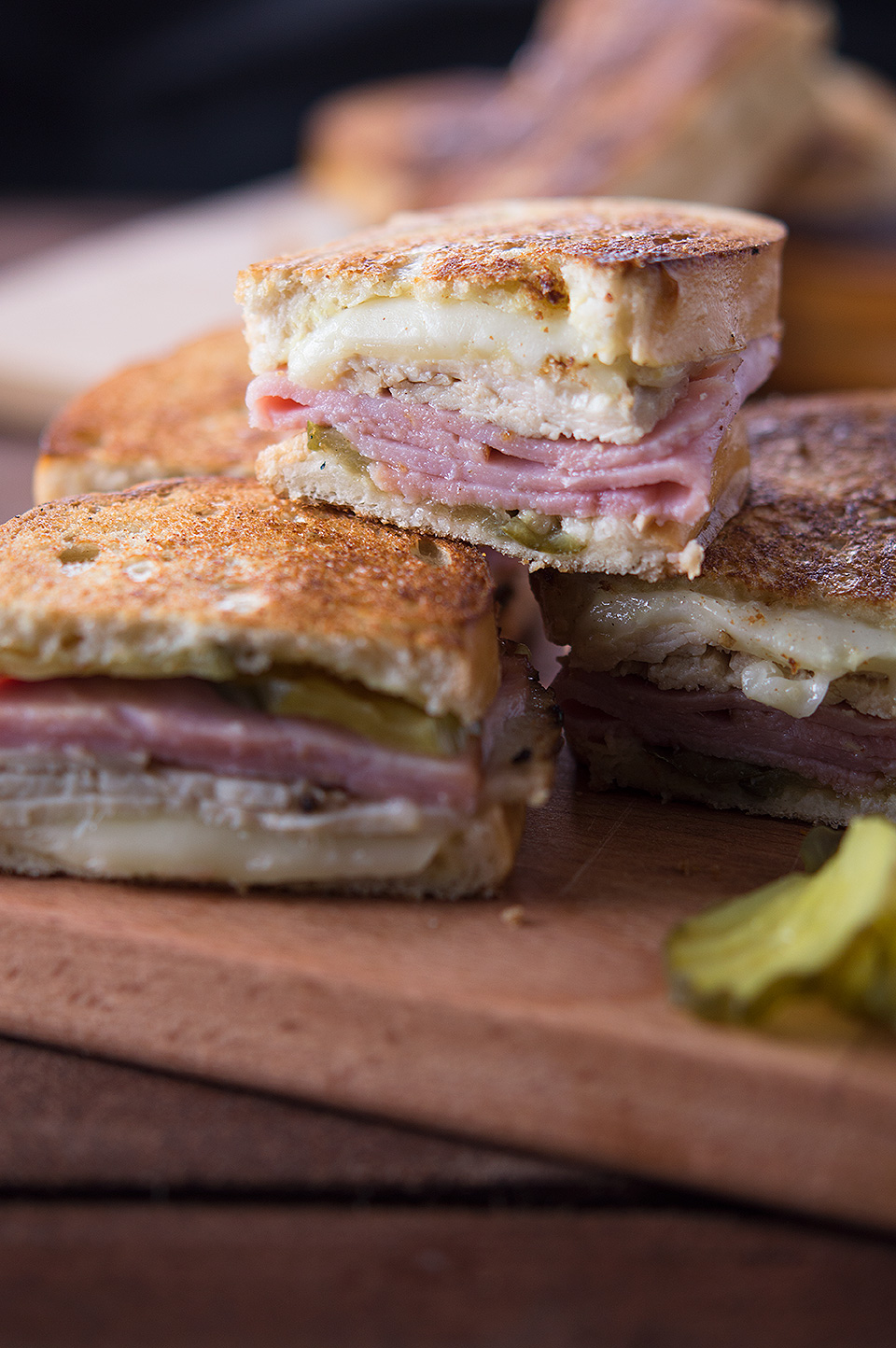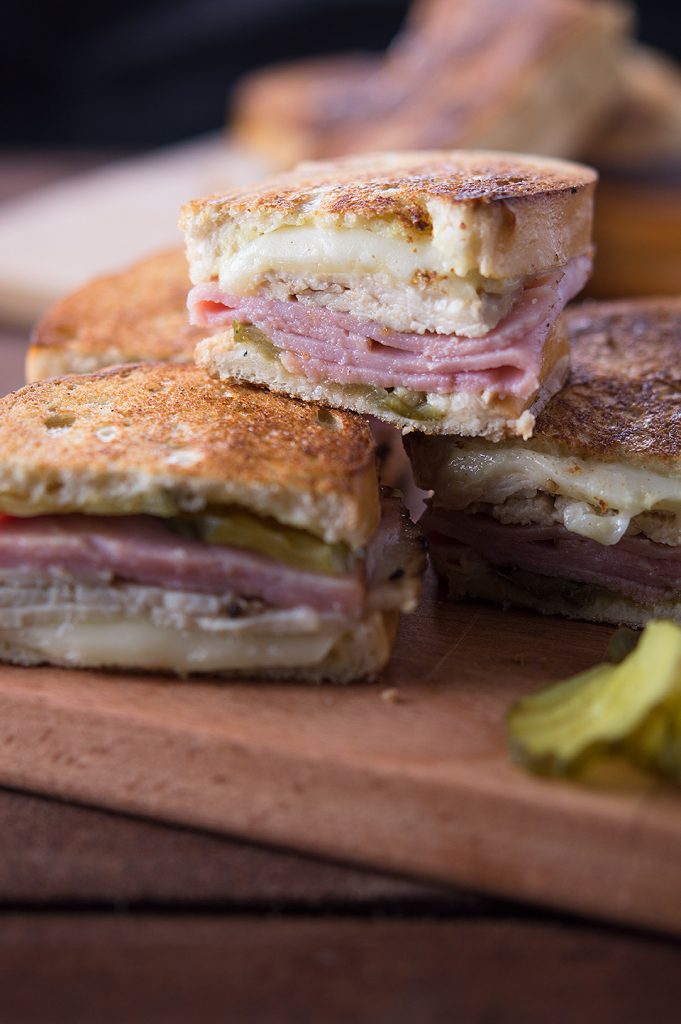 I don't know about you , but after stuffing my face during Thanksgiving or Christmas, I'm tired of the leftovers in no time at all. I think it's because after cooking all day, and fighting with my mom about how much dill to put in the potato salad, I'm just done. After all of that, I'm just done! HaHa 🙂
I just want a hot bath, and a nice light meal….. Well, a lighter meal than what I just had….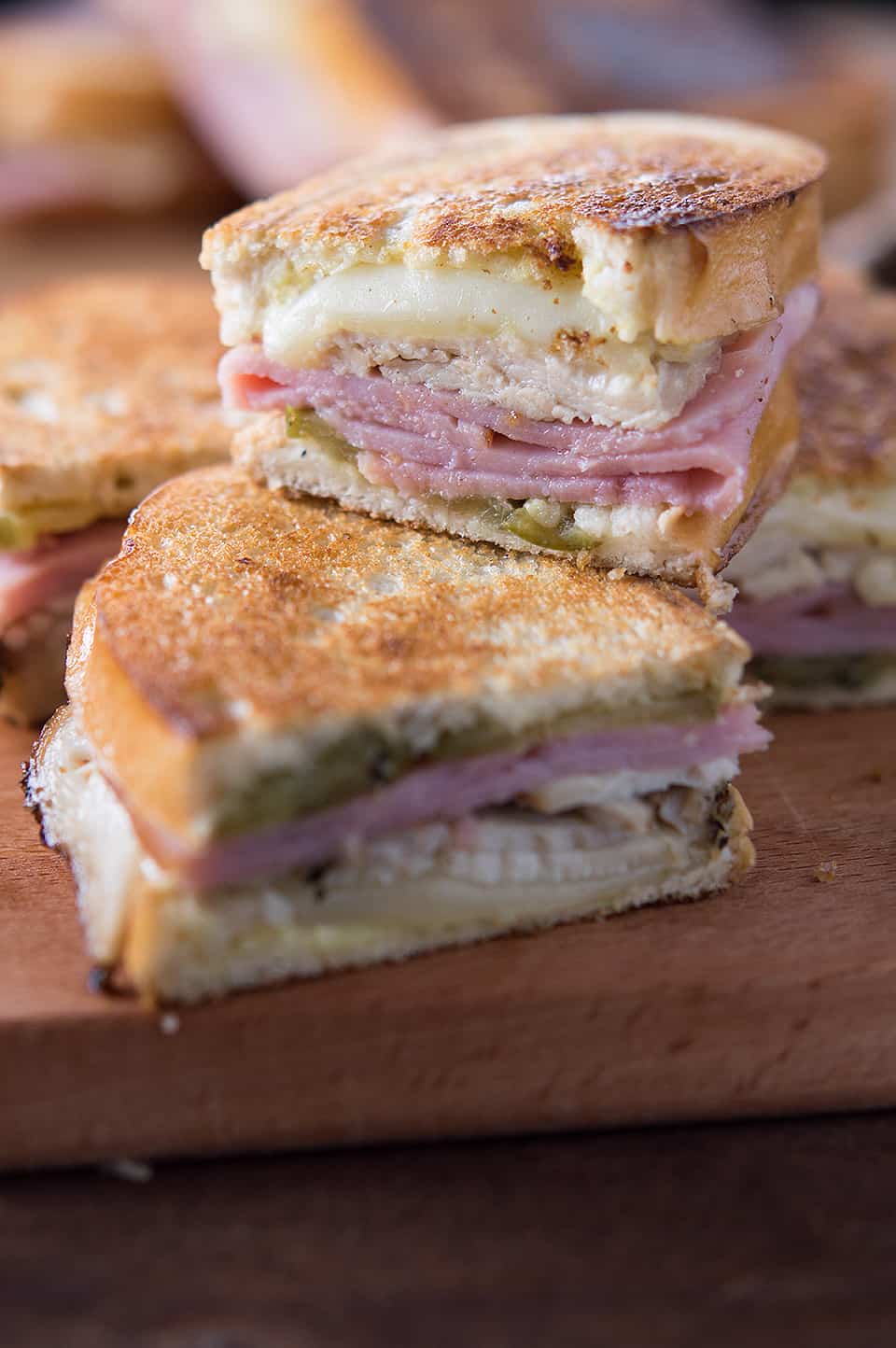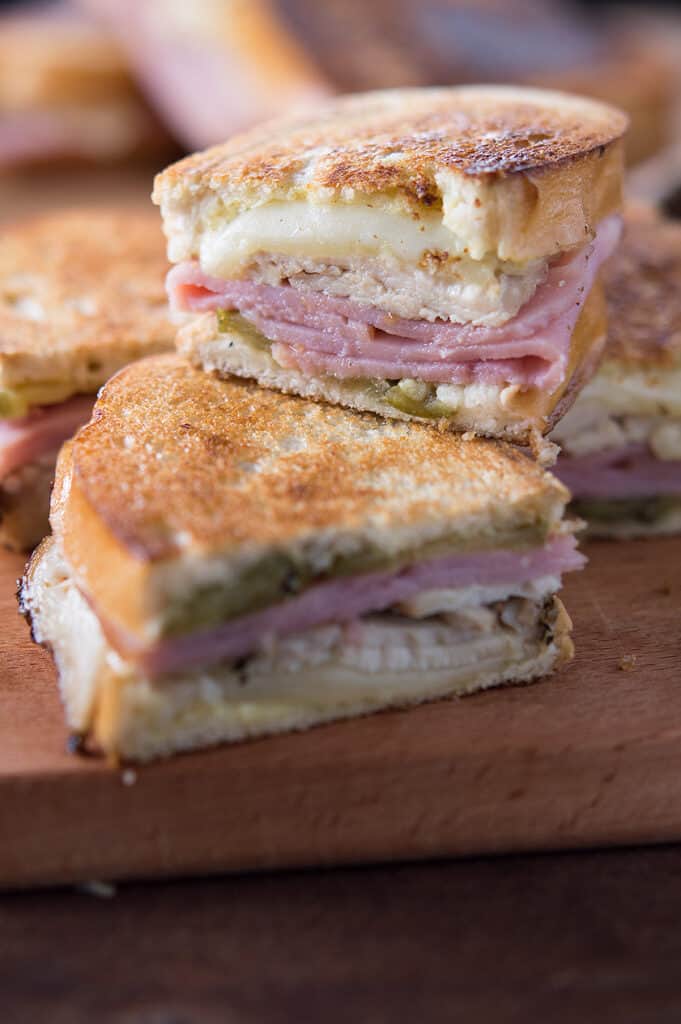 And even though I'm sick of seeing turkey and ham, I still don't want to get rid of my leftovers. I feel like I'm throwing away money, so I invented a grilled sandwich similar to the famous Cuban sandwich!
I grab a loaf of fresh baked Asiago cheese bread from my local grocery bakery, and I pile it high with ham, aged Swiss cheese, pickles, and a homemade deli spread. And instead of slow roasted pork, I use leftover roasted turkey of course.
This sandwich has an easy to make homemade deli spread that adds a nice tangy taste to the sandwich. And the cheese in the bread adds additional flavor as well. And after it's all said and done, you brush the sandwich with melted butter, then cook it in a hot pan or some type of sandwich press to give you a buttery crispy grilled sandwich. (Don't worry, you don't have to go out and get a fancy panini press machine. I still use my old George Foreman grill or my cast iron pan to cook these bad boys.)
P.S. It's not a requirement to roast a big turkey and ham. You can use a roasted turkey breast and deli ham slices from your grocery store's deli. Also if you are just completely done with your leftovers, put your leftover turkey and ham in the freezer. Then, bring it back out later to make these sandwiches when you can come to grips with seeing turkey again.
Do you need more recipes for leftover turkey or any Holiday leftovers for that matter?? Check out my post with 25 ways to use Thanksgiving Leftovers. Get those recipes HERE.
Enjoying These Turkey Cuban Sandwiches? Try These, Too:
Thanksgiving Turkey Tips For Beginners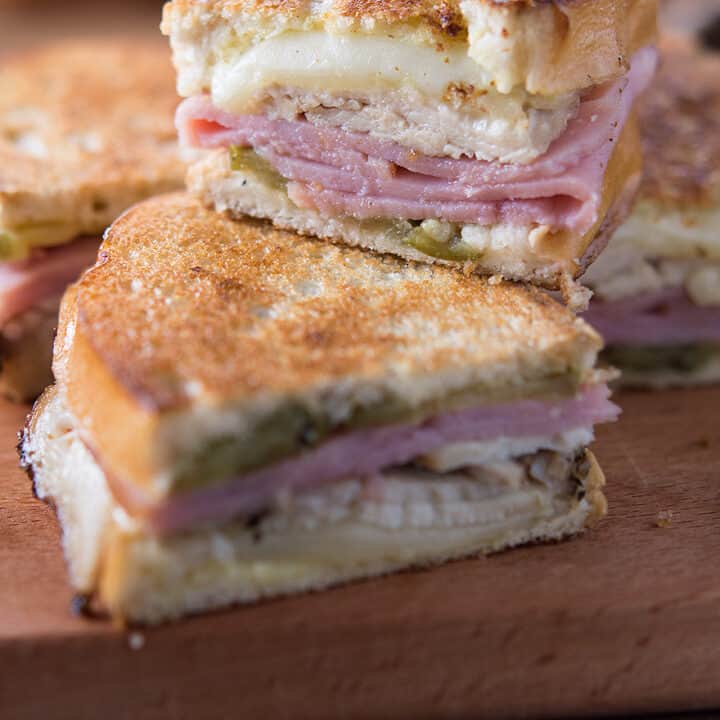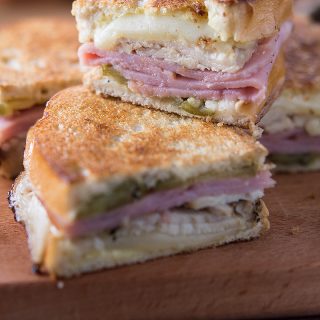 Turkey Cuban Sandwiches
Use leftover turkey and ham to create a whole different meal with these easy to make grilled sandwiches that are similar to the popular Cuban sandwich.
Print
Pin
Rate
Ingredients
8

slices

of cuban bread or sliced fresh baked bread.

(I used an Asiago Cheese Bead Loaf from my market's bakery.)

4

slices

of roasted turkey

(I used 4 slices of roasted turkey breast and I sliced it about 1/4 inch thick)

4

slices

of roasted ham

(I slice these slices at about 1/4 inch thick) or 8 slices of deli ham

8

slices

aged Swiss cheese

16

dill pickle slices

(as shown in the pictures)

5

tablespoons

unsalted butter

Sandwich Spread Ingredients:

1/2

cup

mayonnaise

(I used reduced fat olive oil mayonnaise)

2

tablespoons

spicy brown mustard

1/2

teaspoon

garlic powder

1/8

teaspoon

paprika

Salt and pepper to taste

(This makes about 1 cup of sauce)
Instructions
First make the sandwich spread by mixing all of the sandwich spread ingredients.

Spread about a tablespoon of the sandwich spread on to one side of the bread.

Then, layer your ham, turkey, pickles, and Swiss cheese on to that slice of bread you put the sandwich spread on. To complete the sandwich, top with another piece of bread.

Repeat this 3 more times to make a total of 4 sandwiches with your ingredients.

Melt the butter, and brush the outer sides of the bread with the melted butter.

Turn on your griddle or panini press and let it heat up according to the manual's instructions. Or let a pan get hot on medium to medium high heat.

Once the pan or cooking device is hot, add your sandwiches to it and cooked until the outside of each sandwich is golden brown, the cheese is melted, and the sandwich filling is heated through. This typical takes me about 3 to 4 minutes. (If you are using a pan, make sure to flip the sandwiches every one to two minutes to ensure both sides get golden brown, and the filling heats through.)
Notes
Freezer Friendly Tip: If you don't want to make these sandwiches immediately with your leftover roasted ham and turkey, put your leftover ham & turkey in the freezer until ready to use. Just thaw it out a few hours in the refrigerator before using. Menu Planning Tip: Don't have roasted turkey and ham, but you want this sandwich? Use deli sliced ham, and roasted turkey from your local grocer deli. You can even used leftover roasted chicken in place of turkey. Cooking Tip:
If you want this sandwich flat (similar to a panini) but don't have a fancy cooking device, place a heavy pan on top of the sandwiches while they cook in the pan to help flatten the sandwiches.
I add about 4 pickles to each sandwich, but if you love pickles, add more to suit your taste.
I add 1 tablespoon of sandwich spread to each sandwich and use the rest of the sauce as a dipping sauce while eating. But if you like your sandwich to have a lot of sauce, add more of the sandwich spread to your sandwich while assembling the sandwiches.
Please note that I am not a nutritionist, and the nutritional information is an estimate only. It varies based on the products and brands used.