This easy Sparkling Peach and Strawberry Sangria was a hit at our barbecue this weekend!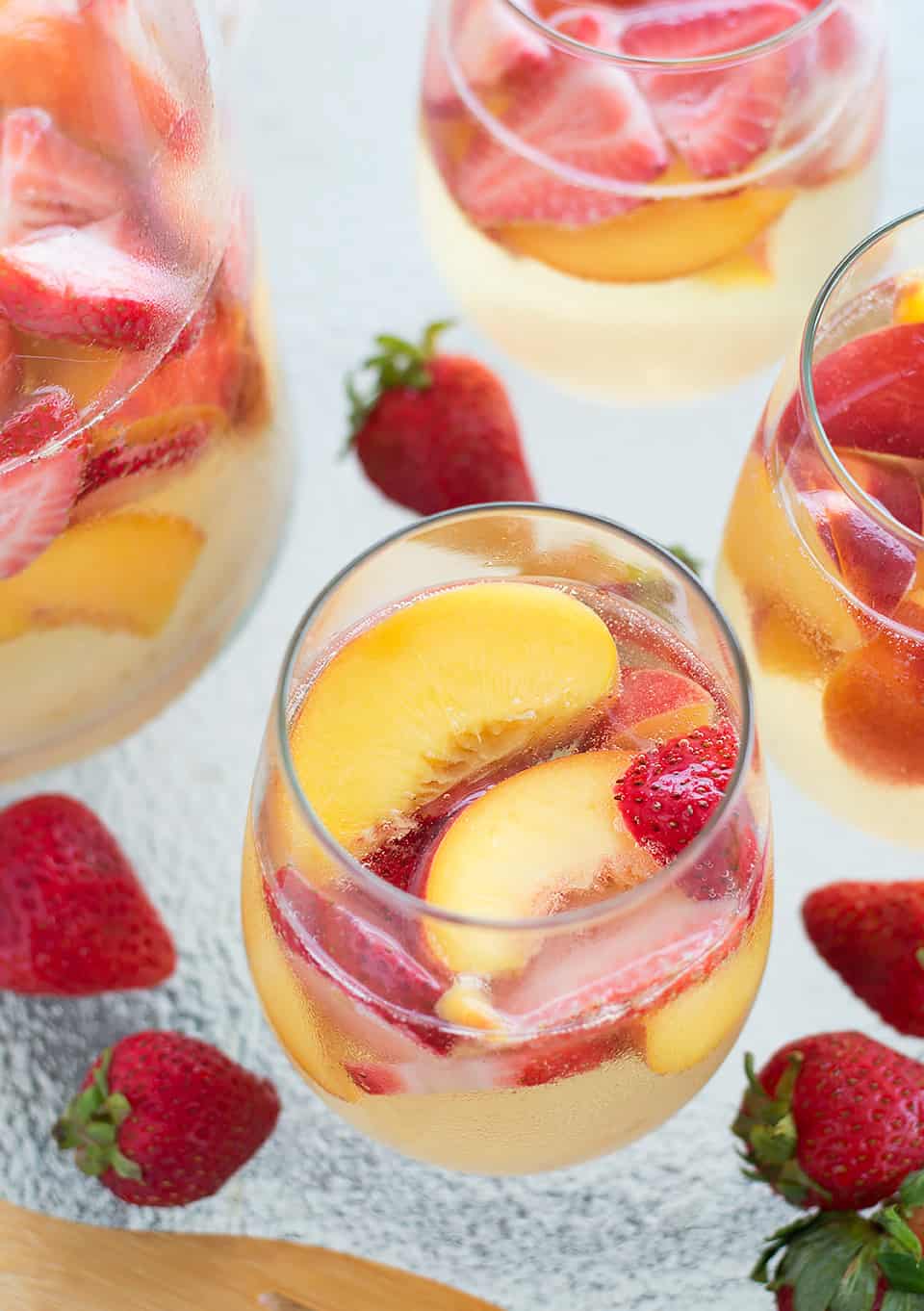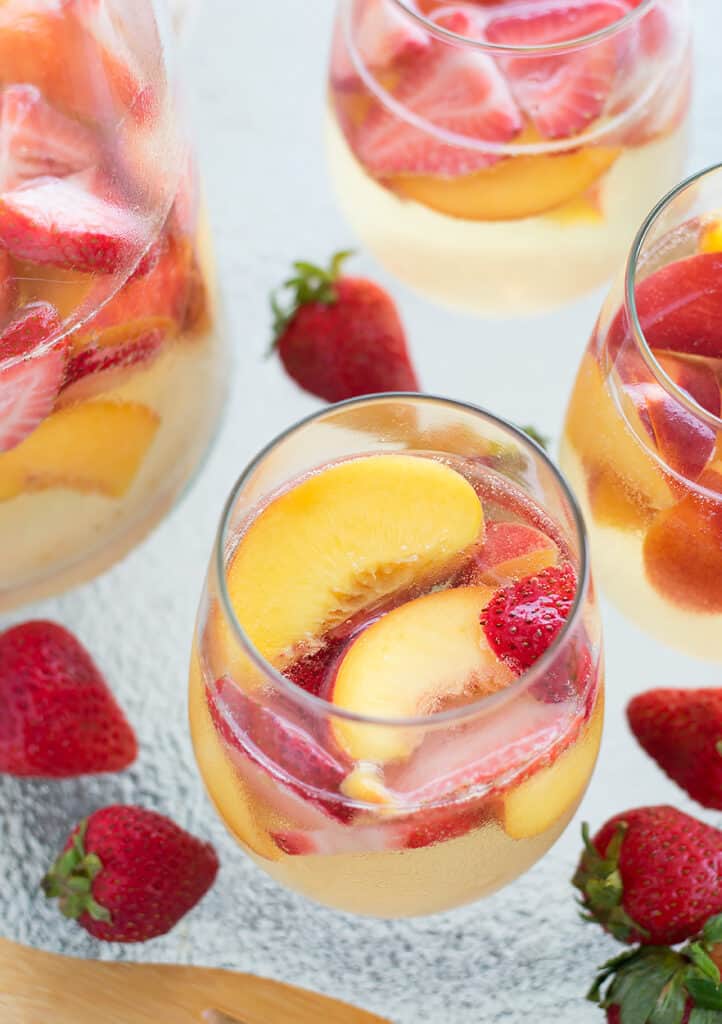 This was an incredible July 4th for us!  We were able to spend the whole day together as a family with all of the electronics put away – for the most part….  (I was the culprit taking pictures with my phone – but hey I was capturing memories, doesn't that count for something??)
We started the night off with a movie night the day before when I got home from work.  I am excited to say I almost made it through the whole movie without falling asleep!  I usually fall into a deep slumber fifteen minutes into the movie…  But this time, I made it up until the last 30 minutes…  Not, to worry, we watched the rest of the movie together during breakfast the next day.  And I was forgiven…
Then, we went out and had lunch at our local Mexican Restaurant, before we got ready for a small barbecue we were having later.  When it came to prepping – we all pitched in and prepped the food and no one got hurt during the process.  That's a win for us 🙂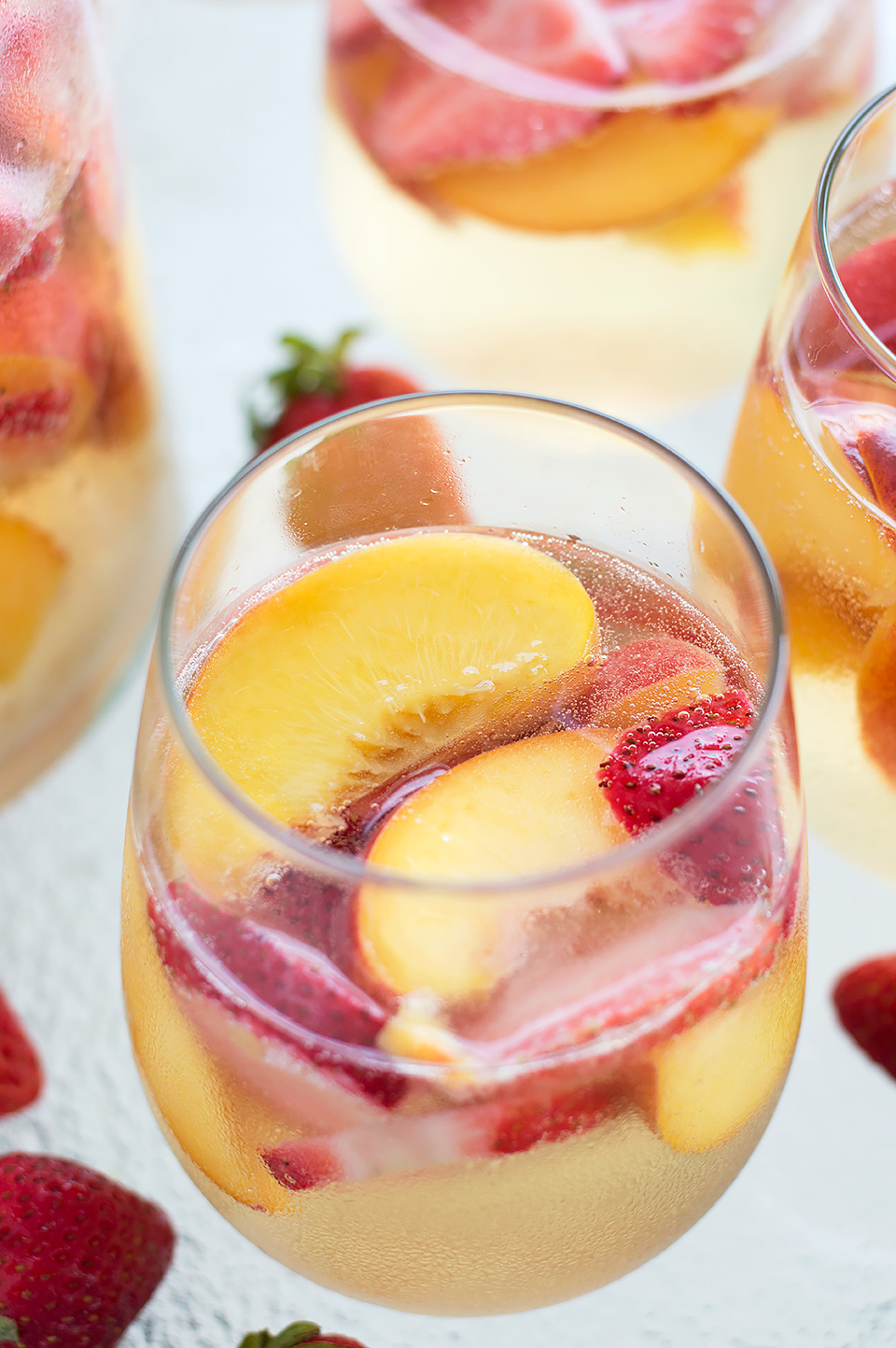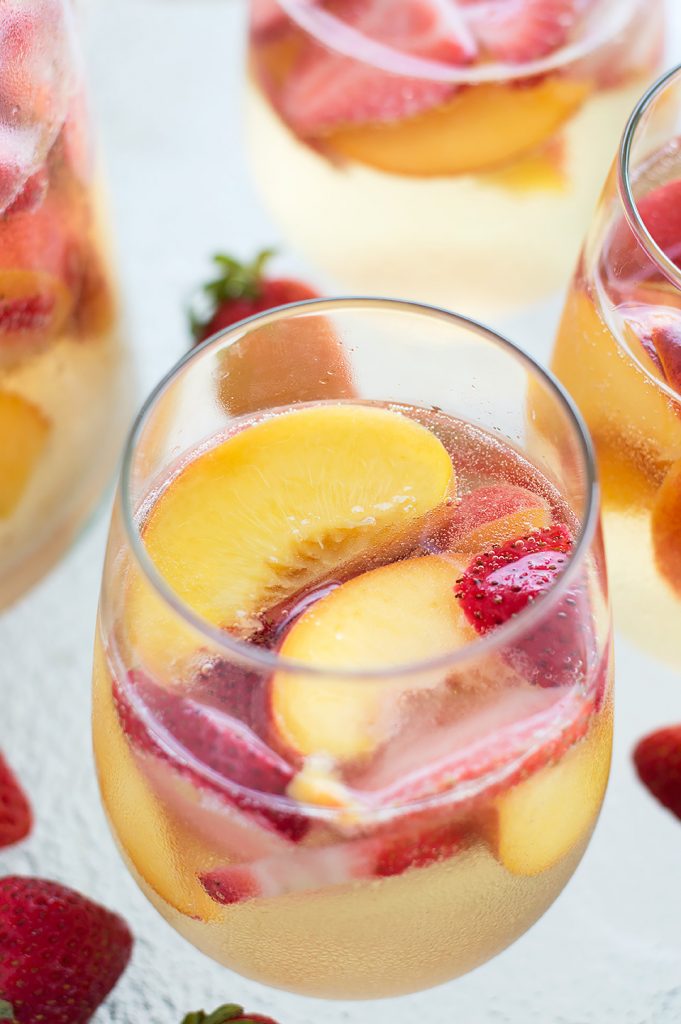 This menu for this get-together had to have a cocktail to woo the people.  I didn't want to just serve a bottle of wine but, I didn't want to buy too many ingredients, so I used what we had in the fridge.  My hubby likes to juice fruits, so I had the strawberries and peaches he hadn't used yet.  Plus I had a bottle of white wine – I always keep a stash for cooking.  Throw in some peach rum and peach schnapps I had from some other recipes, and this drink was ready.  I pretty much only had to purchase the champagne to give the drink some fizz…
This sangria was a hit and not a drop was left.  The perfect end to the evening while we watched fireworks sipping on sangria!
Making this cocktail was effortless.  Only manual labor involved – cutting the fruit.  This took only a few minutes to make.  Cheers!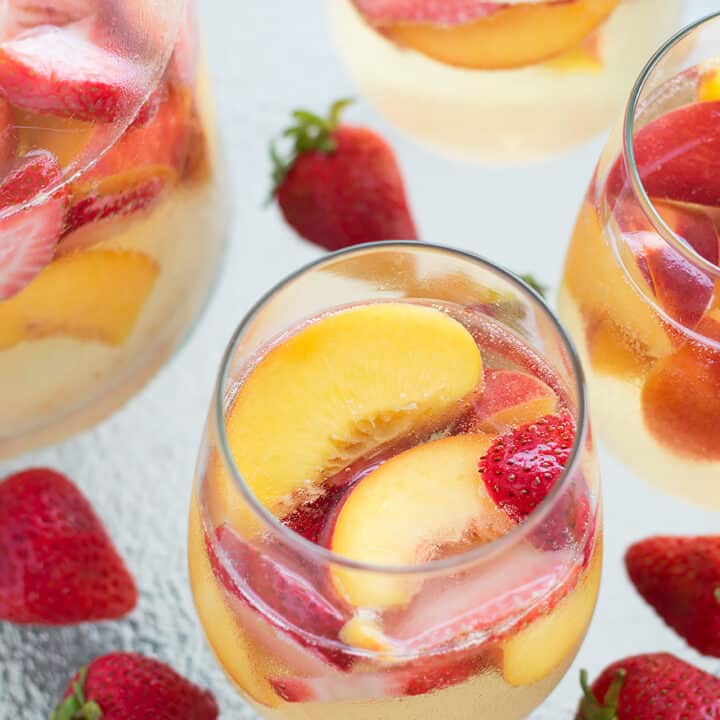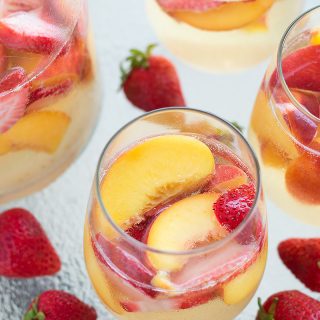 Sparkling Peach and Strawberry Sangria
This easy Sparkling Peach and Strawberry Sangria was a hit at our barbecue this weekend!
Print
Pin
Rate
Ingredients
1/2

cup

peach rum

1

cup

peach schnapps

4

cups

dry white wine

1/2

cup

sugar

4

cups

fresh sliced peaches

2

cups

fresh slice strawberries

1

bottle champagne
Instructions
Add the rum, peach schnapps, wine, and sugar into a large pitcher. Mix the ingredients until the sugar has dissolved.

Next stir in the fruit.

Let the drink sit in the refrigerator at least two hours. (The longer it sits, the better the flavor.)

Stir in the champagne right before serving.
Notes
Use a sweeter white wine such as Riesling and a sweet champagne if you want more of a sweeter taste.
Please note that I am not a nutritionist, and the nutritional information is an estimate only. It varies based on the products and brands used.